When Dawa Yangzum Sherpa told her family that she wanted to become a mountaineer, everyone took it as a joke. Even though a lot of men in her village went on expeditions to Everest, for a woman to even think about doing that was far-fetched.
She was told to sit home, farming potatoes, collecting cow dung and helping her parents. "Life was so monotonous," says Sherpa. "It felt like I was in a loop. I wanted to go out."
Not wanting to be stuck in a loop, she left her village at the tender age of 13 and since then, there has been no looking back. Over the course of the past 17 years, she has made quite a name for herself. Dawa Yangzum Sherpa has achieved her lifelong dream of climbing Everest, guided international expeditions and became South Asia's first internationally recognised female guide (IFMGA). In 2019, she also joined The North Face as an athlete and has been climbing with legends like Conrad Anker.
Now, Dawa Yangzum Sherpa wants to pave the way for the younger generation of female climbers, mostly those that are from remote areas, as she does not want them to go through the same problems that she faced when she was making her way up in the mountaineering scene.
From hating mountains to loving them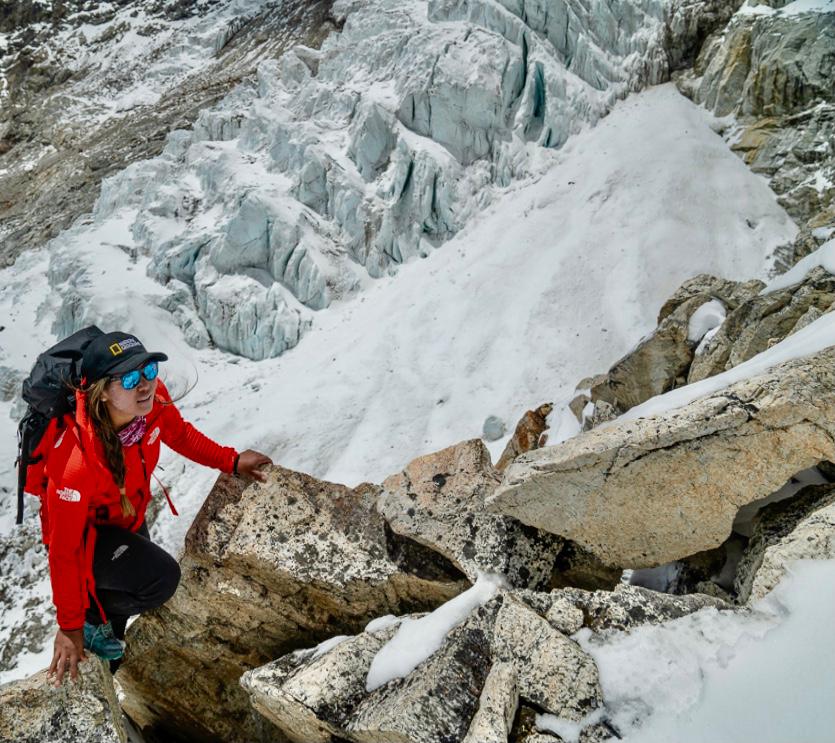 "I'll do whatever I can to help these girls," she says.
Dawa Yangzum Sherpa was born in Na, a small village in the Rolwaling valley in Dolakha. When she was six, she moved to Kathmandu where she spent her early childhood with her uncle. But, by the time she was 10, due to unavoidable reasons, her family returned to Na.
She was quite inquisitive from an early age. Having lived in Kathmandu, the village life became primal to her. She wanted to run and play and travel, but surrounded by mountains on almost all sides, she had nowhere to go and was confined to household work.
"Growing up in Na, I started to hate the mountains. We had no running water or electricity. Life was just so boring. I wanted an adventure."
Then, the adventure came calling in the form of a trekking group. The group was going to Khumbu via the Tashi Lapcha Pass and wanted porters. Dawa Yangzum Sherpa said she would do it and lied to her parents and went with the group.
As young as she was, she was really strong. The village life had trained her well. But, trekking in altitude in excess of 5,000 metres was not easy as she suffered from mild altitude sickness. But, she made it out of her village and earned money which bought her a ticket to Kathmandu.
In Kathmandu, she stayed with her cousins. She joined school too but soon left as it did not interest her. She had seen how trekking guides were respected, adored and set her mind at being one. But for that, she knew that she needed to improve her communication skills and for that, she joined English classes.
Dawa Yangzum Sherpa got her first break at 18 when she was assigned her first trekking group. They were French trekkers.
"It was great going back with the group. My friends called me a sardar (a leader). People were quite impressed with what I was able to do."
But, she yearned for more. She started taking part in long-distance running on the trails. But, the prospects of trail running were quite low, after which she stopped and continued being a trekking guide.
"After a while, guiding started to get a bit boring and as I knew a lot of people who were into mountaineering, I started taking courses."
From aiming higher to making it
Dawa Yangzum Sherpa first did courses offered by the Nepal Mountaineering Association in 2009. In 2010, she found out about the Khumbu Climbing Centre and underwent their ice and rock climbing training. There she caught the eye of the founder of the KCC and adventurer Conrad Anker. He asked her if she would be interested in climbing Everest with North Face and National Geographic team members. Having dreamt that as a child, she did not think twice and accepted the offer.
In the spring of 2012, Sherpa climbed with the team with ease. She received a good amount for her work too.
"I didn't know who they were. To me, they were just paying clients who were paying me money to climb Everest. But, later I knew how great they were."
While Everest was tough, it was not as daunting. Dawa Yangzum Sherpa had climbed a few training peaks and mountains like Ama Dablam. But, Everest gave her a different perspective. She was one of only a few Nepali women in the mountain. That drove her to be the best Nepali woman to climb and decided to start her journey to become a mountain guide.
"I was earning more money than my friends who were working as nurses. They would tell me to invest the money in gold or shares, but I decided to invest the money to be a better climber."
After Everest, Dawa Yangzum Sherpa went to the US to work with rangers at Mount Rainier. There, she learnt about the IFMGA and why people were spending thousands of dollars to take the course.
"It was a no-brainer. My mind was fixed on taking the training."
In 2013, she enrolled in the first part of the training. While she was taking the training, she continued to climb mountains. When she was not climbing, she was either training or guiding.
But in Langshisha Ri, Dawa Yangzum Sherpa made a mistake that broke her. She was giving her final exam of her aspirant course, which was a part of the IFMGA training. Everything was going well as she climbed the peak along with her client.
"I was nervous because if I passed that, it would mean I just needed to pass one more test to become the first Nepali woman to become an IFMGA guide."
However, fate had a different plan. She failed her test by the barest of margins. She had left her ice axe on the summit of the peak, which meant the examiners docked a point.
"I was so angry. It was extremely frustrating."
Disappointed, Dawa Yangzum Sherpa knew that she had to go back. But, before that, she had other plans – the savage mountain K2. Even though people had advised her not to go, she, along with Pasang Lhamu Sherpa Akita and Maya Sherpa, reached the top of K2 and became the first all-women team to reach the top of K2 in the summer of 2014.
To-ing and fro-ing and creating history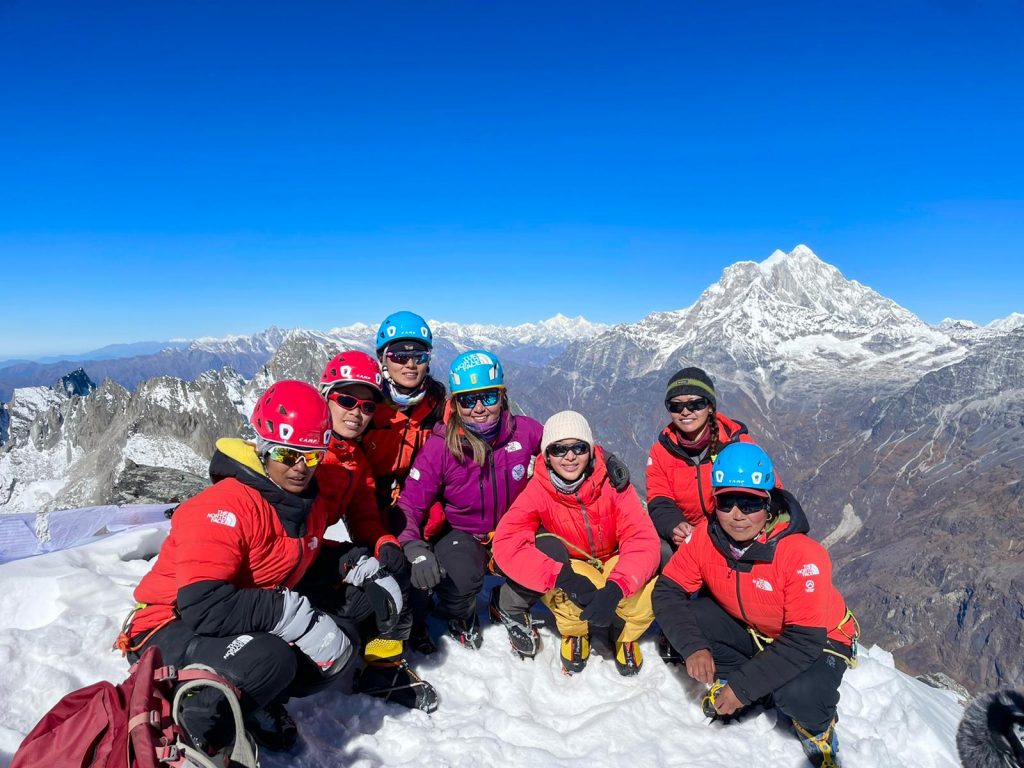 Summiting K2 gave Dawa Yangzum Sherpa renewed energy to complete the IFMGA course so as to become the first internationally recognised female mountain guide in Nepal. In autumn, she completed the section that she had failed before. But, to complete the entire course, she still needed to take the 21-day final exam.
She spent most of 2015 in the US, switching jobs to pay her bills. She was as far away from climbing as she could be. But, the climber in her would not let her quit.
"I could have quit as most do. But, I still wanted to achieve so much."
In 2015, she heard that an expedition agency in Seattle, Alpine Ascents International, wanted mountain guides, she applied for their tryouts. Even though there were times where she messed up, the company still gave her the job and she has been working with them ever since.
Yet, Dawa Yangzum Sherpa still had to complete her final leg of the IFMGA training. In 2017, she did that and created history.
"It was emotional. All the struggle and hard work had paid off."
She has been guiding on mountains ever since. In 2019, she reached the top of Makalu, becoming the first Nepali woman to do so. The same year, she also joined The North Face as an athlete and has also been going on expeditions with the team.
"Life is good now. But, getting here hasn't been easy."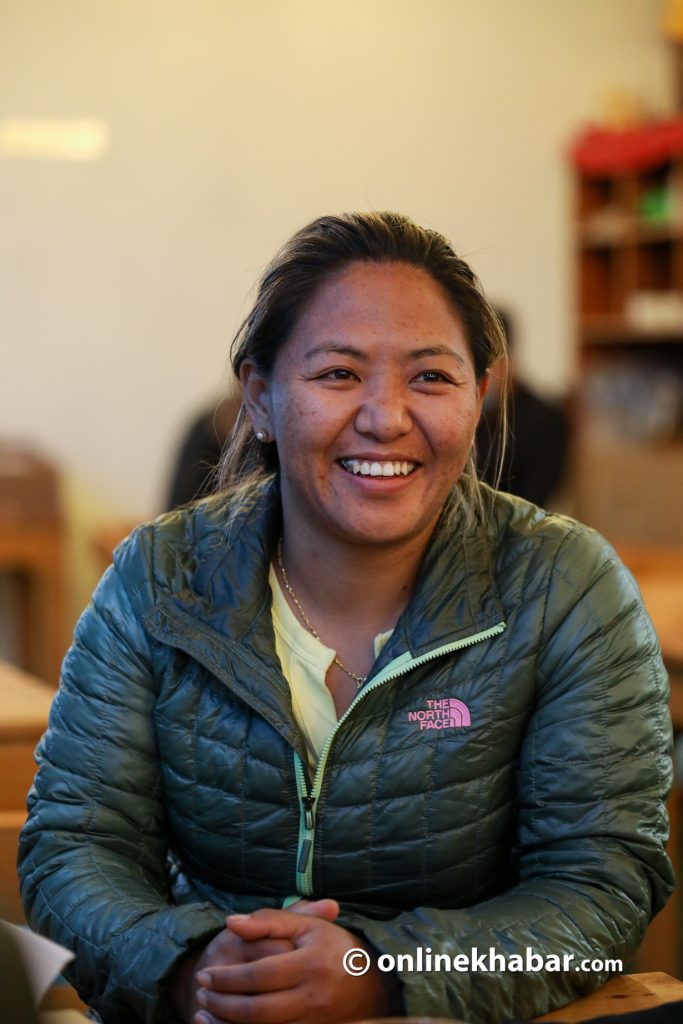 This spring, Dawa Yangzum Sherpa also climbed Annapurna, Dhaulagiri and Lhotse; among them, she climbed Annapurna without the use of supplemental oxygen. In autumn, she reached the true summit of Manaslu with Mingma G Sherpa, creating a speed record in the process. All of this was done with an injured anterior cruciate ligament that she hurt while skiing last year.
Now, Dawa Yangzum Sherpa wants to help girls who are not fortunate. Having had such a journey in the mountaineering scene, she wants to help girls that are interested in climbing. Recently, she took girls to Yalung Ri Peak in Rolwaling.
"I wanted to show these girls where I came from. I wanted to give them hope that if someone from such a small village could get here, so could they."
Dawa Yangzum Sherpa says she has been working with underprivileged girls and wants to use the funds she gets from The North Face and other sponsors to help them.
"I was helped by a lot of people, now I want to give back."