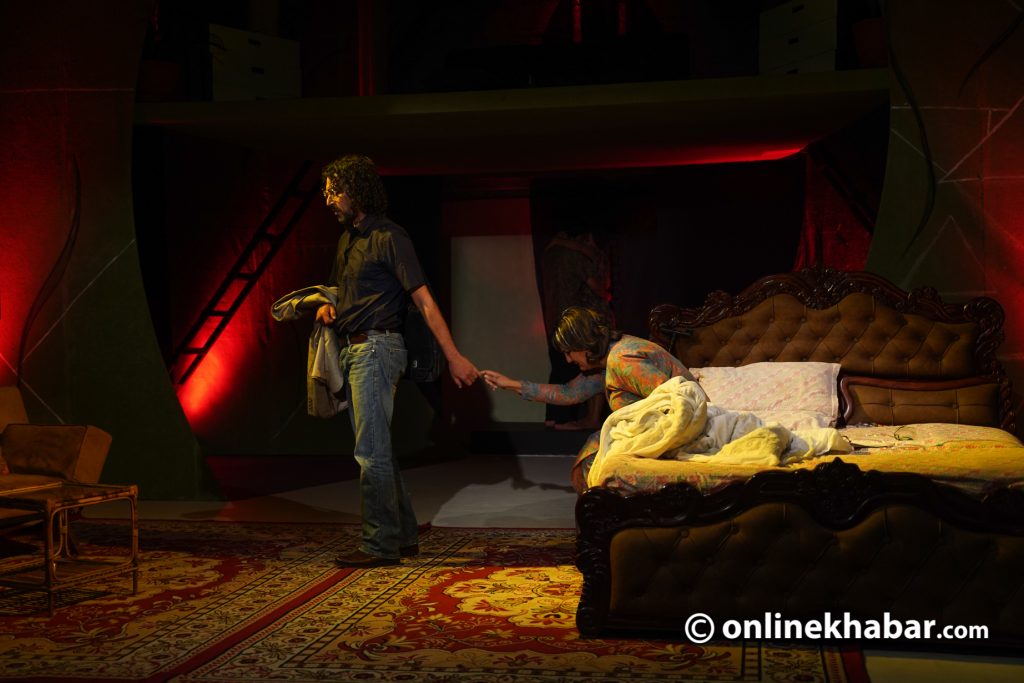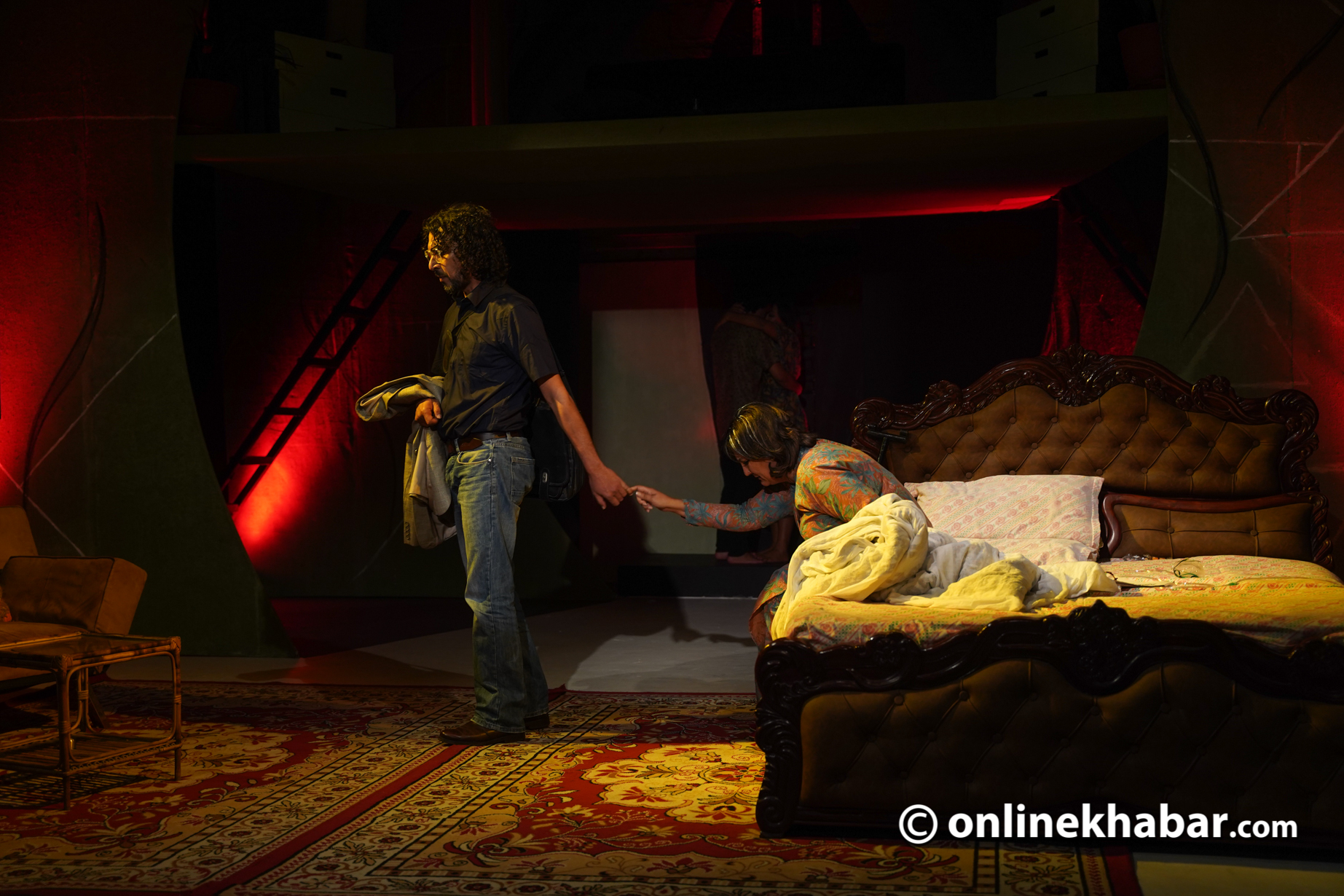 The issue of caste is inextricably woven into Nepal's social fabric. Every now and then, incidents involving caste-based discrimination make headlines. While they fade out from the public's memory in a day or two, they get stuck in the people who are at the receiving end.
This issue robs their dignity and offers humiliation instead. As a solution, many people tend to change their identity with the hope that society considers them equal to let them gain back their comfort. Yet this just might be an illusion in many cases.
The play Bimoksha, currently staged at Shilpee Theatre in Kathmandu, brings out the story of one such character who is trying to get adjusted to this social construct. Despite appearing to be a strange love story, the play is packed with nuanced depictions of the widespread social ills and it has the capability to force the audience to ponder and question social ills associated with the caste question.
The exposition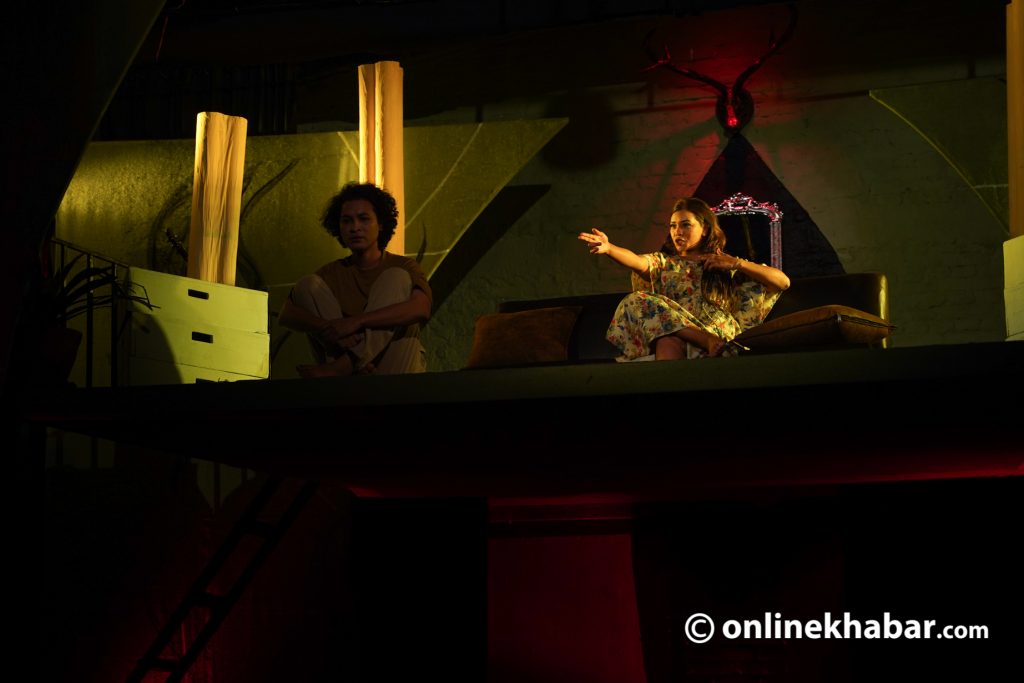 As Bimoksha opens, the reddish light goes on and the audience finds themselves inside a well-furnished, well-adorned room with sparse belongings. More conspicuous among them is a deer's horn, a symbol of regeneration, stuck onto the wall.
On the other wall, there is a portrait of Colonel Shyam Kumar. If a cosy sofa and a luxury bed give the place a homely vibe, an oxygen cylinder nearby comes as a warning that not everything might be well here.
You quickly learn that we are inside the apartment of elderly Rashmi Devi Basnet (played by Saguna Shah), endearingly known as Muma Hajur, a grandmother.
Not long afterwards when Muma Hajur lights a cigarette and takes the first few drags off it, her helper (played by Pabitra Khadka, who also played the role of young Rashmi Devi Basnet) catches her red-handed in her furtive act. Muma Hajur, a septuagenarian asthma patient, ditches the cigarette in haste.
Then, the drama for a few minutes is all about hiding the cigarettes.
These opening scenes of the play Bimoksha—written by Ghimire Yubaraj and directed by Prabin Khatiwada—hence might start as a soap opera. But the succeeding scene tells one that it has more to offer.
The rising action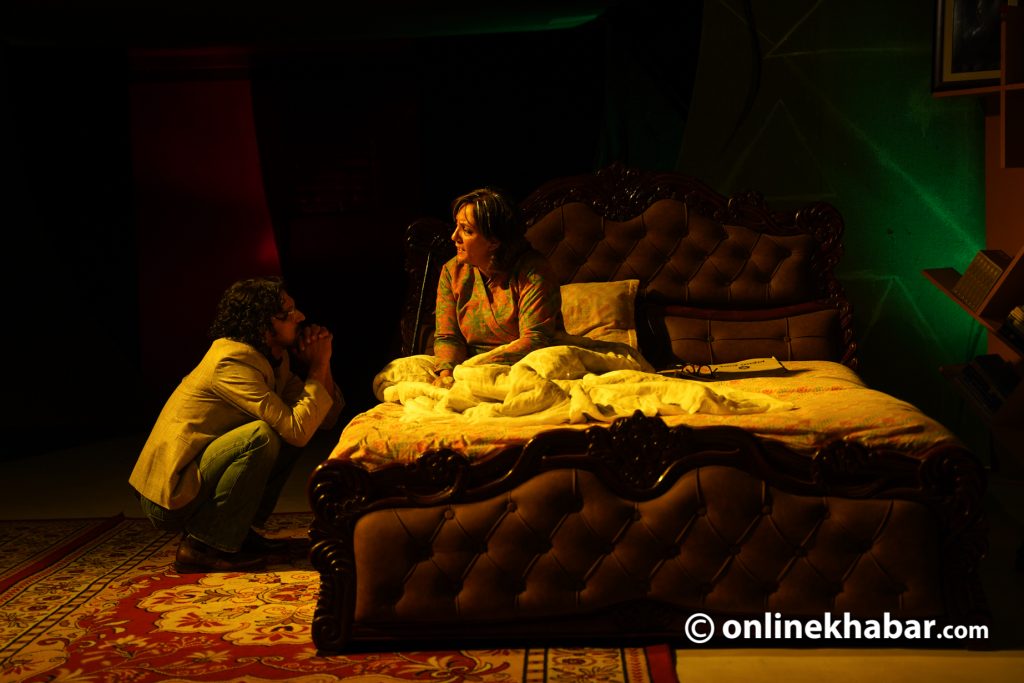 As Bimoksha moves on, the audience does not know what to expect when Deep Darnal, aged 45 (played by playwright Yubaraj himself), comes to meet Muma Hajur in her apartment. You then learn that Darnal and Muma Hajur are actually former lovers.
Given her poor eyesight, Muma cannot recognise Darnal at first. The play then moves back in time, telling the story of their unlikely love affair and eventual breakup.
The play then reveals itself to be both personal and social. It revolves around their love and heartbreak along with politics by bringing the story of pervasive social discrimination in contemporary Nepali society. It derives its dramatic conflict from the intertwining of these two aspects.
Characters and setting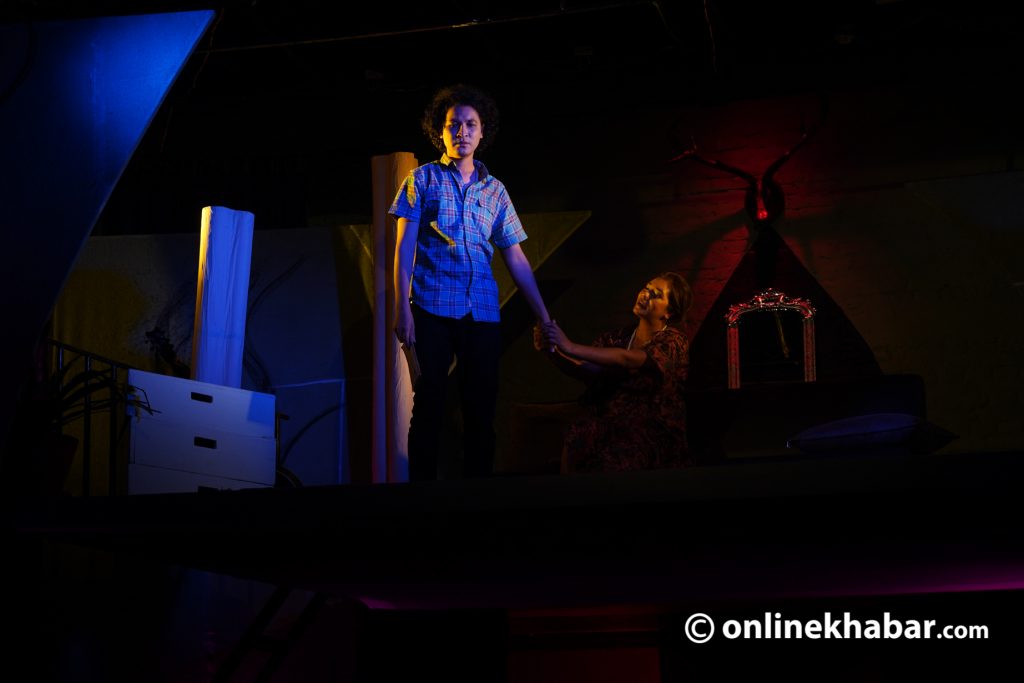 Like its setting, Bimoksha is minimalistic in its cast as well as it features only four characters. It is set in two timeframes—the present and the past. Khadka also plays the role of young Muma Hajur known as Rashmi Devi Basnet, while Sagar Khati Kami plays Kamal Kumar (young Dev Darnal).
The transformation of Basnet into Muma Hajur might be natural due to her age but it is questionable how Dev Darnal changes himself to Kamal Kumar when he was young. Nevertheless, this change in his identity has a different story.
Themes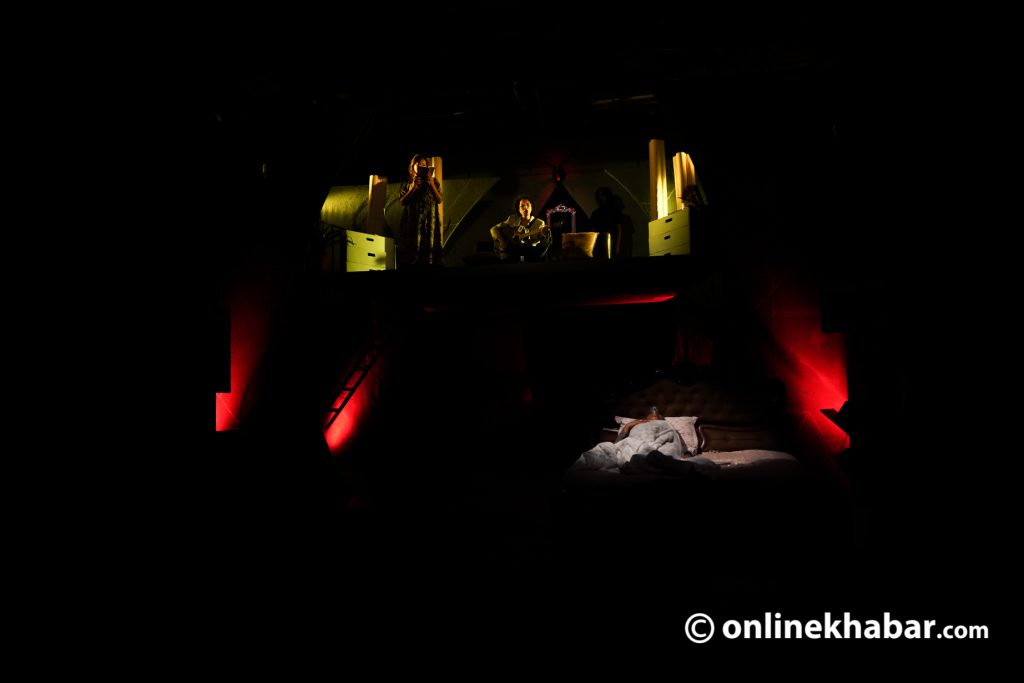 Darnal represents those thousands of Nepalis who feel forced to conceal their original identity as a shield from caste-based discrimination rife here. Belonging to the so-called lower caste means being deprived of equal opportunities in everything. Not just of economic opportunities but also of romantic ones, as this play portrays.
Darnal's poignant dialogues on the stage of Bimoksha remind you of the murder of Nabaraj BK and the deprivation of a flat for Rupa Sunar. Moreover, one who has faced caste-based discrimination can easily relate to Darnal and his stories.
Likewise, Muma Hajur's pure feeling for Darnal even after ages of being separated shows true lovers' feelings for their beloved cannot be robbed from them. She still loves Darnal as she used to when she was a young girl. Moreover, she still desperately wants Darnal to come close to her and touch her.
But Bimoksha does not merely portray the issue of caste-based discrimination. It also shows the agony of a widow and a single parent like Muma Hajur. It shows how she wants love from her special one with whom she got separated due to difficult circumstances and her desire to reunite as her husband had passed away a long time ago.
This is one of the rarely discussed matters in Nepali society that Bimoksha deals with. Nepali society still has a negative attitude towards a widow and single parents if they fall for other people and try to start a new life. Recently, a public figure in her fifties started a new relationship and the hate comments on her social media say it all.
Furthermore, the play also conveys the message that discrimination against women is pervasive irrespective of one's social background or education; it exists in both rural and urban settings and in lower-class and higher-class families.
Final comments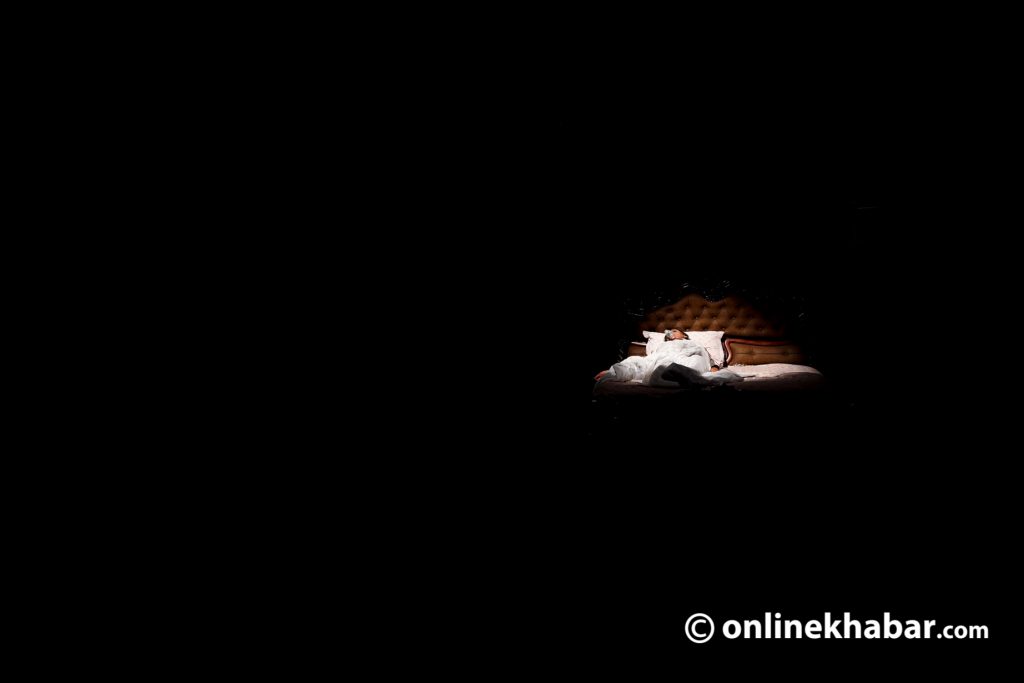 Bimoksha has a powerful story to tell but what make it stand out are its poignant dialogues. They are well-written and the play has a cast of skilled actors who deliver them seamlessly. The play is dialogue-heavy, but all of them are justified, which adds excitement and surprise to the story.
Moreover, to the producers' credit, using recorded raw footage for flashbacks is novel and commendable. Running the flashback scenes in the play is definitely not an easy thing, but the makers of Bimoksha have done it seamlessly.
All in all, this 80-minute play is a package of love, tragedy and how they are impacted by social forces. It is a play one can relate to—a must-watch.
Bimoksha will run through April 1, every day except for Tuesdays, at 5:15 pm in Shilpee Theatre, Battisputali, Kathmandu. There will be an additional show on Saturdays at 1:00 pm. You can also get the play as a book autographed by the writer if he is around.