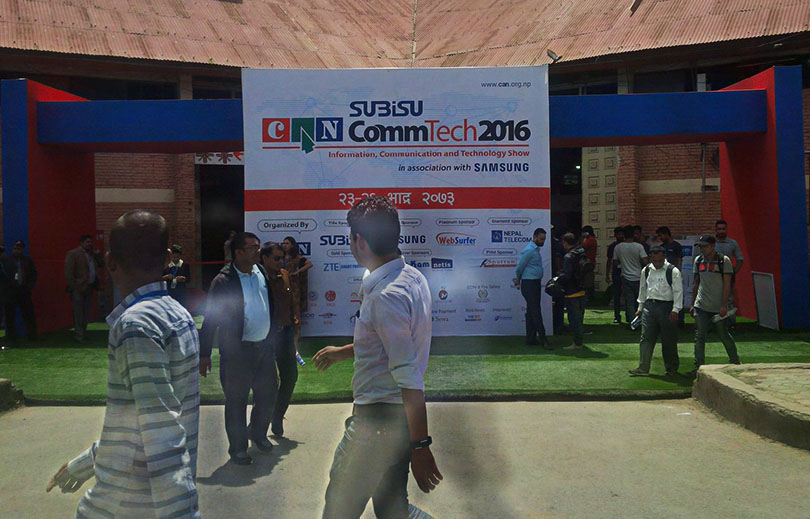 Onlinekhabar
Internet service providers in the Valley are betting big this year on IPTV services. Almost all major ISPs (Internet Service Provider) now provide television channels along with internet as part of their service package.
At CAN Commtech 2016, Vianet and Worldlink announced the launch of IPTV services in association with NITV Streamz Pvt. Ltd, the company behind the app 'Nettv', which has years of experience in delivering television channels over the internet.
Customers of both the ISPs can now get high definition channels along with internet.
Likewise, Broadlink had launched its own IPTV service under the brand 'Broadtv'. Other ISPs like Subisu and Websurfer also provide television as part of their services, although they depend on an existing coaxial cable network for the delivery.
Consumers have waited for IPTV for a long time in Nepal. Multiple ISPs expressed interest in launching the service even before 2014 when several companies registered to operate the service in the country. Now that such a service is finally ready for prime time, ISPs hope to attract customers with exclusive features made possible by the new technology.
What is IPTV?
The fiber or coaxial cables which deliver broadband internet to your home still has a lot of bandwidth left. ISPs use the remainder of the bandwidth in their existing wired network to distribute broadcast television to the users. Simply put, users who subscribe to IPTV (Internet Protocol television) services will be able to receive television channels along with internet.
Unlike traditional broadcast medium like satellite, cable and terrestrial broadcast, ISPs route the video data through local servers.The service is different from OTT (Over the top) services like Netflix which are essentially an extension of television.
How much does IPTV cost and how reliable is it?
Onlinekhabar
To avail IPTV service, a set top must be installed at the user's end. Vianet, Broadlink and Worldlink require users to be subscribed to their internet plans to avail the service. In addition, a monthly fee is charged for subscription.
Since the service is bundled with internet plans, the data used while streaming is not counted towards user's monthly quota. Moreover, live tv and VOD (Video on Demand) videos are stored on a local server so that consistency in quality is maintained. This theoretically means users of other ISPs can also avail the service if their ISP allows unlimited local streaming.
Why make the switch?
While the launch of DTH (direct to home) service like DishHome and the digitisation of cable tv may have lessened the appeal of IPTV services; the latter still provides incentives for customers to make the switch.
With crispier image and sound, interactive features like program guide and PVR (personal video recording services) now a common viewing experience, ISPs are betting on the IPTV's biggest feature 'Time Shift' to sell such services.
With 'Time Shift', a portion of live tv is recorded and stored in the cloud so that viewers can select a program from the program guide to watch a program broadcast before. How much of live tv is stored in the servers vary according to the providers. While Broadlink stores 24 hours worth of broadcast television for all of the channels available, Vianet and Worldlink record and store a week worth of programming.
Gamechanger?
IPTV essentially changes the linear nature of broadcast television. While local cable providers (with set top box) and DishHome allow users to record and watch select programs later, IPTV stores everything broadcast in the last 24 hours to 7 days.
In addition, Vianet and Worldlink provides VOD (Video On Demand) services. Users can watch curated movies and tv shows under different genre. Moreover, video compression is generally lowe in IPTV than satellite services like DishHome, resulting in better video quality when it comes to watching HD channels.