Bishnu Niraula, 66, was healthy. He did not have any chronic diseases.
However, he tested positive for coronavirus around one week ago. He did not have any symptoms. However, he fell unconscious after hearing the report, and ultimately died on the same day at Patan Academy of Health Sciences in Lalitpur.
Although official records state that he died of the coronavirus infection, the reality is quite different.
His family suspects that he died of a stroke due to the extreme trauma after knowing that he has tested positive for coronavirus.
Here, the deceased's daughter-in-law Nisha describes the incident in detail:
We are six in the family. Around 22 days ago, my husband had a persistent fever. Suspecting this as a symptom of the coronavirus infection, he underwent a PCR test. However, he tested negative.
Further tests reported an increased blood sugar level and urine infection in him. In about 10 days, he successfully recovered after following a medication.
Meanwhile, my one-and-a-half-year-old son and I also developed a fever. Nevertheless, in around three days, we got better on our own. Therefore, we did not do the PCR test.
Then, since last Thursday, my father-in-law started showing symptoms. At first, he had a cold, then fever, and stopped liking food. As the symptoms were similar to that of the coronavirus infection, we took him to Kathmandu Medical College, Sinamangal for a PCR test two weeks ago.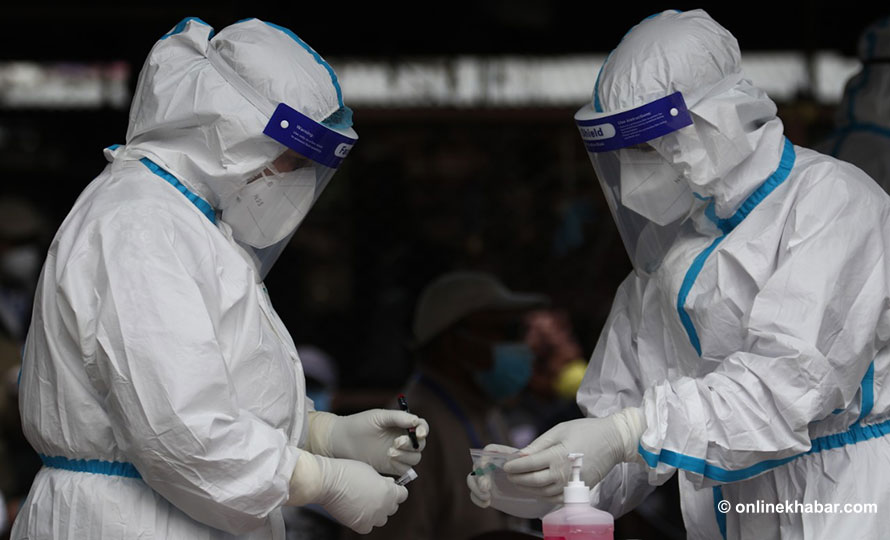 Next day, I went to the hospital to collect his report. I reached back home at around 10:30 in the morning.
After experiencing Covid-19 symptoms, my father-in-law had already isolated himself in an upstairs room. We were living on the ground floor.
That morning, he had had his lunch well. He was saying he was feeling better than the previous day and would be fine from the next day. Also, he was very keen to know the report of his test.
As soon as I returned home, I informed my mother-in-law about the report that he had tested positive for the virus. Thinking my father-in-law would get stressed, we didn't tell him about his report directly. We planned to tell him later, indirectly. To our dismay, while my mother-in-law was talking on the phone, he overheard the conversation and got to know everything.
After a while, she went to his room with a glass of hot water. As per her, at that time, he was in the panic. He asked, "Haven't I tested positive for the coronavirus?" His wife tried to calm him, by saying he would be fine even if he had tested positive. Still, according to my mother-in-law, the father was so nervous and frightened that he was not even able to hold a glass of water well. He didn't even let her come closer, saying that she would contract the infection.
Then, she came downstairs panicking and told us that he was traumatised. Then, we rushed to his room and found him motionless. We measured his oxygen level. It had dropped to 35.
He was not making any sound out of pain. Rather, he had started to sigh continuously. Seeing him in this state, we were all terrified. We started contacting hospitals. But, we got to know that everywhere the beds were occupied. Finally, after a while, we found an isolation bed at Sarvanga Hospital in Kupandol. We searched for an ambulance to get my father-in-law there. But, when we couldn't find any, we used a neighbour's car.
Somehow, we all managed to bring him down from his room. He was continuously sighing even while getting in the car, but he was unable to speak. It was about 11:30 when we left the house. There was a short traffic jam on the way.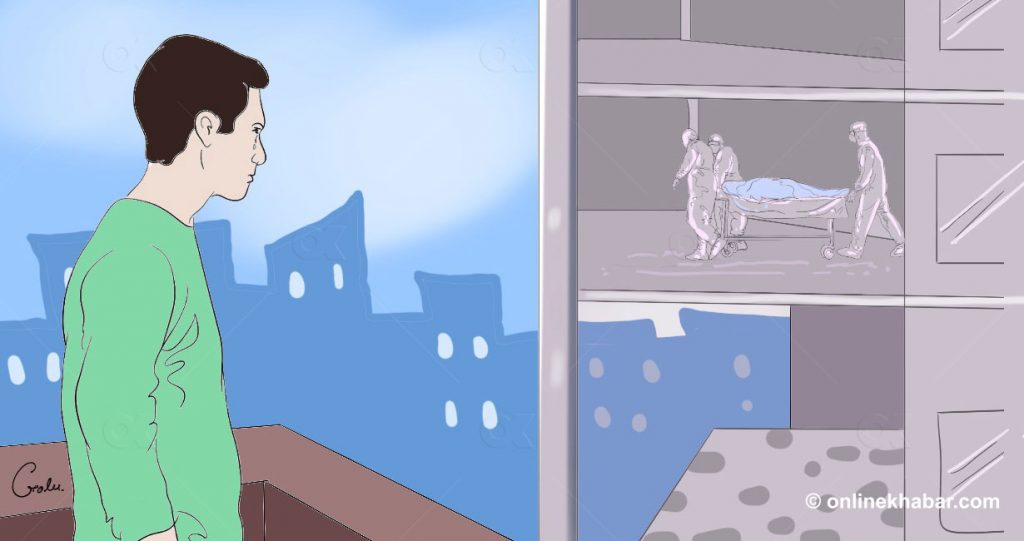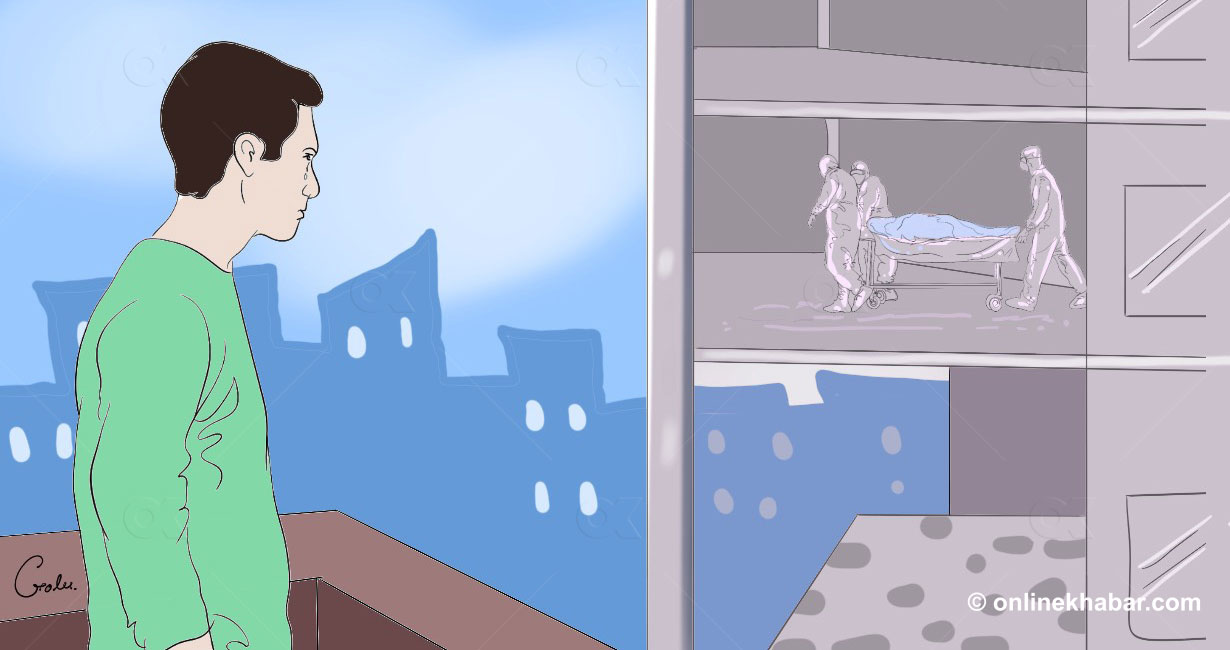 It was around noon when we reached the hospital. Doctors said that his condition was critical but refused to admit him stating he might have to be kept on a ventilator. Instead, they suggested we should take him to Patan Hospital. Therefore, we left for Patan immediately.
By the time we had reached Patan Hospital, my father-in-law was completely unconscious. We rushed to the emergency room. The doctors tried to give him oxygen. At first, his body showed a slight pulse. After that, his body did not respond.
At around 1:30 pm, the doctor declared him dead. We were not given his body. We watched his funeral from a distance at Aryaghat and returned crying.
Although he was infected by the coronavirus, his condition was not serious. We have suspected that he had a brain haemorrhage due to extreme panic and fear after knowing that he was a coronavirus positive. However, the doctors didn't tell us anything about it. They did not state whether he died of coronavirus infection or other causes. It seems after knowing the one is a coronavirus patient, doctors don't look for any other causes of the death.
My father in law was always concerned about his health. Till date, he had did not have any chronic illness. It was not coronavirus, but a fear caused by that virus that took him away from us.
So, it is time for everyone to think about how to reduce the fear/trauma caused by the coronavirus. Anything can happen if the patient's morale is weakened. I wish no other family would have to suffer what we went through.