As a brand, TVS has come leaps and bounds in recent years. It got a lot of attention in the late 2000s when it released Apache 150 and RTR 160. But with other brands coming into the market, it lost its charm. But lately, it has come back, and back with a bang. It has a lot more options in all price variants. Apart from bikes, the new range of powerful scooters has also caught the eye of many in the country.
Last week, we brought to you the best Bajaj has to offer in various price ranges. This week, we bring to you the best TVS motors have to offer.
1. Jupiter
This is one of TVS' most popular products. Many reviews argue that it is a better alternative to Honda Activa as it rides better, feels plusher and sports a smart design. Its performance is quite smooth as it offers decent mileage. The new i-Touchstart technology gives Jupiter a silent and quick start, making it ideal for repeated starts in stop-and-go traffic. It also comes with a charging point and an externally opening fuel tank. It is offered in four variants- Standard, ZX, ZX Disc, and Classic, so don't worry, there is a Jupiter for everyone.
2. Ntorq Race Edition
A little more powerful than Jupiter, Ntorq is an excellent mix of performance, features and practicality. It is a fun scooter that is ideal for anyone. It has got a great pick-up and a healthy mileage. It is a bit heavy, but it rides very smoothly. Its large wheels are also a bonus and ideal for Nepali roads. Looks-wise, it is quite good too as the Race edition comes with new graphics, hazard lights and an LED headlight and, like Jupiter, it also comes with a charging port. If you are looking for a powerful scooter, this is it.
3. TVS Max 125 Semi-Trail
Many call this an adventure bike for the common man. It is quite efficient and is ideal for all kinds of terrain. It has got good handling, is stable and is perfect if you often travel around the hills of Nepal. For the price, it is probably the best budget off-road bike in the market. But, as it is cheap, you only get an analogue speedometer and is quite basic looking. But, like the scooters, this too has a USB port where you can charge your phone if you run out of batteries during your adventures.
4. Apache RTR 180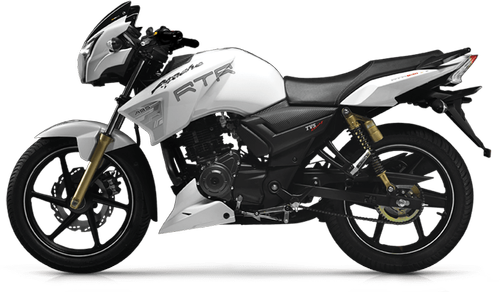 TVS says that RTR 180 is one of its most practical bikes for Nepal. Given the amount of time one has to stop due to traffic, TVS's GTT (glide through traffic) feature for the bike lets the rider avoid using the clutch and accelerator again and again in traffic conditions. It also comes with telescopic forks suspension at the front, along with a mono-shock setup at the rear. Perfect for Nepal's inconsistent roads, it, however, not much changed looks-wise. But, TVS says the RTR 180 2V comes with all-new graphics. A good midrange option…
5. RR 310
This bike is fast. Very fast! Sure, it is not perfect, but it is a motorcycle that can be ridden to work, to the racetrack, and even on the racetrack. Furthermore, it has the road presence of bikes with double the engine capacity. It looks cool and feels quite smooth too. Riding solo, one is bound to feel like Valentino Rossi, but with a pillion, you might have to be a bit careful. The RR 310 has unique features too. It has a total of four riding modes – rain, urban, sport and track. These modes offer different setups, based on the engine power/response and ABS. If you are a speed freak and do not want to spend a fortune on KTM bikes, this is the bike for you.
Price List: