In February 2016, as the Nepali men's football team was being paraded around Kathmandu for their triumph at the South Asian Games, another Nepali sportsman was being cheered on to the podium in Kerala, India.
Ajay Pandit Chhetri had won the Kerala MTB XCO Championship, days after competing in a road race at the South Asian Games. It wasn't the first time Chhetri had won an international race. And it wasn't the first time his victory had gone unnoticed in his own country.
Chhetri is a hero figure in Nepal's mountain biking fraternity. Outside that, he's but a name. It's hardly surprising in a country where mountain biking is still a peripheral sport. Chhetri's feats are the stuff of headline news: he is a five-time winner of Yak Attack, a punishing race dubbed the highest mountain bike race on earth.
A week after winning the 2015 Yak Attack he took first place in the Kathmandu Mountain Bike Fest. Some of his rivals at the Bike Fest suggested that maybe he shouldn't even be allowed to compete. Some of them, tired of finishing behind Chhetri, seemed to mean it.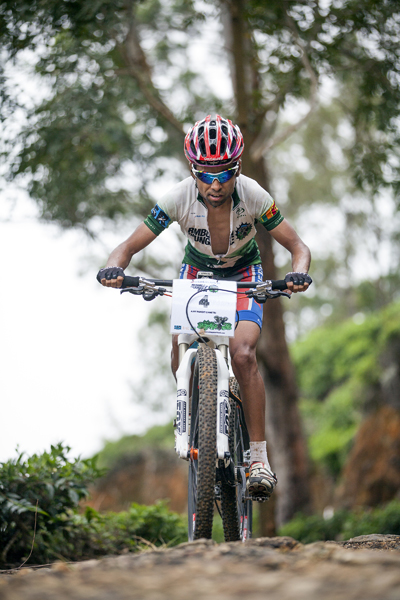 Chhetri grew up in Arubari, Kathmandu. He cycled all over the hilly terrain as a kid. That early acquaintance with hills proved the perfect training for the strenuous sport of riding on undulating tracks. Although his forte is mountain biking, he was part of the Nepali road bike team that competed at the South Asian Games in 2016. For someone used to the rough, mountainous trails of mountain biking, the paved roads and flat terrain of road racing were a challenge. "It took me a few days to get used to the bike. After that, it wasn't too difficult," he said. "Besides, Nepal did not have too many road bikers, so I gave it a shot."
Chhetri is no stranger to venturing into uncharted territory. His parents were shopkeepers. The second of three children, he never knew luxury. His first bike, a simple road bike, belonged to the entire family.
Cycling was his favourite pastime. He didn't have many friends growing up, but there were several cousins with whom we rode bikes. No one is more surprised at his childhood pastime becoming a profession than Chhetri himself. "I became the first athlete ever in my family—and a mountain biker at that!"
The bike mechanic
When relatives asked Chhetri what he wanted to be when he grew up, he would tell them he wanted to become an engineer. "I would say that for the sake of answering, but I loved cycling." Like anyone who cycles a lot, Chhetri had his share of flat tires and broken chains. It irked him that he had to drag his cycle to a mechanic every time it broke down. He reasoned it made more sense to learn to fix a bike. So his first foray into the world of mountain biking was to learn how to repair bikes.
To train as a mechanic, he joined Jiten Mountain Bike Workshop, one of the oldest bike shops in Kathmandu. Soon he dropped out of school and turned mending bikes into his profession. He took up a job as salesman at Jiten while continuing to work as a mechanic.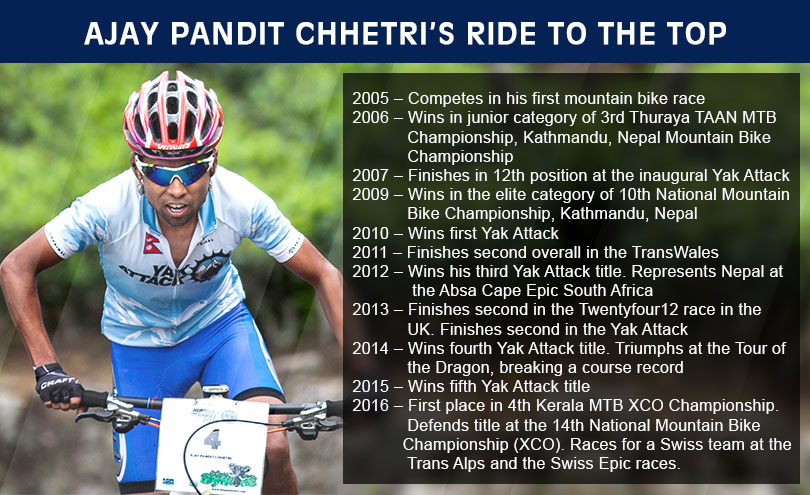 Working at a bike shop led to increased exposure to bikers and biking events, and he soon began to focus on serious biking. In 2006, the eighteen-year-old Chhetri borrowed a mountain bike from the shop to compete in the junior category of the Thuraya TAAN MTB Championship.
He vaguely remembers that bike. "I think it was a Taiwanese bike. But I didn't really care about the model of a bike then. It was enough that it was a bike." It was a mountain bike, but one without suspensions. It mattered little: Chhetri won the race.
Chhetri had been runner-up in the same race the previous year. But simply winning in the junior category did not satisfy him. He attributes winning that race to a lack of competitors.
A gulf separated him from the older, more successful mountain bikers of the day. He was desperate to beat the big boys. "For three years after I first began racing in the elite category, the highest I finished was fifth. Sometimes I finished eighth. I wondered when I would finally win against the older bikers. I knew I could do it."
His performance in the race impressed Chhimi Urken Gurung, whose company, Dawn Till Dusk, had organised the race. Gurung was also president of the Nepal Cycling Association. He offered Chhetri a job as mechanic and mountain biking guide in his company. Until then Chhetri was riding solely to indulge his love for biking, without any convictions about turning it into his profession. The job offer changed his life forever.
"Back then, Dawn Till Dusk was the preeminent mountain biking company in Nepal. Anyone who wanted to be a mountain biker saw a chance of working with them as a route to turning professional. The offer gave me the confidence to settle on mountain biking as a career."
In the early 2000s, mountain biking was still more of a leisure activity than a sport in Nepal. Guiding tourists, not racing, was how a Nepali mountain biker made a living. At the most there were two races a year. Chhetri was lucky in that his bosses gave him the freedom to hone his biking skills. Besides guiding and mending bikes, Chhetri trained for races.
His time at Dawn Till Dusk coincided with a phase of rapid growth in the mountain bike race scene. "I got great support from the company to compete in races. They had hired me seeing my skills as a rider. They signed me up for races."
The breakthrough
The period in Chhetri's life between winning the title of national junior champ and winning races against senior riders was like a relentless uphill climb. Then in 2009 he finally broke through to the top. The twenty-one-year-old won the National Mountain Bike Championship.
The transition from a novice biker to an elite one wasn't easy. "I didn't even have an athletic build," he says, gesturing to his 5' 4", fifty-kilo frame. He did not have a coach in those early years. His success was down to plain hard work. He rode every morning for a couple of hours before arriving for work at nine.
The story from bike mechanic to junior champ to national champ progresses like the script of a sports star's biopic. The twenty-nine-year-old has competed in scores of competitions all over the world, representing Nepal in races like the Langkawi International Mountain Bike Challenge in Malaysia, the Absa Cape Epic in South Africa, the Asian Games in Korea, and the 2014 UCI Mountain Bike Marathon in South Africa, where he was fifty-first out of 122 of the world's best riders.
In 2014 he became the first non-Bhutanese to win the Tour of the Dragon, a 268-kilometre mountain bike race held in Bhutan, breaking the course record by more than 30 minutes. In 2011 he finished runner-up in the Trans Wales. Two years later, he took the mountain biking scene in the UK by storm when he finished second in the 12-hour race of the Twentyfour12, something he regards as the high point of his career so far.
He chuckles remembering his first time racing in Europe. "My first international race was in Sweden in 2010. "
"I was shocked to find myself standing in a crowd of 500 racers; I was used to 30 to 40. I thought a tiny guy like me would get lost in the crowd." The race's management impressed him.
"The track was empty. In Nepal we have to dodge chickens and goats during a race."
But it is his performances in Yak Attack, the exacting, high-altitude stage race, that have put him in a league of his own. Except the 2013 edition of the race, in which he came in at second despite an injury, he has won every year between 2010 and 2015. He finished fourth in last year's Yak Attack despite falling and tearing ligaments in his back during the third stage of the ten-stage race.
After he won the 2010 Yak Attack, the race organisers put him in touch with Torq, the British fitness and coaching consultancy. They invited him to the UK as a guest rider.
Yak Attack organisers paid for his airfare and accommodation in the UK, while Torq took care of the rest. Chhetri spent three months there, training and racing with the Torq Mountain Bike Race Team. He went again in 2013, during the summer racing season. During his six-month stay he trained with Torq, raced for their team, and tried their equipment. Torq hired him to race for them. They still sponsor his nutritional supplies.
A tough  career path
One of the things that Torq did when Chhetri was in the UK was put him through a VO2 max test (also known as maximal oxygen consumption test). The results were startling. Trainers and scientists at the Torq laboratory were astonished to find that a puny athlete like Chhetri (he was the lightest male rider they had ever worked with) had the same fitness and endurance levels as some of the world's best mountain bikers.
The tests combined with Chhetri's domination of a strenuous race like Yak Attack proved beyond doubt that he is as naturally gifted as any mountain biker. So the question arises: Why doesn't Chhetri win at events like Asian Games? "Mountain biking is not just about endurance and physical fitness. This is a sport where equipment counts. It's not football, where every player is kicking the same ball. A guy riding a $12,000 bike will always have an advantage over someone on a $2,000 bike."
"Then there are issues like sponsorship, coaching and training," he adds. "Nepalese mountain bikers usually only prepare for a month for a race where they compete against riders who have trained for months or even years for that race." He lamented how sometimes the governing bodies cannot decide, owing to a lack of sufficient funds, until the last minute whether to send Nepali mountain bikers to international races.
Nepali athletes perform under the fear of an uncertain future, something Chhetri thinks undermines their performances.
"Mental relaxation is a big factor in performing well. But when we are training, doubts and fears about our future, livelihood and retirement fill our heads. Our mind should only be occupied with our training, our sport, like other international bikers. As a result we can't give a hundred percent. It takes three months to train for a race like Yak Attack. That is three months without income." Chhetri and other bikers have tried hard to get insurance companies to insure them, but have failed so far.
Chhetri believes Nepali mountain bikers can succeed at the international level. "We surprised a lot of the top teams at the 2014 UCI World Championship in South Africa.
They weren't expecting a tiny Asian nation like Nepal to perform like we did. Competing in it made me realise that we can achieve results at that level too—if we get the kind of support that international bikers receive.
The majority of the riders there were professionals who have sponsors and coaches, even personal masseurs. They were impressed seeing us finish in the top 50. For us, who have next to nothing in support, to compete with them is like a guy with a dinner knife taking on someone with a sword."
The support that bikers like Chhetri receive makes that dinner knife seem an exaggeration. The Nepal Cycling Association, the sport's governing body, does not receive enough funds from the government to even hold the national championships regularly.
"We heard that the Indian and Sri Lankan cyclists that we competed against at the 2016 South Asian Games trained for over a year for it. Their governments pay them a monthly salary. We trained for barely a month for the same event. Our government's attitude is: win a medal and then we will support you. They don't realise that you have to invest first to win medals."
Those in the mountain biking fraternity believe it's time to invest in the sport. "Nepalese riders need long-term funding from the government," says Jenny Caunt, co-owner of Himalayan Single Track. "Nepal has a football team. Why can't the National Sports Council develop a core team of riders and fund their training?"
The future
Although by no means in the twilight of his career, Chhetri has begun thinking about life after the saddle. "Thirty-five is the peak age for mountain bikers—if you maintain your diet and stay fit, that is."
It's got more to do with giving back to the sport and taking it to new levels. For now, he wants to keep representing Nepal. But in the future he wants to train more local youth to become involved in mountain biking. His goal is to train more bikers, so that they may compete at the level he is competing at now. He wants more people biking.
"We don't really have coaches here—for any sport. That is one reason why there are more amateur riders than professionals in Nepal."
To change that Chhetri has registered his own company, MTB Nepal. Chhetri, who has a coaching certificate from Torq, has begun to train a couple of young Nepali riders. An Indian mountain biker will begin training under him this month. Chhetri is also the brand ambassador of Yak Attack, as well as an advisor.
He is also a member of the Yak Attack organising team. His company is the logistics partner for Pokhara IV, a four-day race in Pokhara. His company will function as a consultancy and coaching institute. It's still early days, but Chhetri envisions a state-of-the-art facility on par with the big names in the international market.
But more work needs to be done in Nepal before Nepali bikers can begin to take on the world. "People in the international community recognise me more than locals do," he says, his apparent pride at being known outside tinged with the disappointment of not being equally known in his own country.
"Yak Attack is becoming increasingly more popular with international mountain bikers though it takes place in Nepal. Shouldn't it be popular here as well? More Nepalis should participate and get into mountain biking. It is our terrain. It's a Nepali event."
Chhetri believes more Nepali riders can emulate his achievements. International mountain bikers not only have a high regard for Nepal's geography, they also think highly of Nepali mountain bikers. "When they first see us, they might not be impressed, but they are shocked by our biking and athletic skills."
Popular and rapidly expanding as the mountain biking scene may be in Nepal, it is still not seen as a viable profession. Even a top biker like Chhetri confesses that although he loved biking ever since he was a child, he never saw it as a potential career path. He didn't realise he could do it professionally, but now that he is doing it, he encourages others to try it.
Mountain biking is sustainable, he says, provided you are versatile. "I bike when there are races, but during off-season I freelance." One way to survive, says Chhetri, is to establish oneself in both the sporting and the tourism sectors. "Since biking is connected to both these industries, there are a lot of opportunities to make a living."
For bikers just starting out, the road ahead is tough. Funding and sponsorship are hard to get. About the lack of adequate funding from the government, he says, "We can't really blame the government. Funds for mountain biking barely exist." But he remains optimistic about the future.
"Yes, it is difficult now, but it will get better with time. Right now the only real funding available is from the international market." Chhetri and his team mates' participation in South Africa was made possible by donations from foreigners. The government or the private sector gave nothing.
Chhetri sees the next generation of Nepali riders achieving even more. "The juniors are great. They are better than when I started out." He has a lot of faith in younger contemporaries like Buddhi Bahadur Tamang (Roan Tamang) and Ayman Tamang. Chhetri believes that the fact that they have got into the sport at a time when technologically advanced equipment is available will give them an advantage.
And the industry has grown; there is more support and recognition for mountain bikers. "When I was their age I had never been outside Nepal, but they have already raced in Europe."
Chhetri feels more needs to be done to better utilise Nepal's potential. "Bikers from across the world agree that Nepal is a heaven for mountain biking. Nepal has also received increased attention due to Yak Attack.
Because Yak Attack is so demanding and challenging, it has gained popularity internationally, which in turn has boosted tourism and small businesses like bike shops. We need more events like this."
"Everyone who is a mountain biker is crazy," says Chhetri. "It's addictive. You do it even if you don't have the money to do it, even if you don't win."
All photos: Gaurav Man Sherchan
---
Published on August 3rd, Thursday, 2017 1:08 PM
---
Download Onlinekhabar App. Android click here & IOS click here . Keep in touch with us on Facebook, Twitter & YouTube.