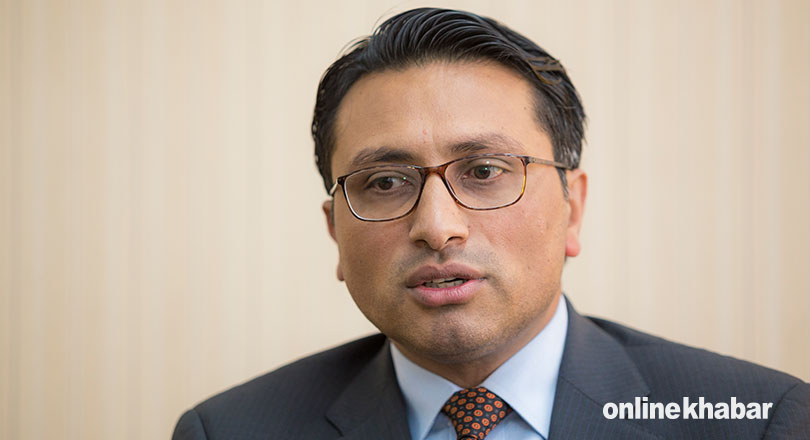 File image: National Planning Commission Vice-chair Swarnim Wagle
National Planning Commission, the country's apex development strategy formulation body, recently became the first government entity to procure an electric vehicle (EV). Vice-Chairman Swarnim Wagle, who currently uses the car, says his office decided to switch to electric for numerous reasons, and the move in itself is a policy statement. Onlinekhabar's Abhaya Raj Joshi and Sudil Pokharel recently talked to Wagle on government policy on EVs in Nepal and changes to expect in the years to come.
Excerpts:
To begin, could you tell us how the Planning Commission decided to buy an electric car?
In the past, there were many problems with electric cars. For example, they did not look good and the distance range they provided was pretty dismal. But now electric cars have not only improved their aesthetics, the performance of their battery has also improved. In the past, an electric car could accommodate only one or two people and they too could not sit comfortably, but now electric sedans provide the comfort only petrol cars provided in the past. The BYD E6 we bought can run for 400 km when fully charged, and that is pretty significant.
When we decided to procure an electric car for my office, we received bids for two companies: the Chinese BYD and the Korean KIA Soul. We decided to go with the BYD because it had a more formal feel to it compared to the KIA.
What are the reasons you decided to make the switch?
EVs are beneficial not just at the personal level, but also at a more macro level. First, we are spending billions of rupees on importing petroleum from India. We can significantly reduce our consumption of imported fuel and increase the use of domestically-produced clean hydropower by promoting EVs. Second, after petroleum, our second most expensive import is the vehicle spare parts. As you know, EVs have very few spare parts and they have a longer lifespan. So when we promote EVs, we can reduce our import bill on these two things.
In addition to that, EVs can be useful to lower the electricity tariff in the country. Let me tell you how. Nepal has a certain amount of installed power generation capacity and we have our peak consumption hours. But there are certain hours at night when the power consumption level is very low. This means that at around midnight, regardless the season–in winter our installed capacity drops to nearly 50 per cent because most of our projects are run-off-the-river, we are not making use of our installed capacity. That is when we need to charge our EVs, and when the underutilised power is used, the cost per unit of power can also be reduced.
The other issue is related to climate change. By promoting EVs, we can create a brand for our country by positioning ourselves as good global citizens. We could say this product is made in zero carbon Nepal, or promote clean air tourism. There are many positive externalities to this.
Similarly, at a more macro level, EVs can help reduce pollution, which has become a big problem. These days you can't go out without wearing a mask or leaving the window of your car open. That could change if we have more EVs.
At a personal level, EVs are more cost-effective, you save money starting from your decision to purchase an electric car. In the case of Nepal, you pay around 224.5 per cent tax when you buy a fossil fuel car. But that number is as low as 28 per cent when you go electric. The operation costs are also low. On a fossil fuel car, you drive at Rs 12/km, in the case of EVs, its around Rs 2/km. Similarly, when the stress of driving a car is reduced, incidents related to road rage can also be minimised.
But are there any concerns related to EVs?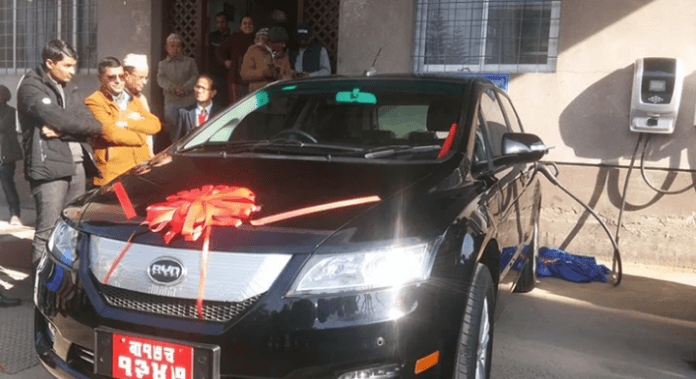 I think, it's the battery that is the cause of concern these days. Most manufacturers claim that the battery will last for 25 years if the driver drives carefully. The disposal of the used battery is an issue that needs to be resolved. It could be done in several ways; first, the manufacturer can buy back used battery or swap it with fresh one
Do you think there's anything the government can do right now to promote EVs? 
I think, for now, it's about encouraging individuals to buy EVs and charge them at night when electricity consumption reaches a low. We could also encourage municipalities around the country to buy EVs. For example, cities in the plains, such as Sauraha could market themselves as clean-green cities. Recently, I met a mayor from one of the cities and when I suggested that he buy an EV, he was quite positive. We could also promote EVs through government procurement.
The Nepal Electricity Authority could provide cheaper rates for consumers to charge their EVs at night. That would further reduce the cost of operation and the power tariff, as I explained earlier.
I think the fiscal incentives that we have are enough for now. We must also not forget that there are just a handful of sectors that contribute a huge chunk of money to government revenue. The taxes the government levies on cars is one of the biggest sources of revenue. At the moment, only a handful of people, whom we could even easily name use EVs, but when more people switch to EVs, it will have an impact on government revenue. That is why we need a transition plan to switch to EVs in the future.
We need to roll out policies gradually. We are on the right track. We also need to invest in other supporting infrastructure such as roads and charging stations. Having said that, I don't believe that we need to take any radical decision on promoting EVs right away. It is all network economics, we have the financial incentives in place, and people will start adopting EVs. When the numbers are there, then we can design policies for the masses.
The only thing I would recommend right now is for the government to waive duties on the import of charging equipment. But we must also bear in mind that in the context of Nepal, the charging needs to be done at night. We need to adopt a PPA approach to build charging infrastructures. There is a principle we need to follow: whenever the social benefits exceed private benefits, the government should not hesitate to provide financial support and this is one of those cases.
So how long will take for Nepal to make the transition?
I think we are headed in the right direction. But we are not in a situation where we can recommend an electric car for a first-time buyer. An electric car, in our context, is at least for now the second car for most people. EVs can be used within the city limits, but because their clearance is low, they cannot go off-road. EVs have a long way to go before they can be recommended for a first-time buyer. But there is no doubt that it is the direction we want to head towards. In Nepal, the right policies are in place, all we need is the numbers so that it can enter the public policy sphere.
This interview is part of a series on E-mobility in Nepal and India produced under a grant from Clean Energy Wire (CLEW), Germany.
---
Published on January 16th, Tuesday, 2018 12:54 PM
---
Download Onlinekhabar App. Android click here & IOS click here . Keep in touch with us on Facebook, Twitter & YouTube.