Fourteen days after the then rebel party, CPN-Maoist, launched its armed struggle, two students in Pandrung of Gorkha district sustained critical injuries as security personnel opened fire at their school suspecting that the principal was assisting the 'terrorists'. Of the two boys, Dil Bahadur Ramtel died on the same day, February 26, 1996, for want of treatment. His friend Ram Bhatta survived.
The Maoists, who are now a part of the powerful Nepal Communist Party, consider Ramtel as their 'first martyr.' Bhatta, now in his mid 30s, is struggling to make a living and support his family. While the leaders remember Ramtel's family occasionally, Bhatta has apparently been nowhere in the scene in these 22 years.
Bhatta, as a teen wrote a number of letters in memory of his childhood best friend after Ramtel's killing. One of these letters was recently exhibited at a five-day exhibition in Kathmandu. It made dozens of spectators burst into tears.
Effort to keep the history alive
Voices of Women Media (VOW Media), a nonprofit private company, hosted the exhibition—Memory, Truth and Justice: from the survivors of the People's War—at Nepal Art Council from October 2-6. The organisation says it was "a project to document, archive and share personal stories of survivors and families of the victims of the People's War in Nepal."
Documenting the stories is important because human memory, a crucial element in understanding the truth, fades over time, according to the company.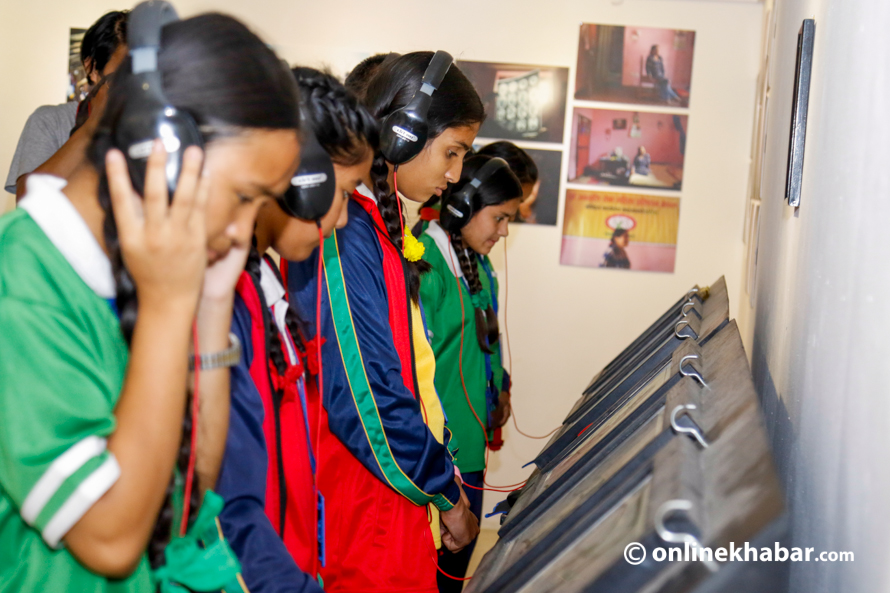 Bikkil Sthapit, a freelance videographer who coordinated the event, says the primary target of the exhibition was school students. "These students were born when the conflict was about to end. Therefore, they do not know anything about the war," Sthapit says, "Their textbooks teach them about our country's presidents and prime ministers, but they do not say much about how the country became republic to let these officials enjoy these positions. The school children need to know the history."
He adds, "After one week, many of them go to other districts for the upcoming Dashain festival, during which they can discuss what happened during the war with senior members of their family so that the history will not fade away."
Around 8,000 people visited the exhibition and almost half of them were school kids, informs Sthapit. He adds the project is planning to take this exhibition to more schools in Kathmandu and other districts. A fundraising campaign has already been started to expand the effort.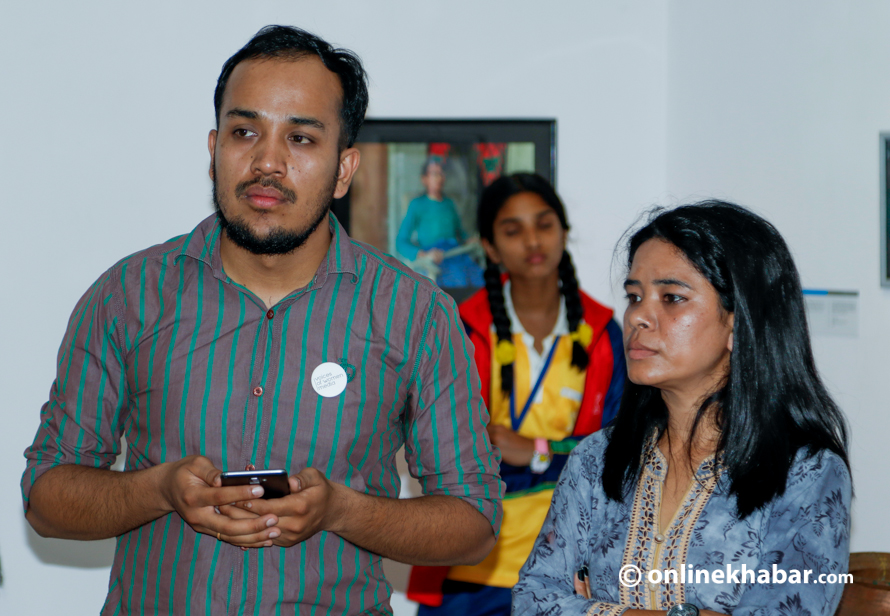 The recent exhibition was funded by two foreign donors, according to VOW Media Director Puja Pant. "Memory, Truth and Justice as a project began in December 2017, as we received the fund of around Rs 3 million," Pant says, "Now, the budget has run out. But, we are determined to continue it further."
Multimedia exhibits
One of the key components of the project was a multimedia training workshop hosted for women who were part of then People's Liberation Army. Sthapit, the training facilitator, says the former rebels were trained in documenting their struggles and achievements in multimedia contents.
Six photo stories made by the former soldiers were showcased at the exhibition. Besides, the event included 14 physical objects used by people killed or made disappeared during the war. The objects included clothes, books and diaries, farming objects and kitchen utensils. Likewise, there were five letters, 16 audio stories and 43 video stories about victims, survivors and victims' families. The victims and survivors included people who were attacked by either government forces, or the rebels, or both.
A corner of the exhibition was artistically recreated to give the visitors a sense of how the army (of either side) used to abduct innocent people, which would ultimately result in their murder or disappearance. The artistic recreation, done by a group of Nepali and foreign artists, in particular tried to imitate the scene of abduction of two Dalit girls of Pokharichauri village of Kavre district in February 2004, according to the victims' sister Gita Rasaili, who was also a part of the organising team.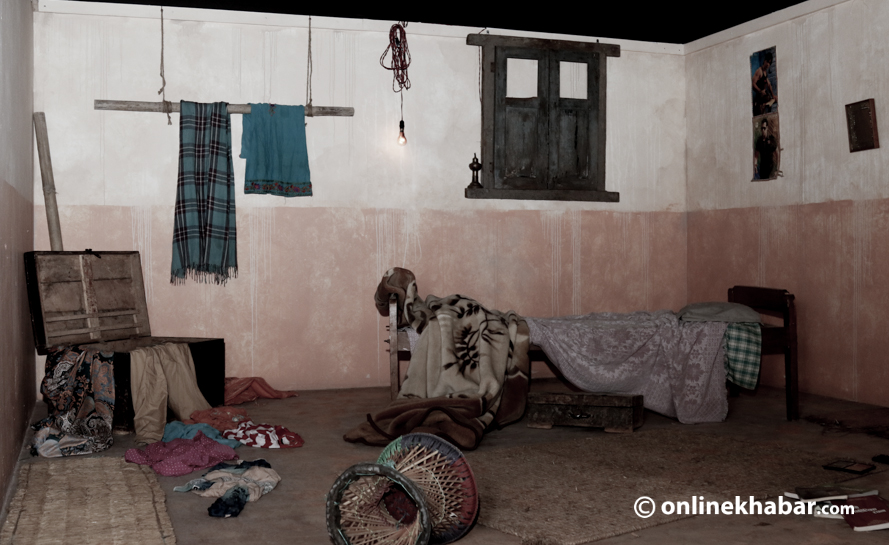 "Dalits and members of backward communities were primary targets of the armies because they were at the bottom of the social stratification. Further, they could be easily accused of spying on another group because Dalit settlements are established far from other people's households," Rasaili, who evolved as a conflict victim activist after the incident, shares, "Many people even do not know why Dil Bahadur Ramtel was denied medical attention which Ram Bhatta was given on time. It was because Ramtel was a Dalit."
Different shades of a single perspective
During the exhibition, visitors also got a chance to watch four documentaries on different incidents of the war, one documentary everyday except the opening day. Though they were all shot from the survivors' perspective, they carried different shades of that perspective.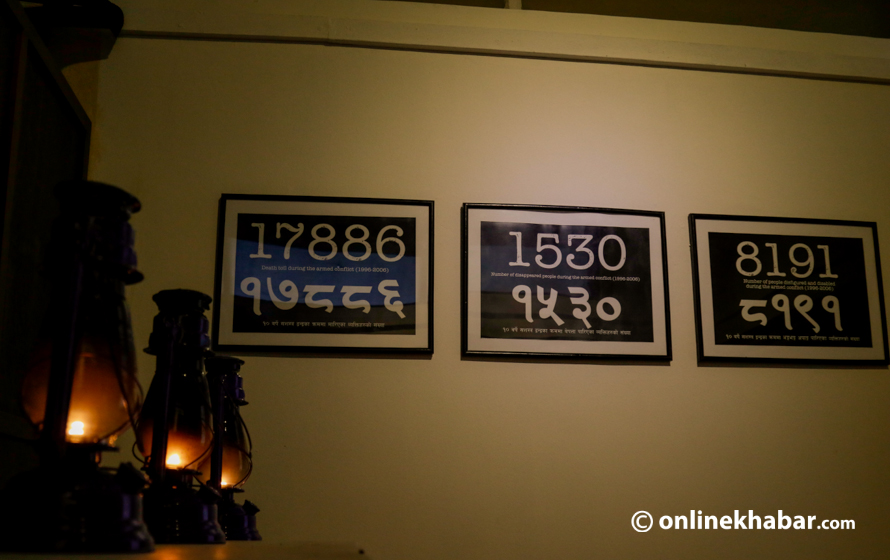 The final day's show was about the murder of Dil Bahadur Ramtel. The previous day's was about the killing of 12 Dalit men in Goltakuri of Dang district. The two others were about mass disappearance of Tharus of Dang and a blast carried out by the rebels targeting civilians in Pokhara. Each of the documentary show was followed by a talk during which one person, who witnessed or knew the incident in quite detail, interacted with the audience about different dimensions of the incident.
The last day's speaker was Ram Bhatta, who once again burst into tears in memory of his dear Ramtel.
However, he was more concerned about hundreds of people who have been living with injuries from the war, like him. "When I was a child, my family took care of me to save my life. Now, I am an adult, and my family expects me to earn for living," he told the audience, "Sadly, I cannot meet that expectation. I wonder how thousands of other injured people go through this misery everyday."
He said no one, those involved in the war in particular, should dare forgetting those unhealed wounds.
---
Published on October 7th, Sunday, 2018 12:01 PM
---
Download Onlinekhabar App. Android click here & IOS click here . Keep in touch with us on Facebook, Twitter & YouTube.