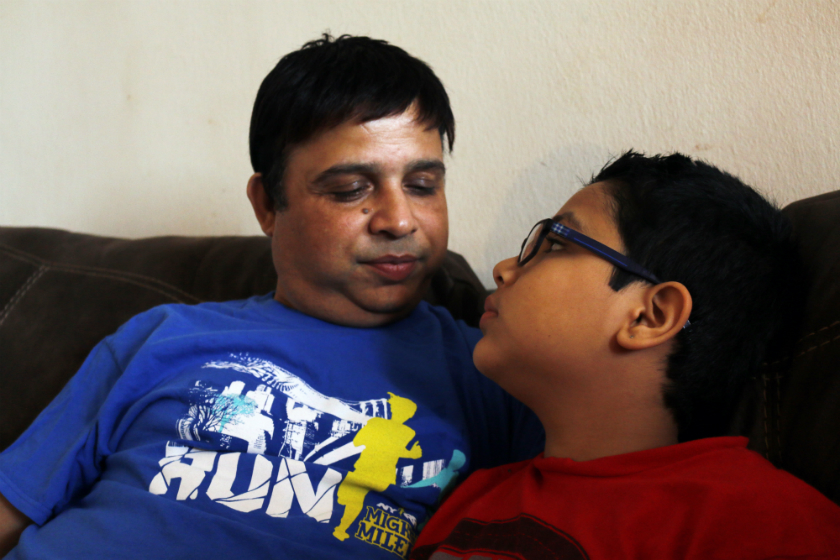 Squatting on the floor with a script lying beside him, a couple more random pages scattered on his right, popular radio presenter of Nepal, Kalyan Raj Gautam, was recording an episode of his popular radio show at his residence in Lefrak City, New York.
He began '……….. Dear Kalyan, my name is Sharmila………'
With a large white headphone on, he spoke into the microphone. Waves of audio being recorded could be seen on the screen of his computer. On that day, he was narrating the story of Sharmila Tamang, a woman from Mahottari who had lost her husband in the decade-long conflict in Nepal.
Like other listeners, she had mailed him her story. She mentioned she was raising an 11-year-old son on her own in the capital city Kathmandu. Gautam, 43, has been regularly doing his trademark radio show for Nepali audiences for more than 20 years now. He has been recording the show from the city since 2014.
The concept of the show is that members of the audience send him their life stories, and he rewrites them to narrate them on air. The show made him a radio star in Nepal in the mid-90s and 2000s.
"I am still doing the show since my radio station didn't want to drop my program. The radio station still receives letters from the listeners, now an average of 20 letters per week," he says.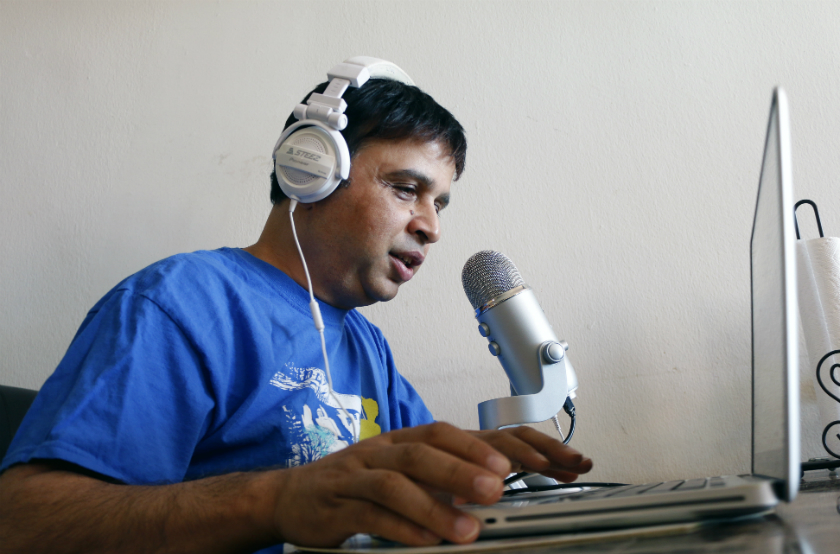 He also receives stories and feedback from his audience via Facebook, emails, and Viber from Nepalis around the world. "On an average, I receive about 15 stories per week from social media and email," he explains.
When his popularity was at its peak, his show used to receive more than 600 letters a week. "To be honest, it was impossible to read all of them, so I would pick them randomly and read them. If I found one to be touching and strong, I would call that person to verify the facts. When convinced, I would re-write and broadcast the story," he says.
The early days
'Dear Kalyan'
This is how people address him in their letters to his show. This was the decade when private FM stations had just emerged in Nepal.
During that time, a 25-year-old Kalyan Raj Gautam started a brand-new concept of telling the true story of a person on the radio.
"I never thought my show would be such a hit," he says.
"I had a friend who was a drug addict and I had seen the ups and downs in his life while recovering from his addiction. I thought that would be a great story to tell on the radio. Then I approached the radio station with the concept and they liked it."
Gautam wrote the story of his friend himself with a fake name and then started the first show on March 2, 1998. He thought of referring to himself as 'Dear Kalyan' as it would sound hip and peppy.
"I used the word 'dear' because it was kind of exciting to use it and it was easy for the audience to refer me, " says Gautam.
The show was titled "Mero Katha Mero Geet" (My Story, My Song). The first show created magic since it was a brand new concept on the radio. People were talking about the show and about the story. And the rest, they say, is history.
"My friend also thanked me for reading out his life story," he adds. Within six months, Gautam became a celebrity.
"When people would hear my voice at social events, they would say, 'Are you, Dear Kalyan?' I was no longer Kalyan Raj Gautam. My new identity was 'Dear Kalyan.' As his popularity soared, different brands started to followomg him. He also started his own advertising agency.
"I was making a heck lot of money back then."
With his successes, the boy from the Dang district bought a house in Kathmandu. "Normally, people who are from outside the capital city dream of owning a house there, and my show helped me achieve that dream," he says.
Writing Career
Besides being a radio personality, Gautam was a writer, too. He had already written a handful of novels even when he was not a radio star. His three novels received a satisfactory response from the audience. But in 2000, when he published a collection of stories from his show, it was a big hit. More than 10,000 copies were sold. Subsequently, Parts II and III of the book were also published. All of them did well. In 2012, he penned another book dealing with the emergence of radio in Nepal; it was titled 'Radio Chap Salai' which translates to 'matchbox with the picture of radio'. He refers to it as a historical work of fiction. It sold more than 15,000 copies.
"I was really happy with the response," he says." Nepalis living abroad bought lots of copies."
One thing is for sure –his stardom helped to increase the sale of the books. Besides that, it led him to have tour invitations from across the globe. Fans from Europe, Australia, Malaysia, Singapore, UK, USA, China, and Bangladesh would often invite him for shows.
His life was really the envy of many. He had name, fame, family, success and wealth. He was a complete radio star. What more would he ask for?
Daughter's future
Even though he had so many female fans who sent him marriage proposals, one fan stole his heart. After being in a relationship for one year, he tied the knot with his wife Sanjana Giri on March 1, 2002.
"It's easy to get a girlfriend, but it's difficult to find a wife," he says. "I am happy that I found her."
His life was heading into an awesome phase until his daughter, Sambhawi, became 15 months old. "She was not speaking at all," he says. Gautam took her to numerous hospitals in Nepal and India. After rounds of visits, he was about to hear something he was not ready for.
"They found out that our daughter had autism," he says. " We could not believe what we were hearing. My wife and I were constantly crying. "
"Autism is a complex developmental disability," he says. "There is no cure for autism, but continuous therapy and treatment can make her slightly better."
He was constantly finding out about autism in books and on the internet and trying to figure out what to do, as it was getting really hard for him to raise his daughter in his country. "Everything was uncertain during those times in our country," he says. " Numerous strikes and bandhs (protests) were occurring."
"Besides that, autistic children were treated differently in our society, so I decided to move out. After a lot of research and advice from well-wishers, I decided to migrate to the US so that my child could get better care and support."
He came to the US in 2010 and brought his family almost two years ago.
" My daughter goes to school now."
" The way the state treats autistic children here is so different, as they take good care of them."
" We are taking her to speech therapy, too," he says.
Gautam's wife, Sanjana, doesn't work, as her daughter, who is 14 now-,fully occupies her 24/7. She has to take care of her nine-year-old son, Aakhyan, too. While some photos were taken during the interview with her parents, Sambhawi was constantly crying.
"She is an attention seeker," Sanjana says.
"As we were more focused on you (reporter), she felt ignored."
Sambhawi goes to a special school for autistic children around 6.30 in the morning and is dropped home around 3.30 p.m. In the meantime, Sanjana prepares food for everyone.
"She is everything for me," says Sanjana.
Fading stardom
Besides sending the one-hour show to the FM station in Kathmandu, Gautam has also started his own YouTube channel, Mero Katha Dear Kalyan, which has more than 22,000 subscribers.
On an average, each episode gets around 20,000 views. He earns around Rs 50,000 per month from his YouTube channel.
"This is only $500," says Gautam, "But I am happy with people's love."
He partially admits that his stardom is fading.
Yes, the craze for my show isn't that much now but it is partially true," he says, "Because when I upload one picture on my fan page, hundreds share it." His Facebook fan page has more than 45,000 likes. His personal Facebook page has more than 25,000 followers.
The road ahead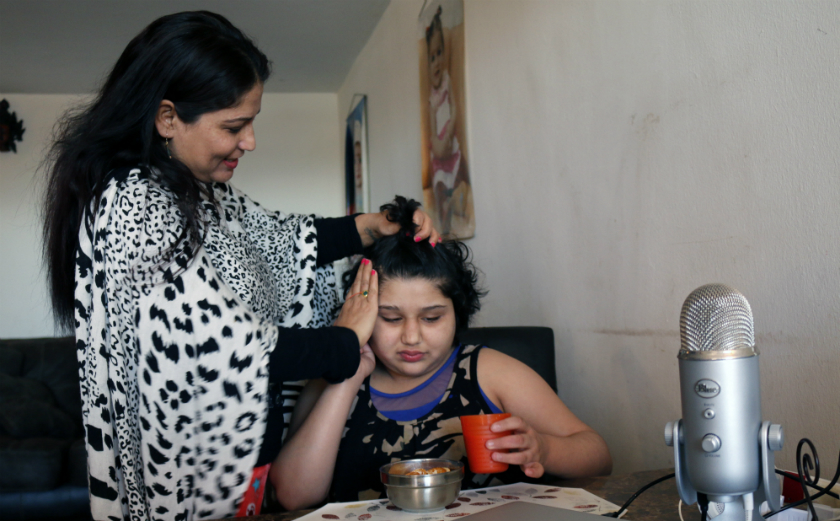 Inside his room in one corner were piles of books on China. Mao Zedong, by Jonathan Clements and The Tiananmen Square Massacre, edited by Kelly Berth, were two of them.
Gautam is trying to pursue his career in English fiction writing.
Doing a part-time job in a private company, Gautam is currently working on a novel based on a story of two Chinese immigrants in New York.
"This is the only skill I can use to market myself here," he says."I am researching everything about Chinese history for my novel."
"My first priority is my daughter, " he says," Then this novel."
---
Published on March 9th, Friday, 2018 12:19 PM
---
Download Onlinekhabar App. Android click here & IOS click here . Keep in touch with us on Facebook, Twitter & YouTube.