Over 60,000 people on AP1 Sport's YouTube channel watched Kathmandu Razyrs beat Dhangadhi FC in the final of Nepal Super League on May 15. A good number of people watched it on AP1 HD television as well. With people not being able to attend the match live due to the raging pandemic, it was crucial to the league's success that the coverage was spot on. And, it was indeed.
At the forefront of this was Yopesh Pradhan, the tournament's broadcast director, who was working day and night to ensure that people got to enjoy NSL from the comforts of their home.
"It feels good to have been part of this project. I feel we did a good job even when the circumstances were quite unfavourable," says Pradhan. "But, I couldn't have done it alone. I'm very proud of my team."
Pradhan has been involved in the broadcasting scene for nearly two decades. He has worked live broadcasting events like the Dhangadhi Premier League, Everest Premier League, A Division Football, and the South Asian Games, to name a few. With the recently concluded NSL, he hopes to inspire a young batch of producers who want to help develop the sporting scene in Nepal.
From jack of all to master of one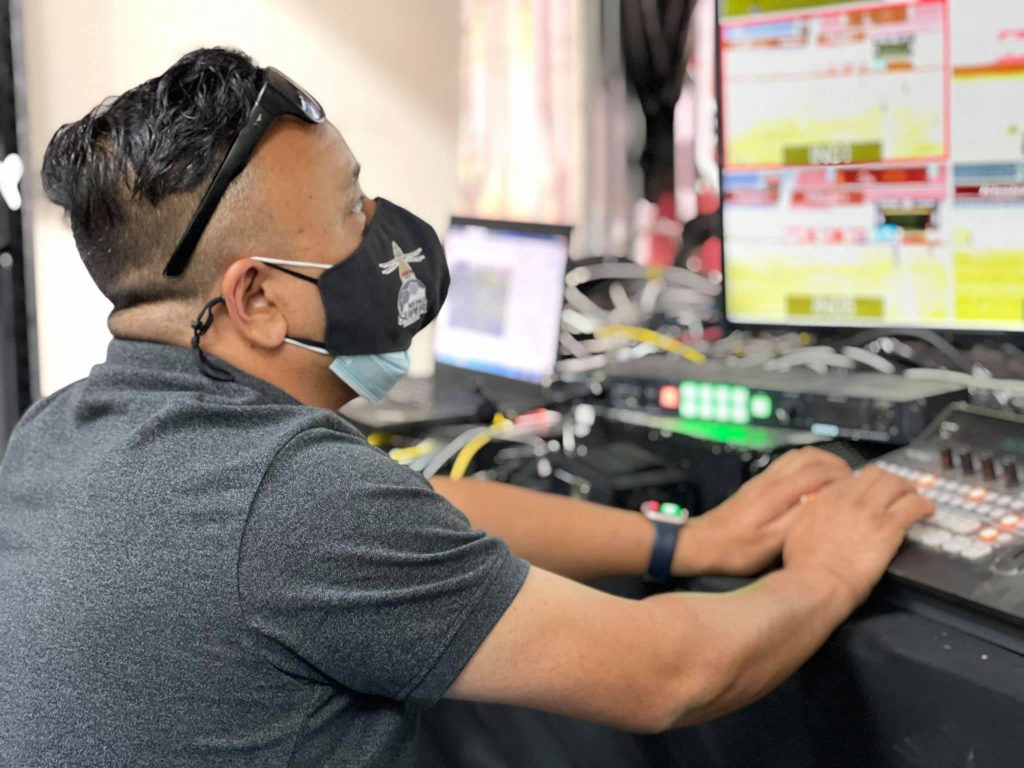 "There is so much potential, we just need to tap into it," he says.
Pradhan started his career at Kantipur Television as a camera person in 2002. Even though he shot everything, from politics to protest to music shows, his passion was sports.
"I used to go cover all sporting events, from football to cricket to volleyball. Even though I had only one camera, I'd try to get shots from different angles so that we could give the audience a more dynamic coverage."
With a young team that included Aman Adhikari and Sudin Pokharel, and a liberal management team, Pradhan got to experiment a lot. He along with Adhikari started a show called Showboard which dealt with all things sports and was quite popular in Nepal during the 2000s.
His work at Kantipur TV raised his stock as he started to get gigs elsewhere. The first was Sajha Sawal, a panel discussion show produced by BBC Media Action. There he worked as a cameraperson but soon ended up in the outside broadcasting (OB) van switching between cameras for the live broadcast of the show.
"It was fun to have been involved in the project. I learnt a lot there," he says.
He grew into it and wanted to be part of sports broadcasting projects. But, with most rights elsewhere, and bosses at Kantipur TV not too keen on broadcasting live sports, he left his job there and went to the US, accompanying his wife for her higher studies in 2010.
"Working at Kantipur was fun, but at that point, I needed a new project," he says.
Learning and earning one after another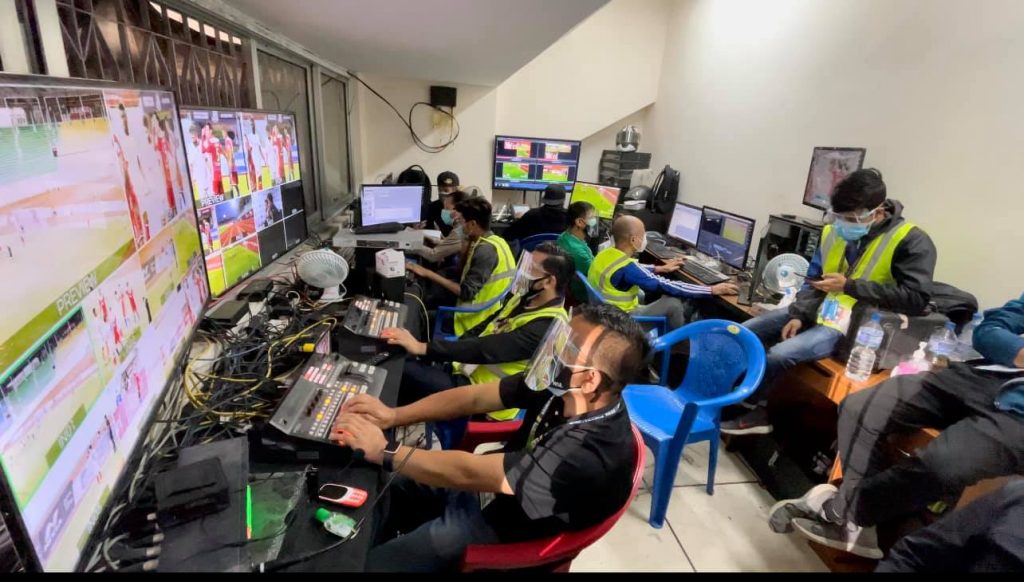 He was still eager to learn more about production. As he was based in New York, he enrolled in a short diploma course in digital filmmaking at the prestigious New York Film Academy. There, he sharpened his skills having involved himself in various projects.
"I wanted to a specific course on camera which would have been more fruitful, but it was too expensive," he adds.
After spending a few years there, he returned and started to work on various filming projects and helped out at G21 Productions. In 2015, he then got a call from AP1 asking if he was interested to lead the television company's camera crew.
"I'd worked with many of the before so I jumped at the opportunity."
Pradhan, who had made a name for himself in Nepal's live broadcast scene, would end up at almost all live events the TV channel would air.
"I'd be everywhere, from political interviews to live protests. I enjoyed it very much."
Things started to get even better for him as AP1 started to bid for sports broadcasting rights. The first was the A Division League which soon paved the way for other events like the Dhandadhi Premier League and Everest Premier League.
"I finally got to do something I had always wanted to do. Even though it was hard initially, my and the people I worked with learnt on the job as we pulled it off."
Expanding the scope
Live broadcasting was a rare sight in Nepal as it was limited to major sporting events like the South Asian Games or the SAFF Championships. Even major cricket games were rarely shown on the TV due to a lack of equipment and skilled human resources.
His first major project came in the form of the Dhangadhi Premier League. As he did not have a replay machine and skilled camera persons, he was afraid how it would turn out. But, as the TV had already taken the rights, he had no option but to go to Dhangadhi and broadcast it.
"It was a disaster, but we learnt a lot. We didn't show replay and the score had to be put in from Kathmandu," he says. "We even had to install Dish Home at our tent in the ground to see if what we were doing was coming out okay on the TV."
But, gradually things got better as he got better with live broadcasting. In 2017, the TV brought a replay machine which helped Pradhan and his team a lot.
Things became better for Pradhan when he was part of the broadcasting team for the ACC Premier League which took place in Kathmandu in 2017.
"As it was also being broadcasted on Sony Max, people from India had come to broadcast it. I learnt a lot working with them. Those 15 days were the best as I worked with a few people who were involved in broadcasting the IPL. Time spent during then was invaluable."
A long way to go
Live broadcasting is full of its fair challenges. The initial challenge he says is the lack of proper equipment in the country. While things have changed and a few TV channels and companies have brought in some good equipment, they still require committed and skilled human resources.
"We train people, but most go away because these live events are quite rare. Plus, people here in Nepal are not all supporting and it does get quite discouraging."
He gives a recent example where they were getting a lot of hate comments on YouTube about the broadcasting of the NSL. There were complaints about everything, from picture quality to the lack of replays. While some were constructive, a lot of comments were full of malice.
"People were talking like the NSL needed VAR (video assistant referee). They think it's easy to do it without paying any attention to what type of technology it is."
But, he is hopeful that things are changing. Since he has started off, a lot has already changed and with more enthusiastic people interested in live broadcasting, he thinks the future is bright.
"We have young people like Abhinav (Joshi) and Avash (Ghimire) who are new to this but are always willing to learn. If we have young people with the right attitude working in sports broadcasting, Nepal's sporting scene will also develop and that what we want to do in the long run."
All Photos: Yopesh Pradhan