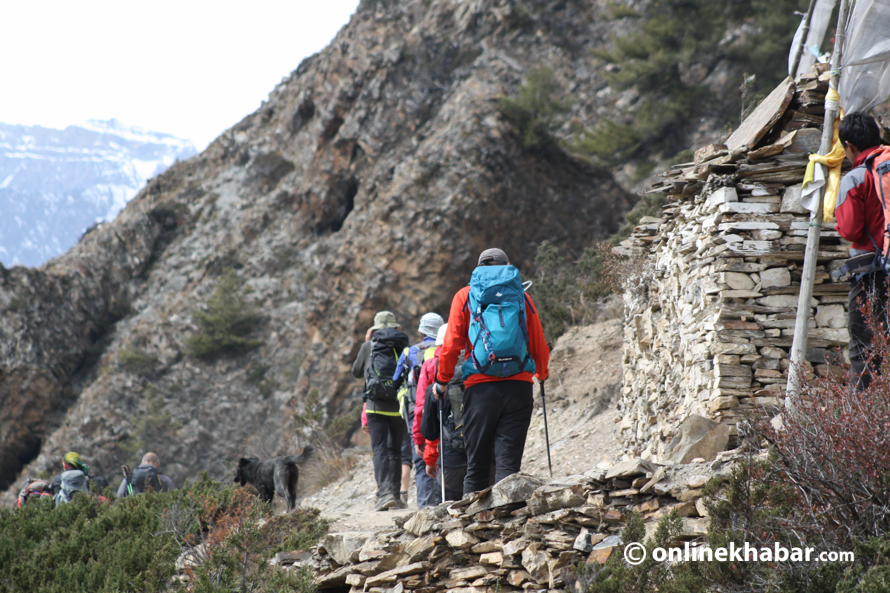 The past three months have seen a drastic rise in foreign tourists entering the country. On average, around 49,000 foreign tourists per month entered Nepal in the 11 months of 2022. This is good news for the tourism industry that suffered a major setback due to the Covid pandemic as monthly tourist arrivals in some months of 2020 and 2021 were zero.
Director of Nepal Tourism Board, Maniraj Lamichhane, says things look good for the tourism sector. According to Lamichhane, the United Nations World Tourism Organization (UNWTO) estimated that 2023 would see a revival in tourist arrivals somewhere between 60 to 63 per cent of the world compared to 2019.
"The increment is something similar compared to the end of 2019," says Lamichhane.
According to the Nepal Tourism Board, a total of 546,216 tourists have come to Nepal as of November. According to this, an average of 49,656 tourists come to Nepal every month. In November alone, 72,653 tourists came to Nepal.
This was still less than the 2019 numbers when over 130,000 tourists came to Nepal in November alone and over a million in the year. As usual, most tourists still come to Nepal for adventure tourism as a majority of them come to trek in the high mountains and some climb them. The number has continued to rise despite issues like Covid and dengue.
But, tourism professionals say although the statistics show good signs, the old challenges still remain. Nilhari Bastola, the president of the Trekking Agencies Association of Nepal (TAAN), says that the arrival of non-resident Nepalis also played a role in the rapid increase in international tourist arrivals after the Covid pandemic.
"The arrival of many non-resident Nepalis, who have not been able to come to Nepal for a long time, has also increased the number," he says, "The numbers look great, but its impact on the revival of tour companies and hotels is yet to be seen."
Lack of reliable data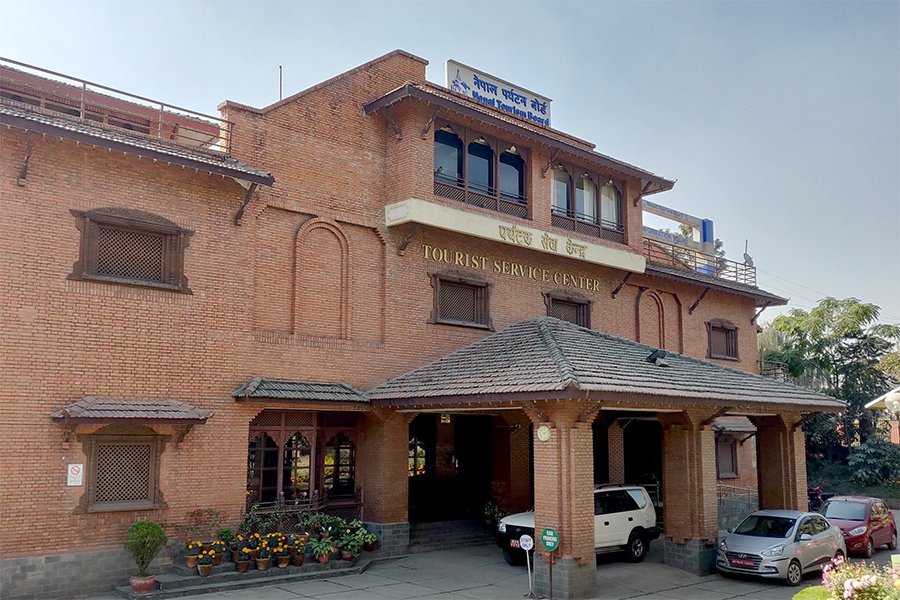 During October and November, small and big hotels in Kathmandu, including those in Thamel, were full. Youb Raj Shrestha, a member of the working committee of the Hotel Association of Nepal (HAN), says that Indian tourists have a big role to play in this.
However, if you take the data into consideration, there is a big mismatch. As most Indian tourists come via land, their entry number is not included in the NTB's list because it counts only tourists who come via aeroplanes.
Shrestha says many tourists come to Nepal via land as airfare between Kathmandu and Delhi exceeds Rs 45,000. As a result, many drive their own vehicles and come to Nepal and results were seen in Pokhara, Thamel and Sauraha as these areas were full of Indian tourists.
Positive publicity ongoing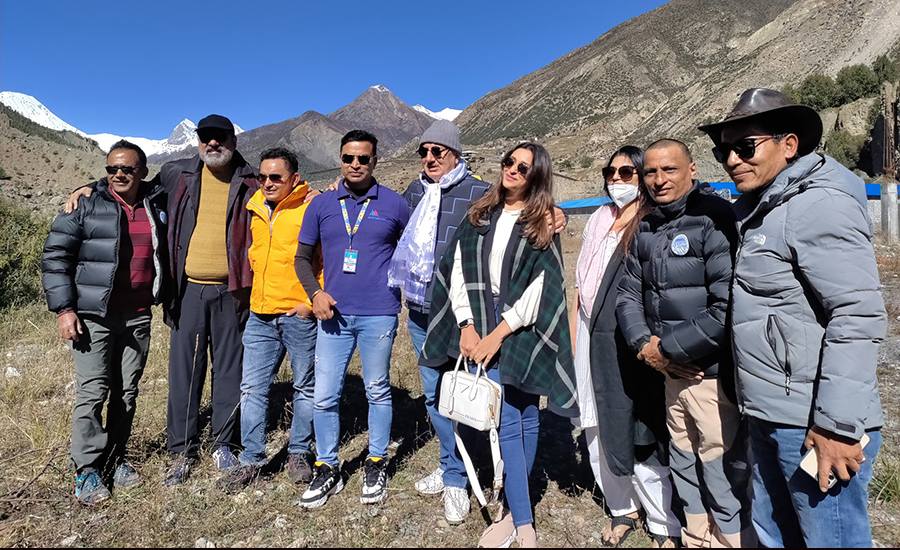 After the Covid pandemic, many international celebrities and well-known YouTubers visited Nepal. This resulted in the country getting free publicity, internationally.
As the world was fighting Covid, Sheikh Nasser bin Hamad Al Khalifa, the prince of Bahrain, came to climb Mount Everest in March 2021. At a time when tourist arrivals were at a standstill, his visit was discussed around the world.
After that, the shooting of the Bollywood movie Uunchai also helped as actors like Boman Irani, Pariniti Chopra and Anupam Kher promoted Nepal through their social media pages.
Finalists of BBC Master Chef also came to Nepal and promoted Nepali food. This year, Bear Grylls, known to the world from Man vs Wild, came to Nepal. His arrival also earned a good buzz in the international tourism market as he skydived in the Everest region.
Meanwhile, famous YouTubers and aviation vloggers also came to Nepal one after another. Because of their positive talks of Nepal, they have played a positive role in the post-Covid recovery, as per tourism experts.
No big plans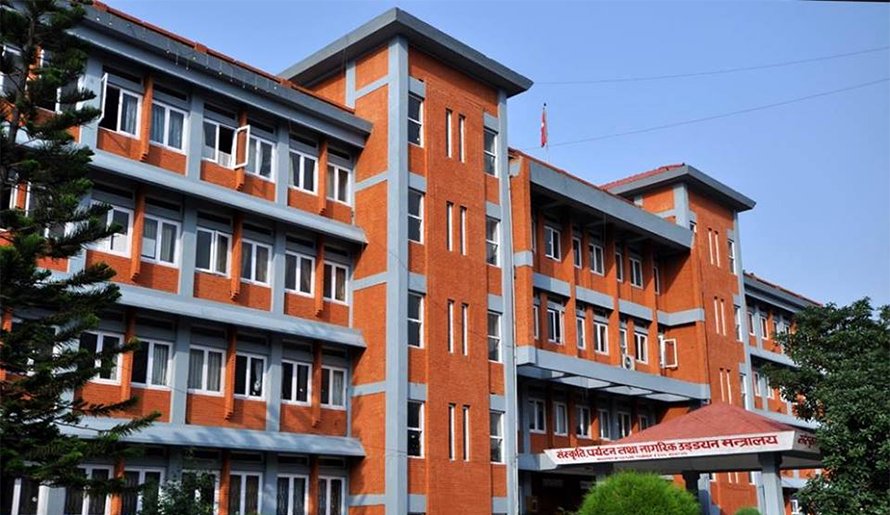 Along with the rise in tourist arrivals, the country's revenue generation from tourism is also improving. According to the figures of Nepal Rastra Bank, in the first three months of the current fiscal year 2022/23, the country has earned Rs 11.4 billion from tourism alone.
In the first three months of the previous fiscal year 2021/22, the income from tourism was Rs 5.42 billion while the year before that was only Rs 1.48 billion.
In order to revive tourism after the 2015 earthquake, the Nepal Tourism Board launched a campaign to convey the message that Nepal was a safe place to travel. Nepal Tourism Board also started a campaign to promote domestic tourism to help the tourism industry. A campaign was begun to replace all the old pictures on Google that showed Nepal monuments, which were reduced to rubble.
However, after Covid, the government and the NTB have no such plan as many complain these bodies have failed the tourism sector.
The Ministry of Culture, Tourism and Civil Aviation, which announced a plan to observe Visit Nepal Decade before the general elections, has since slowed down. The ministry does not have a proper plan for implementing this. Even though it set up stalls in different tourism fares, experts say this is not enough.
---
This story was translated from the original Nepali version and edited for clarity and length.