A Swiss man came to Nepal in the 1950s and travelled all over Nepal. He achieved the dream (of travelling across the country) of today's Nepali travel enthusiasts, who probably were not even born or did not know they had such a dream. The man–Toni Hagen–may not need a big introduction today, but there was a time when Nepal had not realised who he was or what he accomplished in Nepal.
Behind this shift is Toni Hagen talking about his work in the early 2000s, and the relentless efforts of his eldest daughter, Katrin Hagen, even today.
"A lot of my time now goes into collection and organisation of his journals, sketches, photos and videos he had of Nepal. And, we have received a lot of love, respect and adoration from Nepal and Nepali people," shares Katrin Hagen in a recent interview with Onlinekhabar.
Katrin Hagen herself is involved in several activities in Nepal, directly continuing her father's legacy here.
Remembering Toni Hagen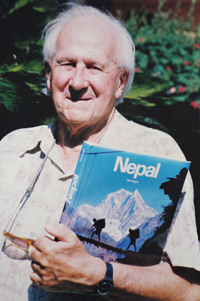 "My father loved the Himalayas. He would tell us he had promised himself once he became a geologist that he would go to the Himalayas and study there. And, that is what he did," recalls Katrin.
"So, he came here and travelled so much; he loved the people here," she adds.
To mark 50 years of Toni Hagen's visit to Nepal, the Toni Hagen Foundation was set up in 2001. Katrin is the president of the Toni Hagen Foundation (Switzerland).
Katrin Hagen now remembers how she got to spend time with her father in his later years. "It was only some 10 years ago before he passed that we worked together."
"Looking back at the photos and videos now makes me realise how passionate he was that he travelled from east to west of Nepal in such adversities, with only three airports and no health or luxurious amenities like today," she says.
Katrin became a surgeon in 1975 in Switzerland, became an orthopaedic doctor with a specialisation in hand surgery in 1985. Her professional life kept her busy. "I got to know his work better only after he passed away. But, it is better than nothing."
Her relentless efforts to organise and publish her father's work has made people realise what they missed. "In exhibitions we do, people look at the photos of Kathmandu valley then and react surprised about how there were no houses back then. Many have seen the documentary Uhile ko Nepal' also put together by the Toni Hagen Foundation in 2018 and they refer them to me while approaching. Many call or write to me and ask me if I have photos of this region or that for their work. And, I help them when I can as well."
In her recent visit to Nepal, Katrin Hagen visited the soon-to-be made Toni Hagen Park in Hetaunda, Makawanpur, in the Sub-metropolitan's initiative. "The park has been envisioned to be a park for the youth and the senior citizens, with a library and recreational activities. The park has been initiated by the local government there and has the full support of the Toni Hagen Foundation. We are talking about installations, research centres, art projects, his old photos and videos to be put up on display as well."
Katrin Hagen's attachment to Nepal
Katrin Hagen spends a lot of time in Nepal. Even in her 70s, she travels frequently between Switzerland and Nepal and manages both her life in different parts of the world. "The work here keeps me busy and I visit Nepal sometimes twice a year to twice a month, depending on the work," shares Katrin, who was here in Nepal for two weeks recently, the first time after the Covid-19 pandemic hit the world.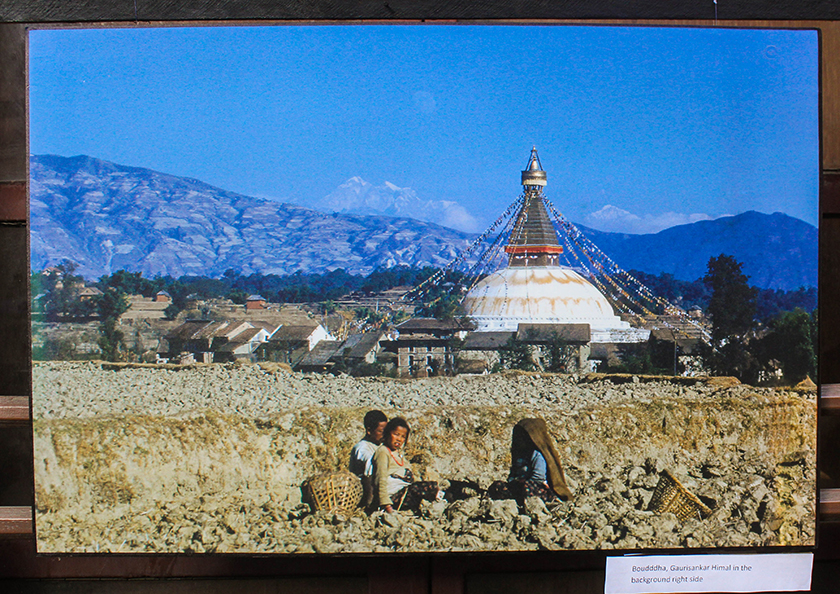 But, her first visit to Nepal was when she was a toddler and even has a cameo in the father's documentary. "The first true memory that I have from the time here was seeing a large black snake that crawled up the stairs in Ekantakuna (Lalitpur) and me getting scared. This was when the Swiss embassy was there," she remembers, "The rest of the things I remember–watching the mountains and travelling along the hills of Kathmandu–have all been mixed and I think I remember them from the photos and videos of that time only. But I will never forget the snake."
"It was the time, as my mother used to say, when we would go to the American embassy Christmas events just to get the chocolates as there were no chocolates here at that time."
"When I grew older and heard my parents talk about Nepal," Katrin Hagen remembers, "I used to envision a different Nepal. But, when I came here myself again, I like the country, the trekking [opportunities], and the mountains. In 1961. my father was still working here, so we came back and visited Pokhara, Muktinath and went trekking. But, the country, the urban and rural areas are so different from the photos now."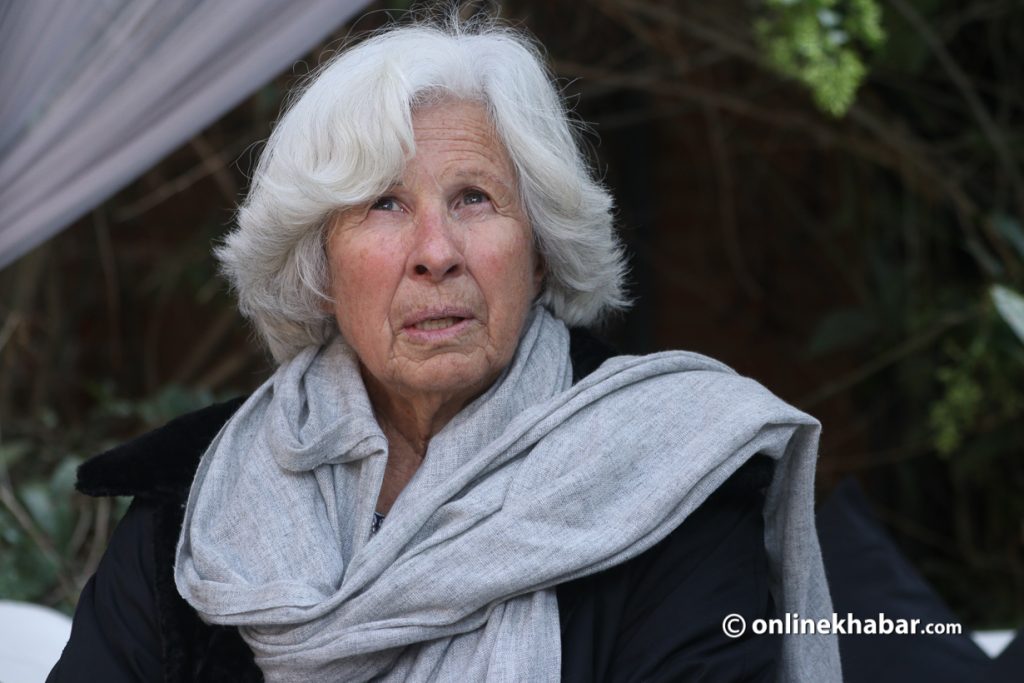 She was also a traveller like her father and has travelled to many places in Nepal and went trekking as she started visiting Nepal regularly after 1975. But now, due to old age, she is unable to travel. As a doctor, she also has been active in organising health camps for people outside Kathmandu.
One complaint about Nepal that she has to share is the unplanned management of roads. "If you see the roads, some are built poorly; some are built but do not reach the village; some are left in the middle, so it is a hassle." She adds, "Many doctors are discouraged to go to remote areas. The unmanaged urbanisation and the expensive college fees are not motivation either. So, the government should provide some fellowship or aids to them."
But, there is something that surprises Katrin Hagen even today. "The people here are still the same, very frank and helpful. I also meet a lot of young people who want to do something for the country and change it for the better despite problems and corruption."
Future plans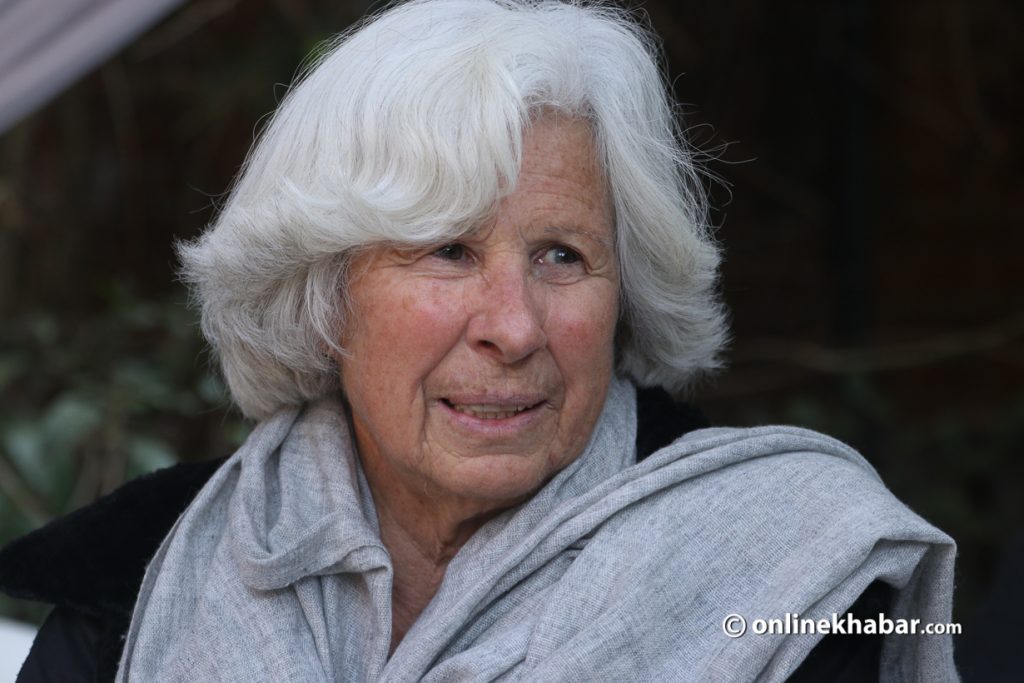 Going further, Katrin Hagen wants to continue working for Nepali people, especially in remote areas. "The foundation has been supporting in organising health camps in Bajura, supporting spinal injury patients, burn violence survivors, children with cerebral palsy and disabled children," she informs, "Organisationally, we are looking forward to expanding research centres here in Nepal."
"When the foundation was established, he [Toni] said he wanted to work for multi-ethnic and indigenous groups. So we will continue that as well. And, we are also supporting the Kathmandu International Mountain Film Festival (KIMFF) for the last three years and will continue that," she adds.
But, her primary motive is to collect her father's geology notes on Nepal as the stakeholders here want to publish them. "They are the cultural heritage of Nepal and my father was the only person who took such photos and documented areas like Everest, Solukhumbhu, Dolpo–from east to west–as he travelled all across Nepal."
Katrin Hagen is also working is to uncover more photos of Nepal that her father had in store. "There are many photos in the collection, but I do not know where they are or from when. Unfortunately, I cannot ask him where this is or that. Yet, I am trying to piece every bit of information together to make it cohesive."