When three sisters–Lucky, Dicky and Nicky Chhetri– ran a lodge in Pokhara, Nepal's tourism capital, in the early 90s, they started to get similar complaints from female trekkers visiting the Annapurna Base Camp or the Annapurna Circuit. These complaints would mostly be about how male guides misbehaved with them during the trek. It was something female tourists faced in most parts of South Asia and that gave the three sisters an idea.
"We felt that we could do something about it and with it create change which could benefit Nepal's society and the tourism sector," says Lucky.
That is when they started 3 Sisters Adventure Trekking, an all-woman trekking company that would cater to the needs of female trekkers. Through the company, the three sisters have been able to create a sustainable business along with helping women, mostly from rural Nepal, make a living by smashing stereotypes and doing something that was done predominantly by men.
"There were a lot of sceptics when we started and I think we've proved everyone wrong," she says.
Of women, by women, for women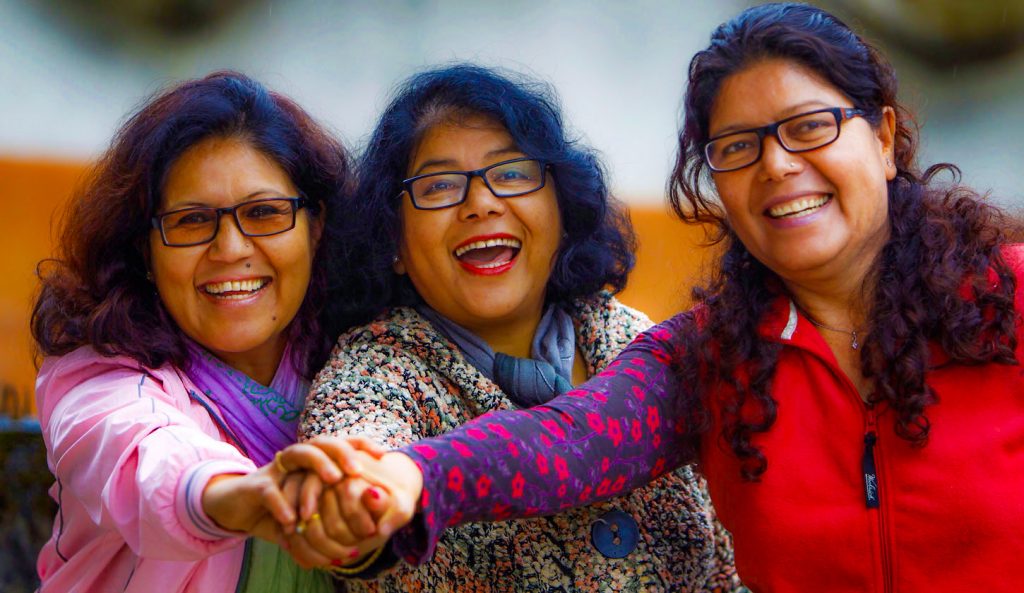 The company began in 1994 when the three sisters themselves embarked on a trekking trip to Annapurna Base Camp. Having seen the demand, they wanted to see if women could guide in the mountains; after coming back from the ABC, they realised this could be done. The three sisters, for a few years, conducted these trips themselves, but soon, they knew they needed people.
By the late 90s, the three sisters were famous among foreigners who wanted their service. Seeing the demand, they started recruiting and training women. Wanting to create a positive change, and having seen how people from rural Nepal were treated, Lucky felt hiring them would be the best way to move forward.
"These women needed empowering and that is what we were able to do. It was hard during the start as we needed to teach and train them, but as years went by, things started to go smooth."
These women were mostly from so-called lower castes in Nepal. She says there were also women who were banished from their homes after divorce.
"It feels good to have helped these people."
Breaking the barriers
But, the three sisters did face their fair share of criticism from people who questioned why women were being hired to do a man's job and going around Nepal with complete strangers. That, for them, was a major challenge when they started off. But, gradually as years passed, things started to get better.
"We created a revolution of a sort and many felt that we would and could not continue this."
The doubters were proved wrong. It took time to build trust among everyone, but with time, they were able to do so and started to get appreciated even by men. This was possible only through hard work and the love from their clients who loved how the way women were being empowered by the three sisters.
But, convincing the community that women could do this was a tough task in the beginning.
"Even women were against this and didn't believe that we were Nepali guides. That is when our clients stepped in, started to help us by bringing us women who were interested to do this."
But, they needed to train them. For that, they were lucky as the Council for Technical Education and Vocational Training (CTEVT) was conducting a course in Pokhara. They say that the training was great for the educated people. But, the women they had in contact had dropped out of school or never gone to school. The training was hard for them. So, using what the three sisters learned, they redesigned the training to help these women become better at guiding.
"It took us two years to develop a curriculum that would be favourable for women from rural Nepal. It was fun and full of learning and everyone enjoyed it and we still continue this training."
With the success of the training, even women from urban areas started to get interested. And, that brought another challenge for the sisters. Compared to rural women, most urban women could not walk. On the other hand, the rural ones could not speak as much as their urban counterparts, so it was a constant challenge to balance things out between the two.
Overcoming this now, Lucky says that during a season, the three sisters employ nearly 200 women who travel all across Nepal. These women are provided with insurance and equipment if needed as well.
The challenging stereotype was hard but they overcame that, other challenges like diseases like Covid-19, SARS and the Maoist insurgency was also a major threat to their business.
"But, now we have a new challenge – global warming. We have trained people, but we've realised that unnatural things are happening in the mountains and that poses a big risk because you never know what to expect from the mountains."
Extending benevolence
The three sisters are also involved in rescuing children working at tea houses. Working in tandem with the International Labour Organisation, Lucky and her sister say they rescued many girls who they keep at a safe house in Pokhara. They educate these girls and if interested offer jobs as well.
"That is the least we could do."
Lucky feels that having been in the business for nearly three decades, they have been able to do a lot: from creating new employment opportunities for women to showing people what women are capable of if given a chance.
"We were able to do something unimaginable in Nepal. But, this hasn't been done alone. We've had people supporting us through small donations and training grants and we want to thank everyone who joined us in our journey."
"It is because of everyone that we were able to economically empower women and create a career in a profession dominated by men."