Chitwan is the third-most-popular tourist destination of Nepal. Many of the hotels in Chitwan have attractive paintings on their walls. Murals of indigenous Tharu and Bote traditions, their way of life and wild animals attract the attention of any visitors.
Painting for life
About 80 per cent of the hotel walls have been painted by Krishna Prasad (KP) Tiwari of Bachhauli, Sauraha. He has been painting for the past 27 years to support his family of seven. He was able to educate his children and build his house by painting. He says, "I earn at least Rs 50,000 to Rs 100,000 per month by painting."
In a career span of almost three decades, he cannot estimate how many pictures he has painted. But, he did have different experiences when moving around different places of Nepal before making an indelible mark with Sauraha.
"The shape and materials of the picture vary according to geography," he says. He signs each of his painting; he also writes his phone number in some cases. Tiwari says his clients contact him using the same number or through his previous clients.
The Sauraha mark
The demands of paintings also vary with places. "In the Terai region, including Sauraha, there are demands of pictures of Tharu culture and wildlife. In Pokhara, Kathmandu and other cities, paintings related to Newar and Gurung culture, mountains, lakes, rivers and green hills are more prevalent."
Tiwari says that he used to take photos or bring postcards to paint pictures on walls.
Meanwhile, he has shared his experience of painting from Taplejung in the east to Bardiya in the west. He also remembers working in the same place for three months. However, Sauraha has been his home forever.
Reciprocal love with Sauraha
There are 110 hotels and a large number of restaurants in Sauraha. Tiwari has poured his heart onto most of the walls of those hotels and restaurants. As Sauraha was nearby, he did not only get the opportunity to hone his passion and skills but also made them the basis for living life in Sauraha. He did not have to look back when he started painting professionally in Sauraha.
"If it weren't for Sauraha, where would I be able to show my artistry? I would have become an ordinary farmer," says Tiwari, "Sauraha has given me everything; it has given me an identity and has enlightened me."
Mahesh Khanal, the operator of Hotel Park Safari Resort, says Tiwari was like a boon to Sauraha. "He seems to be the jewel of the nation. But, his art is obscured by being outside Kathmandu. He does not like flamboyance and publicity himself."
In the past, it was difficult to make a living by painting, but due to his hard work, it is becoming easier. "People have seen different lifestyles in other countries, and they started to earn money. In the past, they could not even buy food, why would they be interested to buy paintings," he adds.
"But, now, many people are beginning to feel the importance of artworks. They are respecting art and artists."
Mural mania
Tiwari sometimes paints on canvas also. He says it feels easier to draw on canvas than on walls. His paintings on canvas have been exported abroad. However, he says that the canvas paintings are made only when he receives orders.
"On the other hand, there is a lot of work to be done on the wall paintings," he says. Perhaps that is why, he loves them too.
He says he can make a picture on the wall in one day. "As the enamel dries quickly, there is pressure to finish it in one day," he says.
According to him, paintings made in places with enamel where it is not affected by the sun or rain last for 12-15 years or else they peel away in two to three years.
He has not received any awards for his painting. Nor is he so interested. While participating in various exhibitions, he has a bitter experience of being left behind after his paintings were stolen.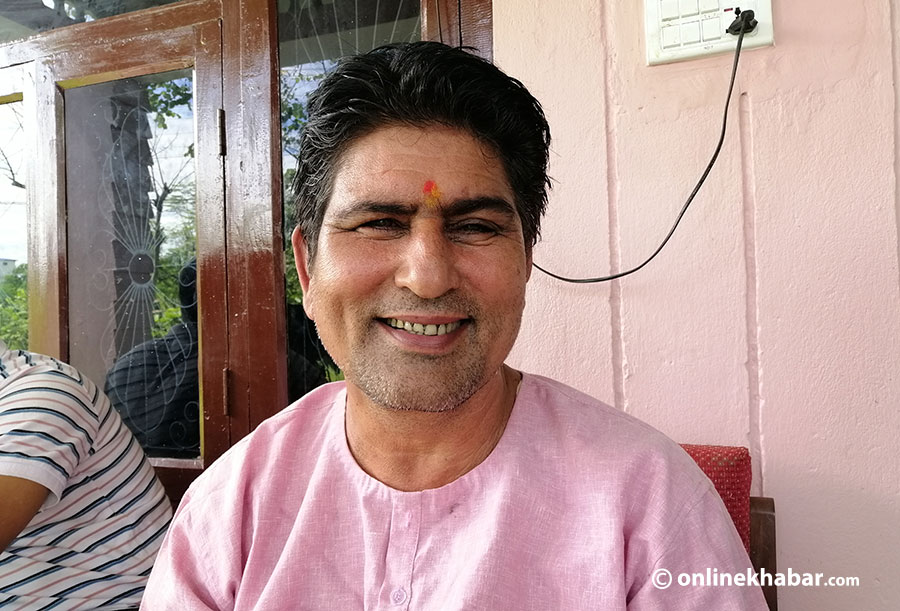 God-gifted skill
Tiwari has visited different places in the country and taught around 500 people about painting. However, there are very few who practise it professionally. He says, "Painting should not be done by force, it should come from within; the god should give it; one also requires dedication."
Tiwari believes it was a god-gifted skill for him. He was interested in painting since childhood; he did not pay much attention to his studies. Consequently, he was beaten several times by his parents for not studying.
He also remembers drawing dry clay on the back of his buffaloes when he used to graze them. "From the age of five or seven, I was very interested in painting. If I had free time, I would make something," says Tiwari.
He could not study above the 8th standard. He was not interested either.
After growing up, he went to Kerala, India, to earn some money. He recalls that even while working as a watchman, he used to paint and sell them. Determined to return home and paint, he came back to the village four years later. After that, he proved himself as a capable artist who could paint attractive pictures by continuous practice.
Those who do not worry about money seek Tiwari for his work. He himself enjoys different kinds of work. Tiwari, who has reached 50 years of age, still has a dream to work hard and achieve new things. He says, "Life feels never fulfilled."