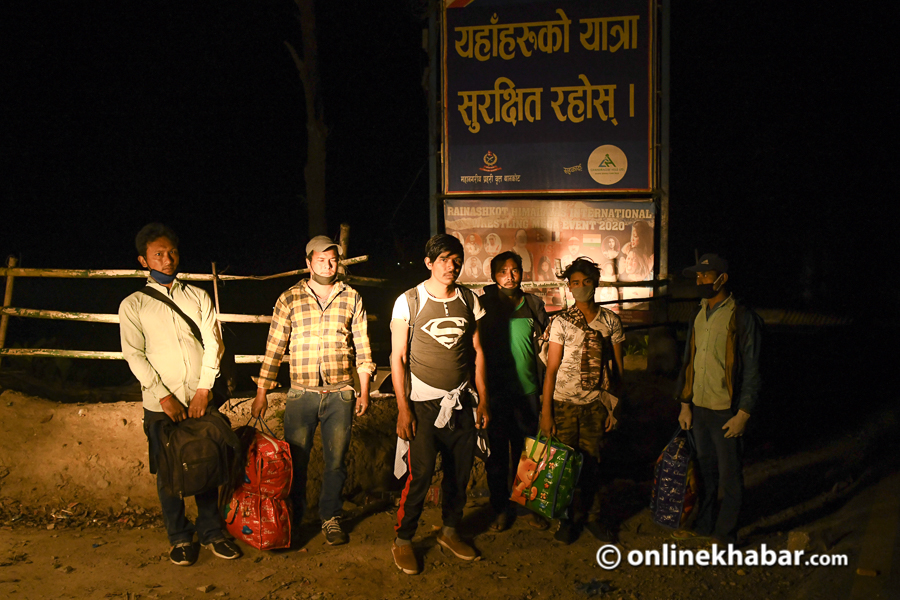 Two container trucks have been stopped just a few metres away from the police check post at Nagdhunga Pass, the western gateway to Kathmandu Valley. Around those trucks are small crowds of people. It looks there is a fair underway. But how can one host any fair when the entire country is locked down to control the coronavirus outbreak?
Most of the people, it seems, are construction labourers.
The workers later tell you they have nothing to eat and are penniless as they lost their jobs to the lockdown, which is why they want to return to their homes. Some say they have to reach to Nepalgunj, some to Birgunj, some other to Rautahat and Sarlahi. They were standing there carrying bags on their hands.
It is Friday (April 10) night, the 18th day of the nationwide lockdown.
—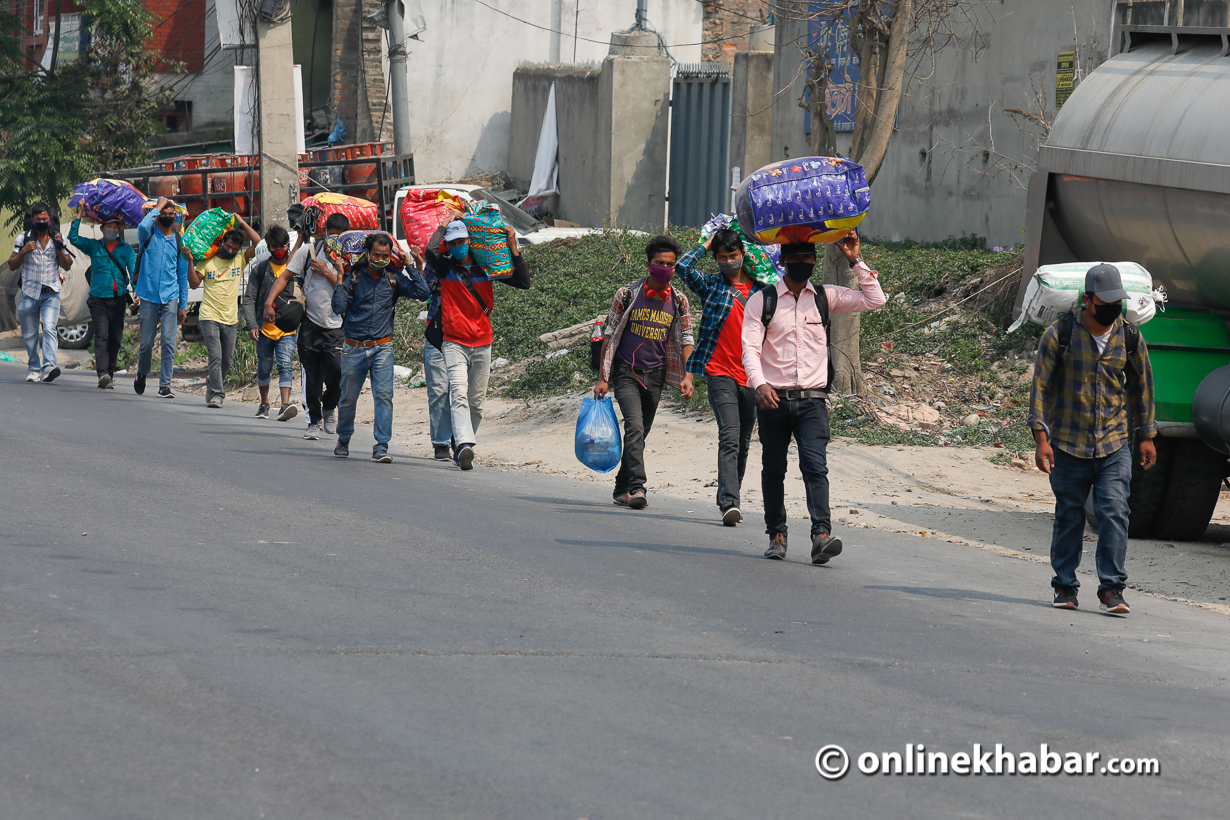 The workers are pleading with the truck drivers to take them home. But, the drivers have their own hardship.
"Police make us stop the truck and hit us with their batons. They shout at us and force us to leave the travellers," speaks one of the truck drivers.
"Then, where else can we go except our homes as we have nothing to eat in Kathmandu?" a labourer assures, "We will request the police officials. We will not let any trouble come to you."
Interrupting them, the truck driver again speaks, "Try to understand. We will be in trouble. We have to travel this route regularly and the police might bother us time and again."
While the driver is speaking, another worker says, "What kind of government we have? It neither can feed us in Kathmandu nor allows us to go to out."
—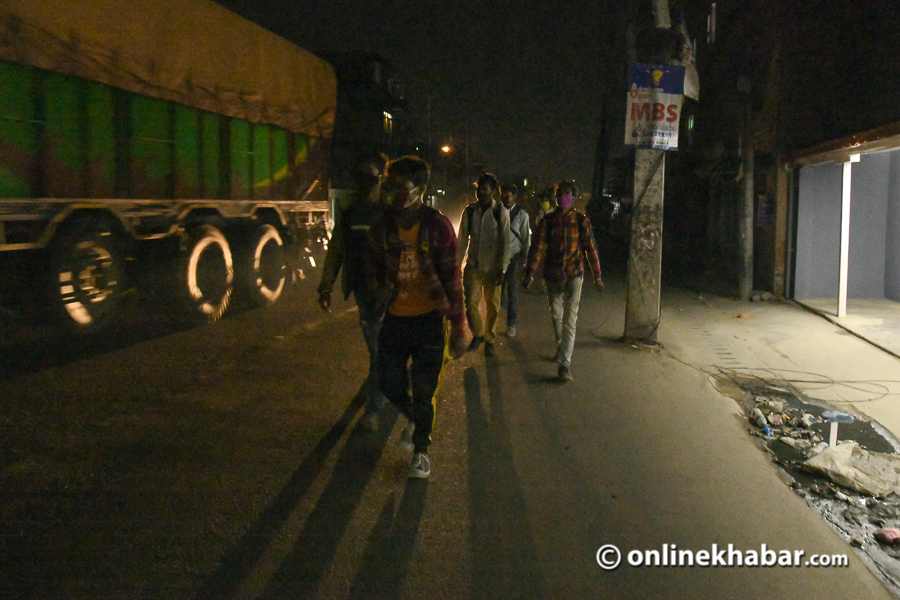 A young man from Bardiya of the same crowd shares his story:
It had been only 10 days that the four of us had arrived in Kathmandu and only five days that we had started to work. We used to stay at the construction site.
Then, the lockdown started. The contractor was Indian; he returned to his house before the lockdown was imposed. And here, we are suffering all alone. We came here to earn money, so we had not brought any money from home. For some days, we managed some food for ourselves asking for money from the close ones. But, it has already run out. We waited this long for the end of the lockdown, but now it seems we will die starving. That is why we have embarked on our journey to our own places from Lokanthali (of Bhaktapur).
From Lokanthali until here, many police personnel interrogated us. We shared our problems with them. Some of them let us continue our journey offering some water to drink whereas some others hit us with their batons saying we violated the rules. But, we did not have any other alternative than this.
—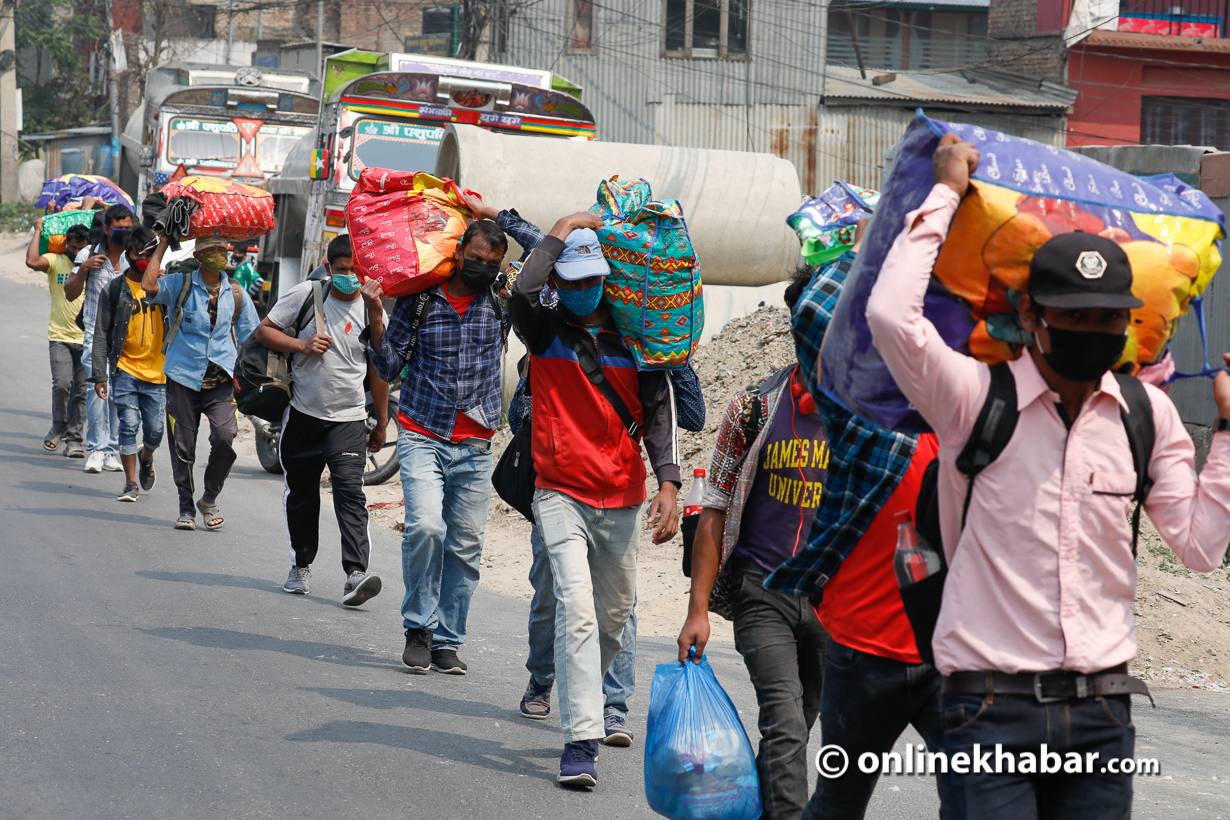 The workers came here in the capital with big expectations of earning money and enhancing their quality of life. Instead of meeting their hopes, they are suffering today.
The sufferings and stories of most of the labourers stranded at Nagadhunga are similar. Everyone wants to leave Kathmandu and returns to their homes. Their bags are filled with fried lentils and beaten rice. They are firm to reach their homes even by walking.
After witnessing all these sufferings and hearing their misery, it feels like Kathmandu and the central government are totally indifferent to and inconsiderate about these labourers and their sufferings. Amidst this uncertainty, instead of encouraging them to stay in Kathmandu managing them some daily essentials like food, they are charging batons on them.
As the workers and the truck drivers continue their talk, another truck arrives there. After a brief conversation, half of the workers get into it.
The other half is still stranded. Meanwhile, a driver assures that he would help them go up to Narayangadh; but he has a precondition for the passengers, "You have to take responsibility for the police on the way."
—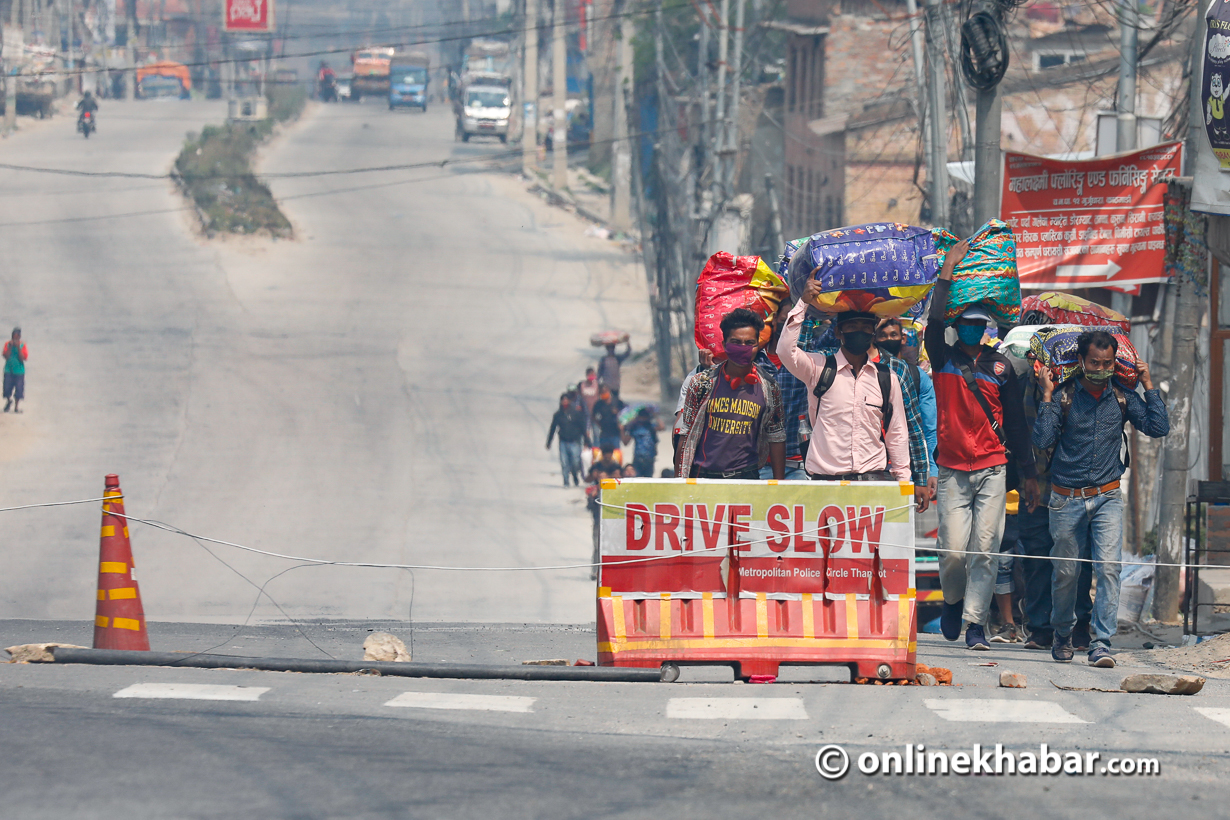 In just a few minutes, more than a hundred people crossed Nagdhunga on two trucks. They were saying like, "We will face whatever comes. If we get some vehicle, we will go on it. Else we will walk on foot."
Photos: Bikas Shrestha/Chandra Bahadur Ale