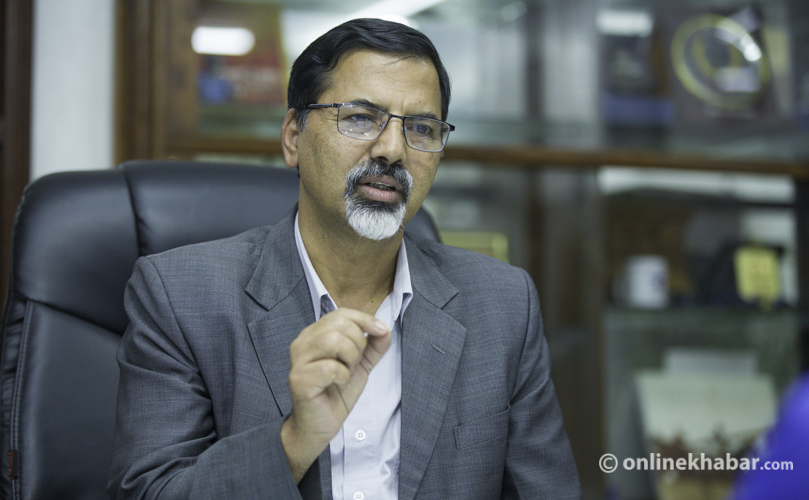 Kathmandu, July 27
Minister for Home Affairs Janardan Sharma says there is no point in protesting recommendations made for promotions to various posts of Nepal Police recently. claiming the names were picked fairly.
In an interview with Onlinekhabar, Sharma has said neither money nor political pressure had any role in selection of the names.
Sharma's response comes after three police officials complained of injustice and filed an application at the Review Committee, stalling the process.
"There is no point in making any fuss about it," he says, "The promotion is being made without any monetary play, without any pressure, but fairly for the first time in history after the establishment of multiparty democracy. All ranks and files of police have understood it."
"Do you think I recruited those DIGs? They were there became I became the minister. I have not given them any mark, all marks they have scored have been added for promotion."
Claiming that the recommendations were made following due procedures, he said, "Some individuals might have felt injustice, but the recommendations have given justice to the organisation. The promotions, stalled for years, have resumed."
Meanwhile, Sharma also informed that he was planning to introduce a new plan of action to end irregularities in promotions in the future as well.
"I am ending the trend of receiving medals on the basis of unnecessary connections and claiming promotion on the basis of those medals," he said, "I just did promotions on the basis of scores they attained in the past. But now, I will rectify the errors."
The Minister also said he was holding discussions with stakeholders on restructuring the entire organisation of Nepal Police so as to create its provincial and local units in line with the constitution.