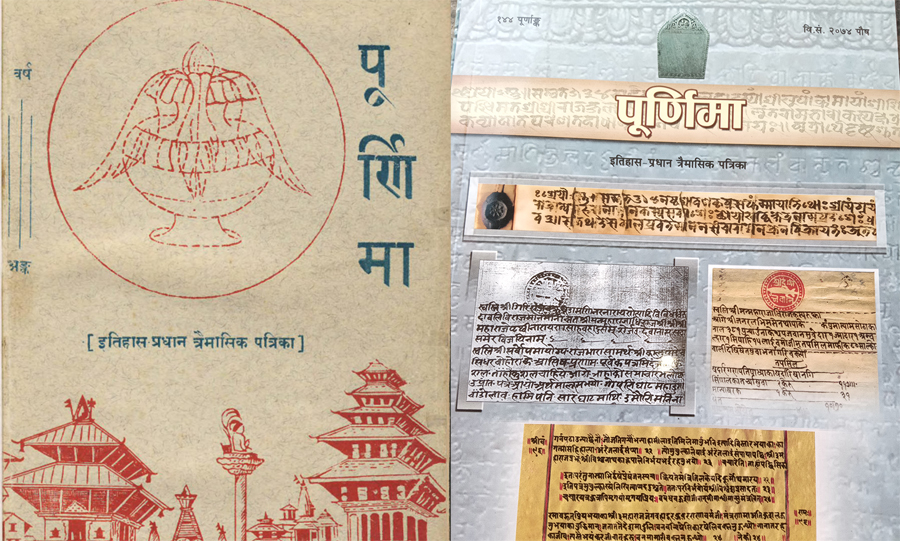 Nepal's prominent historian Mahesh Raj Panta celebrated his 75th birthday last week. This happy-go-lucky scholar is not much concerned about the difficulties of old age. There is something more important that haunts him.
Panta, a member of the Nepali history revisionist school, and an editor of its 'quarterly' journal Poornima, says the iconic publication awaits its impending death.
Efforts to correct Nepali history
After returning to Nepal from his studies in India in the late 1930s, Panta's father, polymath Naya Raj Panta, found many errors in history coursebooks being taught in Nepali colleges. "The students were not required to study the primary texts of the concerned disciplines, but only summaries and paraphrases," Panta recalls, "Also, my dad was not satisfied with the system that passed a student if he/she scored one-third of the full marks."
In that context, the discipline of history was more problematic than others. "The history textbooks during that time taught the students what Daniel Wright, a westerner, wrote about Nepal. He had mixed up historical facts with some myths and folklores, but they were considered the truth," Mahesh Raj remembers.
Therefore, Naya Raj Panta gathered some like-minded scholars and began studying inscriptions from Nepal's history and interpreting them in the early 1940s. He was of the view that one must know the language of the inscriptions in order to interpret them. Therefore they were required to study Sanskrit and Newari among other languages.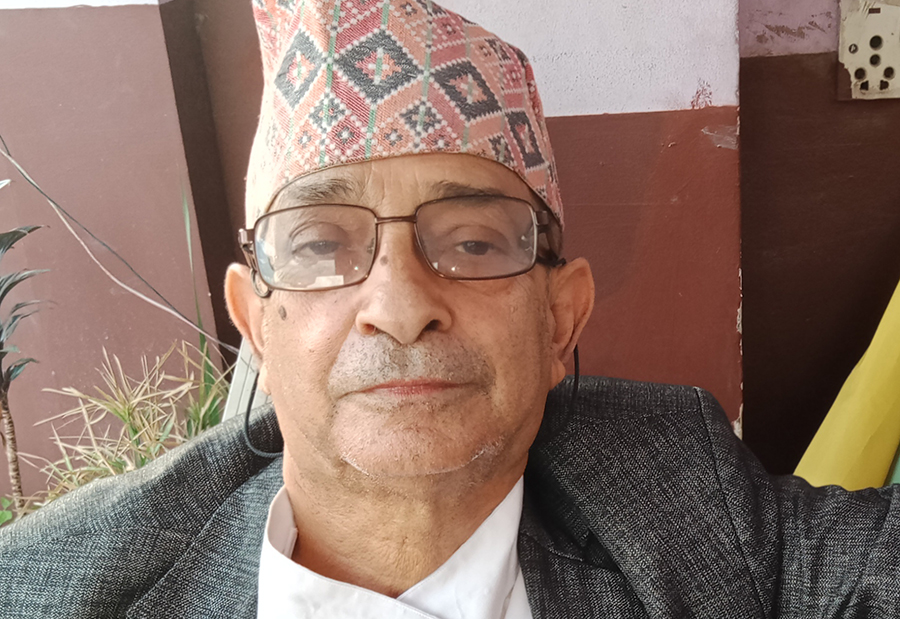 Mahesh Raj and his brother Dinesh Raj, born in 1944 and 1949 respectively, also became students of the informal school led by their father before they were five. In 1952, Naya Raj named it Samshodhana Mandala (which literally means the 'correction group' in Nepali; but according to Dinesh Raj, the term 'samshodhana' etymologically means 'research' also).
Inception of Poornima and its contribution
To make the public aware about how historical facts had been misinterpreted by Nepali and foreign scholars, the group began publishing fliers and booklets, ranging from two to 20 pages, highlighting errors of interpretations and the suggested corrections. "Between 1952 and 1968, the group published 62 issues of Itihas Samshodhana (meaning 'history correction'). In the meantime, the group began publishing collections of inscriptions every three months in 1961."
The collections of inscriptions, published under Abhilekha Sangraha, did not have a strong appeal to the readers as they were unreadable. Therefore, it was shut after the 12th issue in the third year. "On the other hand, many students left the group after they realised that their education at Samshodhana Mandala would not prepare them to get a job in the future. There were around 45 students at the beginning, but only 21 students worked for the publications," Mahesh Raj says, "The number continued to decline."
The group faced an existential crisis. Naya Raj Panta and his students began contributing some money from their own pocket. "Later, we thought we could generate some revenue from the readers if we published content which everyone could understand," Dinesh Raj, a teenager then, remembers, "Therefore, we designed a new journal that included not only historical inscriptions but their detailed interpretations. This is how Poornima began."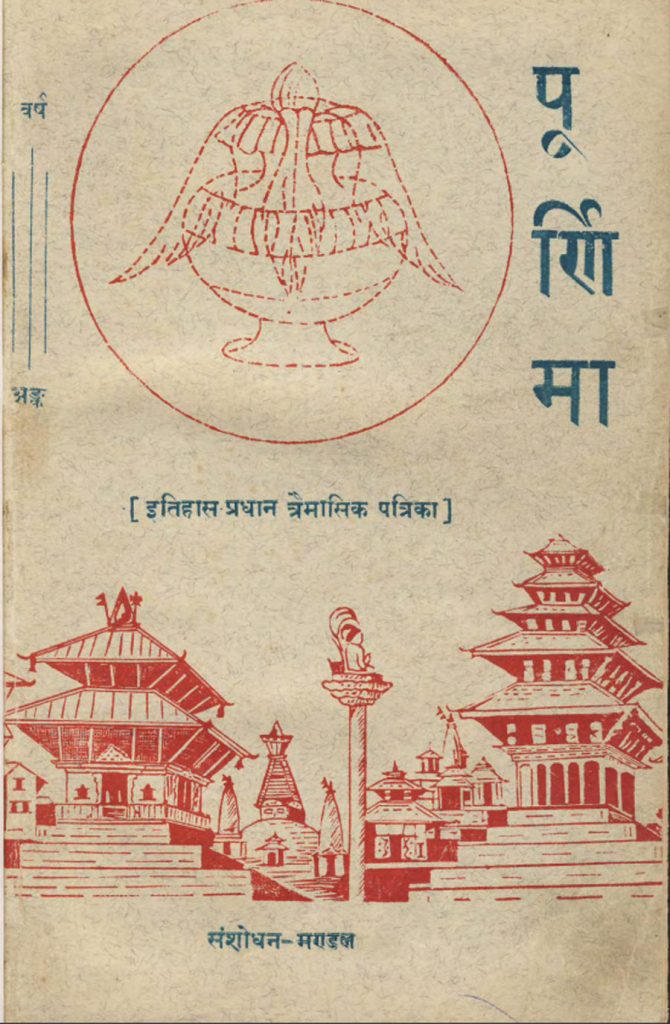 Two young students of the school, Gautama Vajra Vajracharya and Mahesh Raj Panta, were made editors of the quarterly journal. Dhana Vajra Vajracharya was the manager of the publication. The first eight issues of Poornima were handwritten; Gautama Vajra wrote it because he had artistic calligraphy. After that, in the new year of Bikram Samvat 2021 (April 1964), the first printed issue came out.
The Panta brothers (Mahesh Raj and Dinesh Raj) claim that the works of Samshodhana Mandala, articles published in Poornima in particular, brought the authority of Nepali history studies back to Nepal from other countries.
"Juxtapose any coursebook of Nepali history in 1940s-50 with any coursebook of the current time and the differences will tell you what we contributed to the discipline," Mahesh Raj says, "Around 80 per cent content of the contemporary history books attribute to our findings."
"Almost all disciplines of knowledge in Nepal have authorities abroad, but history has the authority here in Nepal, because of our efforts," he claims, "If the journal had been as popular as it was in the beginning, it could have changed the entire education system."
The downward journey
In the past 55 years, the trajectory of Poornima's readership and reception has gone through many ups and downs. But, overall, its popularity and impact are on the wane.
"It has been around five years since we received any response from readers," Mahesh Raj informs, adding many enthusiasts, however, visit his private house-cum-office looking for past editions of the journal. The current issues don't sell well. "In the first 10 years, we used to print 1,000 copies per edition. It decreased to 500, and then to 300," he frankly reveals, "We have been printing 300 copies, but believe me, just 50 copies are enough."
The group earns around Rs 150,000 a year by selling past and current issues of the journal, but the monthly cost is Rs 60,000. Mahesh Raj bears the cost.
The first editorial team of the journal had nine members: Ramji Tiwari, Devi Prasad Bhandari, Bhola Nath Paudel, Shankar Man Rajbanshi, Dhana Vajra Vajracharya, Gautama Vajra Vajracharya, Mahesh Raj Panta, Naya Nath Paudel and Dinesh Raj Panta. In addition, their teacher Naya Raj Panta would contribute to each edition.
But now, only two persons–Mahesh Raj and Dinesh Raj–run the show. "Naya Raj Panta, Ramji Tiwari and Devi Prasad Bhandari passed away while working with us," Dinesh Raj informs, "But, other five persons left the team halfway due to different reasons."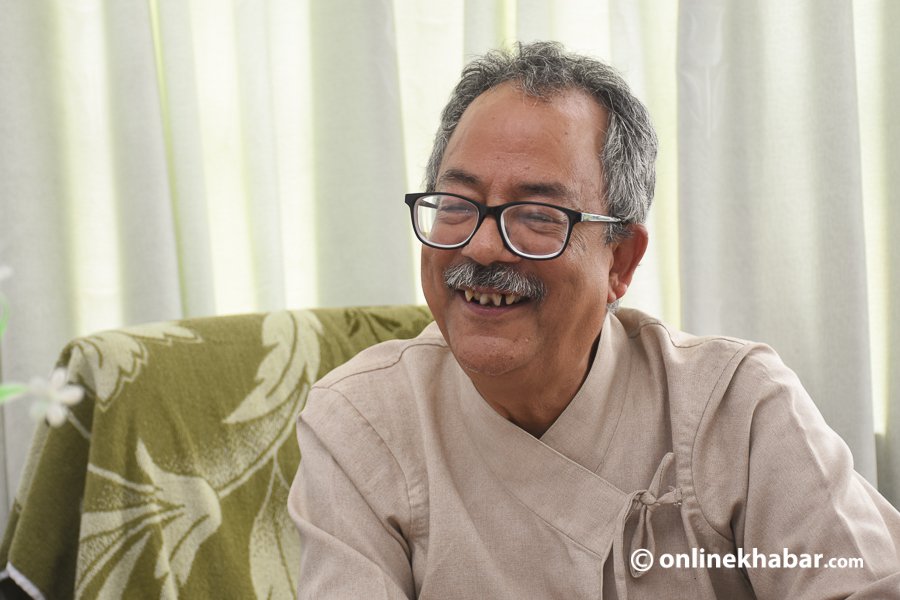 Besides the Panta brothers, two other members of the team are alive now. Gautama Vajra works for the University of Wisconsin-Madison in the USA. He has been living in the US for over four decades now. It seems Poornima is not a concern for him anymore as he did not respond to Onlinekhabar's email to talk about it. Likewise, another living member Naya Nath seems somehow active in academic works as he published an essay anthology in 2006, but he has not shown any interest to revive the journal's fame. However, Mahesh Raj recalls his son once published an article in a national newspaper accusing the Panta brothers of making the Samshodhana Mandala a family institution.
On the deathbed
While some others also claim that Samshodhana Mandala is a family institution and Poornima is a family journal, the Panta brothers lament they could not get support from even their own family to keep the journal alive. Their children are engaged in different professions and are not interested in continuing the legacy of their grandfather. On the other hand, the Samshodhana Mandala also failed to expand its scope and bring in new members.
"If any person reaches his/her age, it is better to let him/her die a natural death. Therefore, I rejected my brother's proposal to reorganise the institution and change the model of our functioning after our dad's death in 2002," Dinesh Raj tries to theorise why the institution could not bring in new members.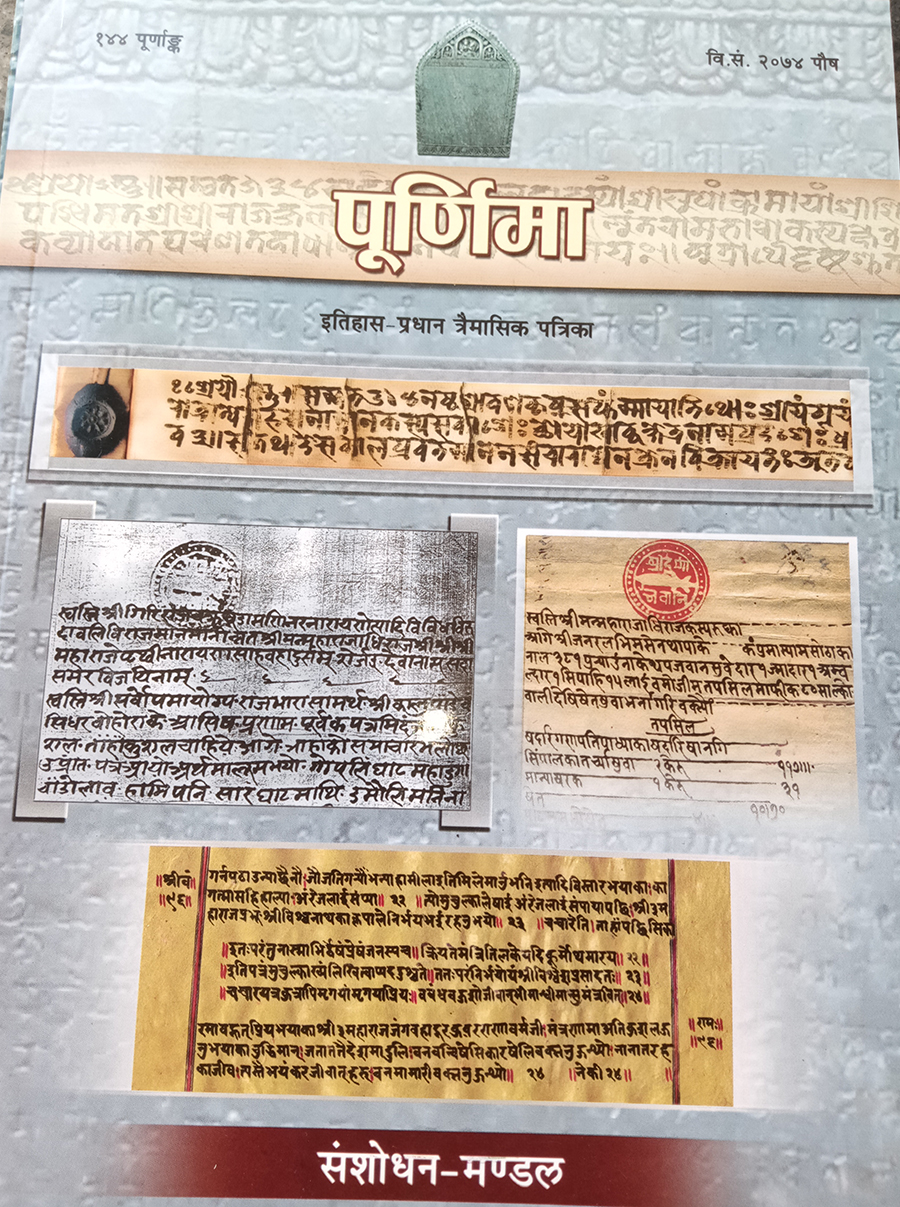 Consequently, the paper is on the deathbed. The latest (144th) issue was printed in January 2018. Mahesh Raj says the group is planning to publish the 145th issue by April 2020 and the content is ready. Dinesh Raj informs the gap between these two issues will be the widest interval (19 months) in the history of Poornima even if the journal is published now.
"But, I will continue it as long as my brain functions well," Mahesh Raj says, "It means it has its life for at least next five to seven years." However, he does not guarantee that the journal will be published regularly.
Dinesh Raj, as the youngest member of the Samshodhana Mandala family, has the responsibility to continue the legacy. However, because he is also an academician at Nepal Academy, he does not provide much time to Poornima. Mahesh Raj is an independent scholar and he leads the journal. But, like his elder brother, Dinesh Raj also says the journal will exist as long as he can work.
"After we are gone, there is no way the journal will be revived," he declares, "I fear that will take back the authority of Nepali history abroad again."
---
Published on August 26th, Monday, 2019 11:05 AM
---
Download Onlinekhabar App. Android click here & IOS click here . Keep in touch with us on Facebook, Twitter & YouTube.