As far as he can remember, there was darkness all around him. He used to think that his life would be over in the darkness. But, Kushal Tamang from Dang was gladly proven wrong. He has realised you can make your life brighter despite losing eyesight.
Born in the Nuwakot, Tamang became a victim of an epidemic spreading throughout the village. At that time he was less than a year old when the epidemic first caused pus around the eyes and, eventually, took away his eyesight. "There was no hospital for treatment at that time. My father took me to a witch doctor and he cast some spells."
As he grew older, he began to walk, stumble and touch anything he could to get a sense of the world amidst the darkness. "I must have been five or six years old when I realised I was different from others. I found that the world was, in fact, brighter. That was the day I cried the most as I found out that I had lost my eyesight forever."
He was the third child of his parents, among six brothers and two sisters. His siblings went to school; they would occasionally go to wedding parties in the village whereas he used to stay at home. As he was "blind" and could not read or write, he felt himself as a burden. "I sometimes wished I was never been born instead of being blind."
But today, the situation is different. He has been a teacher for many students like him. This is not the only case. In the Dang district alone, there are several teachers, who despite them not possessing eyesight, have been illuminating the world with the light of education. They are changing the definition of disability.
This is their story.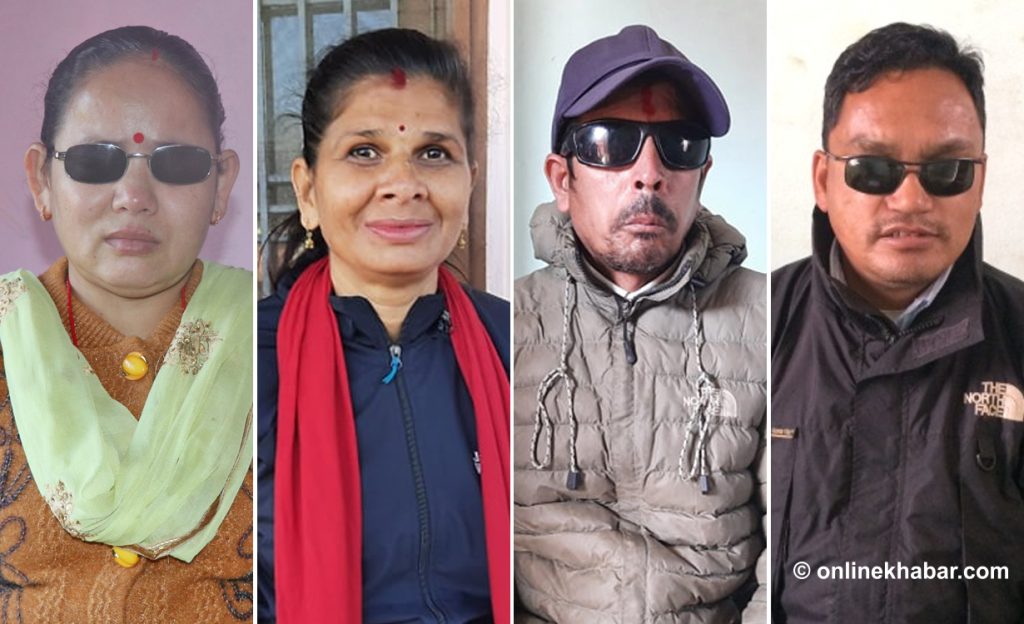 ***
People say, "There will be light after the darkest of nights."
One day, Kushal Tamang's eldest brother, who was in Kathmandu for work, sent words that there was a school for the people like Kushal Tamang. "At first I didn't believe it. Then, he took me to the Laboratory Secondary School in Kathmandu and got me enrolled there."
At first, he used to think he was the only one who could not see. But, at the school, he got to know there were more like him. "I got a lot of encouragement from my blind friends. And, I got a place to read and write, just like my brothers and sisters." The happiness was beyond the words and the world got a bit bigger.
Though it was not easy for him to study among other students, he was determined as it was important to get an education. "Though not seeing the light outside, I wanted to get enlightened by the education."
Today, he is already a master of Nepali from the Mahendra Ratna Campus in Kathmandu with an aim of becoming a teacher.
But, education was not enough. The biggest problem came after that: finding employment.
In 1995, the Nepal Association of the Blind led a movement demanding the blind people also get employment. He also joined the movement and got detained three times. A year later, as a result of the protests, 17 positions for teachers were created for the blind all over the country, and he got one of them.
He reached back to Dang in 1997 as a teacher. At Lalmatiya Adarsh Secondary School, he taught students with different types of disabilities for seven years. Since 2004, he has been teaching at Guru Jajur Secondary School, Rakshachaur.
It has been 24 years and he is enjoying teaching, spreading the light of education, guiding them to the path of righteousness. He believes, though "blind", people still have hope for a better life.
***
Shanta Sharma is Kushal Tamang's wife and she is also a teacher at the same school. They share a similar story and she is also teaching for the past 14 years.
Though born blind, childhood went without knowledge of the status. As she grew older, the cloud of darkness began to fall. When she could not attend the school like her siblings, she realised she was different from others. She was very interested in reading and writing, but there were no schools for the blind. "At 10, I got my dream of studying fulfilled and I got into a school for the blind in Dhangadhi."
She graduated from Padma Kanya Campus in Kathmandu, but studying was not that easy. But, she believes it was possible with the support and encouragement from her family and friends. She teaches other students like her and sees her childhood in their faces. "I encourage them that they can achieve more as well."
***
Another teacher, Rupa Yeri of Ghorahi-17 in Dang also cannot see. She lost her eyesight when she was two but did not realise how darkness had engulfed her world in her childhood. As a child, she was not that bothered. But, as she grew older, the darkness grew darker too.
"I found out that I lost my eyesight when I was about eight or nine years old. I learned the differences between me and my friends," she says.
Her mother passed away at an early age and her father ignored her too. She got help from her maternal uncle's home in her schooling.
Getting an education lightened her darkened world. She studied hard, completed her school in the first division and earned a degree in Nepali from Tribhuvan University before getting a job as a teacher. "I used to cry all day. But if I had not studied, I would not have reached here today. I would have been wandering somewhere else."
In the past, she used to think that education would do no good either. When she was nine years old, she arrived in Pokhara on a school trip and reached Amarsingh High School, a school where visually impaired students were taught by similar teachers. "Meeting them, I was encouraged and thought I could do something." Then, she thought she would become a teacher as well.
Today, it has been 12 years since she has been working as a teacher. She is currently teaching at Goraksha Ratnanath Secondary School, Ghorahi-17. She has inspired so many that some of her students have become teachers too. Those students show utmost respect to her and bow their heads in gratitude. This gives her a kind of satisfaction too. "I feel this is the greatest achievement in my life."
***
Another example is Ram Bahadur Khadka from Tulsipur in the Dang district. He teaches Nepali, environment and health at Guru Jajur High School in Tulsipur.
Born in Rukum as the eldest of five siblings, Khadka too lost his sight at the age of two like Tamang. His parents took him to India for treatment, but his eyesight did not return. He longed to go to school like his siblings to read and write.
Around 2002, his family moved to Tulsipur, Dang. And at the age of 13, he learned to read and write in the Braille script. When he enrolled in school, he was the only visually impaired student in the class.
Though difficult, he did not give up his dream of getting an education. After completing school, he did graduation in Nepali with flying colours. Wandering for knowledge, he reached a time when he is imparting knowledge himself. It has been 21 years of him being a teacher.
"The world is darkened by ignorance, not by blindness," he says.
"Being blind does not mean you spend your days crying. There is no need to blame destiny, if you have love and encouragement, and work hard with unfaltering willpower, the world can be enlightened."