Sushila Chaudhary, a native of Kailali in Sudurpaschim, says getting into fashion designing was a matter of pure luck. Yet, the maker of Tharu dresses feels this is what she should do in her life now as it has given her an opportunity to promote and educate people about her culture.
"I came to Kathmandu to take finance training in 2013. But, the training changed my perception," the 29-year-old Chaudhary says, "I felt that I should also do a business, and wanted to learn some skills and earn through that. Government or private job was not my cup of tea. So I stayed here and joined the IEC School of Art & Fashion to study fashion design."
Promoting and reviving one's culture through any means possible is the trend that is catching up in every aspect of life. And, when one talks about cultural promotion, they have to include the respective cultural or ethnic wear. Ethnic wear, in itself, holds a great deal of identity, which is why people's adoration for them is increasing even for those who seek to educate people culturally.
Starting from college exhibitions, Chaudhary has already designed dresses for Mr and Miss Tharu pageants and similar other events that were held in Biratnagar, Dang, Kailali and Kanchanpur. She has also designed Tharu and other ethnic costumes for music videos, including 'O Sajan'.
From chance to a career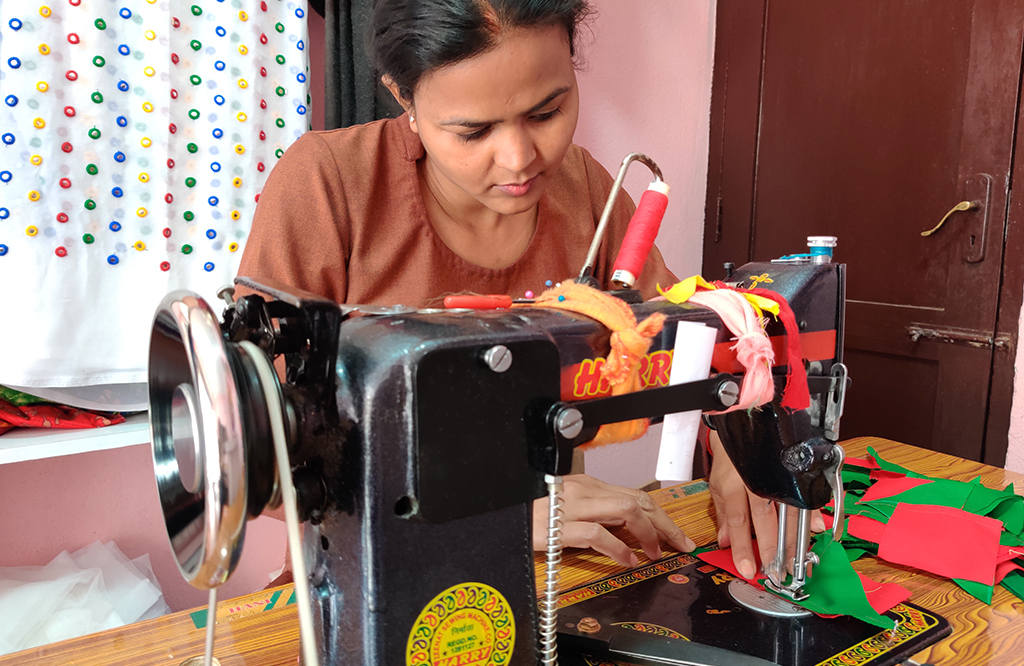 For someone who runs a shop and teaches others now, Chaudhary knew nothing about sewing until when she joined the IEC School. "In the early classes, when I had to operate the sewing machine, I felt almost humiliated to be doing the job. At that time, sewing was not seen as a reputable career choice and that somehow affected me too," Chaudhary remembers, "But, an uncle inspired me and made me realise that the work is normal and noble. And I went back for the degree."
Though she made peace, the people back home had not. "When I first went back home, they criticised me and my mother for my work. But today, many have changed their perceptions probably given that I had pursued a higher degree. Nevertheless, the older generations are still judgemental, but I have learned to tune it out."
That is also the time when her fascination with Tharu dresses started.
Dedication to the Tharu dresses
Then, pursuing her career as a fashion designer, Chaudhary researched the cultural dresses of various communities to find her own culture had more than enough vibrant and different dresses to explore. Then, in 2016, she did a show in Tundikhel that exhibited a collection of Tharu dresses from 22 districts.
"I did the same kind of exhibition till 2018, curating the whole exhibition and searching for Tharu girls who could be my models."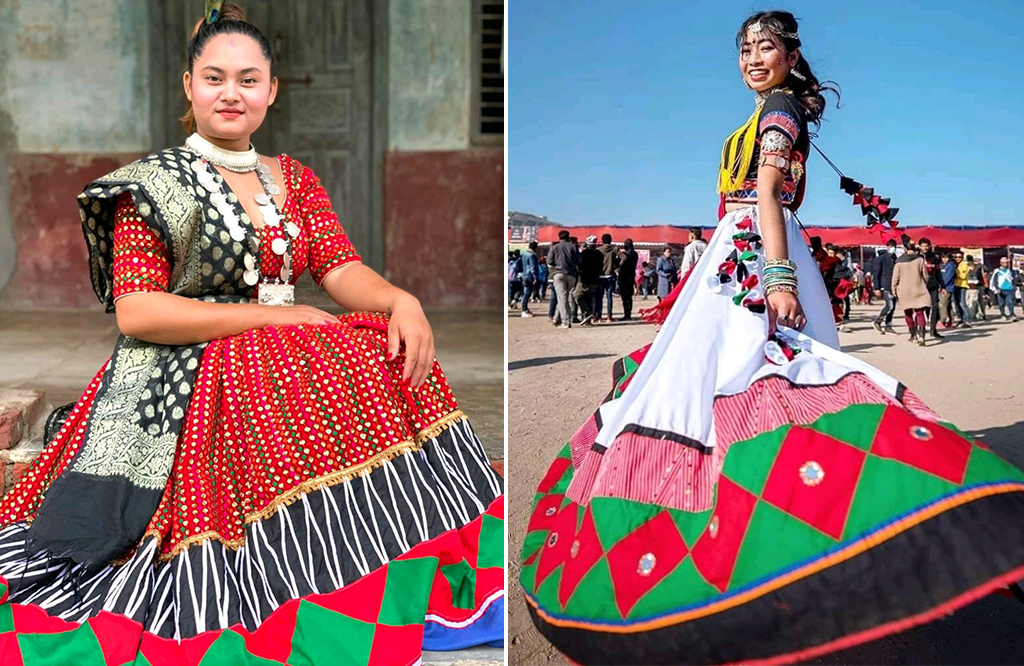 However, when the lockdown was imposed in Kathmandu in March 2020 to control the Covid pandemic, it meant that programmes were not being held anymore. Hence, Chaudhary decided to open a shop and continue her passion and get an income source for herself. So, in September 2021, she opened her shop Suseliz' Collection in Aloknagar, Baneshwar.
For Chaudhary, the first people she saw in Tharu dresses were her mother and grandmother. She says the dresses like those are on the verge of extinction today.
It is sad, says Chaudhary, more so because the Tharu dresses have subtle differences that make them more unique. "There are a few major dresses including commonly seen dresses of Rana, Kathoriya and Dangaura Tharus (some sub-communities). These dresses can have subtle differences even within a single district, like in Kailali where I belong to."
"When I researched the Tharu dresses for my thesis, I saw that the dresses and jewellery were on the verge of being extinct. In comparison, the men's attires are more under threat. The female dresses are being explored and worn with different fusion."
In the Tharu dresses, for women, it is a mix of lehenga choli with aghran (or shawl). For men, the dresses include bheguwa, with a white dhoti, daura whereas the affluent families would add sadhri (a kind of waistcoat). A local Tharu attire should also include a gamcha (a cloth worn around the neck) that represented farmers who would wear the cloth to clean sweat or carry loads.
Chaudhary has realised the men are not wearing or just mixing the dhoti with a shirt or t-shirt rather than a daura while the aghran for the women (that was originally just used in white) has become colourful and now everyone is wearing them rather than worn only by adult women, mostly married ones. Aghran is also taken as equivalent to the gunyu cholo tradition as the young girls entering puberty are given aghran as a coming-of-age symbol.
"The older generation was unaware of the evolution of the dresses. They were more into copying the patterns and designs handed down through the generations. When I see people wearing Tharu dresses, I ask them the meaning and names of the dresses and accessories, but the young women seem to wear them anyways for photos or because they find them exotic."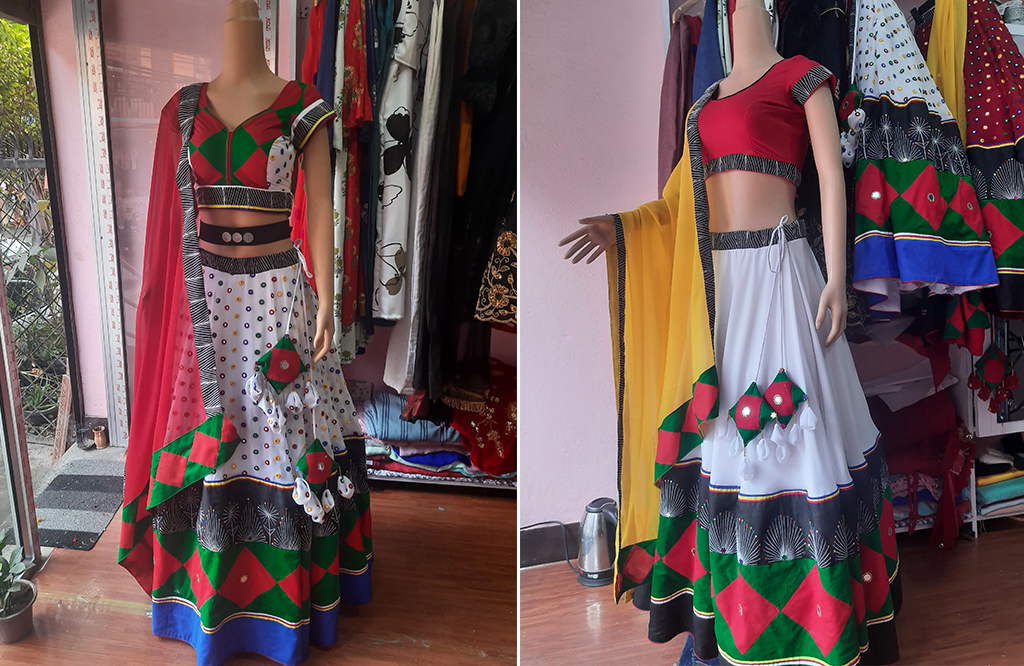 But, a more concerning scenario is in villages, where people have minimal interest in knowing about and promoting the Tharu dresses.
Changing market
At her shop located in the heart of the city, Chaudhary makes sure to dress the dummies in Tharu dresses, so passersby enter the shop out of curiosity, ask for the prices and to place orders. Already popular among the Tharu community, her shop has garnered the attention of other communities too.
Consequently, Chaudhary has now started catering to other ethnic communities too, making gunyu cholo, haku patasi and other traditional and western dresses. That keeps her business going. "Customisation is very popular nowadays; people come with designs from the internet or TikTok for blouses and lehengas."
Still, for her, a big chunk of the market is outside Kathmandu with high demands for Tharu dresses during Jitiya, Maghi and Nagpanchami festivals. On average, she sells about four to five Tharu dresses during off-seasons whereas she sells about 20 to 25 dresses per day in the peak season.
Making an original Tharu dress takes months to finish because the dresses are made from scratch with intricate details and separate elements, so they prepare for the demand during the off-season. She designs the dresses herself but then has four people to help her in the shop with two specifically to make Tharu dresses.
"The dresses of Rana Tharus take longer to make as they are handsewn and heavily use patches and wools with accessories like ghot and katauti." In the past, people used to do the patchwork from the start. Today, technology has made it easier but still it takes a lot of time to make each piece. It means the dresses cost more.
And probably, it is the only drawback of the market, if any. "One set of dresses costs around Rs 18,000 to 50,000 depending on the combination of fabrics we use, the layers, patterns and accessories as well as customisation. The price scares people, but given the amount of work we put in, it is reasonable."
Though she is running a small shop now, her future plans are big and she wants to make a brand out of them, expand it nationwide or at least expand her collection of the Tharu culture.
For this, she wants to start by adding a few more accessories and extending the collections to add value to her dresses. In a few years, she wants to open a training centre and start teaching people about sewing as well as the Tharu culture.