In recent years, during the tourist season, one could consistently see a crowd of people in the lap of Mardi Himal. Between Dashain and Tihar every autumn, hundreds of Nepalis and an equal number of foreigners set out on the Mardi trekking route, ignoring the unpredictable weather. Every other day, some 200 to 500 tourists reach Mardi viewpoint and return after closely gazing at the mesmerising Annapurna range.
But if someone was to reach the spot a decade ago, the scene would have been very different. The surrounding was popular for the animal husbandry with sheep, buffaloes, buffaloes and yaks–brought from nearby villages including Siding and Ghalel–grazing everywhere.
The mountains look majestic from afar and it is fun to be close to them sometimes. But, it is difficult to live in the mountains. Locals were known to be practising a kind of shifting cultivation in which they would descend in winter and ascend in summer.
Entrepreneur Sudip Gautam is one of the pioneers who started catering to the tourists reaching the Mardi Himal trek and accommodating them in such difficult situations. He once dreamed of going to Switzerland to earn fortunes there. Today, he is working diligently to make the guests from Switzerland and other countries feel at home in the Mardi region.
A life after failure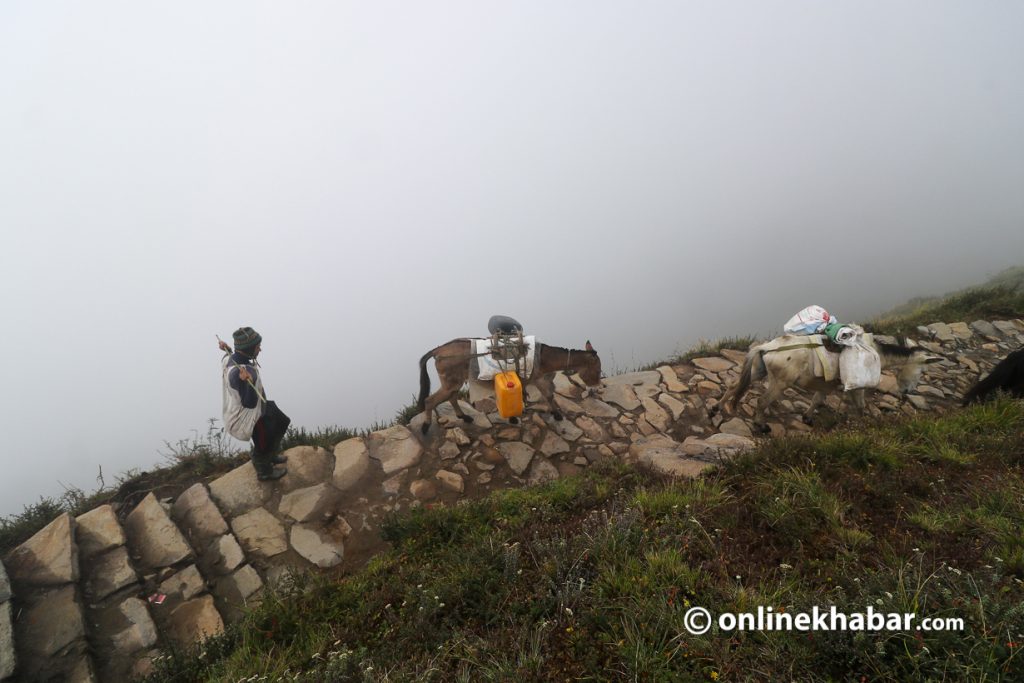 Sudip Gautam was born and raised by his parents in the Machhapuchhre village of Kaski, the place with rich possibilities in tourism and the view of mountains greeting one since the morning.
Gautam was fascinated by fluent English-speaking tourists and then he got attracted by the charm of the foreigners who reached Kaski to see the same mountains. He was crazy about them so much that he would bunk the school and carry cold water and other beverages in a bucket and mingle with the tourists.
After completing his secondary education, he went to Pokhara, the provincial capital, to study further. He was dreaming of going to Switzerland to study hospitality management. But, he once happened to fail his exams and his dream was ruined. The guy who never even came second in any academic exams failed for the first time.
That failure changed the course of his life. When his dream to move to Switzerland failed, he started dreaming of a new one; to run a tea house, where his father runs a barn. Gautam then started knocking on the doors of tourism entrepreneurs and stakeholders to promote the Mardi trekking route.
Gautam's life started being closely linked with tourism, but then he got the news that his failure was due to a technical error. Though Tribhuvan University corrected its results, he did not look back or "correct" the path he had embarked on in life. He continued to work hard and promote Mardi trekking.
A bolt from the blue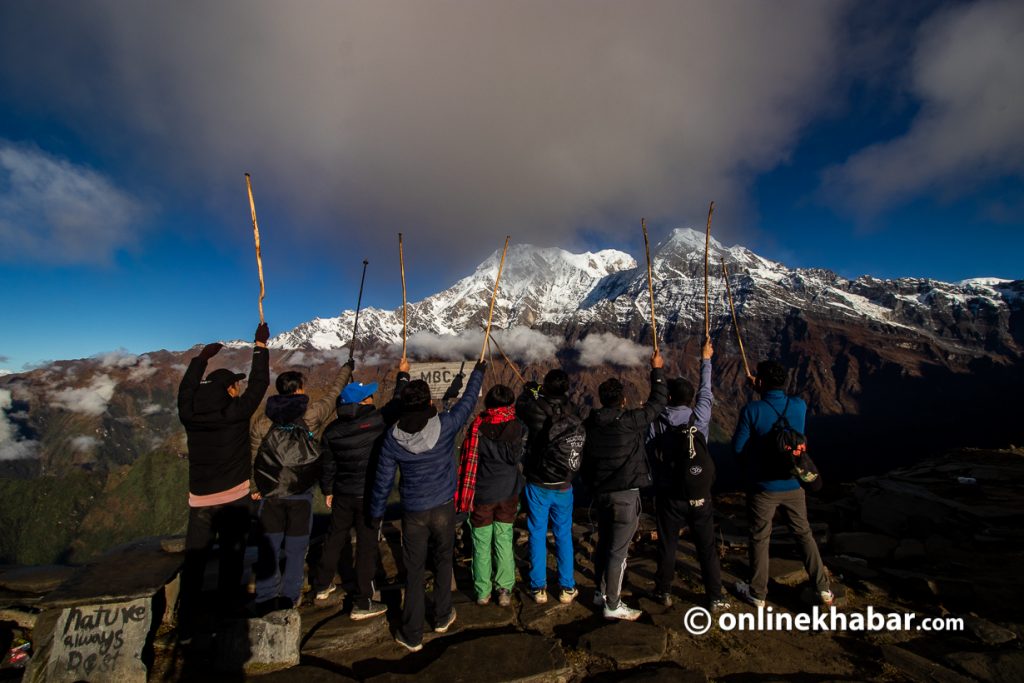 Nowadays, the trekkers who reach Mardi are well accommodated with hotels where they can eat and spend the night. Routes have been made, stairs have been made to make walking easier, they have mineral water supply, and signboards, guiding them to their destination. But, it was not an easy journey in the past.
"The promotion started around the 1990s with the help of a foreign company named Himalayan Counter. When the tourists started coming, they met my father and advised us to sell beverages in baskets. That's how our business started."
According to Sudip Gautam, in the beginning, there was no house. So, they used to bury the goods inside a hole and retrieve them when tourists arrive. Meanwhile, they spent the night in a makeshift shelter. With the growing demand, the locals started adjusting the spaces for tents. But soon after the insurgency, Nepal's tourism sector collapsed, and business took a hit.
With the success of the People's Movement in 2006, Gautam took the initiative again and decided to open a tea house at the high camp. His thought behind this was that if the tourists find a place to stay, they at least do not have to carry tents with them, making it easier for them.
But, he was a young man, and he had no collateral to ask banks or financial institutions for loans. What he had was Rs 44,000 his father had sent from Malaysia.
Sudip Gautam says, "I took a loan from relatives and friends and build an eight-room house at the high camp at the cost of Rs 2.9 million."
He encouraged his relatives to build houses at various places along the Mardi trekking route. Following his request, one of his uncles built a two-room house at the low camp, and another built a tea house at the forest camp.
However, the route was new and there were not enough tourists. There would always be a rush whenever they got the news that tourists were coming, unlike today where mules carry their goods. Gautam remembers, "My father and I used to carry heavy loads, and transport water, in a drum, from the bottom (of Siding)."
The locals used to be anxious when the guests did not come and scold Gautam. Tourists would only come for two seasons, and the rest of the time they had to lock and guard the hotels, with a heavy debt on their shoulders.
Gautam also doubted himself from time to time, tormented by the fear of having to go abroad like fathers. Regardless, he continued working and encouraged others to be patient. He would come to Kathmandu from Pokhara, carrying brochures, pamphlets and other materials for the promotion of the Mardi trekking route. He frequented the meetings and conventions of Trekking Agencies Association of Nepal (TAAN) and other tourism-related bodies.
And, his hard work bore fruit for the whole village in a multifaceted way. "Our vegetables have found a market and local products have been promoted. Locals also found employment and, gradually, the local economy began to thrive. Siding also changed its fate with new businesses, with cowsheds turning into hotels, buffalo milk being sold as coffee and tea, and plants turned into pickles."
The Mardi Trek Tourism Management and Business Committee was registered at the District Administration Office, under Gautam's leadership. After that, twice a year, the local entrepreneurs got their hands dirty and started cleaning as well as building the Mardi trekking route with 60 to 100 per cent of the money they earned from the business. They even received the local government's support, says Gautam.
Though he remembers the days of struggle, Gautam smiles at the thought of being the person who established the identity of the place where he was born. And although he is appreciated more, he shares, he would like to share the credit with everyone working with him.
The rise of domestic tourism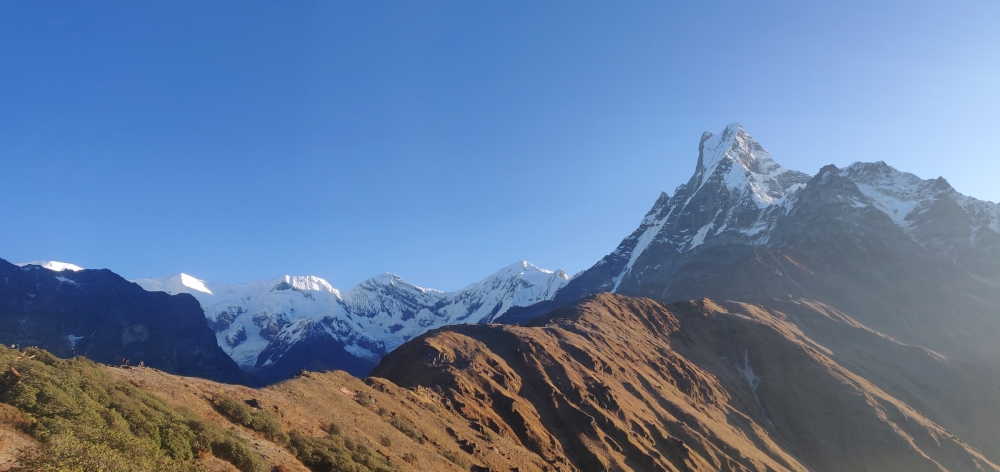 The Mardi trekking route is now a favourite to many domestic tourists as it was for foreign tourists until a few years ago. This 'trend' was not an overnight success. In Gautam's experience, before the 2015 earthquake, only a few Nepalis returning from abroad used to go Mardi trekking. But, after the earthquake, the number of Nepali tourists increased rapidly in Mardi. For this, Gautam thanks social media activism. He says people also understood that one can go trekking at an expense that is not more than what one needs to stay in a hotel in Thamel of Kathmandu.
Nowadays, during the season, about 300 to 500 tourists reach the viewpoint daily. Every day, in the wee hours of the morning, people reach the view camp from the high camp and return happily from there.
This Mardi trekking route is also appropriate in terms of security as there is no fear of avalanches and landslides. It provides the trekkers with a 360-degree view of the mountains and all trekking trails leading up to Annapurna base camp, including Ghandruk-Ghorepani trek and Model trek, even the Pokhara valley.
Vision for the future
Of late, up and down the mountainous slopes, Sudip Gautam has befriended books. His business is growing and stable but says it was his social responsibility. He still invests 10 per cent of his profits as his social responsibility. He has donated land to build a health post in Siding, where two health workers provide regular health care.
In solitude, he still reviews the past and imagines the future. The concrete development worries Gautam and says it will shorten all walking trails in Nepal, affecting the trekking routes and shortening the tourists' stay and, hence, the tourism business. "The destruction in the name of development has to be stopped," he says, "What would our situation be like without the mountains?"
Gautam has also not given up; he wants to make Mardi a sustainable tourist destination. He is now running a campaign to not cut down trees as well as exploring alternatives to firewood and gas. He is also conducting debates on policy shifts and wants to discuss what a guide should be like. Gautam says, "When you come to Mardi trekking, the guide should be able to tell you about the wildlife, flora, culture, traditions, ancient and historical facts found there."
Other plans are also being drawn up. Sudip Gautam, who is now studying innovation and tourism, wants to link the experimental education of mountaineering to the Mardi trekking route. "There is the possibility on every hill in Nepal. Let's promote product-based tourism rather than service-oriented ones," shares Gautam.