In the fast-paced 21st-century lifestyle, there is barely a moment for us to reflect on our surroundings and the things within us. However, upon introspection of one's surroundings and inner self, an abundance of ideas and answers to lingering questions surface, enabling a deeper appreciation of the present and fostering contemplation for a brighter future.
Reflecting on the people and environment around her, artist Pooja Duwal has exhibited her first solo painting and drawing exhibition titled 'The stranger is a friend' at Takpak Gallery, Lazimpat. The exhibition is curated by Bharat Rai.
In the stranger is a friend, Duwal explores her everyday life which expands from her family and friends who are close to her to strangers around her. Moreover, this exhibition also serves as artistic documentation of her surroundings, which are in constant change where the traditional architectural beauty is being engulfed in the name of urbanisation.
The exhibition
Takpa Gallery is the most recently established gallery in the town and this is its first-ever solo exhibit that began on August 19.
The gallery is spacious and its walls are painted white giving the audience a sense of peace as you enter it. The colourful paintings and monochromatic charcoal drawings depicting people, alleys, houses, and more in a style reminiscent of representative realism, with a subtle influence of impressionism, emanate a tranquil ambience.
This sense of peace is further accentuated when you focus on the subjects of the paintings and the drawings. More than 50 artworks are on display and the curator has tactfully curated the show where smaller paintings are placed clustered together in different sets. There are three such sets of paintings where in one group it depicts the portraits of human figures— man, woman, boy and girl— busy in everyday work.
Another set of paintings exhibits old doors, houses, shops, stray dogs on streets and more. Then in one, the natural world such as forests, ponds with fishes etc. completes the set.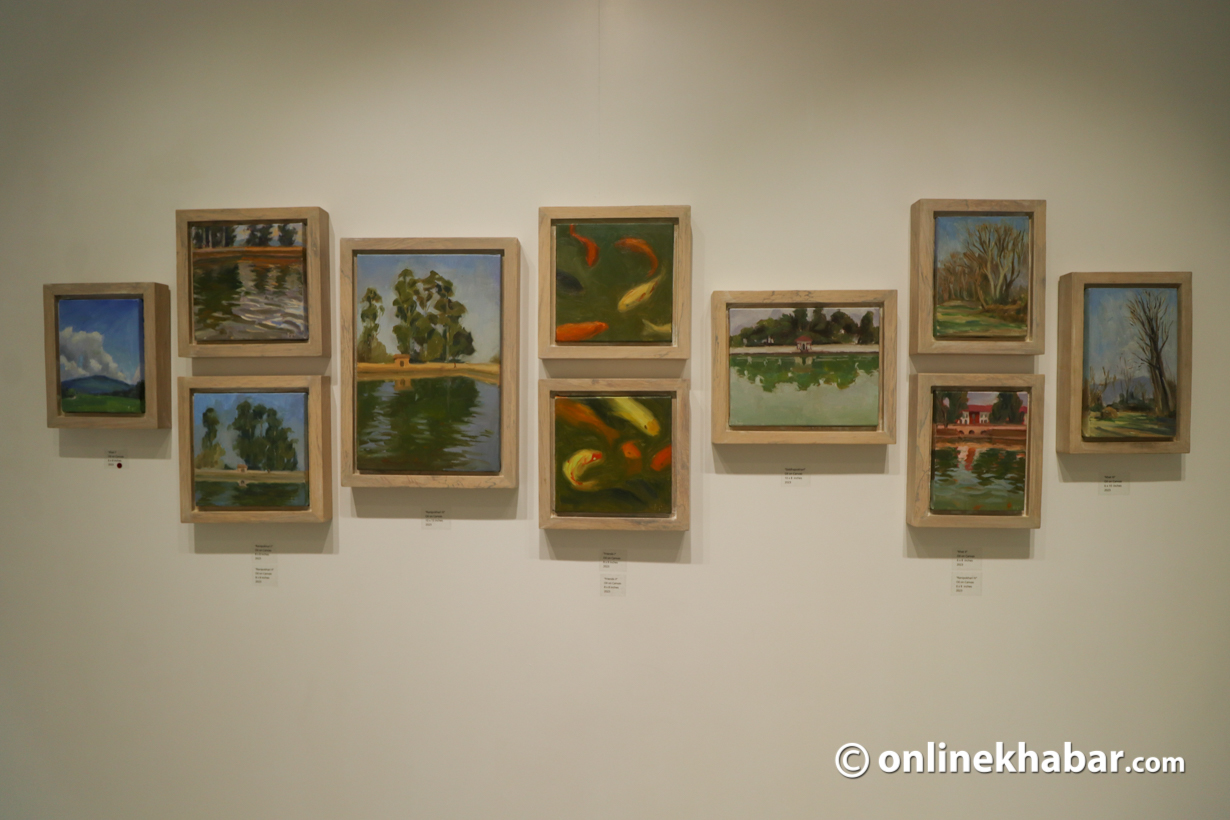 Similarly, the bigger paintings and charcoal drawings give you a sense of familiarity and belongingness to the subjects that Duwal has chosen for her artworks. In one of her paintings, a girl in a green dress is lying on the sofa reading a book inside a room. Her mobile phone is near her on the floor and at the left corner of the sofa, a ukelele is resting on the wall. Anyone can relate to this feeling of rest and peace at home.
"It is the painting of my sister and as she is part of my life I made her my subject. All my life I have seen her and I wanted to capture her in my paintings," says Duwal. Likewise, she has painted her mother as well.
It is not just her family portraits that evoke nostalgia; it is also the alleys and houses with their exquisitely carved wooden doors and windows, standing in a neat, linear arrangement. These architectural glimpses of the heart of the city transport you back to an era that was once ubiquitous before the 2015 earthquake, eliciting a touch of sentimentality.
"The show draws on the current that guides the trajectory of her artistic practice— friendly embrace of the strange and new within the familiar," says Rai in his curatorial note, adding, "It seeks to evoke the perpetual human feeling within the transient."
Embracing the uncertainty
Duwal worked for six months for this exhibition where she extensively focused on the things which seem mundane yet they are culturally important aspects of life to explore.
Duwal's definition of art is synonymous with a lifestyle that is sensitive where an artist takes ownership and creates its meaning. When asked what the meaning of life for her is, she says, "Life is all about embracing uncertainty and enjoying the fleeting moments."
This is what is evident in her exhibition— lifestyle in the Kathmandu valley— where she has captured nuances of people and objects around her. Moreover, it's her interactions with everyday life prioritise the beauty of the mundane and the uncertainty of life.
If you are also willing to find peace by embracing uncertainty, visit the exhibition that continues till September 17.