A photographic exhibition that has travelled the world celebrating some of Nepal's most inspiring rule-breaking women is finally being exhibited in Kathmandu.
From Nepal's first transgender political candidate to the first Dalit woman to bring a murder case to the United Nations High Commissioner for Human Rights, and an anarcho-feminist punk rocker, Nepal's female heroes are taking centre stage in the middle of Lalitpur's Patan Durbar Square.
It has been almost four years since Spanish photographer Arantxa Cedillo completed Broken Rules, which opened at Photo Kathmandu 2016 last week, and remains on exhibit until November 3.
Broken Rules documents and showcases the outstanding achievements of 18 Nepali women who have shifted the trajectory for women in the country.
Some of the women photographed for the series have shifted dominant power structures and fought tirelessly for a place and space in Nepali life. Others have been more reluctant movers and shakers, compelled to fight for respect and dignity through their own personal hardships and, as a result, have given voice to gender inequality in the country.
"It is a real celebration of womanhood in Nepal," Cedillo says. "All of the women are inspiring, incredible women. I found a long, long list of women doing great, great things. I ended up having to reduce this list."
The 18 women included in the exhibition have accomplished an impressive lists of 'firsts', from Nepal's first female pilot to first female Mahout [elephant rider] and the first female mountaineering guide.
Also featured are women who have excelled in their fields: an Olympian and paralympian, a leading Nepali poet and writer, a feminist artist and punk singer. Each one challenges gender stereotypes and carves out space in traditionally patriarchal fields, some of the women have also gone on to champion women's rights and dedicated their working lives to it.

(L-r) Not only was Bhumika Shrestha the first transgender political candidate in Nepal, she was also the first transgender woman in the world to travel on a passport that listed her gender as 'other'. Born to an illiterate and poor family, Meena Chaudhary dreamed of becoming an elephant rider and that is exactly what she has done, becoming her family's main breadwinner at the same time. (Opener, l-r) Poet Jhamak Kumari was born with cerebral palsy and writes with her left foot. A columnist for Kantipur daily, she has been awarded with Nepal's most prestigious literary prize, the Madan Puraskar for her autobiography Jiwan Kanda Ki Phul. Lead singer of punk group Rai ko Ris, Sareena Rai calls for the rise of feminist "spirit" to make the world a better place. Photos: Arantxa Cedillo
It is the juxtaposition, however, between the empowered stance of the women in the vividly coloured photographs and their personal stories of struggle which reveal the true extent of their resilience and courage.
The women's personal statements indicate a harrowing state of gender inequality and sexual discrimination in Nepal.
"We don't have a law in Nepal that allows us [transgender people] to marry other people. I could not do it anyway because if I get married, I would have to be under a man and I like to be in control of my life," says Bhumika Shrestha, who is the first officially transgendered member of the Nepali Congress.
World-renowned singer and Buddhist nun Ani Choying Dolma's statement echoes a similar sentiment. "Because of the ignorance in our society I decided to become a nun. That way I could avoid suffering and unpleasant things."
Talk of sexual violence and rape culture also feature strongly in six of the women's written statements.
"Every day women are beaten in my surroundings, women are not respected in their families, they are treated like animals, they have no voice, no choice," said Mohna Ansari, Nepal's first Muslim advocate working with the National Women's Commission.
"We always challenge impunity though we will never be able to enjoy our rights. If you are a victim of torture, rape, it's very difficult to get justice," said Mandira Sharma, a recipient of a Human Rights Defender Award.
Despite the reported impunity in Nepal, some of the women celebrated in Broken Rules, like Mandira, have refused to shy away from injustice and have fought not only to defend the rights of themselves and their loved ones but for all women in Nepal.
Devi Sunuwar was the first Dalit woman to take her daughter's murder to the United Nations High Commissioner for Human Rights. In doing so, "I stand up and fight for the rights of women," she said.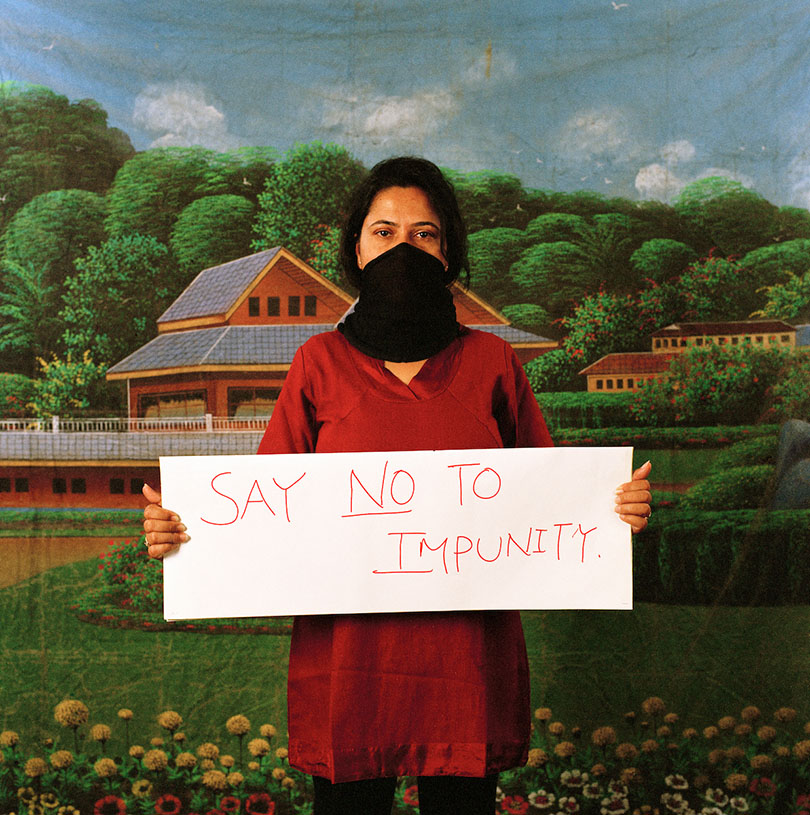 In the face of injustice and discrimination, the women's statements speak equally of indignity and anger but also of resilience and hope. They speak of a desire for the women of Nepal, and Nepal generally, to have a more equal and just society.
It was this sentiment, of a hope that things can change and celebrating the groundbreaking success of these pioneering women, that photographer Arantxa Cedillo wanted to capture with her lens. "Instead of taking a pessimistic view, instead of talking about discrimination, I thought I'm bored of this kind of angle, let's focus on the positives."
So Cedillo worked between 2011-2013 in Nepal to meet these women, share their stories and celebrate their achievements to the world.
Thus far, the exhibition has travelled to Spain, United States of America, Japan and Switzerland and has been published by media outlets in France, Italy and United Kingdom.
"But it is really special to bring the exhibition "home" to Nepal," Cedillo said.
"The whole point of this project, since day one, was to create an exhibition that could travel in Nepal. To bring this project to rural areas so women know women like these exist and that these women could serve as inspiration."
Cedillo has not, yet, secured funding to make this dream a reality.
***
Read also
What is it that makes women such competent scientists?