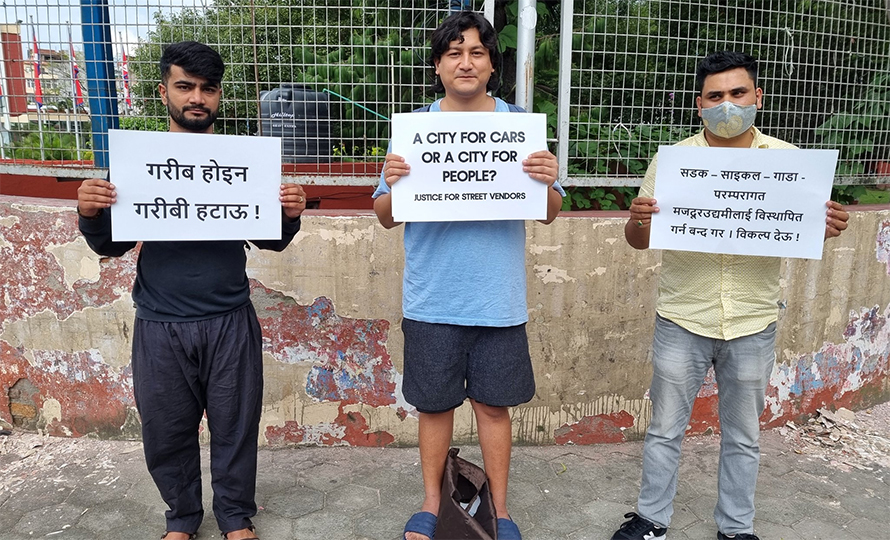 Kathmandu, September 19
Activists have started their stand-in protest outside the City Hall, calling for alternative arrangements for street vendors. They say they will stand in front of the City Hall for 77 hours.
Activists Iih, Chau and others have called on the leadership to fulfil the promises made before being elected and asked for the end of the city police's brutality against the street vendors.
"We want the city to come up with an alternative and give spaces and times to these vendors to do their business. We are calling for a compassionate, accountable and proactive governance," says Iih in a post on social media.
According to Iih, the current leaders of Kathmandu metropolitan city, who are also the people's representatives, assured that they would efficiently oversee the management of the sidewalks and businesses operating there. However, upon assuming leadership roles, their behaviour took a contradictory turn he says.
"We are not against one person. We are just seeking answers from the local government. All we are doing is demanding accountability," he said.
The group tried to speak to Mayor Balen Shah. But Shah has not entertained him yet. Since the mayor did not want to meet them, they say they sent a framework to him giving alternatives to what the metropolis has been doing.
"There has been no response," said Iih.