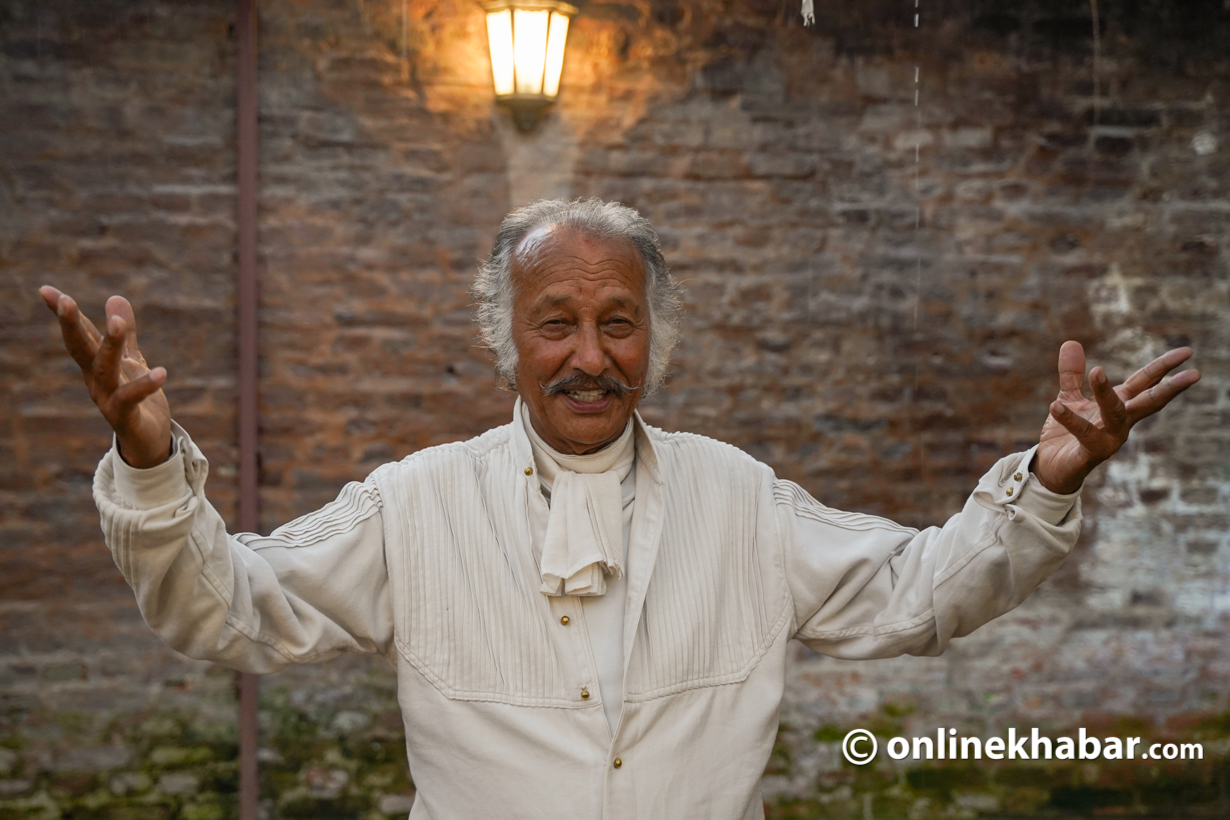 It was raining heavily on the opening day of the exhibition Siddhas in Ganga by veteran artist Jimmy Thapa on July 14 at Siddhartha Art Gallery. However, many art enthusiasts did not mind getting soaked by the rain. And Thapa, in his white attire and a brown dingo boot, all customised in his style in Nepal, was welcoming everyone warm-heartily and was excitedly distributing greeting cards, which has his drawings and paintings.
Siddhas in Ganga was initially planned for 2009 but for one reason or another, it kept being postponed. After years of delay, the exhibition came into existence.
Moreover, there is so much to learn from this 75-year-old self-taught artist as his concepts and presentation of artworks are as unique as he is. He calls himself a spiritual artist as most of his artworks are based on spirituality and his spiritual practice as an astrologer.
In this exhibition, you can witness his original paintings and drawings which he created during the 80s when he explored and travelled seeking the meaning of life and spirituality.
Unique and authentic style
The paintings and drawings in the exhibition are unique and different from regular paintings and drawings. His miniature realistic paintings are showcased in a long wooden frame and on them he has written his thoughts and facts about the paintings. His writings hold aesthetic value in executing his style of paintings.
Like the title of the exhibition, Thapa's major focus for the exhibition is the river banks and holy men. Besides, he has also depicted natural beauty, ghats, people and more.
The drawing on Nepali lokta paper and paintings on miniature Japanese ivory paper, which is a size of a playing card too makes this exhibition unique and a rarity. He has used black ink, and German Rotring isograph pen on Nepali lokta paper to blow life on his artworks. He used German Schmincke water colour mixed with the sacred water of the Ganga river while painting on Japanese ivory paper. Though the canvas size is of playing cards, he has not let any details get blurred. He has meticulously, patiently and willingly worked on every artwork exhibited in the exhibition.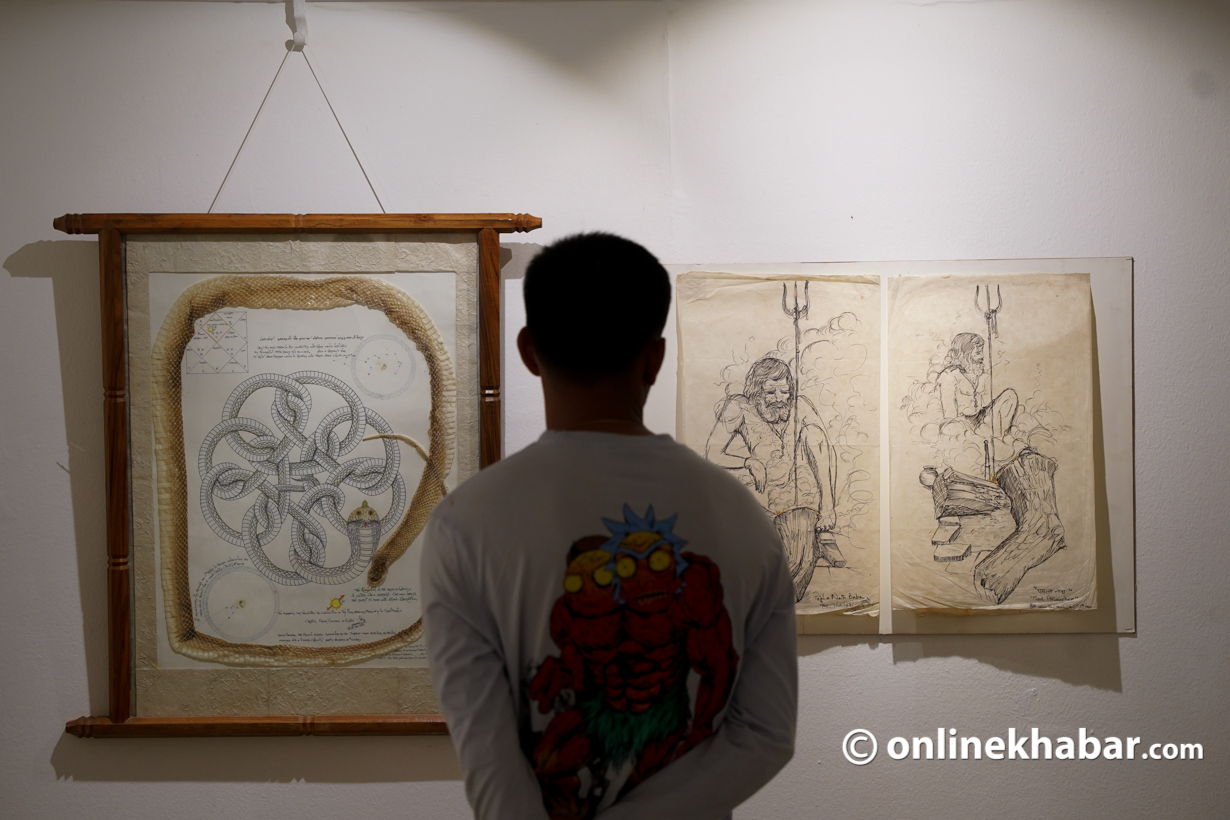 In one of his sketches, he depicted the landscape where the river Ganga is flowing and people are doing their chores at the bank. Then there are shrines and temples in the distance. He focused on the river and surprisingly you can notice the boulders forming the Devanagari style of Ganga. And below the sketch, in beautiful writings, the artist depicted that he had the firsthand experience of seeing the exact scene while he was attentively sketching the river Ganga.
All these are his record from his 'Daily Diary Ganga' sketchbook, which he has to dismantle the book for the exhibition after 36 years. It holds a special memory for the artists of his travels and spiritual experiences.
Tribute to the artist's creativity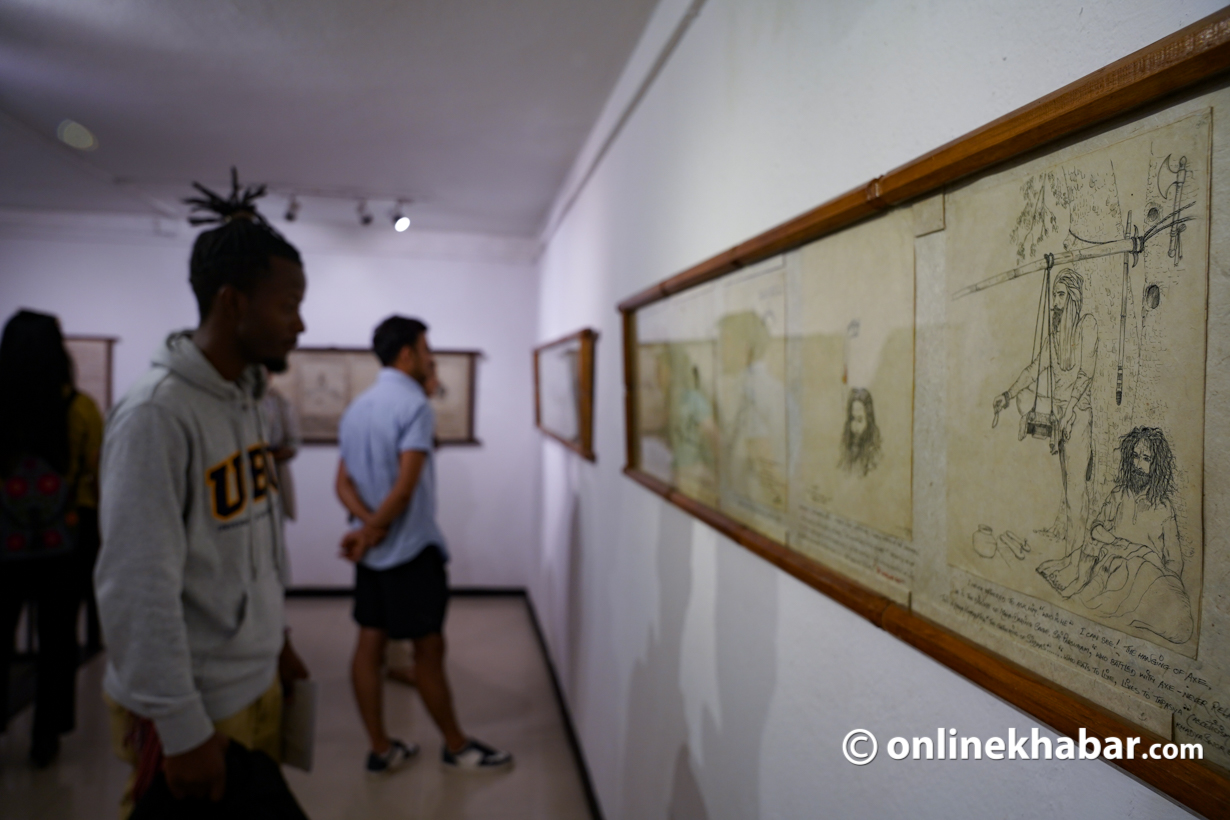 According to Sangeeta Thapa, director of Siddhartha Art Gallery, none of the works in this exhibition are for sale. She says, "This exhibition is a tribute to the artist Jimmy Thapa—it is an opportunity to converse with Jimmy, enjoy his artworks and partake in his philosophy."
Jimmy Thapa was born in October 1947 in Lumbini and left home at the age of 13 and travelled all over India.
And in his 20s he ended up on Freak Street (Jhochhen Tole) in Kathmandu and his outlook changed completely. He says, "There were hippies from all parts of the world. Wooh! Beautiful and board-minded people in colourful velvet clothes, playing silver flutes and guitars. There were musicians, astrologers, poets, writers, painters, tarot card readers… I felt it was the right place for me."
He ran an outlet called Jimmy's Wagon at Freak Street and in the presence of hippies from all parts of the world, he enhanced his interests in spirituality, arts and astronomy.
Moreover, he had illustrated for American poet Ira Cohen and his lady Petra Voght and it was his first experience with published artwork.
In his artworks, there is a sense of his intimacy towards his subject and the world where he experiments with different art forms like miniatures, watercolours and line art.
The exhibition continues till July 18.