Sharada Gurung is now 76. She is called 'mother' not just by a few of her children but also by hundreds of others. Her children are living in different parts of the world.
For 40 years since 1971, Gurung dedicated her life to take care of children at SOS Children's Village, Bhaktapur. Many of them are today scattered all over the world. She is happy with the success of the children, who were orphans, that she brought up with her own hands for more than a decade.
With her years of service, she has earned the title of 'mother' from all.
There were other mothers also who worked in the organisation, but it was her who stayed with the children 24 /7. She understood their happiness, feelings, and solved problems. And, that is why Gurung keeps repeating the success stories of her children.
Dr Ram Rokka, one of the many who grew up under the direct care of Gurung, works in Hungary. Dr Janak Pathak is an environmentalist in Kathmandu while Dr Rajan Tamang is working in Bangladesh. Superintendent of Police Subash Bhandari, engineers Asim Adhikari and Shyam Rokka, staff-nurse Shubhechcha Shrestha, wood entrepreneur Gopal Acharya and businesswoman Minu Bhattarai are still equally close to their common mother.
Though far, they make video calls and get updates. While talking to her children, she always says, "In the race to become successful, do not forget to be good. And, wherever you live, always work hard on the path of duty, and remember the pride of mother and motherland."
Service beyond selfishness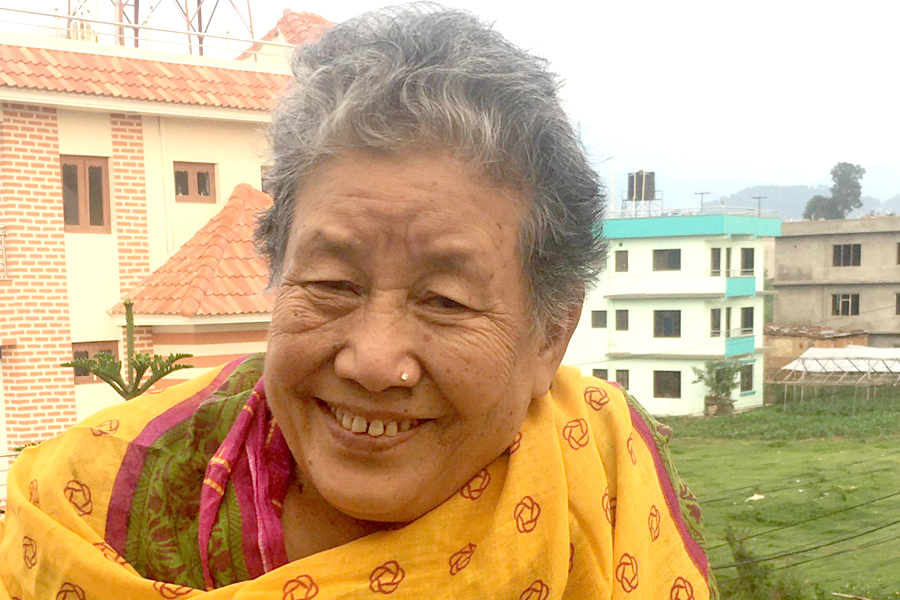 "I never think about what I got," she says. "What we gave is a bigger question." Gurung believes service is the best manifestation of religion in life.
She was born in Mugathali of Sindhupalchok. Her childhood was spent there only.
As her father was a retired army captain, she got to study up to the 10th grade at that time. For that, she came to live in Siphal of Kathmandu. But after failing her 10th-grade exams, she was at home again, willing to do something meaningful.
Remembering the days of five decades ago, she says, "I wanted to do something that even my daughters could do. That is why I joined the Balgram (the children's village)."
There were no brothers in her house, and she was the youngest of three sisters. Her sisters got married, but Gurung, who had become the mother to all in Balgram never got interested in marriage. She now lives with her children whom she brought up. But, she says she does not think about who is own and who is other.
After working for four decades, she retired due to health reasons. But, she did not leave Balgram. Gurung, who once suffered a heart attack, says that her 'power of service' gave her new life.
Nonetheless, she requires extensive care and hence began living in Lalitpur with her son Suraj Aryal. According to Aryal, Gurung's health is now normal. She spends the time talking on the phone with his children and praying. "She is always optimistic, and her memory is strong even at this age."
Aryal, who grew up in SOS Balgram, has also followed in his mother's footsteps, inspired by the spirit of human service. He has started an organisation named Hamro Shobha Griha to serve the elderly in need.
"The mother's work is the biggest inspiration for us," he says, adding, "We have learned from her that after being born as a human being, we should live in the service of others."
Difficulties of motherhood
Gurung says it takes a lot of courage to live as a mother, more than just calling someone a mother. According to her, sacrifice is necessary to be a true mother. That is why she keeps saying that motherhood is not just about becoming a mother by giving birth to children.
In today's age, the distance between a mother and her child is also increasing as the practice of nuclear families has increased. Many others have left their parents on the streets for wealth.
"I still feel like I have to serve the needy. But, since I cannot do it myself, I have to keep the desire in my heart."
Her children in various professions across the world continue to be inspired by her to serve humanity. She tells them, "Do not serve just me. Help all the helpless and distressed elderly as much as you can."
Even at this age, Gurung still remembers her childhood. She was just the daughter of her house before joining the SOS. Living with her parents meant she did not have to bear any responsibility on her shoulders.
After joining the SOS, Gurung says she realised what motherhood is and its importance. There she dedicated her life and became a mother of helpless children.
But, she says, "It is really hard to be a mother!"