On the way from Vijayeshwari temple in Kathmandu to Swayambhu, one can see a dazzling restaurant on the left. The outer walls of the restaurant are painted with various informative and inspirational quotes.
Named Sat Saheb, this restaurant in itself is a school that teaches the art of making and eating healthy food for one's life. One can gain knowledge of pure food under naturopathy here.
Sat Saheb Bishuddha Sahakari Bhojanalaya, a vegan restaurant, was started about four months ago with the motto of promoting the welfare of all creatures along with the business.
Working for welfare
A year ago, Rajendra Das, Dharma Das, Rabin Das and Harikrishna Das used to meet regularly at Saint Kabir Ashram. All of them are followers of Saint Kabir, who advocates for the welfare of all creatures.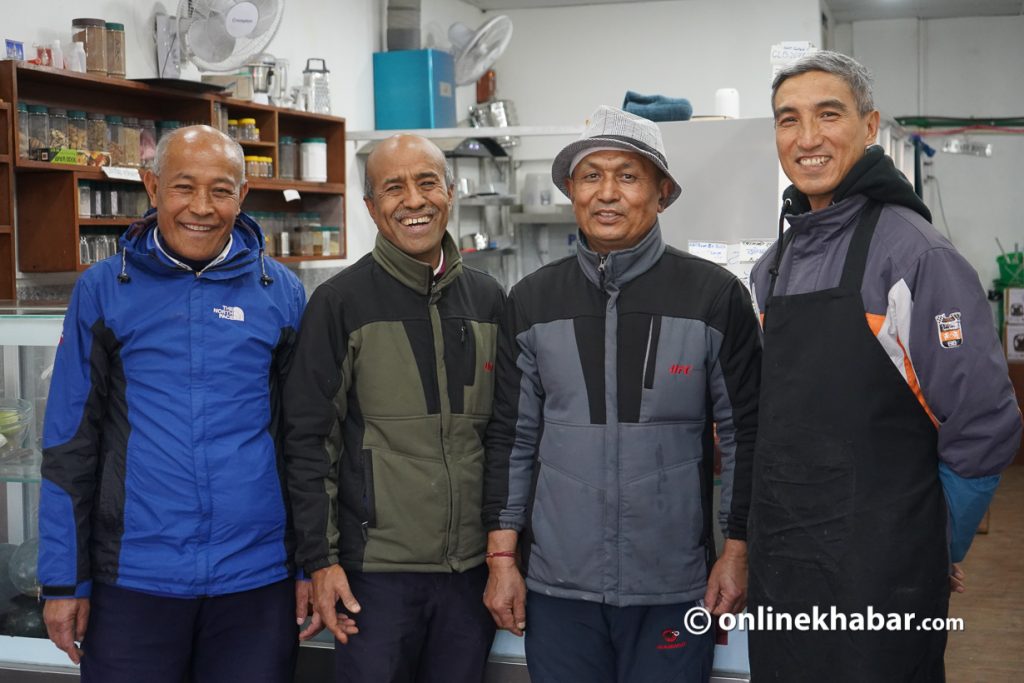 Prohibition of violence, non-vegetarian food, adultery and untouchability is one of the most important teachings of Saint Kabir. Having understood this well, all of them discussed ways they could adopt to promote the teachings of Saint Kabir. They also pondered about what brings misery to human life.
Finally, after rounds of discussions, four of them agreed that the unhealthy food people eat is the cause of misery. After that, they planned to do something about it.
However, they could not meet for a while. One day while attending a funeral procession at Pashupati Aryaghat, the four of them met. There, they again discussed their previous plan and finalised to open a pure vegetarian restaurant for serving humankind along with the business, naming it Sat Saheb.
Rabin, who had worked as a chef for 16 years in Japan, took charge of the kitchen. Rajendra, who used to sell Nepali products to foreigners, had the idea of doing business. Dharma, who worked at Soaltee Hotel for a long time, had knowledge of service industries. Hari Krishna was good at the procurement of necessary materials. As a group of four people carrying all the expertise required for running the business, they started Sat Saheb with the blessings of their guru.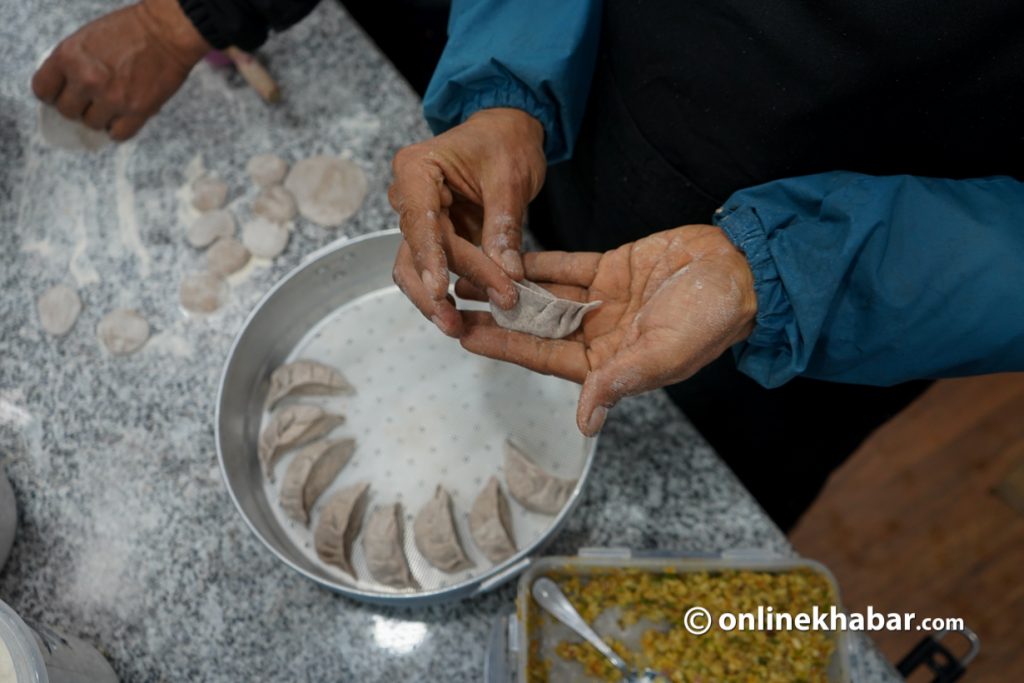 Own rules
"To treat any disease, it is necessary to pay more attention to the food and its cooking and consumption methods than to the use of medicine. The root of all diseases can only be eradicated by improving our diet, which will help purify the blood. Let the customers also chew the food with gusto and drink water adequately and get rid of the disease in an easy way."
This piece of advice is written on the wall on the side of the entrance door of Sat Saheb. This catches the sight of the customers instantly. Even the customers who primarily come there to quench their hunger get indulged in those inspirational words. Soon you get inside the restaurant, you realise its hospitality is a little different than other places. You hear the word 'Namaste' in the voices of all four of them as a greeting.
Besides, no one is allowed to talk about politics after entering there. It is requested not to touch anything with unwashed hands polluted with food. Fish, meat, curd milk and dishes made from it cannot be eaten or taken there. Smoking and drinking are not allowed here.
The Sat Saheb dishes
The restaurant offers herbal tea, fresh beetroot juice, fresh garden stew, fresh sattu (roasted flour), millet bread set, fresh millet yoghourt (yeast set), millet momo, fresh cucumber juice, fresh cucumber juice, fresh sanjeewani (a drink), and fresh watermelon juice.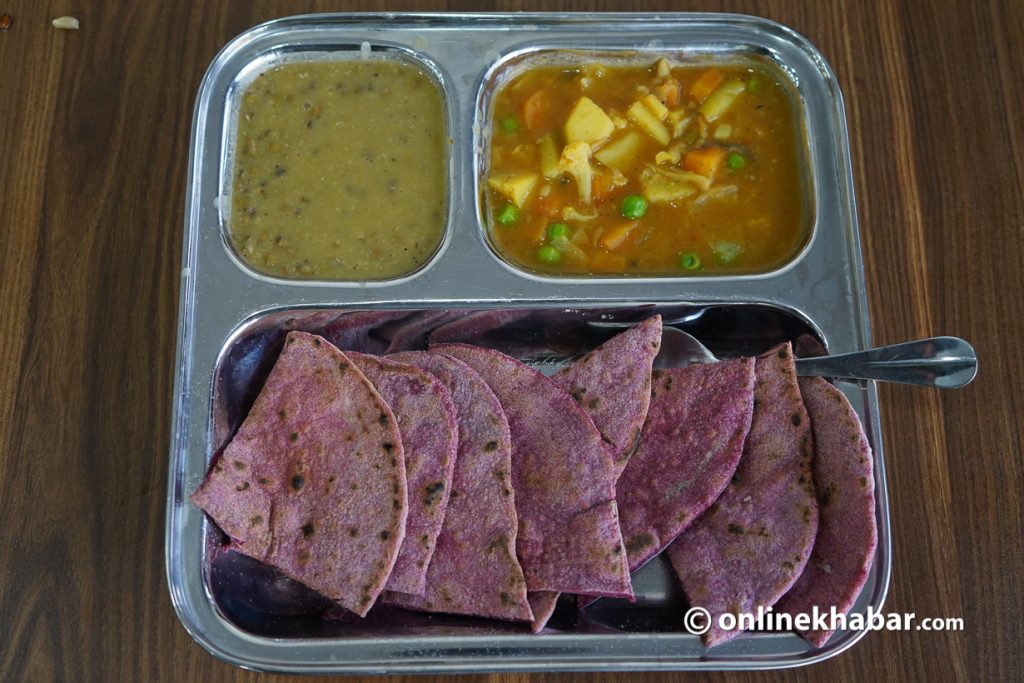 Similarly, fresh seasonal juice, fresh orange juice, fresh fruit salad, fresh mixed fruit juice, fresh pineapple juice, fresh carrot juice, fresh pumpkin juice and Sat Saheb laddu are available at the restaurant.
Food with health benefits
During the winter season, Sat Saheb usually offers varieties of fruit dishes whereas very few cooked dishes are prepared. As of now, 13 juices and 15 dishes are prepared here. But, how do they finalise this menu?
Rajendra Das has been suffering from various health problems for the last 16 years. His moustache turned grey while his hair was still black. At that time, he wondered why a moustache grows much later than the hair on the scalp. Since his moustache first turned grey, he started naturopathy in 2018.
He feels his health conditions changed drastically after focusing on nutrition. Therefore, he focused on naturopathy on the menu of the restaurant.
Rajendra says, "We offer a lot of raw food for a whole lot of reasons. We never consume cooked fruit. Learning from the animals as they only consume raw foods but are stronger, we have prepared the menu with the vision that one should start eating raw food to get 100% nutrients."
The four of them also advise the customers who come there to enjoy food on how to eat. They are advised to spend 20 minutes on each meal, chew the food a lot, not drink water before eating, and eat cucumber, radish, carrot before eating.
Within four months, many have become regular customers of Sat Saheb. According to Rajendra, people in the age group of 20 to 60 years usually come a lot now.