If only it were woven skillfully, Sano Mann('A Small Heart'), would register itself as an unprecedented psychological drama in the Nepali film industry. But it fails due to its lack of focus, overdramatisation and the use of cliched formula.
The movie, which could potentially tell the story of psychological trauma healed through human relationships, ends up a confused and boring hotchpotch. Even when raising serious concerns about human relationships, the movie fails to rise above a cheesy love story.
Positives
The most impressive element of the film is that it tells the story of a child of divorced parents. Very few Nepali films have told the story of kids of divorcees; and a psychological angle is rare. But, this movie tells how a child looks for her father in her teenage and early youth though her commanding mother provides her everything that a father would. It is quite blur, but the story tries to exemplify Freud's electra complex in the context of a divided family.
Arguably, the second most appealing point is its music. Music in Sano Mann had to be strong, also because the lead actress, played by Shilpa Maskey, is a singer and the plot is partly about her journey into a singing career. All songs ooze with contextually meaningful words; and are embellished with beautiful vocal and instrumental melodies. Most of the songs feel like emotional monologues, and they perfectly fit into the movie.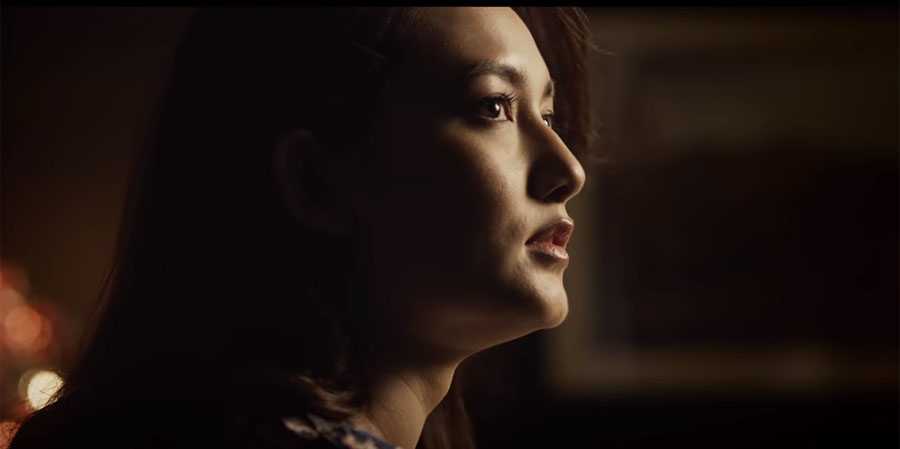 The production team put in some genuine effort to create powerful visual effects. A few scenes are symbolic. Here is an example: when doctors tell the hero's dad, Bishal Pahari, about a tragedy that his family is going to face soon, he spends the entire night looking at his son's childhood photograph. His wife, Rashmi Bhatta, wakes up to a thunderstorm and finds her husband shedding tears over the image. This scene has multiple layers of meanings as the director tries to juxtapose tensions within and among the characters with the unfavourable weather outside.
Maskey and her male counterpart Ayushman Deshraj Joshi have done their jobs quite fairly. Joshi has presented himself as a clever man who can make prompt decisions and adapt himself to different conditions. Maskey looks okay in her role of a depressed lady who has lost the path of her life. Veteran Gauri Malla is bold–enough to impose a control over Maskey. Pahari and Bhatta are okay.
Saksham Subedi, still a newbie in the sector, has done an impressive job as the hero's confidant. He deserves further exposure and an expansion to his role.
 Negatives
Despite looking into people and their relationships from a fresh angle, the movie has failed to exploit its potential. As the movie progresses, it loses its focus and includes unnecessary scenes and characters.
For example, look at the role played by Shishir Bangdel. The audience does not know who he is–he is always guarded by two policemen under his command, but he behaves like a goon. Further, his behaviour is completely artificial. The man determined to kill his daughter and son-in-law drops the idea owing to a suggestion by a stranger. This can never happen in real life.
Bangdel appears twice in the movie, and both the sequences do not contribute to the plot. In his second appearance, he tells the heroine about the hero's hospitalisation; but it is senseless because the audience doesn't believe that a modern woman living in Kathmandu does not know what her beloved is doing. It is too foolish to imagine that once the hero says he is flying to the US, his 'girlfriend' stops communicating with him; the movie forgets all about communication mediums including telephone and social media.
This scene is just an example of the overdramatisation that runs through the movie. The romantic side of the film looks overtly exaggerated. It's not only that the heroine notices the hero's picture before meeting him, a car that the hero is in nearly hits the lady on a road; but the hero develops sympathy towards her without knowing her and stops his friend from making any hassle. On different occasions, both of the lovebirds claim they are the medicine each one needs when they fall sick. This is more cheesy than romantic.
The nonrealistic drama intensifies when a hospital admits the hero after he faints in public and finds out that he has pancreatic cancer. The hospital conducting diagnostic tests for cancer on a patient admitted for minor complaints is unimaginable. Likewise, the hero hiding his disease from everyone, including his parents and girlfriend for years is also beyond understanding.
Stereotypically, many recent Nepali love story films, including 'blockbusters' Nai Nabhannu La and A Mero Hajur, make either the hero or the heroine suffer from a serious disease so that the audience has pity on them. Sano Mann goes one step beyond and makes both suffer different diseases. But, why do the filmmakers ruthlessly compete to make money out of people's emotions? Is it really necessary for love story's protagonists to suffer from serious illnesses and die soon?
Finally, there are a few questions that the movie asks, but fails to answer. Whose marriage is it that everyone in the movie attends and the hero and the heroine perform a dance? After knowing that the heroine's dad is doing some business in Bangkok, how does the hero find his phone number and other contact details? Why were the heroine's parents divorced?
Verdict
Diehard fans of lead actors Joshi and Maskey might tell you that the movie is superb. But, honestly, Sano Mann is an artless and confusing production.
—
Sano Mann
Genre: Social drama, love story
Runtime: 145 minutes
Director: Suyog Gurung
Cast: Ayushman Deshraj Joshi, Shilpa Maskey, Gauri Malla, Bishal Pahari, Rashmi Bhatta, Sishir Bangdel, Saksham Krishna Subedi
2/5
---
Published on July 14th, Sunday, 2019 11:15 AM
---
Download Onlinekhabar App. Android click here & IOS click here . Keep in touch with us on Facebook, Twitter & YouTube.