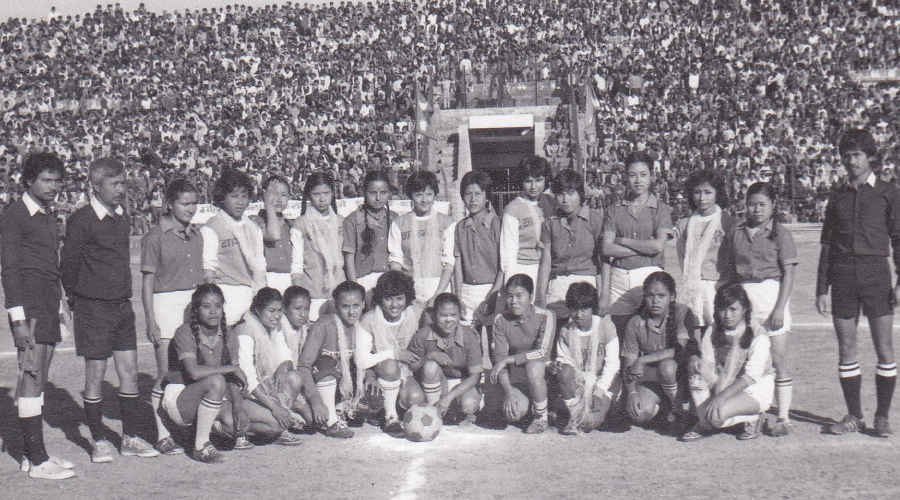 Little is known about popular newscaster Rama Singh as an established player in Nepal. Before she began her career as a reporter at Nepal Television, she used to be the captain of the country's first women's football team in Nepal. From 1982 to 1987, she led the Nepali team and participated internationally.
Recently, she was invited as a guest at a talk programme organised by Nepal Sports Journalist Forum. In the programme, she remembered the initial development of women's football in Nepal.
In the early 1980s, Nepali women's football had a big craze. Spectators used to throng the Dasharath Stadium to watch women's football matches. "It may sound strange now, but the craze for women's football was different at that time," says Rama Singh, the first captain of the women's national football team, with pride.
This was four decades ago. Many things have changed now. The football craze is exactly the opposite. Women's football craze is much less than men's. The stadium, which used to be packed to see women play football, looks mostly deserted.
The formation of the women's football team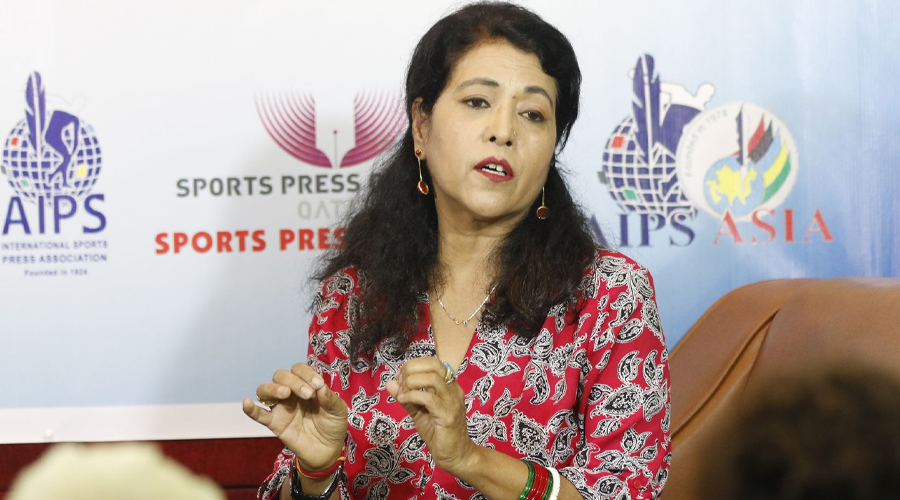 Born in a big family of 13 brothers and sisters, Rama Singh grew up in a modern living style. Her family was so modern that sons and daughters were treated equally although sports for women were very limited in those days outside her house.
After completing her school, Singh joined the Padma Kanya Campus in 1981 to pursue her higher studies.
There, she got a chance to play volleyball. She became a member of the team formed by the college for the first time and played a volleyball tournament at the covered hall in Tripureshwar.
Until then, the women's national football team in Nepal did not exist. But, seeing the volleyball team, the then president of All Nepal Football Association, Kamal Thapa offered everyone to play football.
But, Thapa was compelled to form a women's team as soon as possible. "At that time, FIFA warned of cutting the subsidies if any country doesn't have the women's team," Rama Singh says, "Then, the historic women's team got its shape."
At that time, most women were limited to the four walls of the house. Hence, ANFA was expecting difficulties in finding enough players. However, players from Kathmandu, Pokhara and Dharan formed a national team for the first time and created history by winning the first match against India invited for the friendly match.
"I still can't believe it when I remember that day. That craze of women's football is unforgettable. The stadium was completely packed. There were also supporters outside the stadium too," adds Singh.
International performance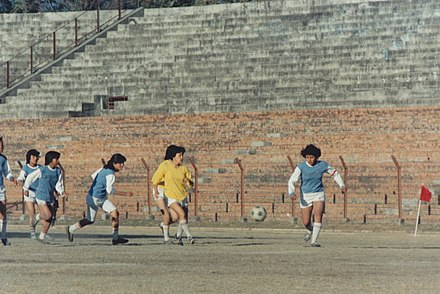 Rama Singh informs Nepal got to play in an international competition in Hong Kong for the first time in 1986. By that time, women's football teams had been formed in some districts of Nepal. Selecting players from those places and training them for one and a half months, the 18-member team went to Hong Kong to play in the AFC Women's Championship.
"We also had the enthusiasm to go to international games, but I was afraid. The reason was not being able to create a solid impression because even men's Nepali team were unable to do so," says Rama Singh.
At that time, only Nepal and India had women's teams in the South Asian region. The Nepali players were trained at Mahendra Yuvalaya in Jawalakhel. The players who came from outside the valley stayed there while the players from Kathmandu used to come every day for training.
At that time, Hong Kong and Thailand too formed their first women's teams. In terms of technology, they were far ahead of Nepal. On the Nepali side, some Nepali players lacked proper football gear such as boots. The jerseys for them arrived 12 hours before the match.
Even if the boots used to be available, there used to be a problem with the size. The Nepali women footballers were not used to playing in new boots, so some players played football in their sports shoes, according to Rama Singh.
"The worst part is that we had trouble running on Hong Kong's modern and well-organised ground. At the stadium in Nepal at that time, there was a field with mud mounds, grass, and stones. It was difficult for us even to walk on that ground, so how were we supposed to run," says Singh.
Nepal played the first match against the hosts. This was Rama Singh's first match as the captain of the team. China, Japan and Korea were other teams.
"We were teased by the journalists as we lost to Japan 0-12. But, it was an achievement for the Nepali team even to participate in an international game," recalls Singh.
Changes in Nepali women's football
Despite creating history in Nepali women's football, Rama Singh could not continue her career. The main reason was unprofessionalism. In her experience, football was like an addiction for the players of that time although there was no investment, no competition; one could not expect to get any facility being a player.
During the 3rd National Games (1985), when the female footballers went to Birgunj, they had to spend the night at schools and dharamshalas and had to rest in beds made of straw as there was not any particular department for women's teams like these days. Today, the players do not have to face that but the facilities provided to them are still not enough, says Rama Singh.
Singh remembers that women players had to fight for their rights at that time. She says, "There was a rule to invest 22 per cent in women's football, but we didn't get it."
Rama Singh came to Nepal after staying in America for almost two decades and she is here to stay. Hence, in the future, she is ready to help in any role for the Nepali women's football team.
"I have returned to live in Nepal now. If ANFA wants to utilise my expertise, I am always ready to help women's football as much as I can."
---
This story was translated from the original Nepali version and edited for clarity and length.