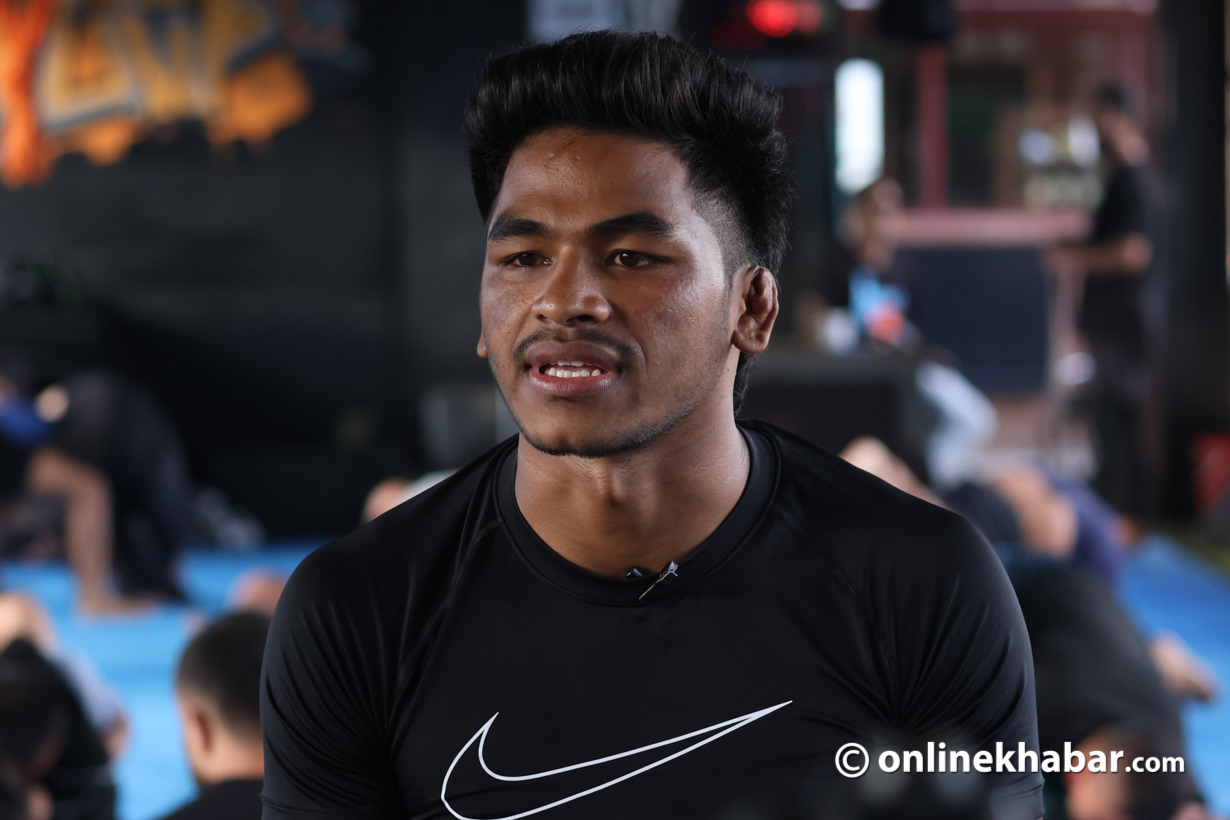 Growing up in Bajhang, Rabindra Dhant had big dreams. He longed for recognition, a burning desire to etch his name in the history books. Fate, however, had a different path for him.
In school, Dhant's passion lay in volleyball, and he aspired to be the pride of his village on the court. His goal was to rise high and deliver powerful shots that would echo his name far and wide in the village. But that never happened because of his height.
At the age of 16, he realised that he needed to leave Bajhang in pursuit of a brighter future, just as his father and brother had done before him. It was there that he ventured into the world of karate, eventually transitioning into mixed martial arts (MMA). This decision, as fate would have it, would transform his life entirely.
On September 15, Rabindra Dhant made history as Nepal's first fighter in the esteemed One Championship. Going head-to-head against the seasoned Russian fighter, Torepchi Dongak, the 24-year-old secured his place in Nepal's history book by effortlessly besting his opponent in the third round. Just days after, he was welcomed by hundreds of enthusiastic supporters as he touched down in Kathmandu from Thailand, a touching manifestation of a once cherished dream.
"I could not believe that was all for me," Dhant tells Onlinekhabar. "In my childhood, I had yearned for recognition from my village. And now, here I stood at the airport, the entire country embracing me like a hero."
That has filled a fire in his belly. After five gruelling years of blood, sweat and tears, Rabindra Dhant has finally earned his place in an international fight. Yet, he perceives this achievement as merely the beginning. He is firm in his resolve not to let the love and fame he has garnered overshadow his dedication. He recognises the need to persevere, to work even harder, in order to compete on the grandest stage the world has to offer.
"I owe that to myself and to the people who have stood by me when I was alone," he says.
Fighting for passion
Rabindra Dhant grew up in Bitthadchir rural municipality in Bajhang. After completing his grade 10, he left for Pithoragarh in Uttarakhand, India. That was, and still, is what a lot of young boys who grow up in Sudarpaschim Province in Nepal do.
During his mid-teens, he took up physical labour. Alongside his friends from the village, he toiled, moving rocks and even an electricity pole, all in pursuit of earning enough for two meals a day. His father, having endured the hardships of such labour, longed for a brighter future for him. He encouraged Dhant to venture to New Delhi in search of better employment opportunities.
"He told me to find a technical job," says Dhant.
In Delhi, he secured a job as an office boy, spending his days tidying up the workspace and preparing tea for those who worked there. Witnessing young boys and girls of his age coming in to study, striving to build a future for themselves, served as a stark realisation that being confined to the role of an office boy was not the life he aspired for.
Karate became his refuge. He dedicated his mornings to rigorous training, while his afternoons were devoted to office chores. His progress caught the eye of his coaches, who recommended that he explore the realm of MMA.
"I had no idea what MMA was. But I was told that I had great stamina and that would help me so I decided to try my hand at it," he says.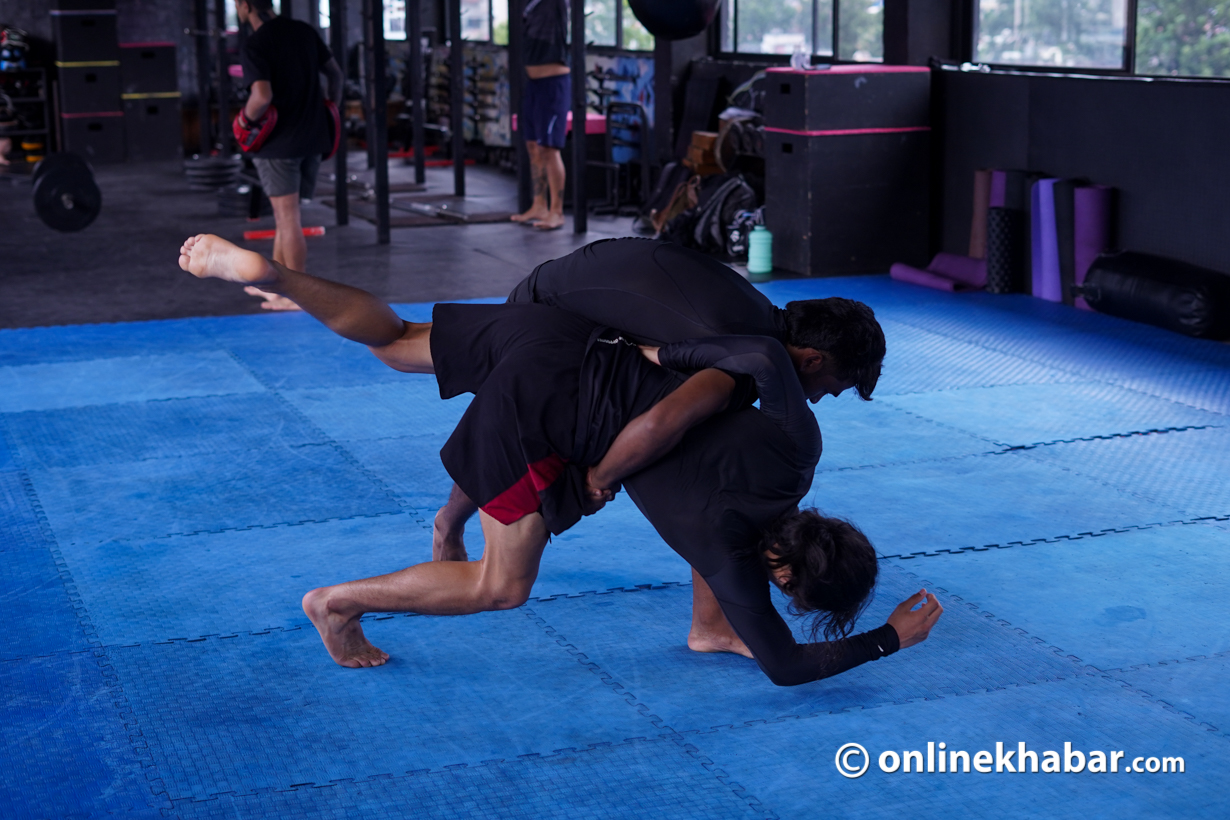 His venture remained a well-guarded secret within his family. Knowing he would not receive their approval, he decided not to tell anyone.
However, matters grew more complex when he found himself in need of funds to participate in an amateur fight night. He mustered the courage to tell his uncles about his involvement in MMA classes. He explained his desire to compete in a fight. His uncles were not happy, but they agreed to give him money asking him to give up his MMA pursuit thereafter.
Having emerged victorious in the competition, he held onto the hope that it would finally silence his critics. But to his dismay, he continued to face relentless pressure to abandon his pursuit.
"No one in my village was into sports. I was the first sportsperson from the village," he says. "This is why I did not get the support. Every time my parents called, they would ask how much money I would make. That was discouraging."
By this point, he was captivated by the sport. After making a strong impression on his coaches, he was offered the opportunity to become a trainer at the local gym. He shared this news with his parents, but once again, he was met with the discouraging response that he would not be earning any money by becoming a fighter.
Money held little sway over Rabindra Dhant at the time. He was passionate about MMA and was doing whatever in his power to ensure he made it. This dedication pushed him to win a national-level amateur competition in India. Winning that made him eligible to take part in the world championship.
In order to get here, he would have to relinquish his Nepali citizenship and adopt an Indian one. However, the prospect of hoisting the Indian flag was a step he was not yet ready to take. Instead, he chose to return to Nepal, determined to explore any possible avenues for participation.
"Nepal did not have an association which meant my world championship dream was shattered."
Disappointed, he returned to Delhi and took part in various professional fights. While these bouts seldom brought in money, they instilled in him a fighting spirit that would eliminate fear from his system in the long run.
Finding mentor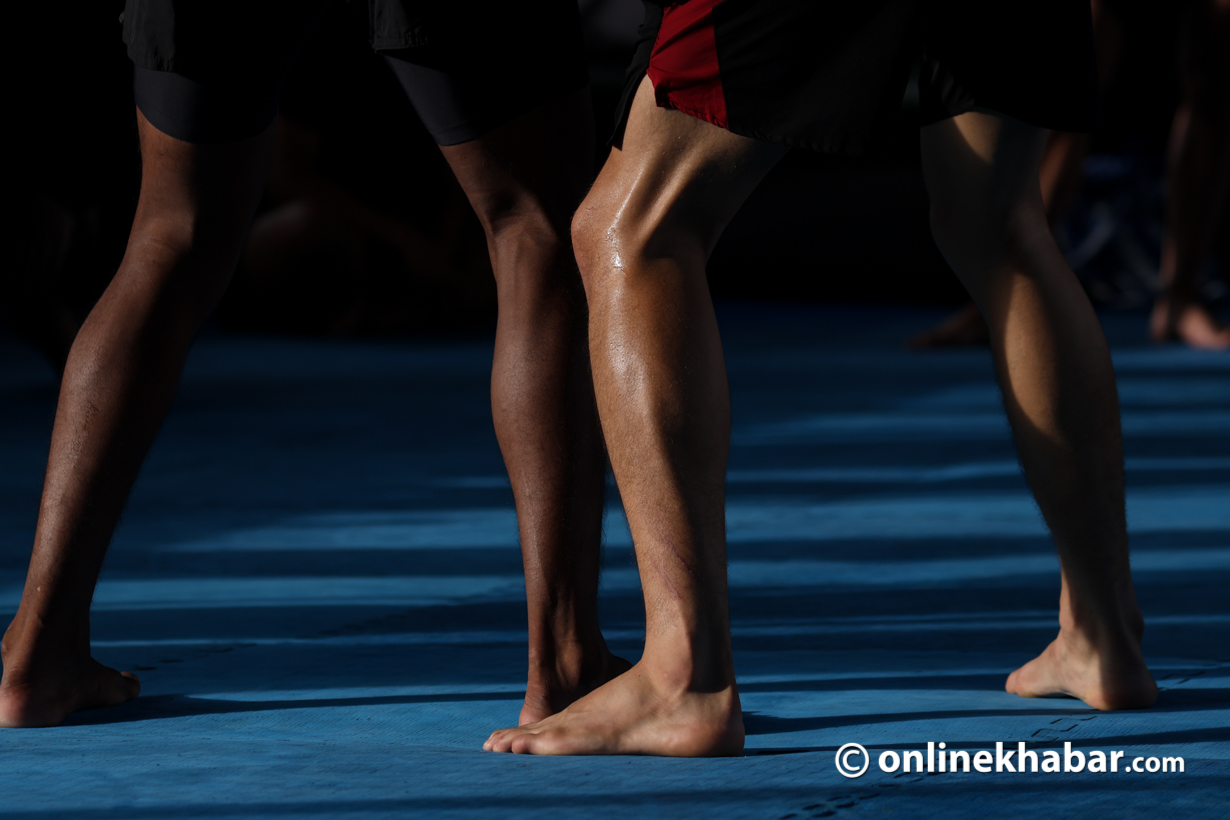 The Covid pandemic compelled him, like many other Nepalis working in India, to return home. After the lockdown lifted, he returned to India, only to find it increasingly challenging to secure fights. Frustration mounting, he eventually made the decision to come back to Nepal, seriously considering leaving Nepal for foreign employment.
"I wanted to go to countries where I could fight. But I could not find a place where I could do that. All employment agencies told me the same thing I could not continue MMA if I left for foreign employment."
That is when he met jiu-jitsu coach Diwiz Piya Lama. Around 2021, jiu-jitsu was one of the few forms of MMA that was being taught in Nepal. After engaging in sparring sessions with each other, Lama recognised Dhant's potential and decided to mentor him.
"That was my turning point. Diwiz dai has been an important figure in my life. Without him, I would probably be working abroad," he says.
A strong sense of brotherhood and mutual respect defines the relationship between them. Their connection is tangible; Lama beams with pride at Dhant's achievements, while Dhant looks up to Lama with sincere fondness and profound respect. In the span of the last two years, their camaraderie has solidified, woven through unwavering day and night training sessions, all in pursuit of their collective dream to take Nepali MMA to new heights.
Fighting out of Nepal, Rabindra Dhant ventured to Bangalore, Madhya Pradesh, and Goa for fights. With each victory, his confidence grew, reinforcing his belief that he was on the path to success. However, the persistent pressure from his family back home always loomed in the back of his mind, casting a shadow over his aspirations.
"The talk about me not earning money and supporting my family was always something that kept me awake at night. Despite all that, I was winning. Sometimes I wonder what would have happened if I was not winning."
Bajhang to Bangkok
Lama believing in him, however, gave him added confidence. Lama, in various podcasts, has been stating how strong Rabindra Dhant is and how fearless he is. Eager to showcase Dhant's talent in Nepal, Lama embarked on a project: the Nepal Warrior Championship.
Lama wanted Nepali fighters to get more exposure which would then catch the eye of sports promotions abroad. Rabindra Dhant was the main event of the show as he took on India's Jason Lyngdoh. Dhant won comfortably and that gave Lama the belief he was ready for the big stage and asked him to come to Thailand with him.
"I had no money but he insisted I go and there I was training at Fairtex with some great fighters."
As Dhant was training, Lama was working behind the scenes to fix a fight for him. They had been to the Lumpinee Stadium in Bangkok and were manifesting fighting there. Soon their hard work paid off. Dhant got the fight he wanted. He was all set to take on the Russian fighter with around 300 amateur fights to his name, Torepchi Dongak.
Over the next month, he dedicated himself to training with an intensity he had never before experienced. Under the guidance of different coaches, he reflects that he gained more in that short span than he had in the five years prior.
It was a gruelling journey. He had to shed eight kilograms and forgo the foods he enjoyed. Enduring four to five hours of rigorous training each day in the sweltering, humid air of Thailand, the challenges were undeniable. Yet, he carried the awareness that many had toiled tirelessly to pave the way for him. He, too, had put in relentless effort to reach this point.
Fight night
Stepping into the ring, Rabindra Dhant exuded a determined focus. The pressure was undeniable, yet he held onto the belief that triumph would unlock a world of possibilities for him.
"I keep telling myself if I won, everything I wish for would come true. If I did not win, all my dreams were over," he says.
As Round 1 commenced, he was prepared for what lay ahead, and the unfolding events followed the anticipated course. While he believed he could hold his own against Dongak in striking, he soon recognised the necessity to alter his approach. He realised he could not keep up with the rapid pace of the kickboxer.
Adapting his strategy, Dhant opted for takedowns, gradually wearing Dongak down. The Russian fighter appeared fatigued, succumbing to the mounting pressure as Dhant secured rounds 1 and 2.
"Coaches told me to finish him."
And finish him he did. In the third round, he executed a decisive takedown, relentlessly striking Dongak until the referee intervened, halting the match. At that moment, Rabindra Dhant stood victorious, leaving him momentarily lost for words in the wake of his monumental victory.
"I looked at the camera and said, Nepal had arrived in the international fighting scene."
The day became etched in the memory of every MMA enthusiast in Nepal. The match was screened live in numerous locations across the country. Dhant's name was being tagged in various social media posts, and as he connected to WiFi, his phone froze under the flood of congratulations pouring in from every corner of the land.
"It was so emotional. I had to take a moment to take it all in."
Upon his return home on September 19, Rabindra Dhant was greeted with a grand welcome at the Tribhuvan International Airport.
"I always used to wonder what it would feel like to receive a hero's welcome in my village. Yet, here I stood at the airport, surrounded by people, snapping pictures with me. I could not help but wonder what I had done to deserve all of this."
He believes that his professional MMA career is just taking off. It is a stark change, considering the same parents who used to question him about when he would start earning money are now standing firmly behind him, offering their support.
"One Championship was my dream, but I never anticipated receiving so much love in my debut," says Dhant. "My professional MMA journey has just begun, and I am fully aware that I will need to put in twice the effort to reach the next level."