On a bright Thursday morning, our family embarked on a thrilling adventure. I wanted to create memories that lasted a lifetime and with that in mind, I gave myself a challenge and decided not to take our vehicle or hire one. With all of us enjoying a three-day break, we concluded that now was the perfect opportunity to go out and enjoy ourselves and make use of the Janaipurnima holidays.
Our plan was simple. First, we would visit the sacred Manakamana Temple in Gorkha. After spending the night in Manakamana, were would then head towards Kabilas Resort in Chitwan. Finally, on Saturday evening, we would return home to ensure my son and wife were ready for their school commitments on Sunday.
Our journey began at 11 am on Thursday when we took an auto-rickshaw ride to the Hetauda bus station. There were plenty of options to choose from. We could take a bus to Manakama or an electric vehicle or an SUV. However, we had to wait before these buses filled up. Swapnil, my seven-year-old was impatient and was asking why I did not book us a car so that our travel would be easier.
"We are going on an adventure son," I told him.
To get to Manakamana from Hetauda, we had to get to Kathmandu. We got on a van which would take us to Kathmandu but as usual, the driver wanted to ensure the van was full. We knew this would not be good for our 19-month-old son Swarit who has a specific eating and sleeping schedule.
We had come prepared to ensure Swarit would not suffer. We had pre-packed food for the travel. Fruits, biscuits, boiled eggs, cashews, almonds, cerelac and oats meant we were ready. Before the van moved, we ensured Swarit was fed.
We got to Kurintar around 4 pm. It was later than we expected so we had to rush to get to the cable car to head up to Manakamana Temple hill. Carrying the baby and luggage and walking around for 10 minutes was not easy. Swapnil was frustrated. He was tired and wanted to be carried like his brother. We had to keep motivating him that all of this would be worth it.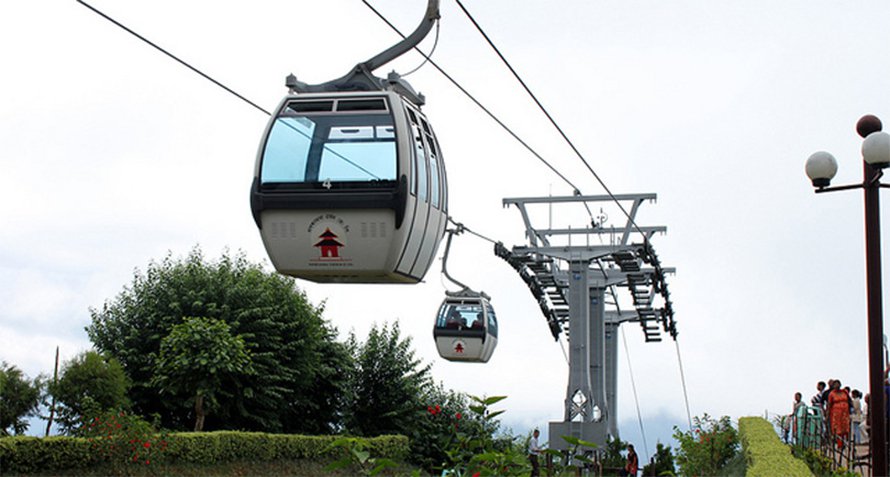 As we boarded the cable car, things started to get better. Both our sons were happy. It was like they forgot the gruesome journey we had embarked on at 11 am in the morning. Swapnil had done this before but Swarit was so excited to be getting on the cable car.
Upon arriving at the temple's vicinity, we were met with another 10-15 minute walk, which seemed much longer, especially with the children and luggage. As we made our way, hotel staff attempted to entice us with offers of rooms, food, and 'Puja Samagri.' Despite their persistent efforts, we remained steadfast, as we had already reserved a room at Hotel Temple Inn.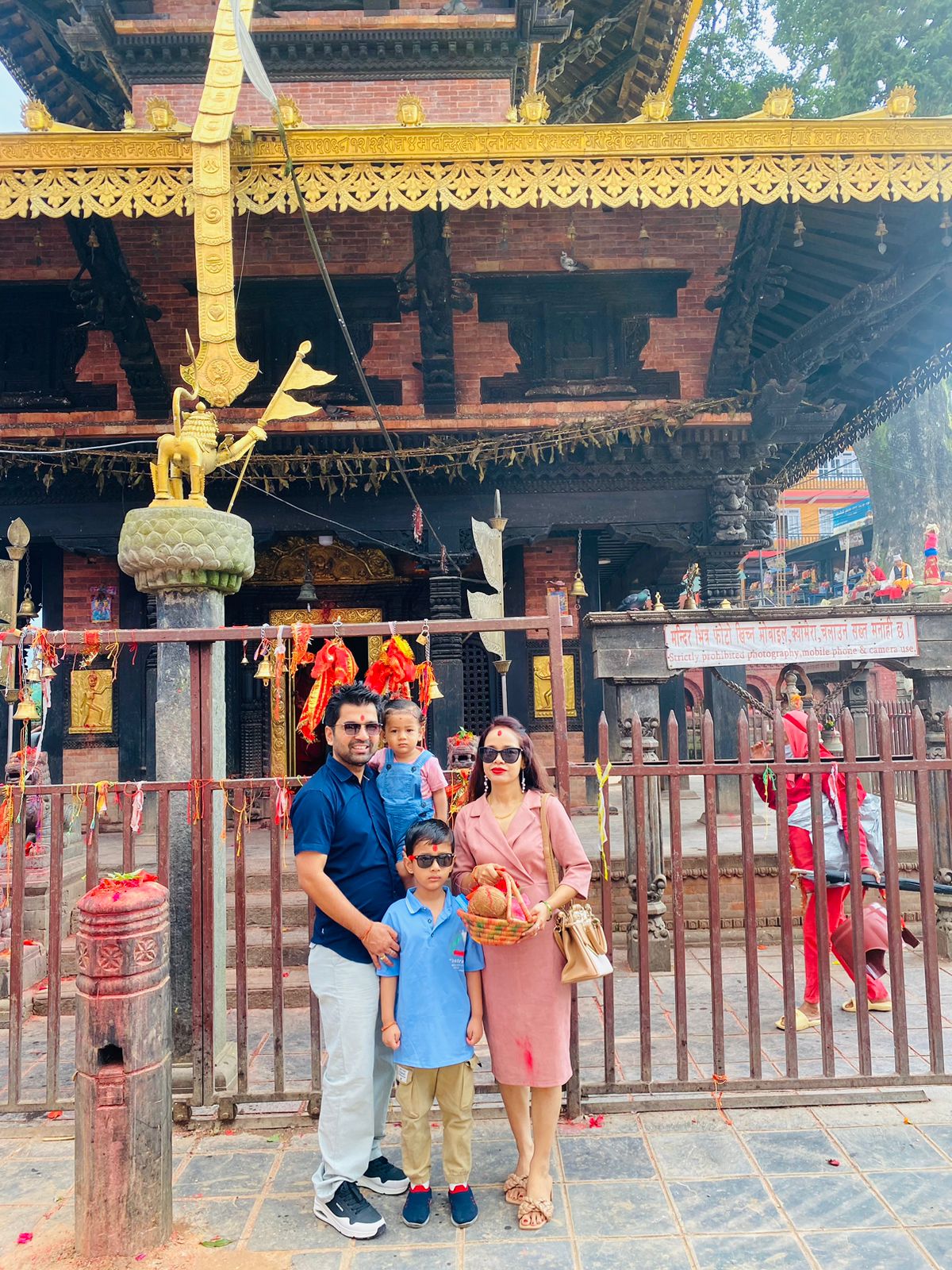 Once we had settled into our second-floor room with a view, our first priority was ensuring that our sons had their meals. With our sons content and well-fed, my wife and I were able to savour a relaxing meal ourselves. After refreshing ourselves, we embarked on an evening stroll to discover the nearby surroundings.
Since it was Janaipurnima, we were fortunate to witness the Gaijatra festival, complete with the lively Lakhe Dance and more. Our sons were absolutely delighted by the presence of various animals, such as monkeys, pigeons, and dogs, not to mention the captivating Lakhe Dance performance. The only drawback was the occasional altercations among some intoxicated locals, which briefly put a damper on our spirits.
Despite the disturbances, we had a fabulous evening, immersing ourselves in the local culture and enjoying the festivities.
Where wishes come true
Our second day in Manakamana began with sunlight peeking through our window around 7 am. We took our time getting ready and prepared a hearty breakfast for our sons. We wanted to get to the temple early and we headed towards it with the offering we had carried with us from home.
We took our time getting ready and made a hearty breakfast for our sons. Our visit to the temple was on the agenda and we carried 'Puja Samagri' from home, and added coconut and flowers to complete the offering.
Even though I had been to Manakamana Temple several times before, this visit felt different. The morning was peaceful and there were no lines at the temple entrance. We got a rare chance to enter without waiting. My wife, our younger son and I went in first, while our elder son stayed outside to guard our shoes, sandals and bag. We learned this precaution from a past incident at Janaki Temple, where someone took my wife's sandals.
Inside the Manakamana Temple, we immersed ourselves in worship. The calm atmosphere and unhurried prayers made it a special experience. Later, my elder son and I joined them for worship and took some photos to capture the moment. The temple courtyard was full of pigeons and our sons loved watching and feeding them.
Back at the hotel, we enjoyed a satisfying breakfast. With time on our side, we had some fun family moments, playing games and bonding. Afterwards, we relaxed in our room for a while.
Around 10:30 am, we gathered for lunch as our stomachs rumbled. The hotel staff served us a delightful meal to fuel the rest of our day.
We checked out of Hotel Temple Inn and walked back to the cable car station. The cable car ride remained charming, offering breathtaking views as we descended from the temple. Back on solid ground, we made our way to our next stop: Kabilas Resort in Chitwan.
On foot, we trekked for about 10 to 15 minutes until we reached the highway, where buses and micros competed for our attention. We chose a bus for comfort and guaranteed seats.
The bus ride was thrilling and a bit tense due to the rain and risky highway conditions. We held our breath and hoped for the best.
We got off at Dasdhunga in the pouring rain. I called Kabilas to let them know we were arriving and they sent a vehicle to pick us up. At the resort, we received our room keys and settled in.
As the weather cleared up, we explored the resort, enjoying the villas, fun park and swimming pool with artificial tides and slides. We played games and decided to go for a swim the next day.
In the early evening, RP and his family arrived, and our sons, Swapnil and Suprich, were thrilled to see each other. They were close friends and classmates.
We all gathered for dinner in the resort's restaurant, where we enjoyed a local chicken dish with rice. The hospitality was great but I found a small fish in my chicken, which was disappointing but did not dampen our spirits.
After dinner, we gathered in one room, played music and the kids danced. It was a nice relaxing day.
Day in the land of the jungle
On our third day of family adventure, our first stop was a temple perched on a hill. Although not too far, it took us nearly half an hour to get there with the young ones. The effort was worth it as we soaked in the spiritual atmosphere and savoured the breathtaking views.
Returning to our base, we gathered our swim gear, towels and everything needed for a day of poolside fun. The children's excitement was contagious. The resort's pool was a hit, boasting thrilling slides, an artificial tide pool and separate areas for different age groups. We splashed and played for nearly three hours, creating joyful memories.
Our water adventures were followed by a visit to the resort's fun park, where we relished various games and rides.
Around 2 pm, we freshened up and readied ourselves for the journey back home. The kids had lunch to refuel and we decided to grab a bite on the way, as we were not particularly hungry at that moment.
We arranged for a vehicle from Kabilas to drop us at Paras Bus Park, where we could catch transportation to Hetauda. There, we enjoyed a delightful pit stop at Jamghat restaurant, savouring mutton taas and chicken momo treating our taste buds.
Satisfied appetites and with tickets, we headed to Hetauda. We took separate autos home from Hetauda bus park. Our little one, tired, ate and slept around 8:30 pm. Back home, our elder son did homework, had dinner and slept. I had dinner and went to bed at 9:30 pm. Sabina, busy with Sunday classes, studied and slept an hour after me.
Our three-day adventure had come to an end, leaving us with cherished memories and the warmth of family bonding to carry into the week ahead.