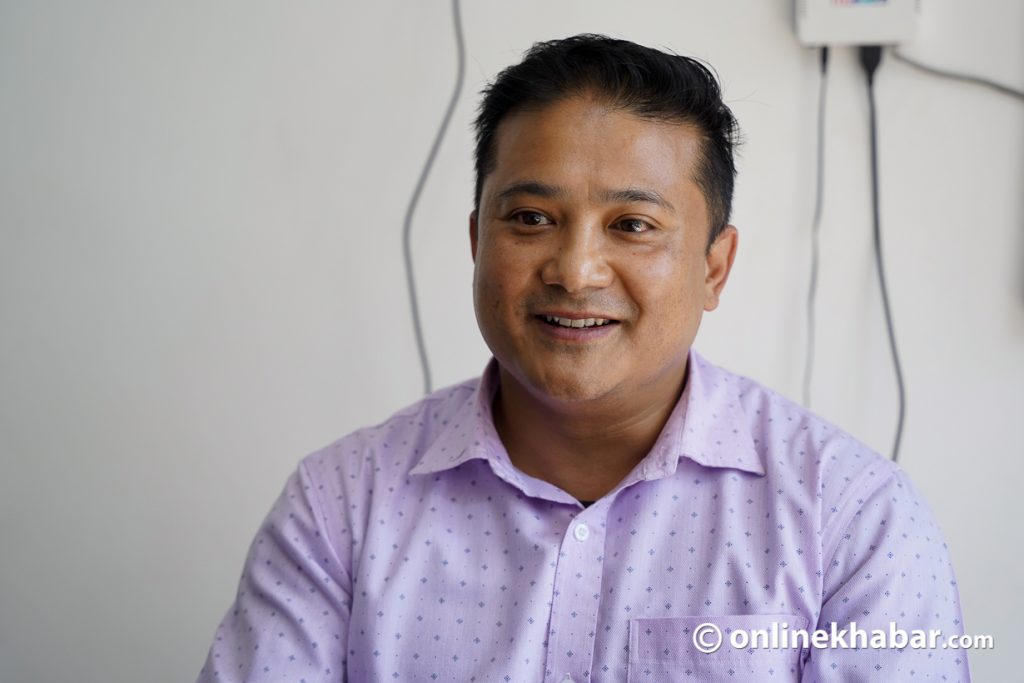 Perhaps because his both parents were in the health sector, Amit Ratna Bajracharya, as a child, would always say he wanted to work in the same sector. While Bajracharya today is happy that the aim has been successfully met by now, he says the area that he works in today is nowhere in his distant imagination during those days.
Bajracharya, who claims to be the only professional who holds a master's degree in prosthetics in Nepal, says he is proud to have contributed to developing prosthetics and orthotics, the treatment of injured people by applying artificial external body parts (assistive devices) such as arms and hands, legs and feet. At the same time, he is sad that the sector still sees a severe crisis in terms of interest, investment and human resources.
Getting into the field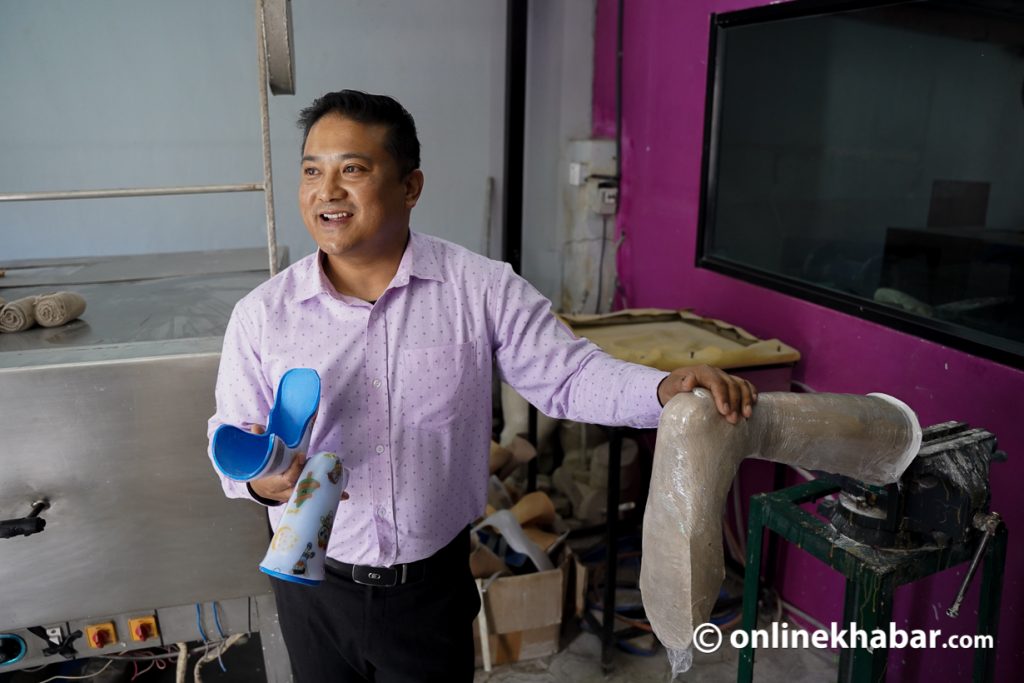 Bajracharya, a native of Kathmandu, says he studied prosthetics and orthotics because a friend of his father advised him to do so.
"Agreeing with his friend, who was a doctor by profession, my father also told me that the sector had a lot of opportunities and if I studied this subject, I could make money on my own even if I wouldn't get any job," says Bajracharya.
In 2002, Bajracharya completed a bachelor's degree from the Indian Institute of Health Education and Research, Patna, India and returned to Nepal.
Coming back home, he worked in a few community organisations that would provide prosthetic and orthotic services. In the process, he found that all of them were not rendering the services professionally. As a graduate of prosthetics and orthotics, he was disappointed with the situation.
That led him to decide to do something on his own and hence Limb Care Nepal was born in 2005. According to Bajracharya, it is one of the first private organisations to provide services related to prosthetics and orthotics in Nepal.
Leading prosthetics and orthotics in Nepal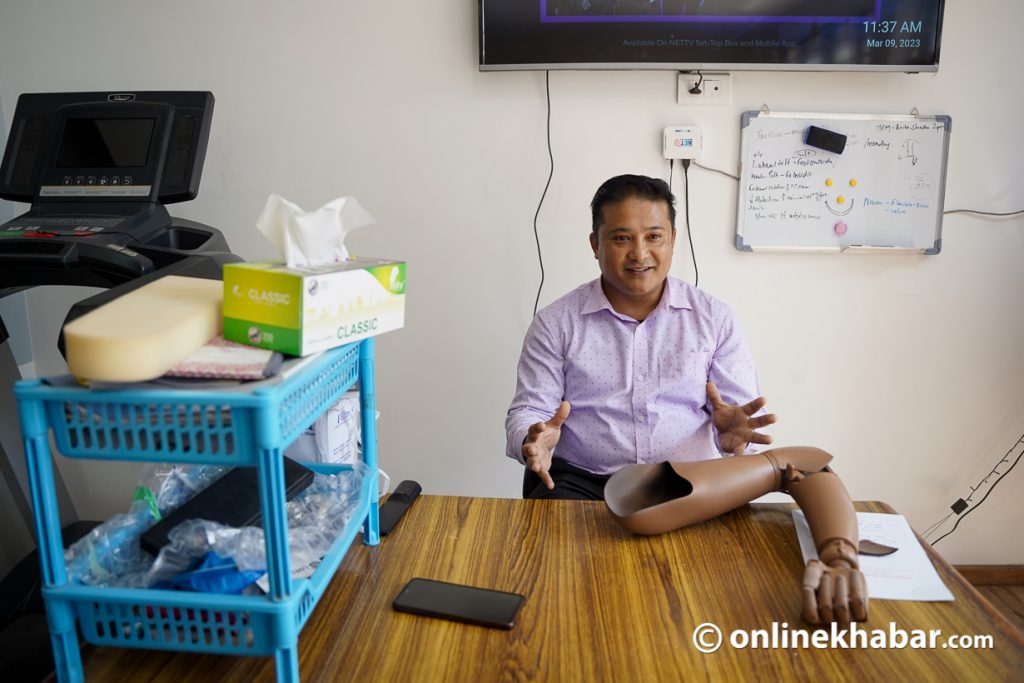 According to the World Health Organisation, only one in 10 people in need has access to assistive products including prostheses and orthoses because of their high cost and lack of awareness, availability, trained personnel, policy and financing. Although reliable data are not available about the development and use of prosthetics and orthotics in Nepal, the country's situation is even more miserable, apparently due to too frequent road accidents among other factors.
Limb Care Nepal Pvt Ltd says it serves around 200 to 300 clients a year and among them, 50 people come for prosthetics. In the 19 years since its establishment, the company has served around 2,000 patients, mostly suffering from road accident-related injuries.
After establishing his own company, Bajracharya started researching more about the sector. In 2009, he got the opportunity to attend a conference on prosthetics and orthotics in Bangkong. There he international experts working in the sector.
With them, he discussed the possibility of prosthetics and orthotics in Nepal. It garnered both of their attention. Afterwards, they decided to give the scholarship to Nepali students interested in pursuing bachelor's degrees in prosthetics and orthotics.
So he invited both of them to Nepal. He took them to various medical colleges and government offices as they wanted the concerned bodies to find potential students for the scholarships, but none of them showed interest.
In such a situation, the opportunity would remain unused and to save the opportunity and to hone his skills, he decided to join the bachelor's again at Mahidol University, Thailand.
Bajracharya says that it was one of his best decisions. The education in Thailand enhanced his knowledge of different aspects of prosthetics and orthotics.
Slow, sad developments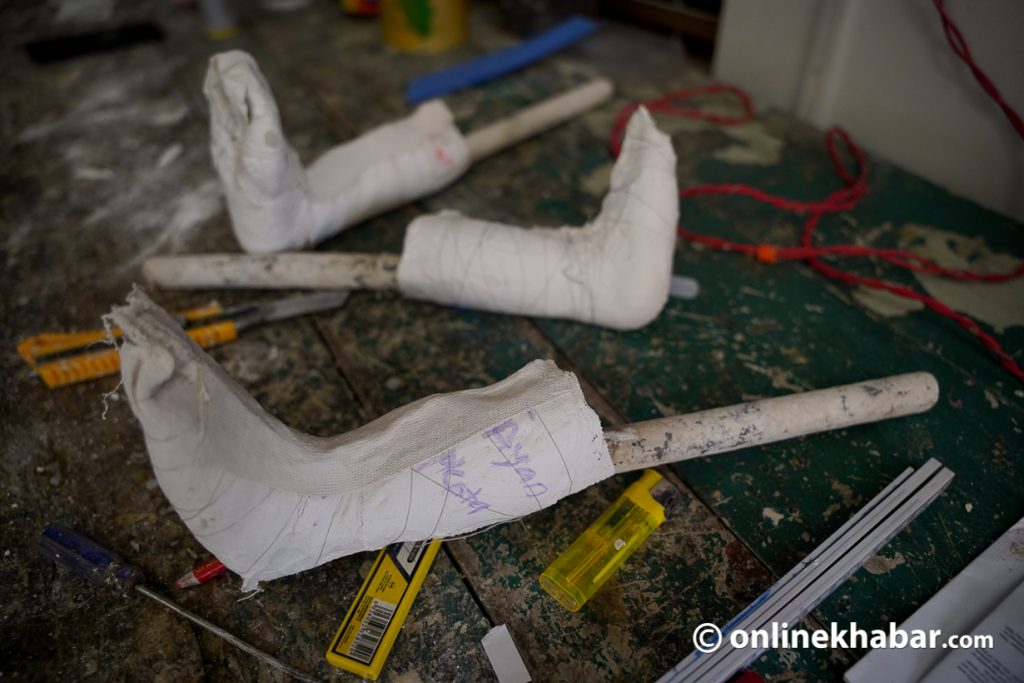 Since then, Bajracharya has witnessed a lot of progress in himself. However, he laments at the vulnerable position of the country to address the sector. Even now, no medical school in the country teaches prosthetics and orthotics. There are just 10 to 15 people who have a bachelor's degree in prosthetics and orthotics.
The history of prosthetics and orthotics dates back to 1967 in Nepal, but the government of Nepal still does not allocate a budget for this sector. According to him, the government is illiterate and unknown about this sector.
"The sector has always been charity-based and dependent upon international funds. This approach to the sector will never allow its growth here," he says, adding it must be changed to the right-based sector.
The prosthetic and orthotic services should reach every corner of the country, he says. But as of now, its service is available only in Kathmandu. "Consequently, a lot of needy people in the country are deprived of the services."
Nepal has recently set a standard for prosthetic and orthotic services. The standard covers various areas including the qualification of human resources, the setup of the organisations, protocols of treatment, and assurance of the maintenance of devices.
"However the thing that disappoints me is that there is no monitoring body to monitor whether those criteria are being followed," he says, "The lack of human resources in this sector is another big challenge that worries me every day."
"If this condition persists, there'll be no skilled person available to provide prosthetic and orthotic care in the near future," he says.
Current status of services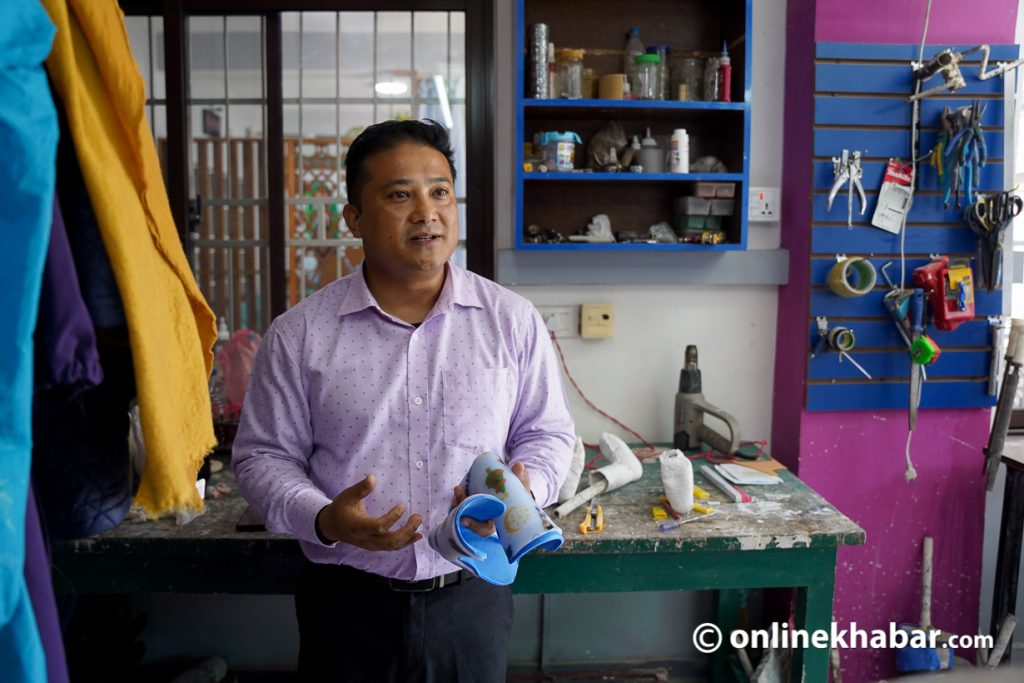 Limb Care just does not only consult and train its patients but also manufactures assistive devices in its own office space by using the materials like glass fibre, resin, polypropylene plastic, aluminium and metal, imported from India, China, Germany and Taiwan.
Manufacturing one assistive device takes around seven to 15 days. He says, "One needs a lot of patience in this job. People without patience cannot qualify for it."
Bajracharya informs that the assistive device can run life-long but it should be changed following the change in shape and size of the user's body. Likewise, according to international standards, it should be changed every three years.
But only a few Nepalis follow these standards due to high costs. The price of a device that Nepali are using ranges from Rs 45,000 to Rs 700,000.
"The insurance covers its costs in developed countries so they change it every three years, but the case is different here," he says, "They use it as long as 15 years, compromising their quality of life because the older the assistive device is, the looser or tighter it can get."
Along with affordability, the other challenge of prosthetics and orthotics is the lack of knowledge among Nepal-based hospitals about pre-prosthetics management. "The hospitals are poor in appropriately counselling the patients who are in need of assistive devices," he says.
This has made a lot of patients suffer and as a result, they have to bear additional trouble. Due to poor consultation or pre-prosthetics management from the hospitals, the clients think that they can immediately get to wear the assistive device. But in reality, the new users require two and half hours of training per day for at least 10 days.
"Afterwards, the patient could take one to three months to adjust to the device," says Bajracharya. "Once they get adjusted to it, they can run, walk, ride vehicles and even go hiking and trekking, depending upon their ability."