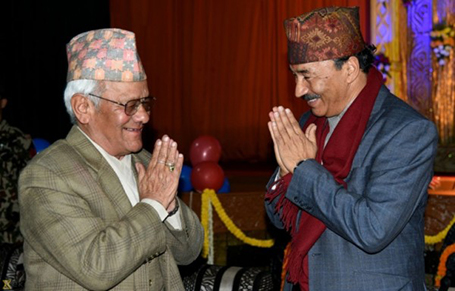 Kathmandu, July 11
Preparations are afoot to bring Rastriya Prajatantra Party and Rastriya Prajatantar Party-Nepal together by the second week of Srawan (July-end), leaders privy to the unification effort said on Monday.
Talks teams of the two parties have prepared and presented an eight-point base paper for the unification of the two parties to RPP President Lokendra Bahadur Chand and RPP-Nepal President Kamal Thapa.
RPP-Nepal's Thapa said he wholly supports the base paper. This has prepared a strong base for the unity of the two parties, Thapa said, adding that the two parties will unify by the second week of Srawan.
RPP's Chand said the unification will give birth to a new political force.
A decision on unification will be taken once central committees of the two parties hold discussions on the paper.
According to a source, the general convention will take a final call on issues like federalism and constitutional monarchy.
The two parties have also reached an understanding on party leadership after unification. As per the understanding, RPP-Nepal's incumbent chief Kamal Thapa will be president, while RPP Chair Chand will be national president of the new party, a talks team member told Onlinekhabar.