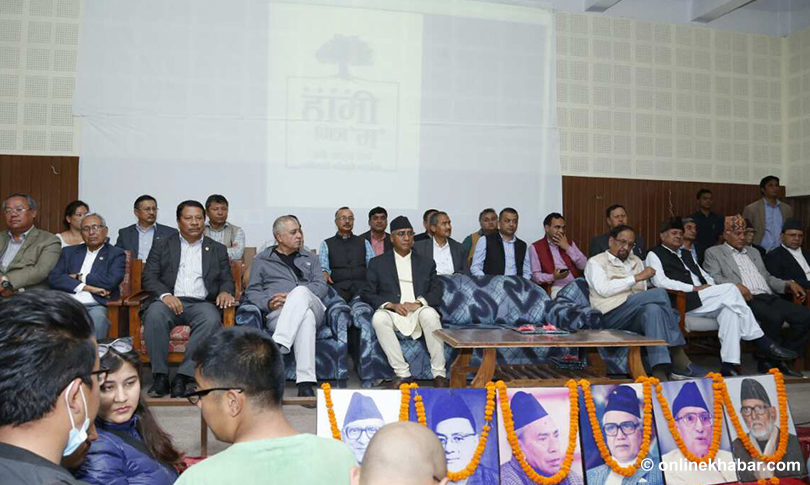 Kathmandu, April 25
The ruling Nepali Congress on Tuesday made its manifesto for the local level elections public, in which the party has vowed to lead the nation towards prosperity.
"With the promotion of multiparty parliamentary democracy, fundamental human rights and complete press freedom," the manifesto read, "The Nepali Congress will lead the country towards a democratic socialism-oriented prosperous Nepal."
Meanwhile, the party also said it was committed to uniting all political forces of the nation to promote development activities.
"Instead of competing for power only," the party said, "Now the political parties should express readiness for cooperation keeping the issues of democracy and prosperity at the centre."
Plethora of tall promises
In the manifesto divided into three sections and four annexes, the party has made promises of various development programmes.
It has assured to prioritise promotion of local entrepreneurship, proper utilisation of remittances, modernisation of agriculture, expansion of financial access, development of tourism facilities, urban traffic management and pollution control, the increment of local tax, end of famine and malnutrition, cent per cent literacy, self-entrepreneurship-oriented technical education among others.
The party has promised to establish hospitals in all local bodies, make the education up to secondary level free, provide internet and library facilities, manage health insurance for every citizen, and develop smart cities in various places.
Criticism of opponents
It, however, has criticised other major political forces claiming their activities were detrimental to democracy.
It said the main opposition CPN-UML was trapped in intolerance and "fake" ultra-nationalism.
It has accused the UML to fuelling protests and demonstrations in the Madhesh and keeping the constitution amendment process and the politics of consensus in jeopardy.
"The UML's extremist opinion which aggravates the Madhesh-hill division and uses different scales of nationality for Madheshi and hilly populations has incurred a big loss to unity, social harmony, constitution implementation and democratic process," the NC said.
Meanwhile, the party criticised its ruling coalition partner CPN-Maoist Centre for its "tendency of seeking benefits from unstable politics."
"The Maoist Centre has not been able to find a determined commitment and clear democratic path," the manifesto read, "The party's fluctuating position has increased instability in the nation and weakened the process of producing results from the politics of dialogues and consensus."
Likewise, the Madhesh-centric parties have been stuck in their own rigid stances whereas the Rastriya Prajatantra Party should also get itself free from the love of power politics and the Panchayat system, the party has suggested.