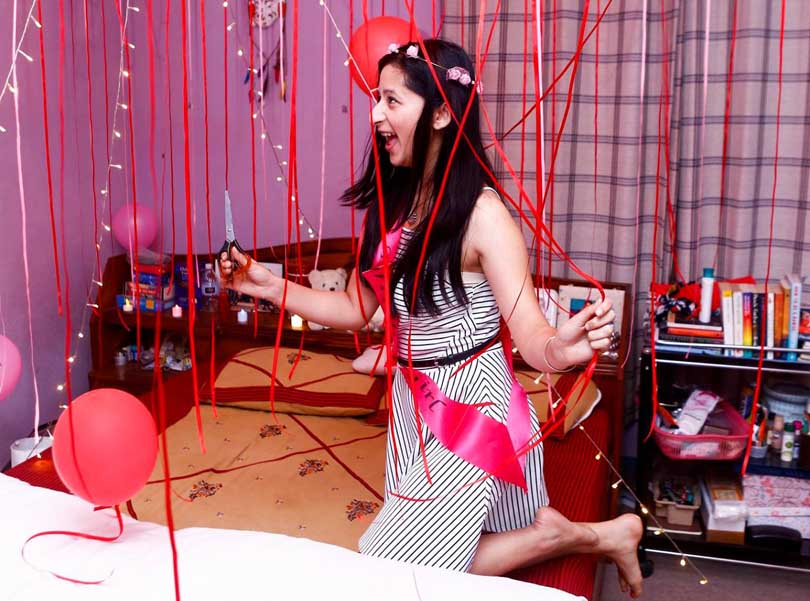 What would your response be if you see your picture with a message from your near and dear one(s) on the screen when you go watch a movie in Kathmandu?
"Don't joke with me, kid! It's never possible," huh?
But, wait, it has already been made possible—in Kathmandu!
How? Let's begin with a story.
A young man in Kathmandu was taken by surprise when he saw his name and picture with the message, "I would like to thank god that he sent you back to us," on the movie screen last year. He had gone to Big Movies at City Centre, after successfully recovering from a fatal disease. Many of his friends and family had already lost hope that he would survive. Therefore, his recovery was a real surprise for his best friend and she wanted to share the feeling.
The lady found out about a company in Kathmandu that was into planning and executing such 'surprises'.
'Offering Happiness' proved true to it's name—it offered happiness to the one who received the surprise and to the one who wanted to surprise someone.
The idea is apparently crazy, but it has already been tried and tested in the city in the last 15 months. Offering Happiness, the company established by a group of youth entrepreneurs, has already organised more than 500 such events with the sole intention of surprising people in Kathmandu since February 2017.
The inception story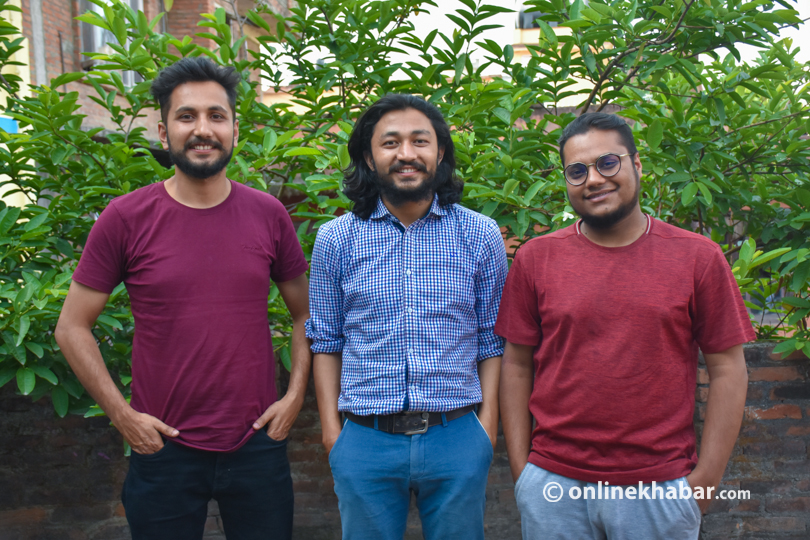 "The story began when we were studying at a Kathmandu-based college," says Santosh Pandey, 22, who introduces himself as a co-founder of the company. According to him, Niraj Kafle, now 25, another co-founder, first proposed a unique business idea of delivering gifts sent by Nepalis abroad to their families and friends here.
"Yes, in the beginning, we just wanted to launch a delivery business. But, as we began studying various business models from across the world, we found out that there was something called 'a surprise industry' and its market was really huge and ever-expanding," Kafle shares, "Therefore, we ended up being a totally different company from what we imagined."
Brainstorming began with six people; four people officially launched the business. Later on, another friend of them joined.
Now, there are five people to 'offer happiness' in the core team. The senior-most is Abinash Chaudhary, 29, who works as the Chief Executive Officer. Pandey, Kafle and Darshan Parajuli are co-founders whereas Manish Khatiwada, 'a proud BBA dropout', later joined the team as a partner.
The team researched for the entire year in 2016 and decided to launch the business from the New Year. They found out that the Valentine's Day, February 14, was the best occasion to kickstart their project as lovebirds would be their most appropriate clients.
However, there were challenges galore. For the want of market knowledge, they spent more than necessary time in planning. Likewise, there was no one to facilitate them for setting up and registering the company. Branding was the topmost challenge.
Pandey remembers the difficulty they faced in naming the company as it had to be similar to their web domain. After failing to find a name that would also be available for registering an internet domain name, Kafle was so frustrated that he decided to go for anything available. In fact, 'Offering Happiness' was also not their first choice—but later they comprised, hoping that they could make it an attractive brand with their own effort.
From goods to service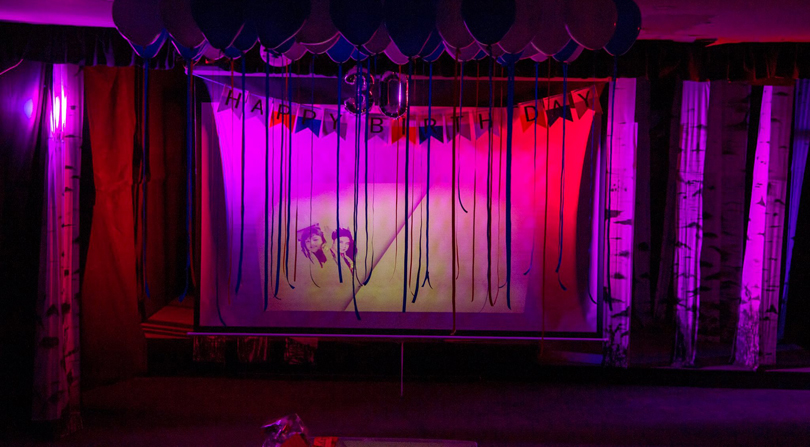 Though they had already learnt about the 'surprise industry', they were not in the position to plan surprising events at first—simply because they had not received any order. Therefore, they began the business selling gifts. However, they had to make themselves different from general gift shops. "The key was personalisation—we found some people on social media, asked them their personal messages to the loved ones and customised gift packages to suit their needs and expectations, hobbies and interests," Pandey shares, "We called it Mayako Batta (The Love Box) and sold for Rs 400 to Rs 1,000."
For the initial three months, the company just sold gifts like a shop. In June 2017, a man asked them to organise a 'surprise' marriage anniversary event for his wife, and that changed everything.
They named the package 'Romantic Gazebo Inn' and hosted the event at a Bansbari-based restaurant, 'Around the Corner', which later became a venue partner for Offering Happiness.
Now, the company still has a potential to manufacture, package and market gifts—but they are mostly busy in planning events. They produce gifts just for their own 'services' these days.
The company currently has some designed packages for clients on a wide price range of services that come with a price tag of around Rs 4,900-135,000. Upon demand, they can design customised packages. The cheapest service it has provided so far is a birthday celebration for Rs 2,000 whereas the most expensive was for a themed party on the occasion of paasni (rice feeding) for Rs 135,000.
The trade of craziness and creativity
There was a Nepali boyfriend living in Australia and he wanted to surprise his beloved with some gifts on the Valentine's Day this year. "He wanted us to reach her house and offer the gift there, which was a bit challenging," Khatiwada, who had coordinated the event, shares, "But, we found her sister and coordinated with her to make sure that the client's girlfriend gets surprised as planned. Just a minute before we reached their Samakhusi house, the sister asked the lady to go to a shop and buy something for her and it would take at least 10 minutes for her to return. Then we entered the house and made everything ready before she came back."
Presence of strangers inside her house angered the lady at first. "She shouted at her sister, but asked what it was all about once she saw the changes in the setting and an attractive gift pack," Khatiwada remembers, "We let her cool down and told her later that it was her boyfriend's plan."
"She said—yes, nobody in the world is as crazy as him; and was profoundly happy. The man came back to Nepal last month and got engaged with her. We managed the engagement also."
Besides couples, there are some familial events too that the company has organised recently.  On the Aama Khuwaune Aunshi (Mother's Day) last month, three brothers living abroad in different places jointly asked the company to offer some gift for their mother. It had been years since the four were together, and the delivery of the gift made their mother cry. "She later told us that the happiness she felt after receiving the gift was incalculable."
But, coming up with new surprises every time is a tough challenge for the company. It becomes more challenging when the clients come for the second time. For example, if a husband has surprised his wife with some package on the anniversary last year and if the wife wants to do it this year, the same trick cannot work. You have to be really creative and think out of the box. However, these young entrepreneurs claim they have not disappointed their clients so far.
"We think of something that our clients have not thought of yet and it has worked so far so good," says Pandey.
Therefore, Kafle feels sad and disrespected when some people try to define them as an event management company, if not a gift shop.
So who are you?
"We are the first ever surprise planning company in Nepal," Pandey, Kafle and Khatiwada answer it together.
Upcoming surprises
The company's expansion plan has already gone beyond what they envisioned last year. Each of them had pledged to put in Rs 80,000 to begin the business, but they just ended up kickstarting it with Rs 80,000 in total. A rough valuation of material properties estimates that the company is worth around Rs 2 million now.
Offering Happiness currently employs 11 persons. It outsources services like photography and videography and music system to multiple consultants. On an average, the monthly transaction size of Offering Happiness is around Rs 1 million.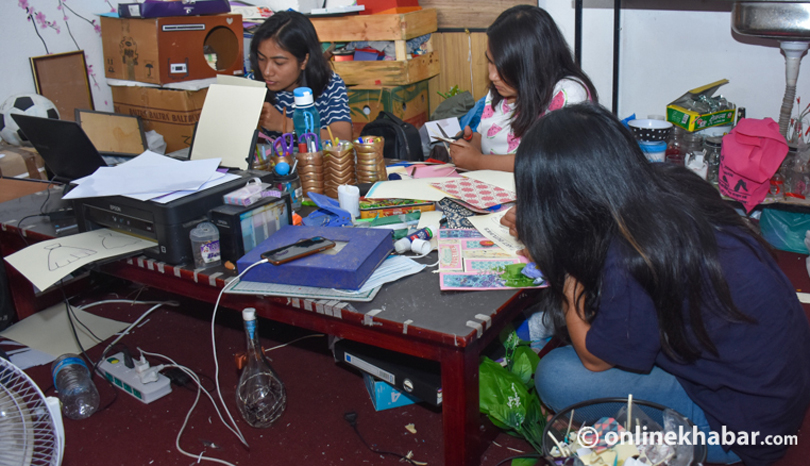 But, the team is not complacent. It is designing new packages so as to serve more clients. "We are planning to launch premium services like mountain flights up to the Everest Base Camp. It may cost Rs 200,000 to Rs 500,000," Kafle shares.
Pandey adds that the company wants to collaborate with the tourism industry and corporate houses from the next year.
"So far we have served domestic clients only. Now we want foreign tourists to feel the taste of Nepali hospitality culture with a surprising flavours," Kafle explains, "If can be possible from the moment they land at the airport to every other destination they visit."
Likewise, the company wants to serve not only individuals, but companies also. "For example, big corporate houses can provide us the database of their staff, so that we can organise birthday and wedding anniversary celebrations for them," proposes Pandey.
Geographically, the company is limited to Kathmandu Valley only so far, but it wants to reach people across the country. "We will establish our outlets in Pokhara and Dharan within the next six months in the first phase," Khatiwada shares as Pandey adds, "We will run the outlets ourselves. We cannot go on the franchise model as our business entirely depends on creativity and craziness of ideas."
"We just want to make every special occasion more special and memorable than ever."