Kathmandu, April 27
The spring of 2017 recorded a significant increase in the number of climbers on the Mount Everest. However, "lower" mountains of Nepal witnessed very few climbers attracted to them.
The Department of Tourism says the number of climbers on lower mountains, ranging from the height of 6,500 metres to 8,000 metres, is very lower this year than that of spring 2016.
For example, 39 mountaineers representing four teams had climbed the Tukuche Peak last spring. This year, only four persons have received the permit for the 6,920-metre high mountain.
The number of climbers on Saribung dropped from 36 to 12. While 43 mountaineers had conquered the Thapa Peak last spring, the number of people applying for the expedition here this year is nil.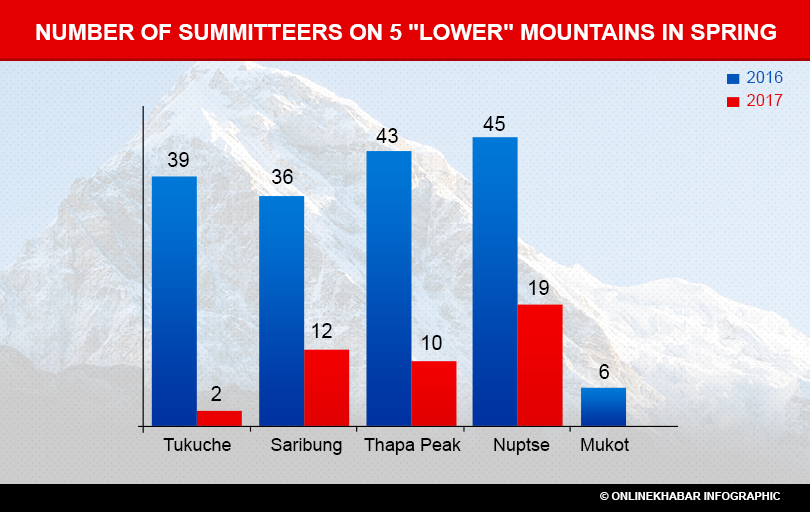 The Ama Dablam is perhaps an exception. While 26 climbers had reached the peak at the height of 6,812 metres last year, the number is just one less this year.
There are 20 such "lower" mountains in Nepal whereas the number of eight-thousanders is eight.
Expeditions on the lower mountains serve as trials for mountaineers wishing to climb higher ones, according to the DoT Spokesperson Durga Datta Dhakal.
"Of late, those eying the Everest have been practising on lower mountains of their own countries," he informs.
Earlier, Australians and Americans used to think that Nepali mountains were different from peaks of their nations, he explains, but now they have already concluded from studies that they are similar.
In addition, higher mountains attract more climbers in spring whereas the lower ones are favoured in winter, he shares.
The spring season is more appropriate to climb higher mountains than winter.
Dahal informs the trend is same in past five to six years.