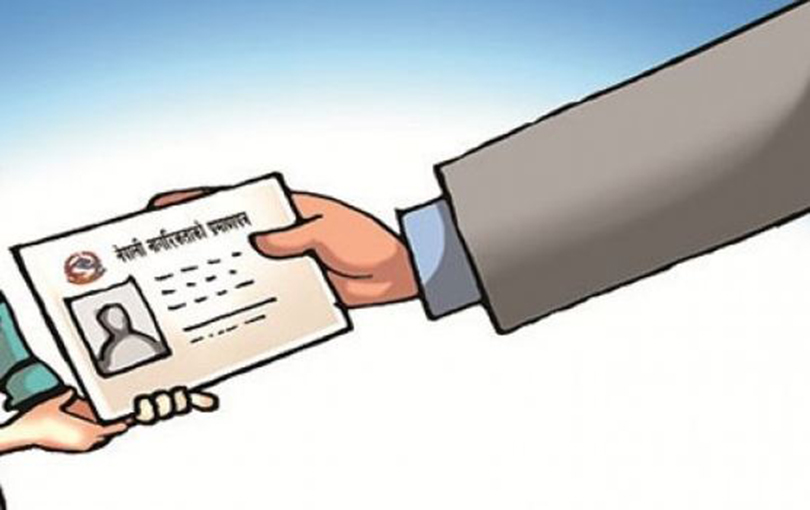 Kathmandu, September 21
Non-resident Nepalis (NRNs) will be able to apply the Nepali citizenship from abroad.
The third amendment of the citizenship regulation made recently by the government has allowed NRNs to apply for their citizenship from embassies or consulates abroad.
Nepalis living abroad, however, will have to submit an application to the chief district officer of the district from where their father, mother or grandfather obtained their citizenship from.
To acquire non-resident Nepali citizenship, applicants must provide a copy of their current foreign passport, a pledge to uphold the Constitution of Nepal, evidence of their foreign citizenship, and other necessary documentation.
Individuals residing in SAARC countries are ineligible for NRN citizenship.
Once an NRN submits the application, the Nepali Embassy or consulate general is responsible for forwarding the application to the respective chief district officer within 15 days. Upon receiving the application, the chief district officer must verify the identity of the non-resident Nepali with the assistance of a Nepali citizen.
If the chief district officer has doubts about the foreign citizenship and passport submitted by the NRN, he can ask the relevant embassy or consulate general to check the validity. In this way, if a request for a validity check is received, the embassy or consulate general should investigate and inform the district within 15 days.
Before granting an NRN citizenship, the chief district officer has to make take an oath to obey the constitution and laws of Nepal.
By obtaining Nepali citizenship, NRNs will find it easier to invest in Nepal along with owning properties. They can also engage in other social and cultural activities.
The citizenship, however, will not allow the NRNs any political rights. This means those who have both international and Nepali citizenship will not be allowed to vote, contest an election or hold government posts.