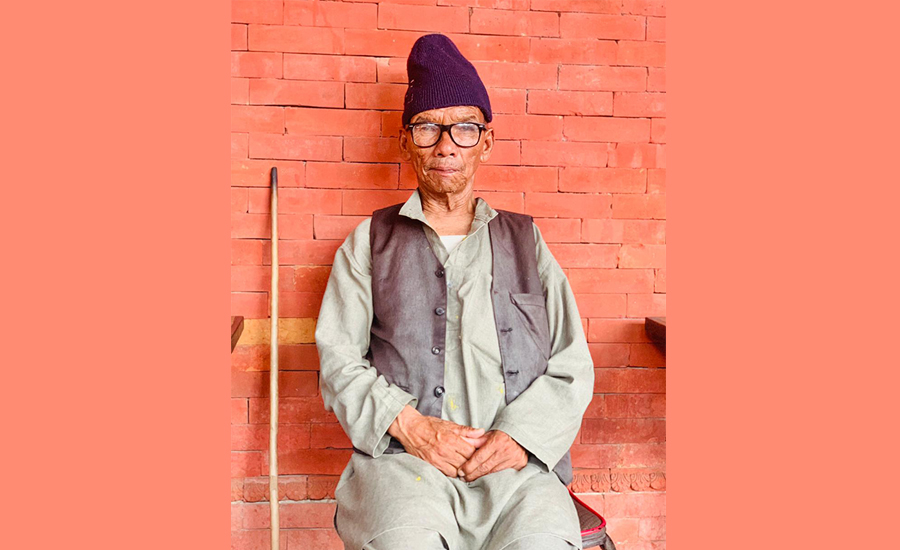 Nanda Bahadur Rokaya (73), a permanent resident of Dunai Thala in Dolpa, is sitting on a bed at the government-run old people's home at Pashupati, Kathmandu. Everything and everyone there is as new to him as the city is. He is observing the people and things happening there.
Rokaya recently got separated from his home and relatives, but he still is in love with his birthplace. But, he just has a walking stick and memories in the name of his place.
"I didn't want to leave my birthplace and stay here. But, there is no one in the village and I couldn't work to feed myself."
Interestingly, Rokaya has left his family at a time when most families are welcoming their members who were working away or abroad to celebrate Dashain, the biggest festival in Nepal. But, here is something that gives him relief: he is not alone. There are 98 elderly people, including 37 men and 61 women, taking shelter in the old people's home. These are the people who cannot celebrate Dashain with their families nor do they feel any Dashain vibes there.
The case is mostly the same for other people residing in other old people's homes also.
The pre-Dashain departure
Rokaya has no children. Nor does he have any relatives to support him. As he could not work even to meet his basic needs, his own village became alien to him. And he did not see another option but to choose the old people's home.
As long as he had strength in his body, he worked hard. But, as he was unable to work, he became unable to live alone. "Dashain and Tihar are for families. For me, they go as they come. There is no hope for anyone to come nor regret missing something," an emotional Rokaya says.
It has been years since the festivals last brought joy to his heart. There was joy and contentment in his life for a few years during his childhood, but after that, he never felt that happiness and joy. He went looking for happiness. But, happiness eluded him.
Although he did not feel alone as long as he was able to work, he became depressed as he became physically weak due to old age. There was no one in the house to talk to him. As he was unable to work, he went to stay at his relative's daughter's house for support.
After staying for three years, he felt that he should leave that house and go his own way. He did not want to see and hear her being scolded by her family because of him. He hence requested them to take him to the old people's home.
The daughter asked to stay with her, but Rokaya did not accept her request; he did not want her to be mistreated by her family because he was living with her family.
He was continuously receiving the old-age allowance given by the government. He had saved some money from the allowance. With the same money, he chose to fly to Kathmandu to avoid the painful bus journey.
He came from Dunai to Nepalgunj, from Nepalgunj to Kathmandu. He boarded an aeroplane for the first time to live in an old people's home. Those who have family and friends travel by plane to visit home and have fun during this time, but he came to Kathmandu to find a roof that will support him.
Untouched by the festival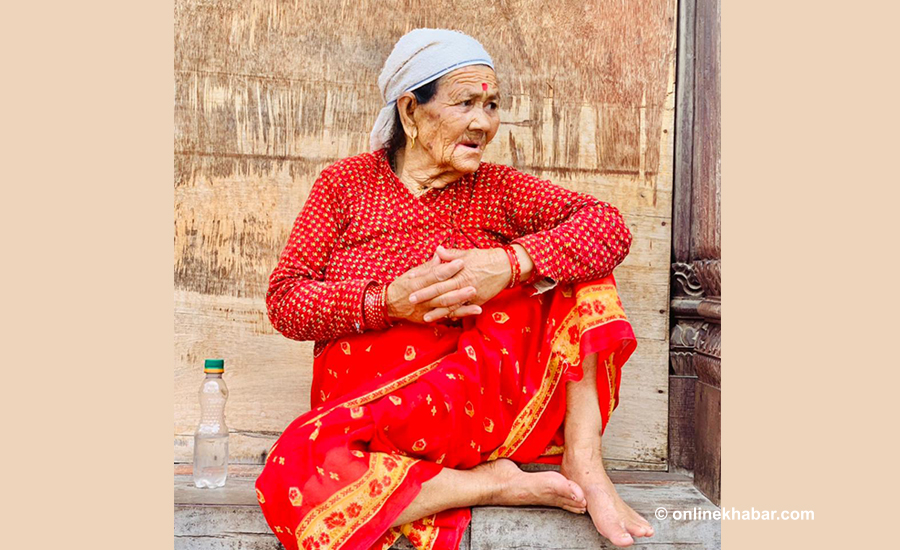 Pampha Karki (87) of Mainapokhari, Dolakha, has been living in the old people's home for 25 years. She has a rash on her tongue so she is not having any solid food. So she is just drinking warm water.
The desire for life already died in her when her mother left her. After her mother left her, she became lonely and she is still alone today.
Dashain and Tihar come and go every year; it does not matter much to her. Her daily routine is the same even during Dashain whether she puts on tika and jamara or not.
"Dashain is celebrated by children and family members. I don't have any family or children," she says, "There is no hope of me returning to happiness."
Dashain was fun just in childhood. She had her own dream. Remembering her childhood, she does not care about the present Dashain. Dashain neither fills her heart with spring nor brings any new feelings.
"There is nothing for old people like me to do during Dashain. No relative, no Dashain," she says emotionally.
***
Even 68-year-old Pradeep Tajpuriya of Jhapa, another resident of the old people's home, is not touched by the festivities. He is seen walking around with the help of a walking stick. He is neither happy nor sad. However, he makes himself comfortable there with people like him.
"Those who do not have children come to the old age home and those who have are also suffering. They live with the help of others. No one knows what will happen in life," he says.
***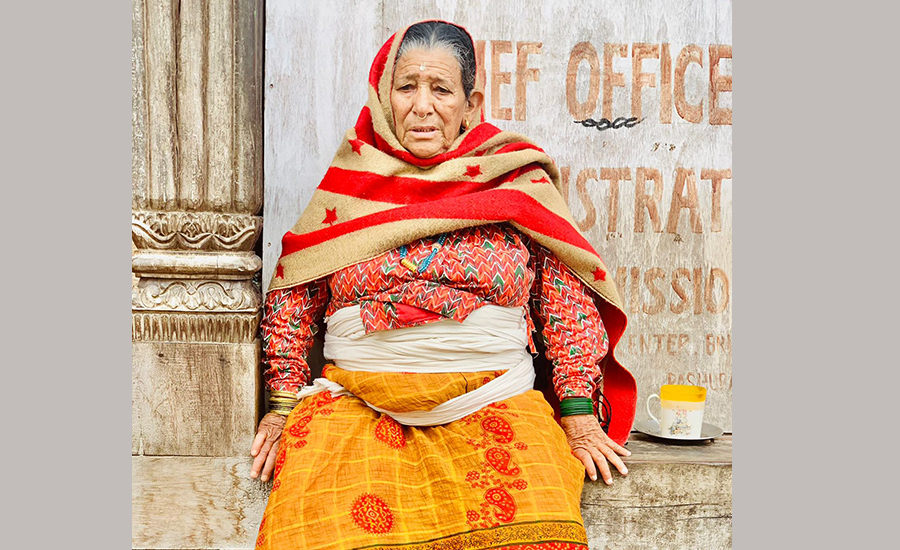 The 77-year-old Tulmaya Puri of Manthali, Ramechhap, also does not feel happy about Dashain and Tihar. "What are Dashain and Tihar for those who have no one? Now I am looking for a way to breathe," she says as soon as she hears about the festivities.
Puri came to Kathmandu from Manthali with her husband in 2011 seeking support. Since they had no children and were unable to feed themselves due to their old age, they both reached the old people's home with a letter of recommendation from the local authority.
Five years after staying there, her husband died. She has been lonely since her husband left her.
"Staying in an ashram is not a desire. We have to stay as we are helpless and need support.  Who doesn't love the place where one was born, the house where one grew up?" Puri says emotionally.
---
This story was translated from the original Nepali version and edited for clarity and length.