Pramila Giri is among the pioneer painters of Nepal, a noted sculptor and painter who has exhibited not just in Nepal but in Norway, India, the US, and several other countries.
Among the first generation of contemporary women painters, Giri's career spans over several decades. She recently held a solo exhibition, after 14 years, at the Nepal Art Council in Kathmandu, where she displayed the series: Images of Bhairav, Images of Tibet, and Images of Impressions.
Here is the story of her work, her themes and inspirations, in her own words.
How it began
I was interested in painting from a young age. I would trace colorful pictures of gods and goddesses on to clothes, and I would embroider them with threads of different colors. That's how my painting started.
My father was in exile in India, and I started learning art as a hobby in Benaras (Varanasi). My teacher told me about Shanti Niketan where he was educated. The way he talked about Shanti Niketan, a school established by Rabindranath Tagore, I felt like I would be in heaven if I could go there.
My uncles were worried about sending a teenager to a co-education school. But my father trusted me, and so I went. In my class I was the youngest among 18 classmates, and the only person from Nepal. I studied art for four years. My paintings gradually developed three-dimensional qualities, and I turned to sculpture.
I always remember what my teacher said to me then: "Your teachers are behind you, but your actual teacher is nature."
That line stuck with me, and I always sketched from nature, sitting under trees to learn.
Even today I consider nature my teacher and my inspiration.
The early years
After finishing my studies at Shanti Niketan, I was offered a teaching position there.
But I did not want to teach there. I came back to Nepal and was busy establishing the Fine Arts College in its current form, along with several other artists.
Together with colleagues such as Manuj Babu Mishra, Shashi Bikram Shah, we created a four-year course at the college. I taught there for 18 years. In the middle of those years, I received a scholarship and went to study in California, Long beach.
Again, I was the only Nepali in the department. But that did not deter me, since my professors were friendly, and I had also applied for a friendship family. I developed deep bonds with them.
I hope to go there to celebrate the 100th birthday of my 'mummy', currently 98.
I studied many different mediums: stone, wood, alabaster, soapstone, French limestone. I tried marble, but didn't find it very friendly.
I also tried fiberglass resin, a new medium then. My chairperson said: don't touch this.
But I was adamant, because the medium was new to my country.
Everybody does it now, but nobody did it then. So I hid from him, and learnt from another student who was working on the medium. When my chairperson finally saw my work during an exhibition, he was surprised that I had managed to learn despite his refusal.
Full-time artist's struggles
People are so reluctant to give work to artists. When I saw large buildings being built, I would go, meet the persons there, ask for work. When the foreign ministry was being constructed, I went there. It had a lot of space, very nice premises.
I went to meet one of the secretaries with my bio data and a concept for art. I told him I wanted to make a 12-foot sculpture there. He asked me how much it would cost, and I said 50 thousand rupees.
Then he said: for 50 thousand, I can build an entire house!
I got a lot of negative responses like that, but I was never tired. A full time artist's life is not easy.
The price of paintings is not fixed, and you are never sure when you will make a sale.
My struggles may have been magnified because I was a woman at a time when there were few women sculptors. But I myself never found any difference between men and women.
In fact, I object to this categorising of artists as men and women. I am a creator, first.
If you look at any artwork, can you tell if it is done by man or woman? No, you cannot.
Yes, women are discriminated against in a country like ours. But you have to fight, you have to show them that you too have something in you. It is about your dedication, about what you want to achieve in life. You cannot give up because you are a woman, but you must say: I have to do this.
How I define my art
I don't know if I can call my art abstract, or anything else. I don't follow any 'ism'.
They are my feelings, my impressions of atmosphere, light, space, and form, reflected on canvas. I want my viewers to stand in front of it and ask themselves how they feel. I have no words to describe my art. If I did, I would have been a writer. Colours and form are my words.
In other countries, children are used to looking at art from a young age. Every weekend some parents take their children to view art.
When I did an exhibition in Norway before I came to Nepal, a 13-year-old came up to me and said that when she looked at the colors on the canvas, she trembled!
She understood its colours, rhythms, forms.
Art is what you make of it, how you respond to it.

(L-r) 'Third eye,' 1985; nine feet high bronze sculpture installed in front of Life Insurance building. Sculptures at Bishalnagar Studio garden. 'Third eye,' 1976. Casted in resin and aluminum; installed at Prime Minister's residence, Baluwatar, Kathmandu.
For my master's thesis I chose to work on Bhairav, a form of Shiva. I asked a tantric what Bhairav means to him. I went to a lot of temples, even to Dhaka, and Cambodia, to look at the masks of Bhairav.
But making masks was not enough for me; it needed to have atmosphere. So I took a canvas and made colors.
I am not concerned with religion; I am influenced by the form of Bhairav, even by sounds and atmosphere when I visit any Bhairav temple.
How I transfer these feelings to a painting or my sculpture is my interpretation of it. If the viewer does not see Bhairav in my work, that is fine. Each person has their own interpretation, they may not see what I created, but that is fine.
Critics tell me that my work is very meditative, and that they find peace in it. I do meditate, perhaps that reflects on my work.
The Norway connection
A long time ago, a Norwegian architect wanted to meet contemporary artists in Nepal, and a common friend invited me and my sister to dinewith him. That man, Hans, started looking at my work and liked it. He would eventually become my husband.
But back then in 1976, there was no question of marriage.
Around 1982-85, I went to Norway for a sculpture workshop. Then he came to Nepal again in 1985. Then I understood a little bit of why he liked my work so much.
I told him: my first love is art.
I knew I would not marry for the sake of marriage. But of course there was pressure from my family, and I kept refusing. I said I would not marry unless I found the right person, I was determined to give my life to art.
Hans, an architect himself, understood my passion. And we got married in 1989.
He has been living in Nepal on and off for 25 years, and we keep travelling between Norway and Nepal. He is the reason I live partly in Norway.
Otherwise, I love my country and plan to settle here in the long term.
Where I live in Norway is very peaceful, and the work I create there seems different. The light there influences me in a positive way. In May, June and July I want to live there: There is light there all night.
I do more paintings when I am there, like my "light" series. I do more sculpture and casting when I am in Nepal.
Memorable works
I have done a lot of outdoor sculptures in Kathmandu. The one called 'Third Eye', which is in front of the Life Insurance building, is my favorite. I like it because of its balance, I think it's my most creative work.
When I worked for the first time after coming back from America, I made a statue of Yeti that stands in front of the Nepal Airlines building. It is not a creative work, it is the logo of a company, but that is my work that people ended up liking.
Maybe because it is easy to understand. I and my craftsmen were pretty excited about it because we were given a short deadline of 18 days, and it would be inaugurated by the king.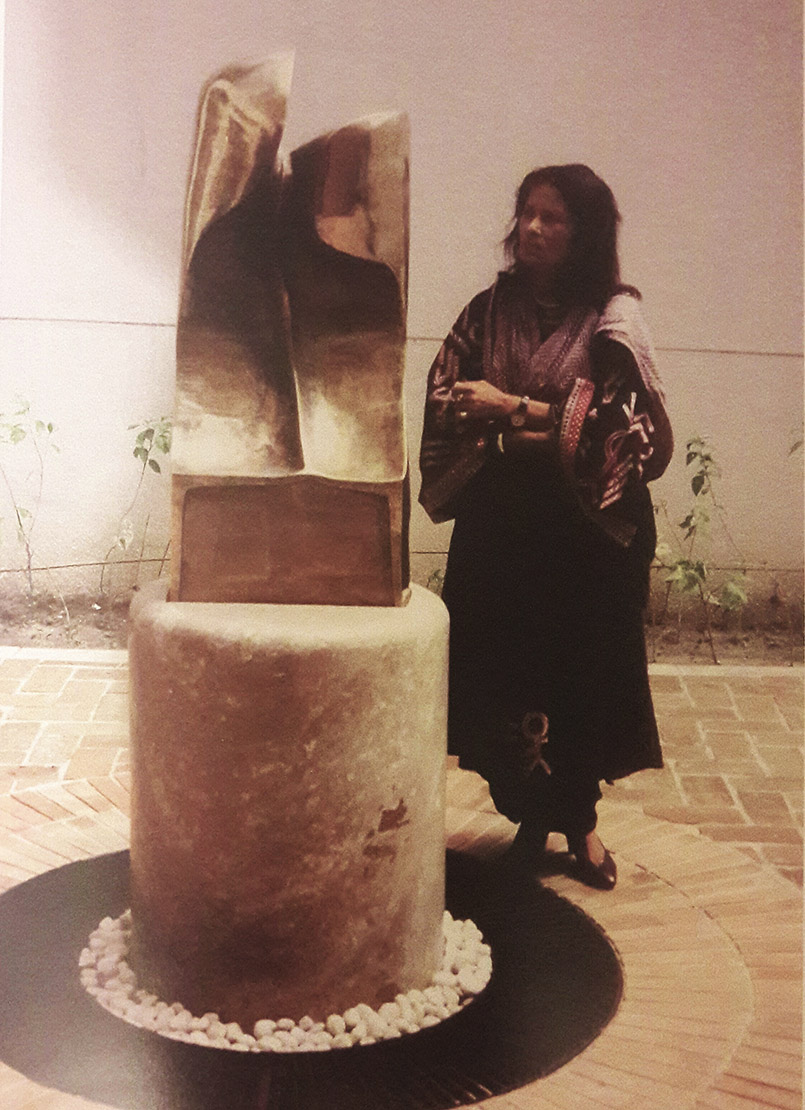 It has the face of a monkey, and it has a drink on its hand. I suggested we put a teacup or something else symbolising Nepal in his hand, but they said they wanted it to attract foreign tourists, so the drink remained.
That piece contains the balance that is so important in sculptures: the entire heavy figure is balanced on one foot.
I also think fondly of the piece I made in Bhrikutimandap, which was the first time I made a sculpture in two pieces: you can call it Prakriti and Purush.
Or it can be called 'Yugal Jodi' (youthful couple).
Future plans
I have some new concepts now, and I want to work on them. Usually, I am not satisfied when I work on small canvases. I feel timid and tied. So I always work on big canvases: 5X5 feet or larger.
I want to work on even larger canvas, maybe. But I also want to try my hand at smaller canvases.
I have not decided on the subject, let's see how my ideas develop. I don't really follow models, I get ideas when I look at the canvas.
I don't have the experience of giving birth, but after I finish a painting, it feel like I have given birth.
A lot of people ask me: what will you do now, now that you have worked so much?
I tell people that I need a break, but if I don't work for two days, I will fall sick. People ask me how I can continue working at this age, but I know it is not about age.
It's about the heart, the mind, and the spirit. As they say, an artist is for ever, and I know I will continue to create for as long as I live.