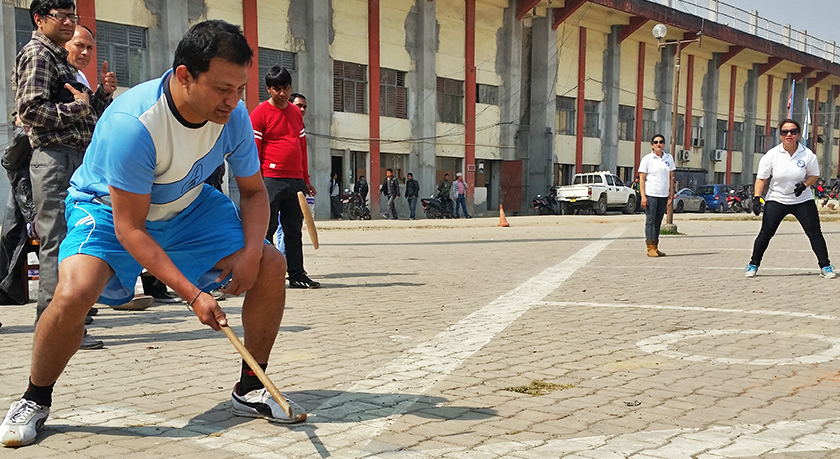 If you went to school in the 90s in Nepal, chances are that you were taught that dandi-biyo is Nepal's national sport. But you would have never seen a match on TV, nor played the game yourself.
Here are five things you ought to know about the sport (which is played by striking a small stick with a big stick) in Nepal:
1.
It was never officially Nepal's national sport!
Many would find it hard to believe, but dandi-biyo, nor any other sport, has ever been officially named Nepal's national sport. When Yubraj Lama was member-secretary of National Sports Council, the sport governing body did organise an interaction programme to seek suggestions on which sport should get the status, but the meeting ended with participants agreeing to disagree.
2.
There is a Dandi-biyo Association in Nepal, and it's two decades old
The sports' governing body in Nepal, the Dandi-biyo Association was setup two decades ago. It was recognised by the National Sports Council in 2008. The association has chapters in 11 districts. But it has not been able to organise a national-level tournament.
3.
The only regular event
The only regular dandi-biyo event that takes place every year happens on Public Service day (first week of September). It is up to enthusiasts to organise local tournaments, or to play the sport as a form of leisure activity.
4.
The North American connection
Nepal Dandi-biyo Association was registered in 2008, and Bijay Paudel was its president. Paudel was re-elected to the post three years later. But in 2013, Paudel moved to Canada, and no one replaced him as president. In 2014, the association's general secretary Lekhnath Ghimire also moved to the US.
5.
Eight years since election
Moti Phuyal, the association's acting president says it's been eight years since elections were last held in the association. According to the council's rules, it should happen every four years. Phuyal says he wants to organise a regional seminar to standardise the game in South Asia, and to organise tournaments regularly. But without the ' 'glam factor' in the game, everything looks like a pipe dream.