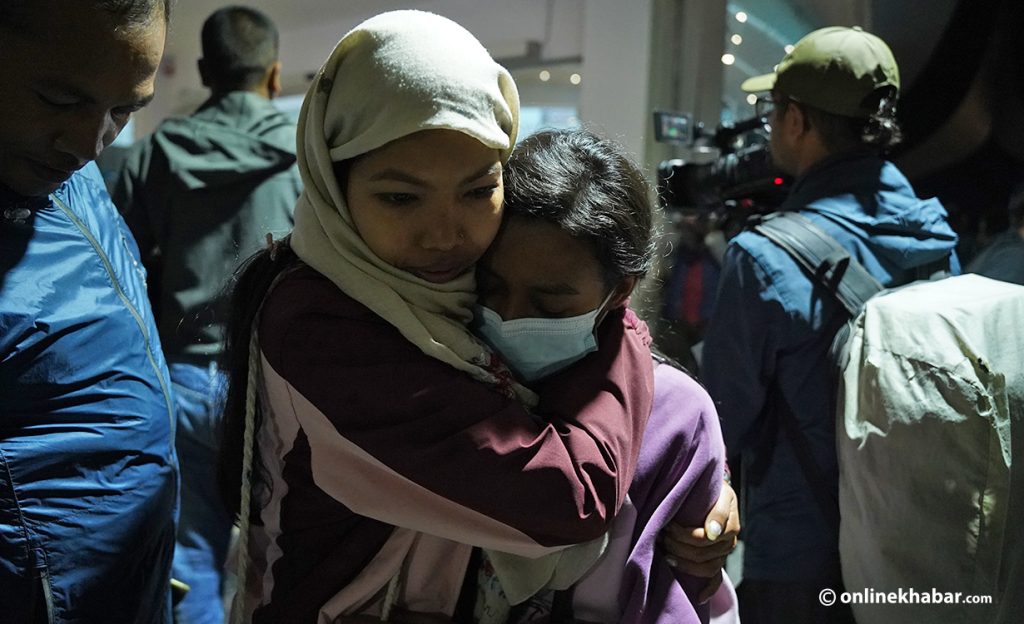 Nepali government on Friday repatriated 254 Nepalis from Israel. They arrived from 16 high-risk areas in Israel, travelling to the capital, Tel Aviv, and were subsequently brought to Kathmandu via Nepal Airlines flight RA-230.
Foreign Minister NP Saud, who also serves as the coordinator of the government-formed coordination mechanism, departed for Tel Aviv on the morning of October 11 for rescue efforts. After successfully repatriating 254 individuals on the sixth day following the incident, Foreign Minister Saud announced that the rescue operation would continue as more Nepalis needed to be brought back from the conflict zone.
Stating that the Council of Ministers has approved covering the ticket expenses for those arriving on commercial flights, he said aircraft would be dispatched as required for the repatriation of Nepalis from Israel.
In the initial phase of rescue, the majority of those saved were students who went to Israel under the 'Learn and Earn' programme. A total of 265 students, studying agriculture at Tribhuvan University, Far Western University, and Agriculture and Forestry University, had travelled to Israel under this initiative. Tragically, 10 of them lost their lives in an attack by Hamas, four sustained injuries, and one remains missing.
The government, however, has not brought back the bodies of the deceased as it is yet to be released by the Israeli government. The Foreign Ministry has said their remains will be brought back soon. But those who have returned have called on the government to bring back all Nepali stranded in Nepal soon.
Lucky escape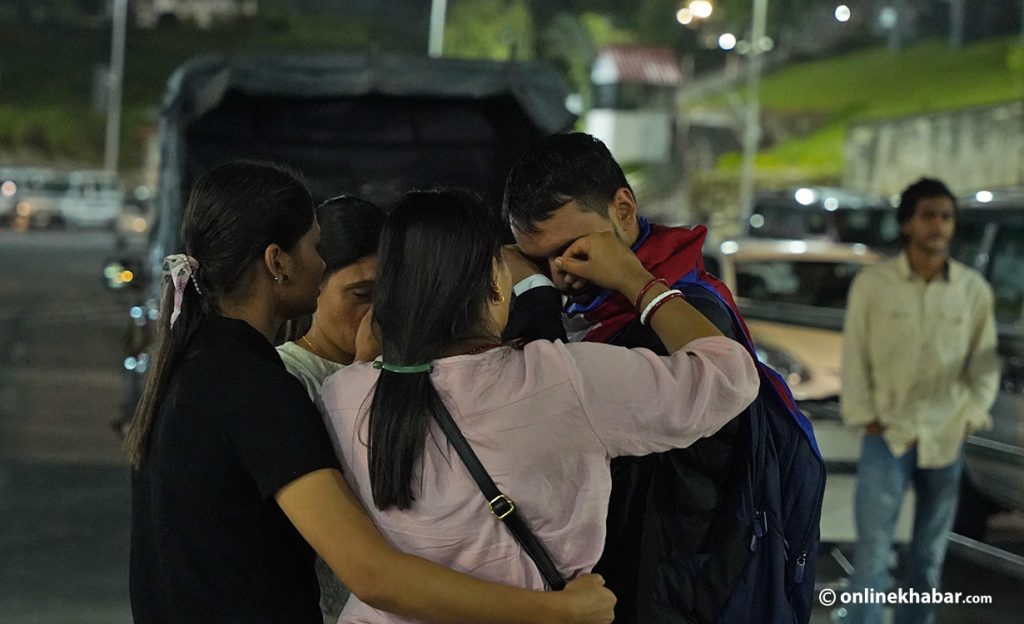 Shoba Paswan of Rampur Campus, Chitwan, is one among the 265 students who went to Israel under the Learn and Earn Programme. After landing at TIA on October 13, she told Onlinekhabar how scary the situation was in Israel and how lucky she and others were to make it out alive.
"We were in the bunker for 24 hours on Saturday (October 7). We were so scared, the only time we got out of the bunker was when we needed to use the toilet," says Paswan, who says she will never forget the time.
Finding out that 10 Nepalis had been killed by Hamas did not help. "The news made us mentally weak," says Paswan. "All I was thinking was I would also die like my friends had."
Nitin Bhandari, another rescued student, vividly recalls the tragic loss of his two friends. "They were begging for their life. They told Hamas they were Nepali but they were shot dead."
The Hamas were not done as they threw two grenades into the bunker where some other Nepalis were hidden. One of the grenades was thrown back at the Hamas by Bipin Joshi. That Bhandari says, saved their lives. "Bipin saved us but then he was taken," says Bibhusa Adhikari.
The whereabouts of Joshi remains unknown. The Nepali Embassy in Israel says that he is missing but some who were with him say he was taken by the Hamas. Almost all the Nepalis who were repatriated to Nepal are worried about him and have been appealing to the government to help find their hero.
The dead have to wait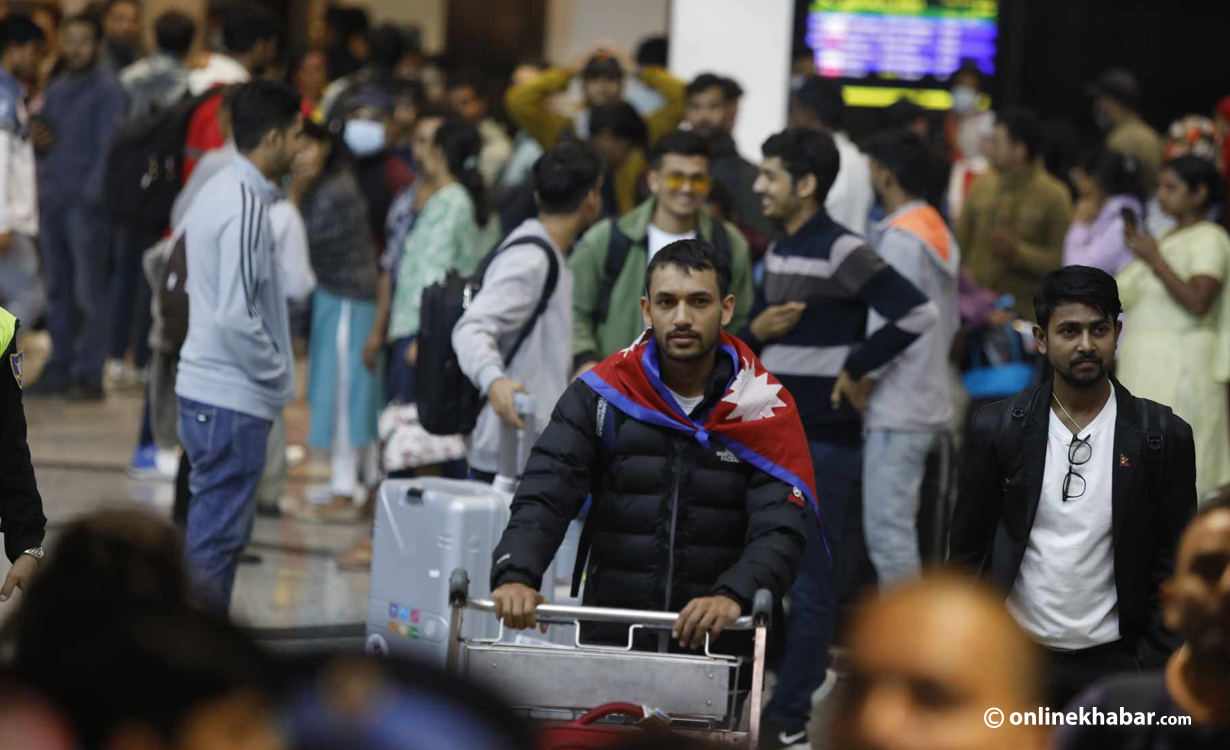 The government has not yet been able to bring back the bodies of the deceased, as they have not been released by the Israeli government. The remains will be repatriated soon. Despite successfully bringing back 254 Nepalis, there are still many more who need to be rescued from Israel.
Given reports of Nepalis being taken hostage by Hamas, it is difficult to verify the accuracy of these claims. Furthermore, due to Nepal's absence of diplomatic ties with Palestine, there is no established channel to communicate with Hamas for the safe return of these Nepali individuals.
Human rights activist Mohna Ansari says Nepal should seek help from countries that have diplomatic ties with Palestine. "The government needs to try to contact Palestine through whatever means possible," says Ansari.
But Hamas is not the Palestine government. With it being an extremist group, having dialogues with Hamas is highly unlikely.
No light at the end of the tunnel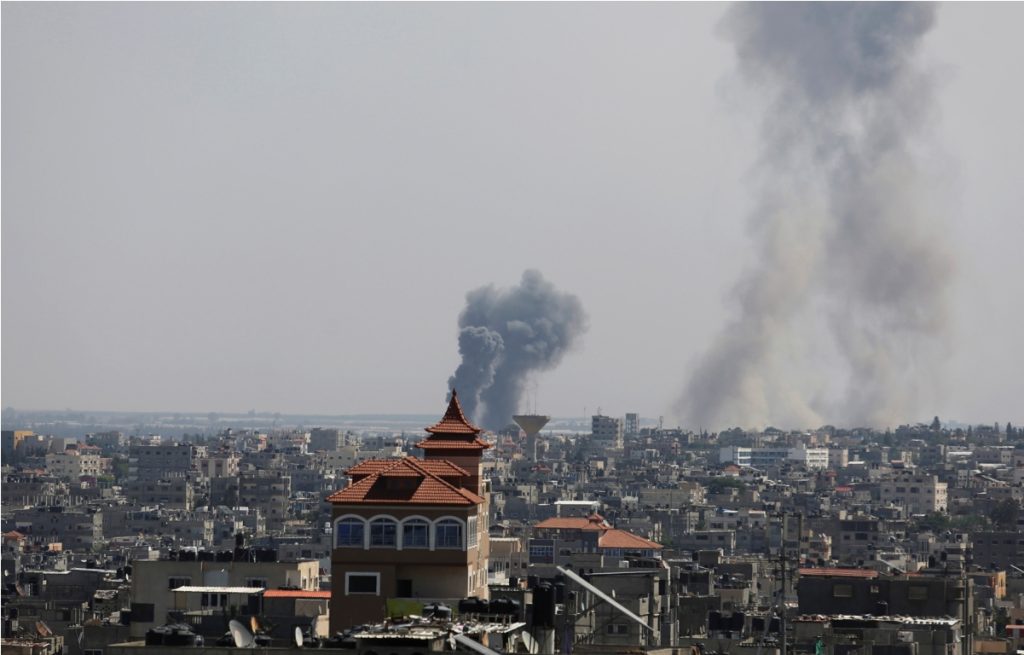 Israel's assertiveness is escalating by the day. Ongoing attacks on Gaza, a region under Hamas control, are accompanied by heightened offensives in neighbouring countries such as Syria and Lebanon. Israeli Prime Minister Benjamin Netanyahu has declared a campaign aimed at the eradication of Hamas.
Militant groups from other countries that have besieged Israel are also intensifying their attacks.
According to Sewa Lamsal, the spokesperson of the Ministry of Foreign Affairs, the staff of the Nepali Embassy in Tel Aviv, are currently working from their bunker. They do not have permission to leave their bunkers. In such a situation, it is anticipated that the conflict in Israel will intensify.
Furthermore, relocating Nepalis from both the southern and northern borders of Israel to safer cities like Tel Aviv might escalate potential harm if the conflict persists.
But the ones who are in Israel for employment are reluctant to return. According to Arjun Ghimire, first secretary at the Nepal Embassy in Israel, those who have registered their name to return to Nepal on the second day have withdrawn their name on the third day and most of them are workers.
Given the financial strain on families and the expenses incurred in travelling to Israel, many may find it difficult to decide to return to Nepal. Consequently, it appears imperative for the government to vigilantly monitor the situation in Israel and formulate contingency plans for their timely rescue in case of an emergency.