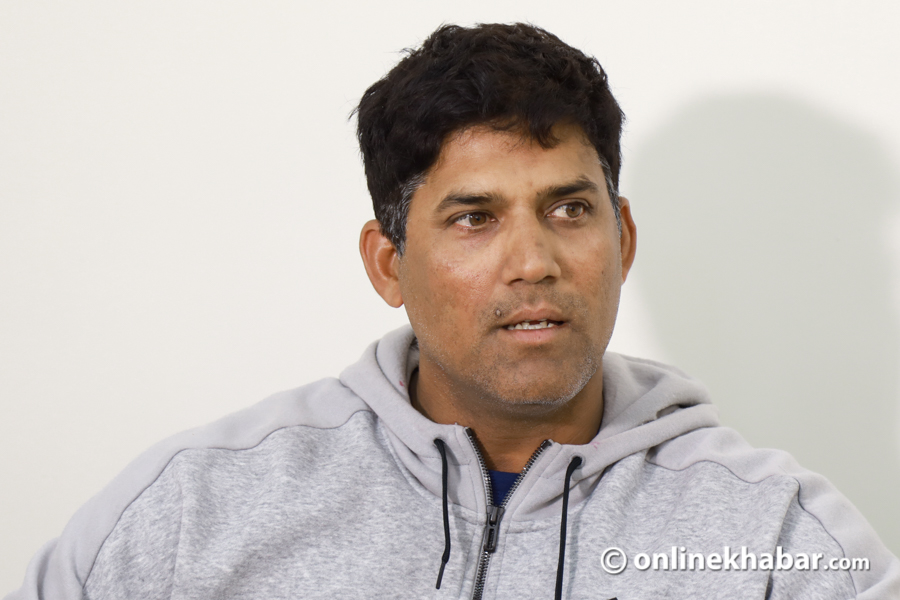 Umesh Patwal is Nepali national cricket squad's batting consultant. Patwal, who has been with the team since March 2018, hails from Mumbai, and has worked with the Afghanistan national team as well as many local youngsters. Onlinekhabar talked to Patwal after he returned to Kathmandu following the squad's tour of the UAE, about his role and the changes he made in the team.
When you started out as a batting coach, what problems did you see in the team and how did you resolve them?
The first thing I saw was there was no local cricket. This isn't what we expect if Nepal want to play test cricket. Domestic tournaments help players toughen up and help build training patterns. I, as a coach, felt that the players didn't have a proper training pattern because of a lack of match practice.
So the first thing I did was to tell them about ways to develop and understand their basic training patterns. Then we moved on to the thinking pattern which could give the batsmen an edge against other competitors.
Batting has as much to do with the mind as the muscles and if we look at the batting greats, all of them have been fit, both physically and mentally. I also feel the Nepali boys lack a 'game sense'. They are aware of the game but lack that sense, which teaches them what shot to play and when. That will only develop by playing more and more cricket.
The players need to form a habit that can only come after training for a few years.
How much information did you have about the details of the team composition when you started your role?
I have always been a keen observer of the Nepali squad as I've been involved in the game for a long time. I was impressed with Nepal's cricket team when I was part of Afghanistan setup. I always felt that Nepal was one of the best bowling units around at the associate level. I've also known Gyanendra and Sarad–both of them have worked with me before. So I'd say I knew a lot about Nepali cricket before starting out.
What are the major differences between Afghanistan and Nepal?
I think there are massive differences. Firstly, as Afghanistan played a lot of cricket in Pakistan they received a lot of exposure. Nepal hasn't had that level of exposure. As the Afghans did not receive proper coaching in their initial years, they played free-flowing cricket which meant they could hit the ball hard and long. But that isn't the case here in Nepal where people talk a lot about developing a technique and not playing naturally. Back in Afghanistan, they also play a lot of tape ball cricket which I don't see boys in Nepal do.
Are young players in Nepal different from players in India where you've coached youngsters?
The young players are the same and have the same passion and want to play their best. But the main difference is the level of competitive cricket they get to play. For example in Mumbai, a young player plays three- day cricket from the age of 13. This type of exposure and under-pressure match situations give Indian youngsters the competitive edge.
In Nepal, there is only T20 cricket and the odd 50-over tournament which doesn't help the batsmen improve their game. And Nepali players hardly play cricket throughout the year. They just play for around six months.
Similarities between the attitude of players in emerging teams like Afghanistan and Nepal?
There are a lot of similarities. Both want to win and are passionate to win. They also have tremendous support from back home which gives the players the added motivation. You can see the passion in Nepali players. These guys haven't been paid for two years, but they are still playing. This shows how
much they love the game. The manner at which the team has received ODI status is quite commendable.
We saw a lot of new faces in the team this series. Which player impressed you most?
To be honest, I wasn't impressed by any particular new face. None of them had a good series. But that said, I was impressed by the character of the team. Bhim Sarki didn't play a game but he didn't show that. He was happy to be a part of the team, which is key. Team unity is important if you want to take cricket forward.
Talking about a player in particular, I think I was impressed by the captain. He scored a 100 under immense pressure that too after bowing 10 overs in back to back games. He did it when his team needed it the most. I feel that was the turning point in the series.
What was your highlight this series?
The major highlight was Nepal winning the series. But apart from that, I think the team bonding was another highlight. This series wasn't about individuals it was a team effort. We know the players have passion and the will to win but the manner at which we bounced back to win both the series is down to team spirit.
Was changing the line-up pre-planned?
Yes, it was. We had planned everything before going to the UAE. We had planned that Malla would open with Bhandari in the ODIs and Paras would open with Pradeep in the T20s.
How have you addressed the problems in Nepal's opening combination?
We have given every batter points on how to improve their game. Everyone has batting pattern which needs improving and we have tried to do exactly that. The patterns and habits will only change after they work on their weakness and that will take some time. These players lack confidence.
Binod, for example, didn't perform as well as I'd have liked but he will continue as the team's opener. Same is the case with Pradeep. We have to show confidence in players. I feel that Nepal had been changing the opening combo a lot and that doesn't help the players' confidence. Plus there are no local tournaments to go and see if they were performing well or not. Too much experiment was done and I don't believe in experiments.
We prepared both Pradeep and Binod during the closed camps in Kathmandu where we told them the amount of time that they would need to bat. Even made them run a 100 runs with pads on so they would take that into consideration when playing a regular match.
What do you think about the future?
The future looks bright. Paras was telling me the other day that the ability these young players have would take Nepal cricket forward. Rohit's knock was simply brilliant as was Johra's. How they build on their innings and improve their game will make a difference.
You said you realised that our batting is weak. But you are leaving the team camp. What will the players do as there are hardly any tournaments? Do we have a plan?
Until a few months ago, we didn't have plans, but luckily we have a plan in place now. We have formed a group of players who have been given specific things to work on for the next three months. I will be coming back soon.
The players need to take responsibility and work honestly to improve their game. I'll always be one call away if they need my suggestion.
In the meeting, we talked about working with a proper plan and to make sure we have good work ethics. Paras and Gyanendra have been given the responsibility to make sure that the batters work hard on their flaws. Similarly, we have assigned Sompal and Karan to make sure the bowlers work on their flaws. This will help them learn about their flaws and strengths.
We have a lot of middle-order players who play well one game and go missing for 5-10 games. What do you think is wrong?
The problem I see with a few Nepali cricketers is that they think that know a lot of things if they score runs in a game. They don't think they need to work hard if they make runs. But that attitude will get them nowhere. If you look at India, if a player makes runs, he will be extra motivated to work even hard
so that his spot in the team doesn't go to someone else. We need that type of attitude from Nepali players as well. They need to perform consistently.
Why are you experimenting with bowlers giving them chance to bat higher up the order?
We used Sompal and Karan higher up the order because they are our best allrounders. But we hadn't tested them. Which is why we tried to see if Sompal could play a long and composed innings by spending more time at the crease. His role this time was different to other times.
Most believe that our bowling is better than batting. But right now we don't have experienced bowling options.
I think we have a very good bowling option. Avinash bowled really well as did Lalit and Binod so I feel there is depth. As for experience, it will come gradually as you play more matches.
Our plan is to get qualify both the 50 and 20-over world cups. How is the progress?
It's too early to predict anything right now. Our focus is on the T20 World Cup qualifiers and if we get to the world cup it will big a big boost for Nepal cricket.
Nepal has ODI status Nepali fans wants to play with the likes of India and Australia. Is that feasible?
It is possible as Nepal has an ODI status until 2022. The players have put themselves on the map of world cricket. The win against the UAE on their own soil showed that Nepal have arrived. It shows they are good enough.
---
Published on February 6th, Wednesday, 2019 11:22 AM
---
Download Onlinekhabar App. Android click here & IOS click here . Keep in touch with us on Facebook, Twitter & YouTube.