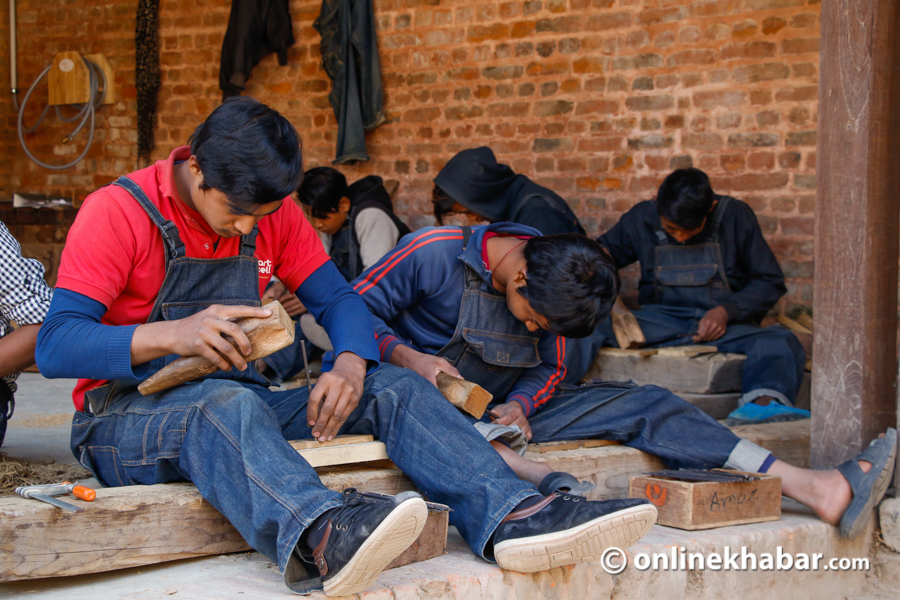 Just before the 2015 Earthquake, conservationist Rabindra Puri started what he calls one of the most important projects of his career. While most of his projects were driven by his urge to fight the 'concretisation' of Kathmandu, the Nepal Vocational Academy was born out of necessity.
Puri, known for his Namuna Ghar ('Model House'), an old Newar residence he restored to blend ancient architecture with modern amenities, has carried out around a dozen restoration work in and around Bhaktapur. "My heart wept when beautiful old houses were pulled down mercilessly and took an ugly concrete shape," says Puri, trained in sculpture in Germany.
During the initial years, Puri, who quit his job with the German Technical Cooperation in the early 90s, faced numerous hurdles. "People said I was wasting money and no one came to help even as there were financial problems after the Namuna Ghar project," remembers Puri. But in 2004, Puri's Namuna Ghar won the UNESCO Asia Pacific Cultural Heritage Award. "It was one of the proudest moments of my life. I had begun thinking that maybe I was not on the right path. But the award renewed my faith in what I was doing," says Puri. "After I received the award, my project received a lot of attention and even those people who did not believe in my work started praising it," he remembers.
But as the number of projects grew, the challenges took a different shape. The money was there, the knowledge was there, but people who would implement his vision became the missing pieces of the puzzle. Bhaktapur, the ancient city of artisans, did not produce enough artists as the profession failed to attract young people.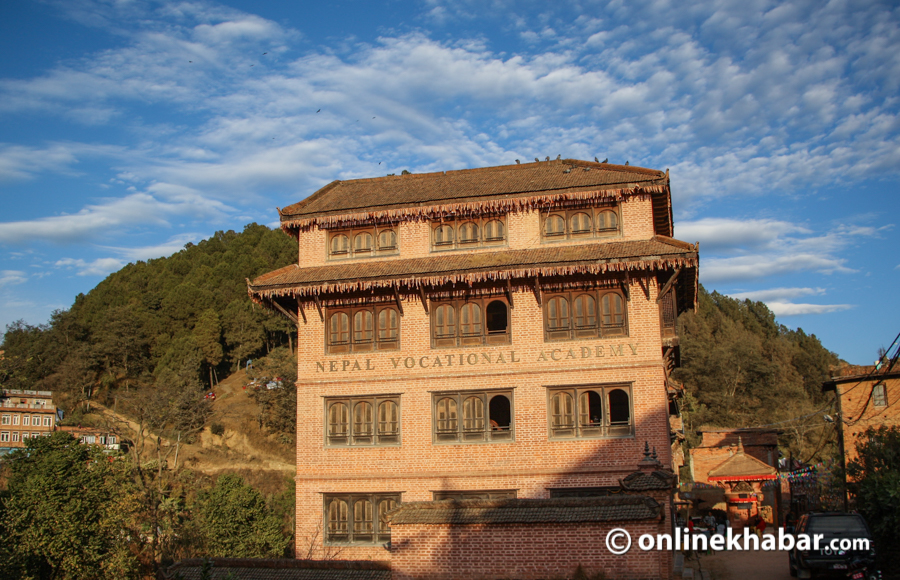 That left him with two choices: draw curtains on the whole endeavour or produce artists on his own. "I was not going to give up on everything I had done so far. That was why I decided to establish an academy for artisans," he added.
"Before that, I used to take interested people and give them on-the-job training mixing new staff with old. But after a few years I realised that the process took too long and felt that it wasn't systematic enough," says Puri.
In late 2014 Puri, with the help of a German organisation Schulen fuer Nepal, started Nepal Vocational Academy in Panauti with the aim to transfer traditional knowledge to the new generation. "I feel glad I started this because the 2015 earthquake damaged a lot of cultural heritage in the country and at that point, we needed even more artisans," says Puri.
The first batch consisted of 20-25 young boys from Panauti who were interested in traditional art–women are traditionally not involved in woodcarving. But according to Mrigendra Pradhan, Vice Principal of the academy, they faced problems as the boys weren't serious about their training.
"They thought they were coming here to pass the time. We were offering skill training but many didn't think so and dropped out. That is why now we interview candidates before enrolling them into the academy," shares Pradhan.
Dinesh Tamang, one of the first graduates of the academy now looks after all the young boys who come there to learn woodcarving. "It feels good to be teaching young boys this art form. Feels like I'm doing my party to conserve this traditional art," adds Tamang. He says he teaches the students what he has learned during his time in the academy which included making jewellery boxes, birds, door handles, Buddha and other wooden sculptures.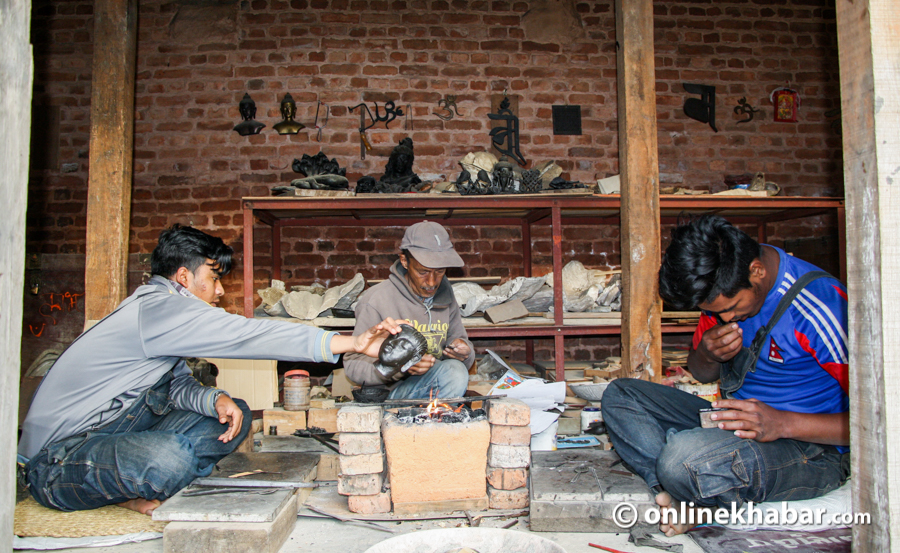 He shares that the academy has given him a skill which he has been able to turn into a profession. "The best thing about this place is they guarantee a job after the training which is great for a lot of boys because most of them come from a financially weak background."
The academy also has a hostel facility for students who are financially weak. Along with the training, the academy provides free formal education for them. According to Vice Principal Mrigendra Pradhan, they also send the boys to a high school. "We want to give them a skill which will help them earn money and also help the country preserve its traditional art," says Pradhan.
There is so much demand for these artisans but not many are available which is why I am opening one more academy in Bhaktapur," shares Puri.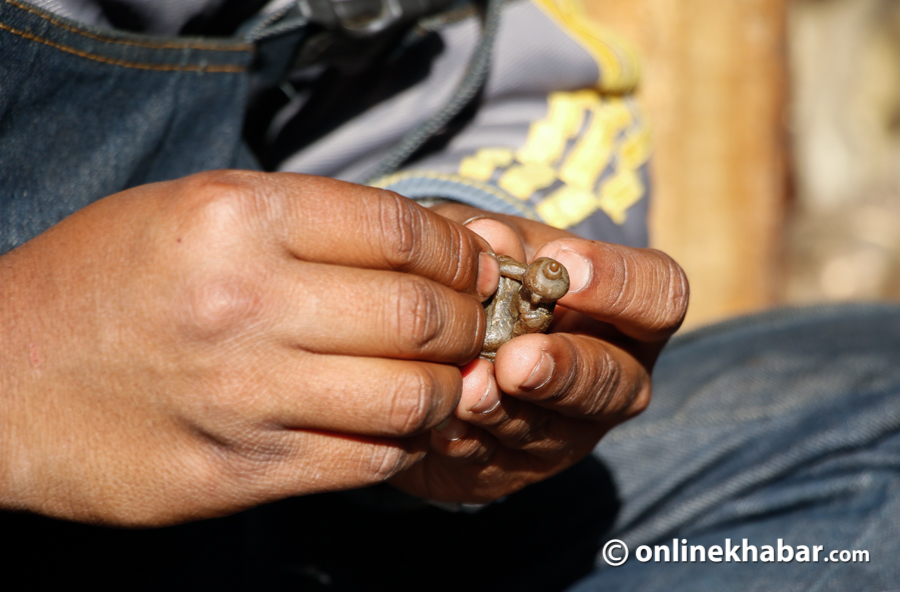 Puri believes that there is so much demand for these artisans he is opening another academy in Bhaktapur. He believes that it will produce up to 200 artisans per year and. "This will pave the way for a vocational university I am planning to build in Panauti," he adds.
When asked why he chose Panauti for this project, Puri shares that he wants to restore Panauti, with all buildings renovated with traditional architecture and techniques, by the year 2030. "This is my dream project, one I wish to complete. I'm glad that the locals are on board. Restoring and preserving a whole town in this manner is difficult, but not impossible, accomplishment, and will serve as a model for other historic towns in Nepal."