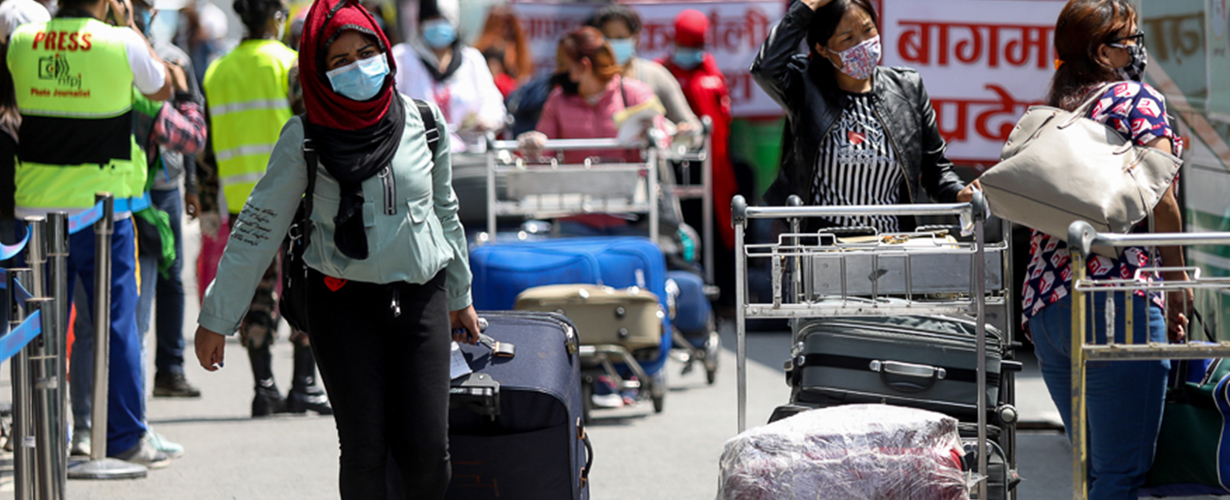 Sharmila Regmi had been working in the United Arab Emirates. She lost her job recently due to the Covid-19 crisis and was desperate to return home.
Last Friday, she got a chance to come back home. The Nepali Embassy in Abu Dhabi included her on the priority list for repatriation as she was pregnant.
She arrived at the Dubai airport at 6 pm local time (7:45 pm Nepal time) on Thursday. The flight was scheduled to take off at 1 am Dubai time.
After completing all necessary procedures including health and safety check-ups in about three to four hours, she began waiting for boarding. But, suddenly she heard the Nepal Airlines flight from Dubai was postponed to 5 am, a four-hour delay.
Not only was Regmi, but 94 other pregnant women like her were returning home on the very flight. Though the postponement disappointed them, none expressed it publicly; apparently, they did not have any option.
They turned restless. It was painful for the pregnant women to sit in chairs at the airport for hours. Still, partly, they were excited to come back home.
Regmi says most of them regretted not bringing any food with them.
Finally, the wait was over; at 5 o'clock in the morning, they boarded the plane and flew back to Nepal. But, on the flight also, their frustration and disappointment continued.
As they had paid a high price for the flight tickets, everyone thought that some food would be provided on the plane. Some had even expected nutrition-rich food because the embassy had selected only the people with problems for the flight.
Previous to that, a Nepali woman who had returned from Kuwait after the Kuwaiti government had bought her flight ticket shared that she had got a lot of food to eat on the plane. Regmi and some others had watched this woman's video and had expected similar treatment.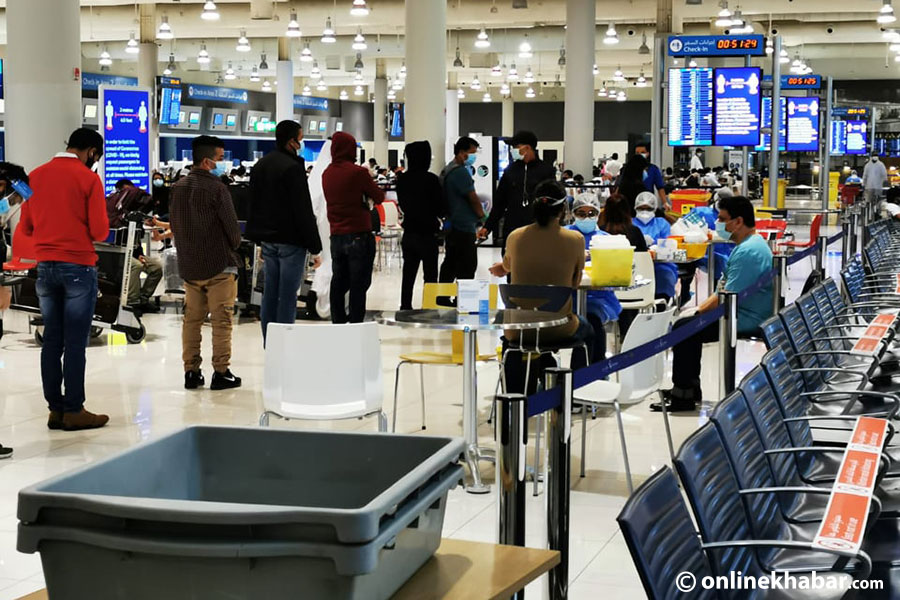 But, to their surprise, no food was provided during the four-hour flight.
"If I had been aware of it, at least I would have carried some dry fruits," laments Regmi, "All the way, we endured our hunger and arrived here."
When the wheel of the plane touched the Kathmandu airport at around 9:30 in the morning, half of Sharmila's hunger was gone. She was overjoyed to step into the homeland.
After that, it took about two hours to complete the procedures including baggage handling at the airport. "By that time, my hunger was troubling me a lot," she says adding some passengers even asked the army personnel on duty, "How can we go home now?"
They replied, "Do you expect to go home immediately? No! Now, we will take you all to a holding centre."
Regmi then thought that they would provide her with some food to eat at the holding centre. But, more than her hunger, she was worried about her unborn. After all, the baby only gets to eat what she eats.
She was constantly drinking water and calming herself to wait for some more time. Some women asked the army personnel at the airport to help them with carrying the luggage etc, but the army would say, "We are not ordered to touch the luggage. We can't help it."
Their crisis escalated when pregnant women left the airport. Hungry and tired and worried, they had to pick up their heavy luggage and load them on the bus. Many were afraid that they would faint anytime.
At around 2 pm, they reached the holding centre. Again, they had to unload their heavy luggage on their own from the bus.
There, at first, the army personnel recorded the passengers' details. Officials asked them to choose between 'whole quarantine' and 'home quarantine' to stay. Everyone chose home quarantine as they had returned after testing negative in the PCR test, and it would qualify them for 'home quarantine'.
The personnel measured their body temperatures and distributed sim cards. Finally, it was the time for some good food everyone thought—after all they were taken to a 'party venue' in the name of the holding centre.
However, this time too, all of them were disappointed. When they asked about food, the army and the Armed Police Force personnel replied, "Food is not available at the holding centre. Here, we are only to hold you here before you go home."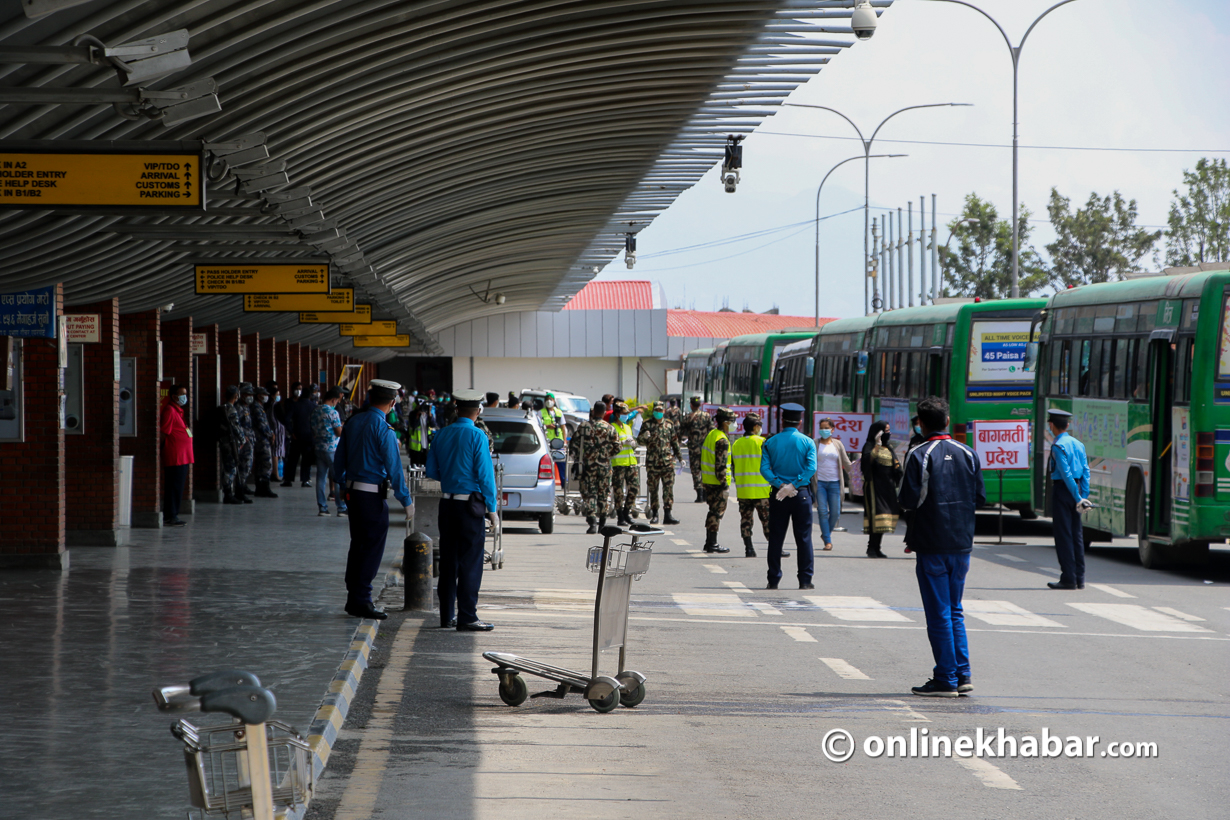 Then, everyone panicked. However, they could not resist but exchanged their grievances. They were having a hard time there. Some of their delivery dates were so near. Even though, they had to carry their bags on their own, on empty stomachs, adding to their frustration.
Everyone had a common question: why could they travel somewhere so that they can get food.
After six hours, they were told to get on separate vehicles according to their districts. By that time, women from Kuwait and Qatar had also reached the holding centre. A woman from Kuwait, who came without doing the PCR test, was also kept on the bus along with the pregnant women. Again, they had to load and unload the luggage themselves.
It has already been 24 hours since they had last eaten any food. After collecting bus fares, the bus finally started.
The stories after that vary from person to person.
Most of them had to travel a long route from east to west. So, they drank only water on an empty stomach and moved on, vomiting on the way.
The bus carrying Sharmila Regmi had to reach Chitwan, nearer than others. In the meantime, the bus got a glitch. Either because it was carrying too many people and luggage, or because it was a small and old bus, a tyre got flat. It took more than two hours to bring the bus back to its condition.
At 2 am, nine people from Chitwan were dropped off at Gangotri Hotel in Narayangadh. Regmi was hopeful that she would get some food now.
In the meantime, the hotel owner and security officials were discussing something there. The owner was furiously asking, "Why have they dropped off people from abroad to my hotel?"
It was clear from the owner's gesture that they would not get food there either.
It is not that she had thought of buying noodles from a nearby shop if only the shop was open. In addition, they were told not to go anywhere.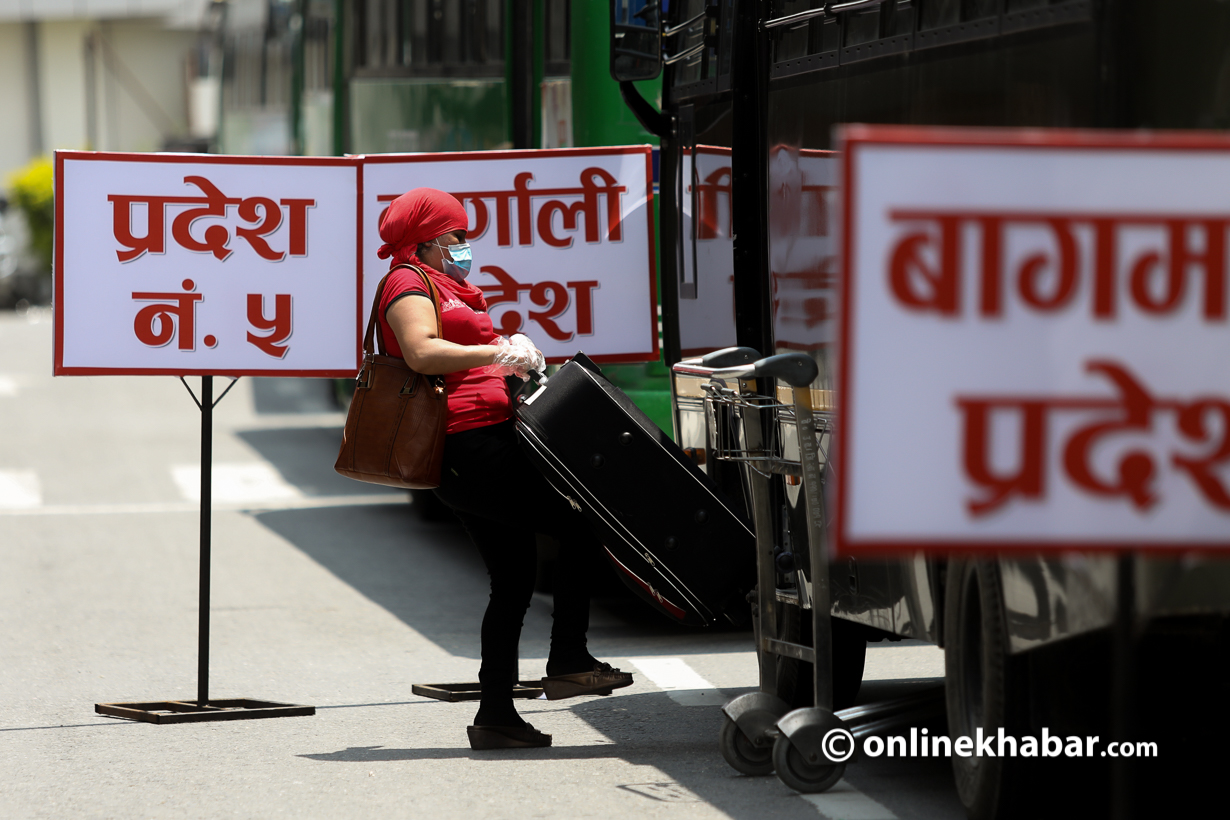 After a while, the army informed, "You can go home only after your ward chairperson arrives in the morning. Until then, if you have money, stay in a hotel room. If not, stay outside, but don't go here and there."
Then, some of the women with money went to the hotel room without taking the luggage.
"I also went to rest in a room with three of my friends without caring about my luggage," says Regmi.
Finally, in the morning, her family members came with the ward chairman. It was 10 o'clock when she reached home after completing all the procedures.
After reaching home, finally, she got food. Suppressing her inner pain, she ate thinking how hungry the child must have been.
Everyone's story is like Regmi's. They have complained that they did not get water even in the holding centre and after getting on the bus. They were not even allowed to buy water.
Those women who were taken to Pokhara have made a video and posted it on social media complaining ill-treatment on the way. They say when they asked about food, the army personnel replied, "If you die of hunger, we will throw you away."
Complaining that they have not received any food for two days and they got to hear, "We will not give you to eat here" from the hotel owner, they state," It is raining outside. This cold is making us sick. By not providing food for two long days to the women in the seventh and eighth month of pregnancy, making us load and unload our heavy luggage and keeping us stranded on the roads, what kind of rescue have they done?"
Meanwhile, the Nepal Army Spokesperson Bigyan Dev Pandey claims that Nepal Army has successfully played its role to ferry the passengers from the airport to the quarantine sites via holding centre. He clarifies, "Providing food is not our responsibility."
The Armed Police Force (APF) officials say that even though concerned ministries of the provinces could have managed food services to the rescued, they are being ignorant.
One of the APF officials shares, "Packed dry fruits, fruits and juice could be given to those who are hungry. However, even when the sick, pregnant, and little children ask us about food, we on duty at the holding centre have to be helpless."
As per security officials, the government has managed to provide food for those coming from other countries at concerned local level quarantine camps only. Provisions about food arrangements for their journey on the way are not clear yet.