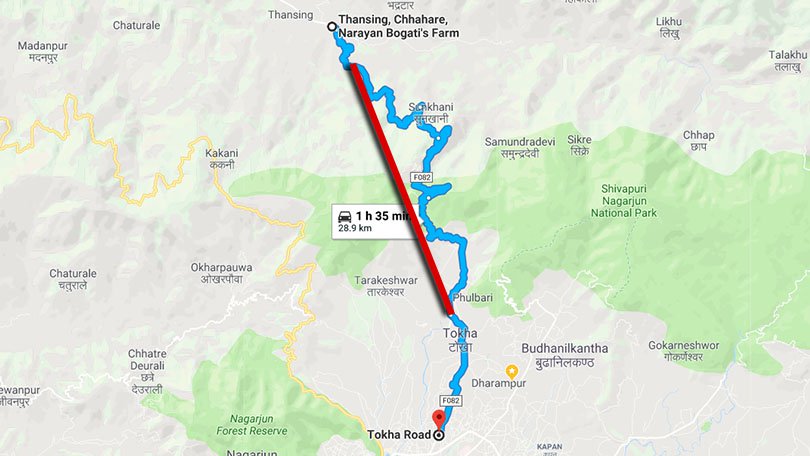 Kathmandu, January 5
Whereas the new left alliance-led government is expected to prioritise connectivity with China, the Department of Roads has prepared a proposal to construct a road tunnel that will bring Rasuwagadhi border point even closer to the capital, Kathmandu.
If the tunnel from Tokha of Kathmandu to Chhahare of Nuwakot district is constructed as planned, one can reach Rasuwagadhi border from Kathmandu within two and half hours, driving, according to officials.
The tunnel will be just 4.2 kilometres whereas an access road of 35 kilometres has to be constructed to connect it with Pasang Lhamu Highway heading to Rasuwagadhi.
The Department has completed a preliminary study about feasibility of the project and the plan now has been sent to the Ministry of  Finance with a request to collect foreign aid for implementation.
It has been learned that the government has already made a request to the Asian Infrastructure Development Bank for the assistance. The Bank headquartered in Beijing is positive about the proposal and has asked Nepal to submit a more detailed proposal after further studies, according to a source at the Ministry of Finance.
Chief of the Foreign Aid Coordination Division at the Department, Sanjaya Kumar Shrestha, says construction of the road tunnel and the access road connecting it to Galchhi-Syaphrubeshi road will cost around Rs 26.5 billion.
Officials say the government will allocate some money for the project while announcing the annual budget for next fiscal year.
"The plan may see some changes as we are yet to do a detailed study," Shrestha says, "But, basically, this is the easiest and most reliable alternative to connect Kathmandu and Rasuwagadhi."