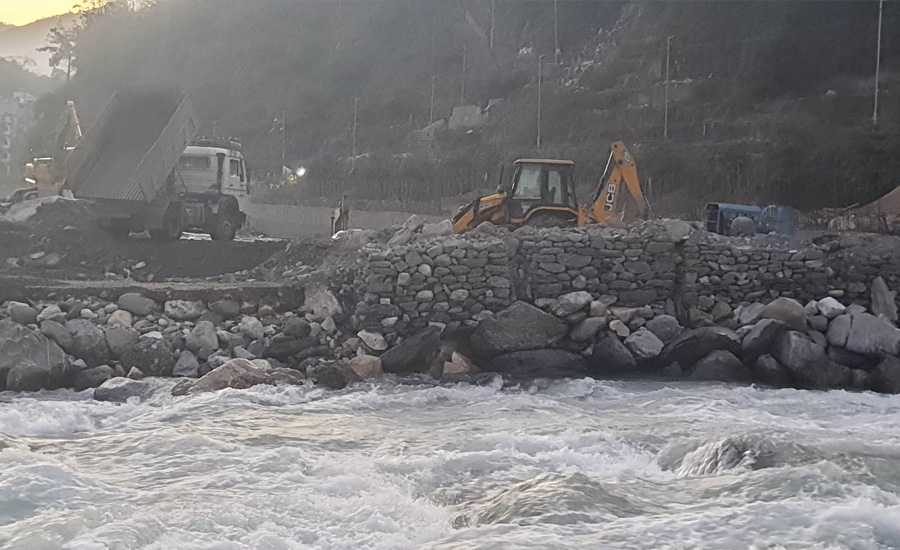 Khalanga, December 6
Officials of Nepal and India have discussed the matter relating to disputes that ensued on Sunday about the construction of an embankment in a bordering area between the two countries.
Officials of both countries met at the District Administration Office in Darchula on Monday to discuss the embankment being built by India.
On Sunday, the locals of both countries got embroiled in a brawl and went on to pelt stones at each other when the dispute escalated. Over half a dozen of locals from both countries were injured in the incident.
The locals in Khalanga on Sunday sternly protested against India's unilateral construction of an embankment to divert the flow of the Mahakali river. The irate locals fear that their settlement could be at risk due to the embankment. They demanded that the construction work be halted immediately.
According to Dirgha Raj Upadhyay, chief district officer (CDO) of Darchula, discussions between officials of both countries centred on the embankment issue and insisted the locals' lives be put first.
Both sides agreed not to construct an embankment immediately at the place where the dispute ensued and construct only in the place where there was no dispute.
The Indian side has installed a gabion net some 7 to 10 metres from the site where the embankment was under-construction. The Nepali side requested the Indian side to remove the gabion net immediately.
The Indian side had been accelerating the construction for some days.