Two groups were quarrelling in the Rohingya refugee camp in Kapan of Kathmandu when we visited it on December 13, 2019. Some women were clashing with each other for a sack of rice. A few people were bleeding as there was also a fistfight.
It was a fight between two groups under the same roof. And the reason: unequal distribution of rice provided by donors.
On our second visit to the camp, a few men and women were sunbathing whereas children were playing outside their sheds. As soon as we advanced closer to them, they went inside, without uttering a word. Moving around in the camp, we met Jaafar Alam, who agreed to talk to us on the condition that we would not shoot his photo or video. Aalam was one of the first people to enter Nepal as a Rohingya refugee.
According to Jaafar, inadequate food and shelter meant that the tension in the camp was rising day by day. "We have to live in a cramped place," he said. "There is no land to build a new hut."
Jaafar said proper arrangements should be made for resettlement in Nepal and if that is not possible, an initiative should be taken to send the refugees to a third country. He added, "Or, we should be given citizenship here."
Rohingya refugees have repeatedly staged sit-ins in front of the Kathmandu office of the United Nations High Commissioner for Refugees (UNHCR) demanding refugee identity cards, allowances and employment. The Rohingyas, who were oppressed by the Myanmar government, came to Nepal through Bangladesh and India.
Sahid al-Amin, who lives with Jaafar at the refugee camp at Ram Mandir, Kapan, is still afraid to return to his home in Myanmar. Sahid, who already brought his family and relatives to Nepal, said, "Why would I want to die by going back home? Those who want to live come to Nepal."
Rohingyas' political connection with Nepal
Jaafar Alam entered Nepal from Myanmar through India in 2012. At that time, three families with 11 members had entered. At present, the number of Rohingya refugees in Nepal has reached around 400.
The camp has a mosque and a school which teaches Urdu, Arabic and Persian languages. The children also learned to read the Quran and to pray in the mosque.
Activities of the Rohingyas in Kapan has increased since 2016. There are three Rohingya camps in Kapan, one at Lasuntar and two at Ram Mandir. Locals of nearby Hattigaunda area did not allow them to set up a camp. The Rohingyas who had settled in Panauti of Kavre have also returned to Kapan.
Some refugees fled to Nepal via India from Bangladesh when the country took an initiative to repatriate Rohingyas to Myanmar and some are currently preparing to come to Nepal, according to Jaafar. He stated that those returning to Myanmar are at risk. "Nepal is safe for us as India and Bangladesh are also chasing us back, labelling us terrorists."
Some events indicate that Rohingyas got entry into Nepal due to political support.
Samim Miya Ansari, the then General Secretary of Tarai-Madhes Democratic Party, joined the CPN-UML on May 27, 2008. About 200 Rohingyas were present when Ansari was inducted to the party by the then UML chairman KP Sharma Oli at the Karki Party Palace in Kathmandu.
Along with many Nepali Muslims, Rohingyas also entered the party. Ansari, then chairman of the National Muslim Struggle Committee, is now the chairman of the National Muslim Commission, a constitutional body.
On February 9, we had asked the six Rohingyas who had joined the UML about the reason for their involvement in the party, but they refused to speak. On the condition that we would not take photos or record voices and reveal their identity, one person said, "We were told that shelter and security would be guaranteed as long as we live in Nepal."
Another added, "We are now receiving financial assistance, clothing and food aid."
The third person said that they had been assured to get Nepali citizenship or to be sent to a third country. As he said, the Rohingyas are now demanding 'Nepali citizenship or a third country'.
While being in the National Muslim Struggle Committee, Samim Miya Ansari provided food and clothing to the Rohingyas. He had told contractors from the Muslim community to hire the Rohingya youths.
Ansari says that all this assistance was provided only on a humanitarian basis. "Even now, I collect donations to provide food and clothing," he said. "Because we help and belong to the same community, they may have expected something from me, but I haven't given any other assurances. I have not provided any assistance outside the law. They came without inviting me to the party induction programme."
Suspicious activities
A group of refugees from Lasuntar arrived at the Metropolitan Police Sector in Kapan in August 2019 with a complaint. The complaint said, "Imran (name changed), who lives in our camp, has been raping and torturing his 13-year-old stepdaughter for a long time. He should be punished."
After receiving the complaint, the then chief of the police post, Inspector Suraksha KC, proceeded with the case. However, the accused and the victim have not been found in the camp yet. KC said, "Before this, there were complaints about domestic disputes also. We used to resolve the issues."
Some members of the Rohingya group had lodged a verbal complaint at the Kapan police office alleging that Zubair Maulana was taking money to 'smuggle' people to Nepal. Maulana has already brought more than 100 people since 2014, said a person from the Kapan camp. "We had warned him that it had been difficult for us to stay in the camp because of his brokerage," he said, "but he has not quit his job as a smuggler."
He said Maulana had already been imprisoned for smuggling people from Bangladesh to India. "He has smuggled a lot of people from India to Nepal. He has kept them in Terai districts including Parsa as he did not get land in Kathmandu."
The family of Sabir Takre, who had recently been brought in by Maulana, was found in the Kapan camp. He said he was forced to leave the country after violence erupted again in Myanmar in 2012 and had crossed rivers and seas to reach Bangladesh in a month, staying there until 2016.
When Bangladesh launched the campaign to repatriate Rohingyas in 2016, it became difficult for them to stay there. At the same time, he met Zubair Maulana, who took 20,000 Indian rupees to bring them to Uttar Pradesh in India via Satkhira and they started working in a meat processing plant.
They had no documents when they were arrested by Indian police, who warned them to go elsewhere or they would be charged for being terrorists. It was 2018.
He again came in contact with Zubair Maulana who took 45,000 Indian rupees to bring Takre's family of five that includes his wife and three daughters to Kathmandu via Biratnagar and Jogbani. Jaafar Alam, who was translating Takre's speech in Urdu, added, "Maulana has rescued the people of our community by taking money, but now, there is a fear that it will be a problem for us to live here."
Security challenges
DIG Bishwa Raj Pokharel, the Metropolitan Police Office Chief, said that the police are monitoring activities of Rohingya refugees. "Currently, there are only domestic disputes reported in the context of Rohingyas in Nepal. They have not done anything to affect the country's security," he said, "But, we are monitoring them as a national security challenge."
Pokharel said that there is a risk of Rohingya refugees, most of whom are unemployed, getting involved in criminal activities.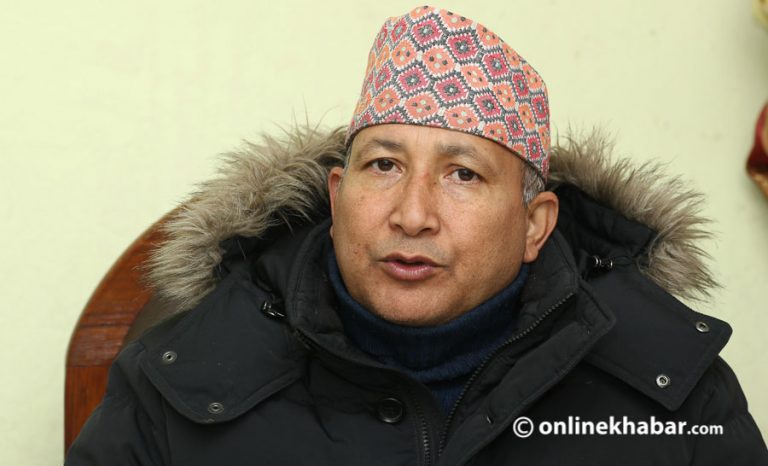 The Ministry of Home Affairs had formed a five-member task force on November 8, 2008, under the leadership of Krishna Bahadur Katuwal, the then Assistant Chief District Officer of Kathmandu, to study the Rohingya issue. The task force concluded that Rohingyas could be a long-term threat to Nepal.
Katawal stated that giving shelter to Rohingya refugees would immediately pose three dangers. First, in the Rohingya-inhabited areas, the resources used by the local community could be depleted, and internal conflicts might occur. When people from different cultural backgrounds are in the same place, conflicts might arise. Second, various interest groups can use them, and they may be involved in drug trafficking, kidnapping, murder, and robbery. Third, they can revolt if they have to go hungry without finding employment.
As Katawal has analysed, there are signs of conflict with the locals.
Raju Adhikari, the chairperson of Budhanilakantha municipality's ward 11 which includes the Ram Mandir area, said that locals have been coming to the ward office to complain about the activities of Rohingyas. He said that he is monitoring their activities as his lives close to the camp.
"Rohingyas cut and dry buffalo meat on the roof during festivals," said Gopal Karki, a local. "The smell during such time is unbearable."
Another local, Hari Neupane, said that quarrels occur between locals and the Rohingyas as their children have been involved in stealing fruits and vegetables from the locals' houses. He said the problem was elevated by the growing number of Rohingyas and urged the administration to remove them.
The ward office has asked the Rohingyas not to rent more land and not to extend the land rent period as there is a risk of exacerbation of the existing problems. The office has not even collected the tax of the existing tents stating them illegal.
Indian media coverage
India's Zee News has reported that Rohingyas have paid a bribe of Rs 4,000 to Rs 50,000 per person to settle in Nepal. The news report claims that the Islamic Union of Nepal and other organisations are involved in bribery.
Citing a 'confidential report' from India's home ministry, Zee News reported, "At least 378 Rohingyas have moved to Nepal and some of them are in touch with real estate brokers to buy land in the land-locked Himalayan nation."
Zee News has also claimed that a base camp of the terrorist organisation Lashkar-e-Taiba and Jais-e-Mohammad is being set up on the Indo-Nepal border. "Jihad and ISI are similarly helping to manage the Rohingyas in Nepal and carrying out terrorist activities in India and Bangladesh."
The Nepal Islamic Association has clarified that there is no truth in the report by Zee News. The association has also stated that there is no truth in anything other than Rohingyas coming to pray in mosques.
Human smuggling and sex trafficking
The US Department of State's Traffic in Persons Report published in July 2020 states that human traffickers are transporting Rohingya girls from refugee camps in Bangladesh to Kathmandu for sex trafficking. The report states that Nepal has been developing not only as a source country for human trafficking but also as a destination in recent years.
The report states that the entry of Rohingyas in Nepal adds to existing issues such as trafficking of Africans, who were promised to be taken to Italy, and leaving them stranded, and Chinese and Eastern European women being forcibly taken hostage in various dance bars.
According to Dhundi Raj Neupane, the spokesperson of the Human Trafficking Investigation Bureau of Nepal Police, no incident has been reported on Rohingyas being involved in sex trafficking so far.
Need for additional places
The task force formed by the Ministry of Home Affairs has stated that there are 378 Rohingyas in Nepal. However, UNHCR states that there are 360 Rohingyas in Nepal, including 10 who have applied for asylum but are not registered.
Task Force Coordinator Katuwal said that some Rohingyas who might have gone out of the valley for work may have been missed being listed. Rohingya leader Jaafar Alam said there are more than 400 Rohingyas in Nepal.
Ward Chair Adhikari claimed that there are more than 500 Rohingyas in Budhanilakantha. "There are 18-20 people in a single tent. Some have rented a room," he said. "There are lots of new faces seen during the festivals and holidays."
Suraksha KC, the then chief of the Kapan police post, said that Rohingyas are still entering the camp. "Newcomers have been reported to the police station," she said, "But, while only one is being reported, the person's whole family has been brought."
A group of 48 people had gone to Sundarijal when there was not enough space for accommodation at Lasuntar of Kapan. There, they had rented five ropanis (over 2,500 square metres) of land belonging to Basu Bhandari, Janardan Bhandari and Bishnu Hari Phuyal for an annual payment of Rs 100,000. But, they stopped constructing huts after locals protested.
The same group rented 10 ropanis of the land of Krishna Man Dangol in Tokha municipality for an annual payment of Rs 400,000. But, they saw the same fate after their camp was built; the locals protested and did not allow them to stay. Similarly, 34 members of 10 families had moved to Kushadevi in Panauti municipality of Kavrepalanchok district, where they had rented the land of a local Satya Ram Thapa but could only stay there for mere two months. Now, they have returned to Kapan.
Katuwal, the then coordinator of the task force, said that the locals did not allow them to stay in the group in concerns that there could be negative activities in society.
Meanwhile, 173 members of 45 families are living under 35 roofs on more than six ropanis (over 3,000 square metres) of land belonging to Janak Adhikari in Kapan. They pay 240,000 rupees annually. "More bamboo huts are being built there. It can be assumed that more Rohingyas are coming," Katuwal said.
Similarly, 104 members of 25 families live in 27 huts built on 3.5 ropanis (around 1,800 square metres) of the land of Hari Chandra Shrestha in Budhanilakantha. They have rented this land for five years for an annual fee of Rs 115,000. Kedar Khadka's 1.5 ropanis (around 750 square metres) of the land in Lasuntar was leased for three years to accommodate 48 Rohingyas from 11 families. But, the camps were demolished after three years.
Jyoti KC's three ropanis (over 1,500 square metres) of land in Lasuntar has been used for 18 huts for 18 families that include 53 members at an annual cost of Rs 120,000 for the next two years. The Rohingyas have been raising land rent and food expenses from labour and financial aids from various organisations.
Rudra Khadka of Lasuntar said that he had to face difficulties when removing the Rohingyas as he needed his land. "I had waived the six-month rent on the land which they had leased for three years," he said. "But, police interrogated me for removing them. I had to go to the District Administration Office and provide a formal explanation."
The Rohingya Study Task Force, ward offices, and the police share the same fear that Rohingyas can spread across the country if their entry is not tightened.
Why do Rohingyas come to Nepal?
Rohingyas are not comfortable living in Bangladesh and India where they have been portrayed as terrorists. Nor are they prioritising repatriation to Myanmar as violence has not subsided. Those in Bangladesh find it easy to come to India, while those in India come to Nepal easily because of the open border.
Those in Nepal tell their relatives that it is easy to stay here, which make them wish to come here too. Taking advantage of this vulnerability, the leaders take the money and bring them here in groups.
The report of the Rohingya Study Task Force has blamed trafficking rackets run by the leaders for the increase in the number of Rohingyas in Nepal. According to Katuwal, some leaders, including Zubair Maulana, smuggle Rohingyas into Nepal from India and Bangladesh.
"When a family enters Nepal, a leader earns Rs 40,000 to Rs 45,000," says Katawal. "After entering Nepal, everyone feels safe."
What does Nepal need to do?
Katawal said that no decisions have been taken as the information about the Rohingya in Nepal has just come to light. Nonetheless, the Ministry of Home Affairs can take some actions as the task force has already submitted its report.
"There are no official statistics on how and how many Rohingyas came to Nepal. Our study is also preliminary," he said. "Our study concludes that if the arrival of Rohingyas is not stopped immediately and the people here are not managed properly, this problem will turn devastating in the future."
The task force has suggested the Ministry could issue a notice to the Rohingyas to leave Nepal within a certain period, pointing out the possibility that this issue could be bigger than the Bhutanese refugee problem.
The task force has also suggested keeping the Rohingyas in a certain place outside existing settlements if there is no immediate option to remove them from Nepal. "Now, there is no alternative but to block the entry of new ones and return the existing ones by managing them."
Ward Chair Adhikari said that he had requested the United Nations High Commissioner for Refugees (UNHCR) to remove the Rohingyas as he saw the immediate impact on society and the country in the long run. But, he was replied that it was not the job of UNHCR to remove the refugees.
"The government of Nepal has not taken any steps to stop their arrival and manage those who are here," he said. "If the Rohingyas do not leave, we will be forced to demolish their settlements."
DIG Pokharel claimed that the border has been tightened to prevent the arrival of Rohingyas. "There is no need to be scared right now as patrols and surveillance have been stepped up in Rohingya areas," he said.
Existing Nepali laws
Nepal is yet to ratify the UN Convention Relating to the Status of Refugees. Neither has it formulated a national law in this regard. Tibetan and Bhutanese refugees, however, have been granted refugee status, on a humanitarian basis, in accordance with international standards established by the 1951 Convention Relating to the Status of Refugees and its articles.
The Supreme Court had ordered the government to formulate a national refugee law. But, no such law has been made in 12 years.
The Ministry of Foreign Affairs had sent a letter to the UNHCR on January 27, 2005, stating that any foreign national seeking refuge and resettlement should be held accountable by the Government of Nepal under the Immigration Act, rules and regulations, and would be punishable for settlement without the permission of the Government of Nepal.
The Ministry had requested again on March 11, 2007, that the refugee certificates be suspended issued by the UNHCR office unilaterally.
According to the Immigration Act, 1992, foreign nationals are not allowed to enter Nepal without a visa and passport.
According to immigration law, the Department of Immigration should keep a record of any foreign national living in Nepal. But the then director-general of the department, Ishwar Raj Poudel, said he had no information about the Rohingyas living in Nepal.
"Did the Rohingyas come by plane to be monitored by the immigration department?" He said. "Since they entered the country covertly, that jurisdiction falls under the Ministry of Home Affairs."
Article 7 of the Immigration Act states that the responsibility to 'regulate, manage and control the entry, presence and departure of foreigners within Nepal' is under the functions, duties and rights of the director-general.
Article 2 of the Immigration Act clearly states that "the Government of Nepal may prohibit the entry, presence or departure of any foreigner from Nepal if it deems to be detrimental to the national interest."
Weak monitoring at the checkpoints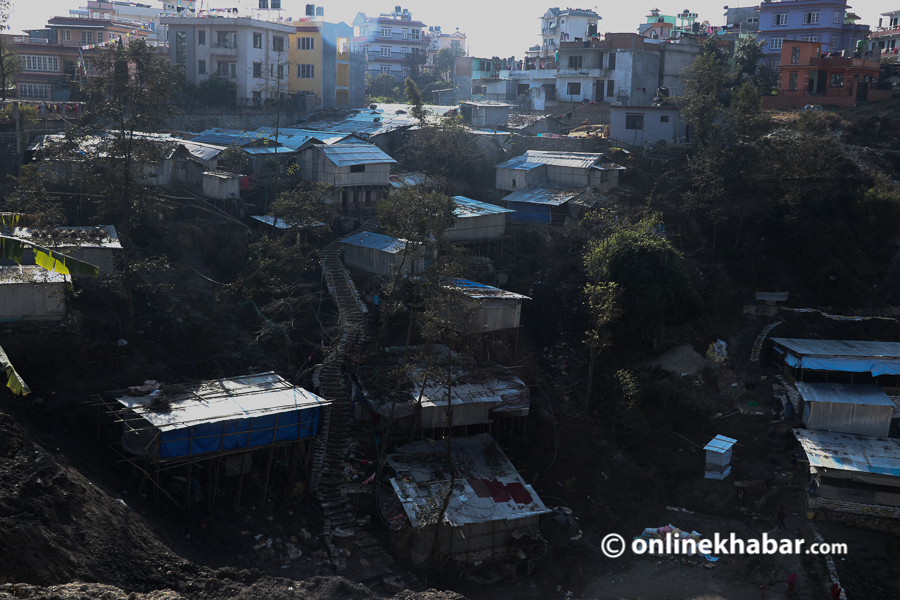 The Rohingyas are a minority ethnic Muslim community of Rakhine state, Myanmar, a predominantly Buddhist country. The United Nations has called the Rohingyas "the most persecuted minority in the world."
Myanmar has denied citizenship to the Rohingyas since 1982. At present, more than one million Rohingyas have taken refuge in different countries.
According to BBC, a 2007 rape scandal in Rakhine had sparked ethnic violence. Rohingyas were targeted in 2012 over the same incident.
The United Nations has said Myanmar has committed genocide, but the government has claimed that they had only taken measures to control the violence.
According to the United Nations, Rakhine Muslims were slaughtered and displaced. The families began to disintegrate and disappear. Those who saw their family members killed in front of their eyes went through psychological decadence, but no actions were taken to stop the violence, the result of which many Rohingyas left the country.
It took a month for Rohingya leader Jaafar Alam of Kapan camp to enter Bangladesh from Myanmar. He worked there for 10 days and then entered India by handing over the money to a broker. After working in India for two and a half months, he was arrested by police. He was released within two days after bribing the police. Alam entered Nepal in 2012 in a group of 13 including members from his family and two other families.
Jaafar found it calmer and safer in Nepal than in Bangladesh and India. Then, he started contacting his relatives. The arrivals of Rohingyas is still going on. Many have the experience of no or little interrogation at the border points of Nepal.
UNHCR views
As there is no refugee law in Nepal and Nepal has not even ratified the International Refugee Convention, the UNHCR has stated that it only keeps records of Rohingyas living here. "It is the job of the state to issue or manage refugee certificates. We can only work in coordination with the government of Nepal," said a UNHRC official.
The UN agency has provided aids for the health and education of Rohingya children. Since 2012, it is providing Rs 5,000 per family per month as assistance. But, the UNHCR has stated that the assistance has been halted due to the growing population of Rohingyas.
Deepesh Das Shrestha, the media representative of the UNHCR, said Rohingyas are living in Nepal in accordance with international refugee law. He said, "The UNHCR is ready to coordinate if the government of Nepal wants to discuss Rohingya management."
This story was reported under the investigative reporting fellowship offered by the Media Foundation.