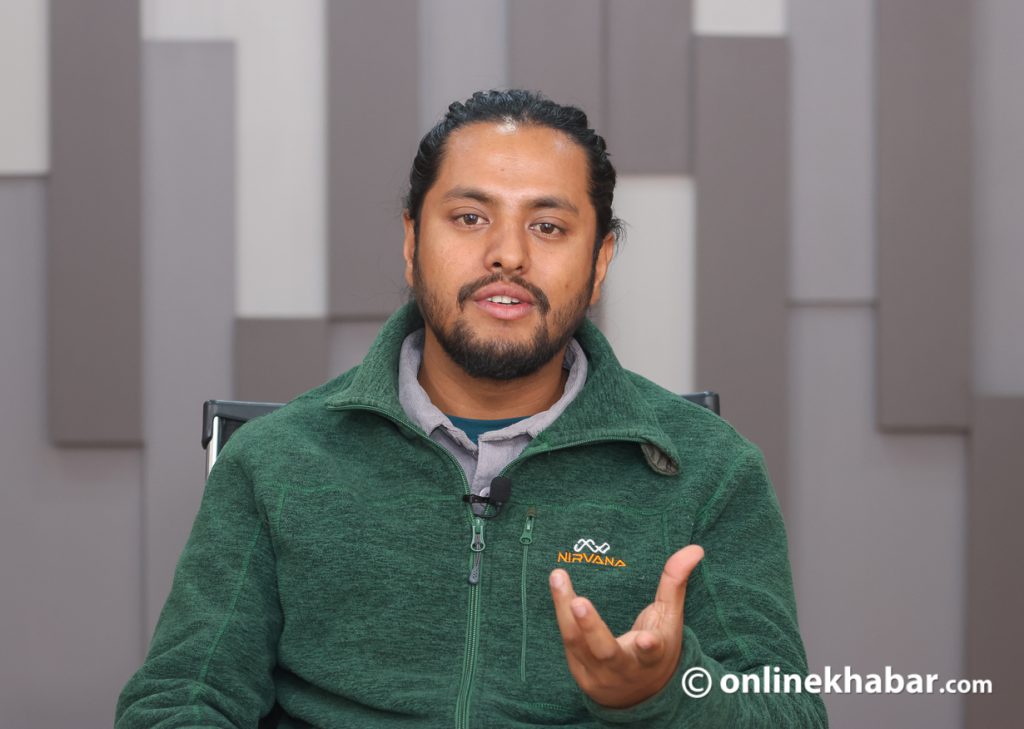 There is nothing new about creating a music video; all it takes is a song and getting its visual interpretation. However, the way Nabin Chauhan handles the process is different. He treats each of his music videos as if they are his last and only job.
In this music video director's works, be it Ke Maya Lagchha Ra or Teenpatey, Ghumi Ghumi or Lajayera, his passion and skill are reflected in them. His focus is quality rather than quantity.
Nabin Chaudhan's works are unique and experimental, different from others in terms of the process. He first collects visuals according to the story he wants to portray and then creates a song that matches his story.
Chauhan says, "It might seem the opposite of the video-making trend, but I am not going to record the song first and make a video of it later."
Making his first-ever music video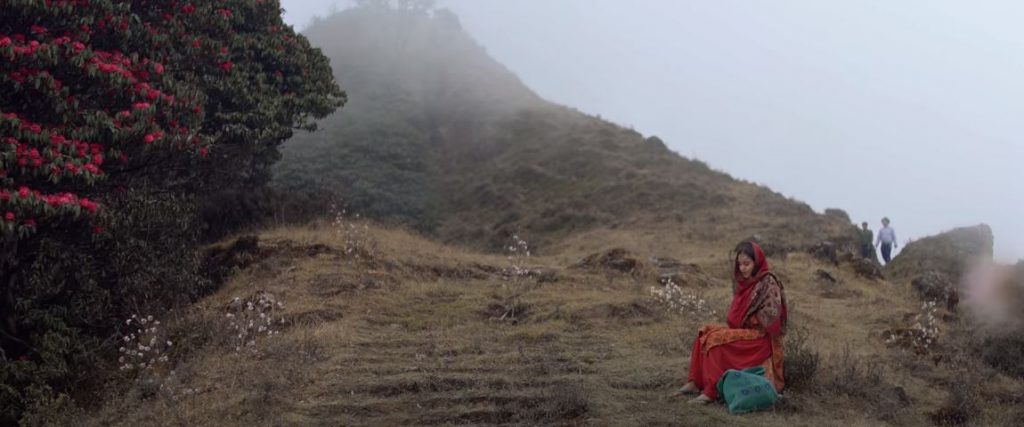 Lukichhipi Kina Mayama is Nabin Chauhan's first music video. He went to Panchthar, his own village to film the music video. It is the place where he had spent his youth and played with his friends, hence it is the place that he enjoys the most.
He had many experiences and feelings connected with the soil there. That is why he wanted to capture those feelings in the form of a story and put them in a video.
But, how could all the stories be covered in a song of just three minutes? This challenge reminded Nabin Chauhan of his naivety.
Many of the scenes he wanted to show and tell were not used in that video. "A lot of footage was shot for a 12-15 minute story, which was not possible to put in a single music video," the director says, "The rest of the footage was unused."
Being creative during the pandemic
The Covid pandemic was restless for Nabin Chauhan as nobody was allowed to go out and producing music videos was out of sight.
At that time, he consulted his friends to see if they could do something with the remaining footage. They created a video using the remaining footage and showed it to Hark Saud, a well-known lyricist.
Saud's creativity and language skills are known in the Nepali music industry. Hence, after watching Chauhan's video, he prepared lyrics to match the scenes: Ke maya lagchha ra?/ Ukhumai lagchha Ni/ Mero yaad aunchha ra/ Hurhuri aauncha ni (Do you love me?/ Yes, a lot/Do you miss me?/ Yes, I miss you a lot).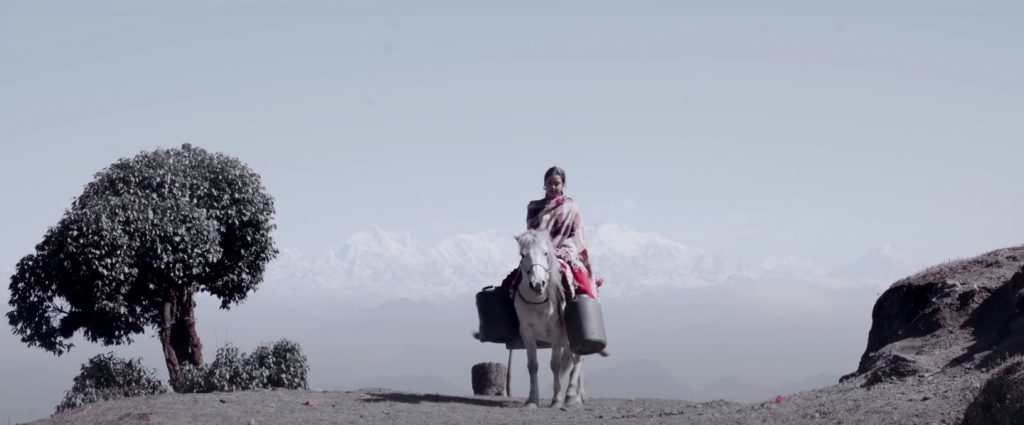 This song became a massive hit during the pandemic and created a buzz in the Nepali musical scenario. "Especially, this song and video was a byproduct of the previous music video," says Chauhan, "but this song inspired us to do more work."
Musical videos to tell stories
After that, Nabin Chauhan created the music video for Teenpatey-Dekhera Timilai.
The song had not been written yet when Chauhan arrived at Mangalbare, Ilam, from Kathmandu with a team of around 15 people.
Upon reaching there, he started filming random clips instantly. He captured local scenes like a haat bazaar (open-air market), wedding ceremonies and youth arriving home from foreign employment.
In particular, Chauhan was only sure about the concept of his music video, which is about local people who are entrepreneurs. Himself an entrepreneur, he wanted to make a music video based on the story of his own experience.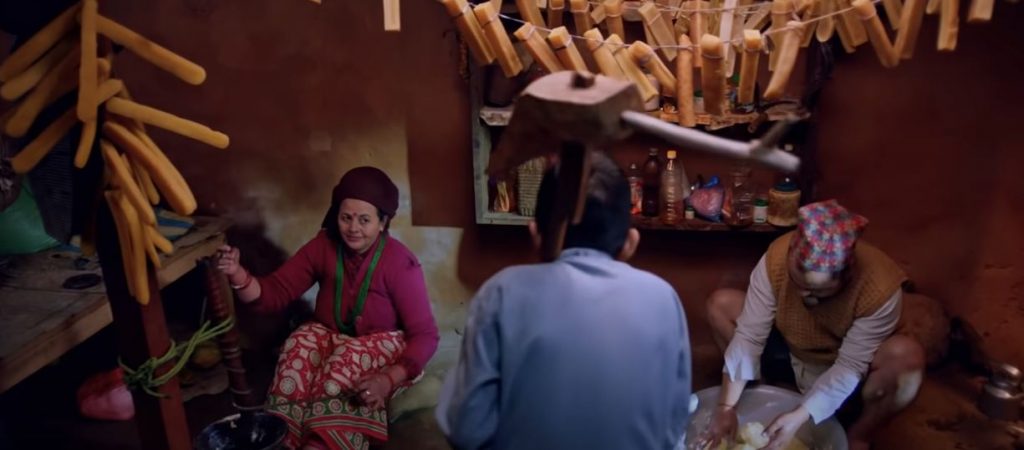 It was the time when Nabin Chauhan used to do business related to dairy products such as ghee and chhurpi in Kathmandu and his classmate Milan Khatri ran a dairy farm in the village.
He added a hint of a love story while filming in Ilam along with the story of entrepreneurship and returned to Kathmandu.
The videos were shown to Saud and he wrote Teenpatey-Dekhera Timilai, which was sung by Sujan Chapagain and Bidya Tiwari later.
According to Chauhan, Teenpatey-Dekhera Timilai was created with a desire to narrate stories. "It is not a music video but a musical video."
After that, he created more musical videos narrating stories with different themes. The song Baaf shows the lifestyle in a border area, Dhaago shows different aspects of humanity, and Ghumi Ghumi shows the story of migration.
Nabin Chauhan's latest hit is Chandrama. "This is my latest and probably the last project of a music video," says Chauhan, "I have made this music video as a dedication to everyone who is related to me directly and indirectly."
Like most of his videos, he shot the video first and asked for a song to fit it.
"At other times, I was standing behind the camera and telling other people's stories," says Chauhan, "In this music video, I am also seen in front of the camera."
He says that he wanted to show how locals treat the music video team during their stay at shooting locations. "In the course of shooting, we develop a cordial relationship with the locals," he says, "They do everything from emptying their own house for shooting to gathering the necessary materials immediately."
Hence, this music video depicts the story of how Nabin Chauhan and his team are welcomed and helped by the locals while filming in their locality.
According to him, Chinese director Zhang Yimou is his inspiration to create music videos and he adds, "Zhang is my favourite director, and this video is dedicated to him as well."
---
This story was translated from the original Nepali version and edited for clarity and length.