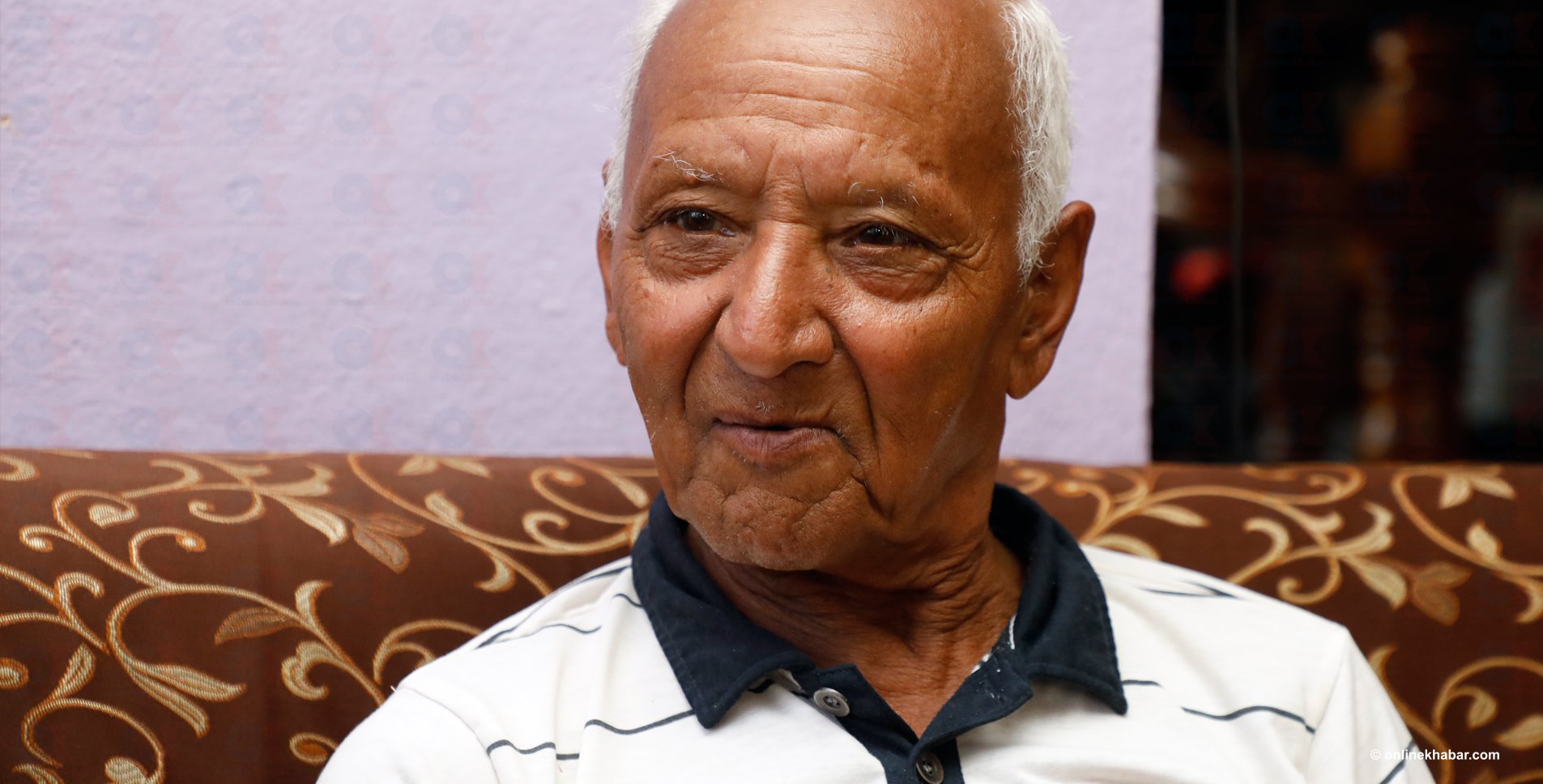 While playing on the roads in Dillibazar, Komal Pandey never thought he would be a big name in the country's sports sector. But now, he is one of few Nepalis who have represented Nepal in not one, but three disciplines of sports.
Pandey, 77, grew up in what he calls the centre for sports in Kathmandu, Dillibazar. That is where he says he leaned it all. "The credit for me becoming a sportsman goes to Dillibazar," says Pandey.
Pandey started playing sports from an early age. "As there were limited vehicles, we used to play on the road. The kids had to play on the pavement while the adults used to play on the road. The competition back in those days was quite surreal."
Trying his hand at many sports
During his early years, he started playing football with a bhogate (pomelo). "We couldn't buy footballs back then. It was either the fruit or a ball made from paper, straw or cloth which we sometimes covered with the covering of old footballs. But that was quite heavy and was not easy to kick around."
Noticing a young boy playing well in youth competitions for his school, the youth team of Mahabir Club signed him up. "I played a lot of games and at the age of 12, I joined Young Mahabir which was Dillibazar's local team."
Along with football, he also started playing cricket after watching some of his friends play a game at Sano Gaucharan. "I held my first bat when I was 13," shares Pandey. "During the first few months, the only thing I did was defend and that came in quite handy when the same year I had to open the batting for CAN XI in a league match. I remember being petrified and I only scored 8 runs in 108 minutes. Those runs flew off edges," he adds.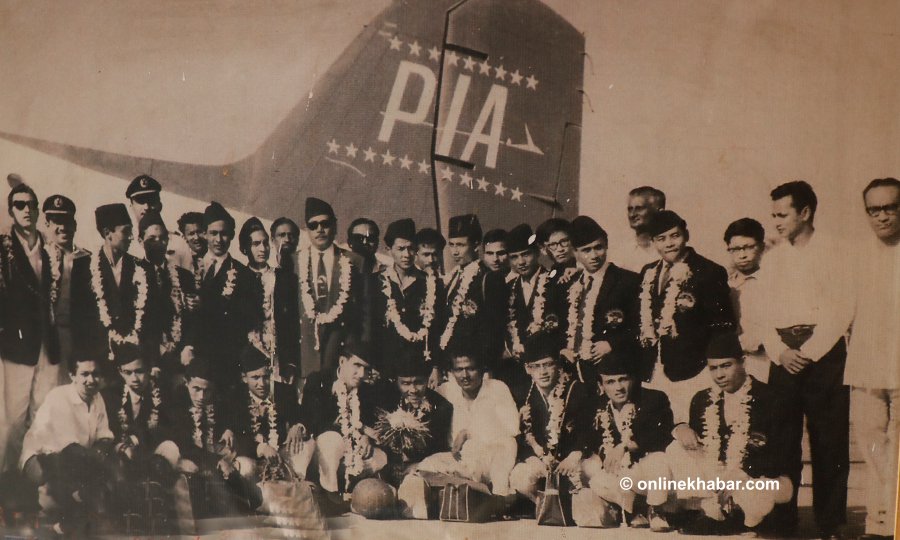 As a child, Pandey also loved to watch athletics events happening in the Valley. "I was first attracted to athletics when I saw a few people participate in high jump events."
He shares that he competed in any tournament he could find. "I used to play football during monsoon, cricket during autumn/winter and athletics during spring, which is why most of my friends used to call me "Khe-kha Pandey"(khelera khane) which translates to someone who makes a living playing sports.
Getting better
Back in those days, there used to be a lot of competition. "From youth level to professional level, sports was an important part of life for many living in major cities," adds Pandey. "That foundation helped us a lot. It wasn't just me who got better as a player, everyone did."
As he grew older, he started to get better at all the sports he played. Aged 19, he was made the captain of Mahabir which he says made him responsible. "Captains had to do everything; from finding players to taking the jerseys to the washer."
As he was excelling in more than one sport, Nepal's sports authority decided to send him to Israel on a sports scholarship to study Sports and Physical Education. "That was a great experience. I learned a lot and brought what I learned to Nepal as well."
After a year in Israel, he joined Mahabir; but this time not as a captain but as a player. He says he started teaching his team the basics of how to get better and stay fit and that helped Mahabir win the 1966 league trophy. "That league was special to me. I scored a lot of goals as I remember I scored 5 hat-tricks in the season."
He also won the league in 1969 which also marked the end of Mahabir's dominance.
Coming back to Nepal, he joined Tri Chandra Campus and did his BA. "It was at Tri Chandra where I started to take cricket seriously. The campus had a lot of equipment, but hardly anyone played. So the coach asked me to use these and build a team and I slowly urged everyone to come together and play cricket."He then went on to form his own club, Amateurs Cricket Club, which he captained to a league and knockout victories.
With that, he also started trying his hand at various athletic events. "I think I was around 19 when I ran my first race. It was a national level tournament and I was competing in a 200-metre event."
Having never competed in such race, he says he got off to a good start. "I led the way till 150 metres, but then I lost balance and fell down and lost the race. But I knew that I would be better with time."
In the 1967 national championship, Pandey participated in five sporting events – 100 and 200 metres, long jump and 4×100 and 4×400 relay events. "I won a gold medal in all 5 events, which I feel very proud of," he shares.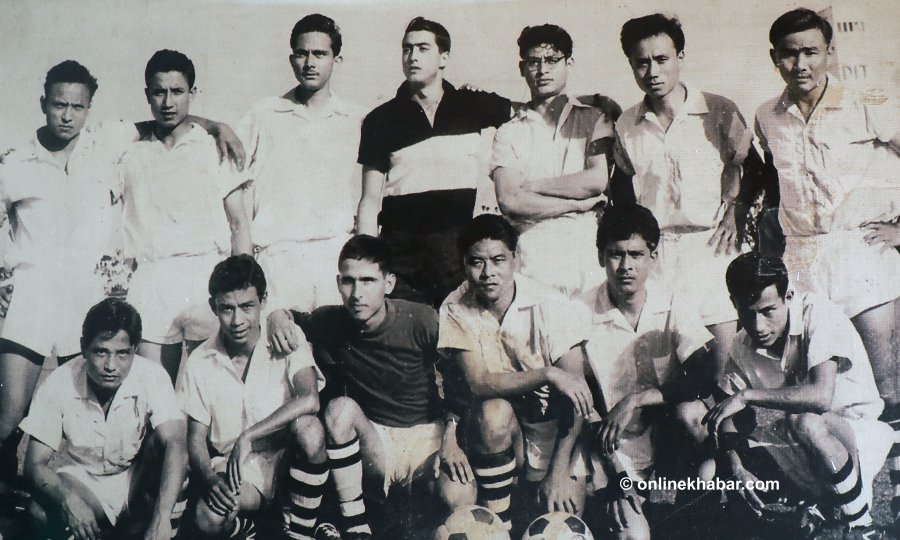 Competing internationally
Pandey first represented Nepal in the Agha Khan Gold Cup held in East Pakistan (now Bangladesh). "That was a memorable competition for us. Although it was tough for us to compete with Pakistanis who were 6-foot tall, but we still managed to win one game, and all of us from that group cherished a lot."
The second time Pandey represented Nepal in a sporting competition was during the 1966 Games of the New Emerging Forces (GANEFO). "I remember I ran 100 and 200 metres. I didn't win, but I got to carry Nepal's flag in the opening ceremony, which still remains one of my proudest moments."
He represented Nepal in another international event when he was the vice captain of the cricket team participating in a match against Royal Bangkok Sports Club in 1972. "We played two games against them. We were poor in the first game and lost, but won the second match."
Pandey balanced all three games together with ease. He shares that he couldn't stay ideal and had to play one sport or another. "Each sport helped me while playing another. My sprinting career helped me a lot during both cricket and football and football in general improved my overall fitness. The two team sports also helped me understand teamwork better."
Retirement
Pandey retired from two of the sports at a young age. "I was 26 when I quit sprinting. It was after the 1968 national championship when I decided to stop running. The controversial 100-metre event forced me to take the decision," adds Pandey, who shares that they did not give him the gold even though he won the finals.
Then he quit football, aged 27. "Mahabir had run its course and started to go down. We hardly had 11 players. Adding to that, there were some issues between Dillibazar and Nepal's sports association. Then, I thought it was time to quit the one sport which was very dear to me."
As for cricket, he played it till he was in his late 30s. "After quitting both games I thought I had to play one to keep me occupied. My club Amateur Cricket Club did quite well in many tournaments and the team we had back then was quite good."
Pandey says that he owes everything to sports. He shares that the love and fame he has received from the people is all thanks to sports. "I believe sports have a lot of power. It gives joy to people and also promotes nationalism. The government should definitely look after it in a better manner."