Shyam Karki was driving along the Dhobi Khola corridor during Dashain. As the roads were empty due to the festival, he was speeding through the section. As he reached near Ghattekulo, he suddenly hit a raised manhole on the road and fell.
"I was behind a car and couldn't stop on time. The bump was a manhole that had been lifted a bit. I could've been seriously injured if I didn't slow down," says Karki, questioning who makes these roads.
It is safe to say that Kathmandu roads are not safe. Undisciplined riders, drink driving, lack of proper rules and the state of roads has resulted in Kathmandu being unsafe for both people who drive and people who walk on the roads. But recently, a new thing is causing accidents: raised manholes that have been acting like sudden speed bumps along various roads across the valley.
Over 8,000 accidents happen in the valley every year, according to Metropolitan Traffic Police Division. Out of these, around 30 accidents happen due to poor road standards. While the exact number of accidents that occur due to poorly established manholes is not available, many commuters Onlinekhabar spoke to say they narrowly escaped getting hurt due to these raised manholes. Some, like Karki, have fallen down and hurt themselves in manholes that act like potholes. Responsible authorities, however, have been found engaged in a perennial blame game.
Accountability and apathy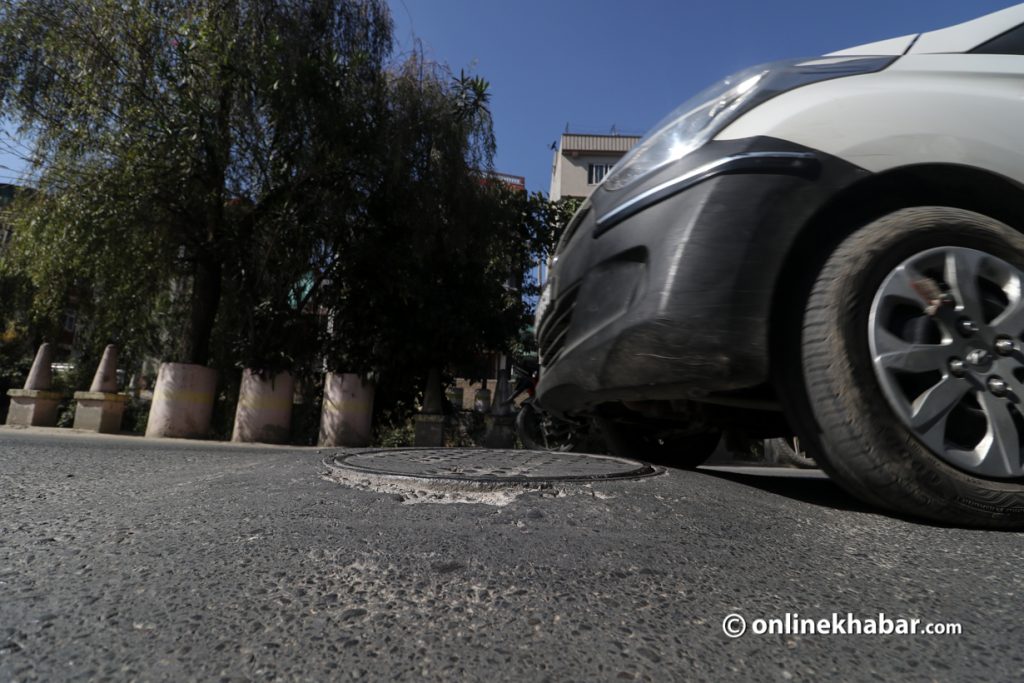 Shree Raj Pandey, 50, a resident of Balaju, travels to work in Jawalakhel every day. A year ago, on the road next to the British School in Bakhuldol of Lalitpur, he bumped into a raised manhole and fell. As there were no cars or bikes behind or coming towards him, he escaped being seriously hurt.
"I am traumatised and don't take that route anymore. When it comes to roads in Kathmandu, I don't feel safe," says Pandey.
Karki and Pandey both say these manholes that are either raised or below the road surface are everywhere in the valley. It's worse on the inner roads of the city that have been built by wards and Kathmandu and Lalitpur metropolitan cities.
"There is no accountability from anyone. I complained to the police and the Kathmandu Valley Development Authority, who told me I should be the one who should be careful. They asked me to drive slow and not over-speed," says Karki, who adds that he has also been suffering from lower back pain from driving on poorly designed roads in the valley.
Kishore Thapa, a road expert and former secretary at the Ministry of Urban Development, says that the blame for this goes on everyone. He says that poor road engineering coupled with a lack of monitoring and lack of coordination is resulting in issues like raised manholes.
"Everyone involved needs to take the blame. The Department of Roads, Department of Water Supply and Sewage Management and the respective municipalities are equally at fault," says Thapa.
He says that the blame for the poorly designed roads should primarily be put on the Department of Roads as it does not plan accordingly. Giving a recent example of a hole that emerged in Baneshwor, Thapa says the roads in Kathmandu have not been planned properly, adding things like that would be a common affair.
"These raised manholes are a result of poor planning. They don't do their due research and do not speak to other departments. That results in cases like these," says Thapa, adding even locals should be blamed for not questioning elected leaders and representatives.
Passing the buck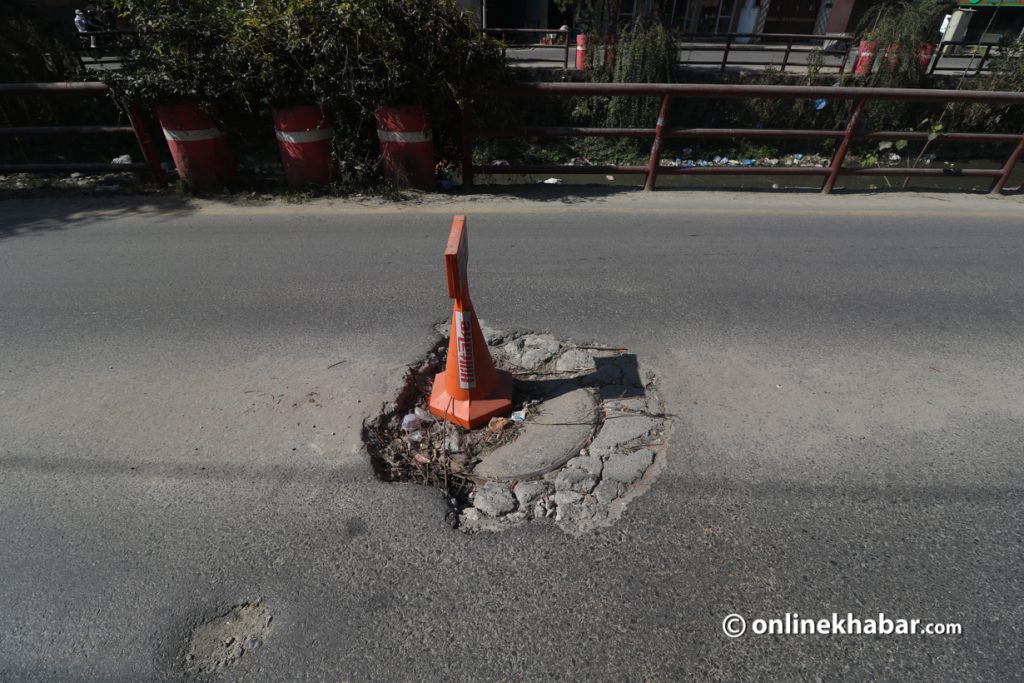 But, officials from the Department of Roads do not agree with Thapa fully. While they do agree that the blame should be shared by everyone, including them, they assert there are various other factors that have led to poor roads.
"I agree that engineering can improve and we have been trying to make amends by levelling the roads that we manage," says Shiva Nepal, the spokesperson for the Department of Roads. "But, people can't be pinning all the blame on our department."
He says the department only manages 450 kilometres of the road in the city and over the past year, it has been levelling these manholes also even though it is not its responsibility.
"We know how bad roads are affecting people and want to make them better," says Nepal.
Nepal says the main reason for these raised and lowered manholes in the valley is a lack of coordination between authorities. There have been previous reports on this issue that say the Department of Road has been blaming the Department of Drinking Water and Sewage Management and vice versa. This goes to show that there is no coordination between them.
Nepal agrees that there is no coordination but says it is hard for his department to have any coordination because it does not have the budget to do things in the same year.
"We paved a road this year, but the sewage or drinking water projects don't get done in the same year as their budget for their project comes next year, which makes it difficult for us," says Nepal.
He also says that other departments do not provide it with digital maps of where manholes and other points are.
"This makes it hard on us because we don't know where to leave out spaces. Even recent projects like the Melamchi Water Supply Project have not provided us with a map of points they consider important," says Nepal.
When that does not happen, when they overlay the road, the other departments have to dig the newly paved road and everyone is back to square one. These dug sections, for manholes or drinking water lines, then either turn out to act like potholes or bumps and that have a bad impact on people driving.
Surya Kandel, the spokesperson of the Department of Drinking Water and Sewage Management says the road department needs to set a ceiling on how high they are going to overlay the road.
"They need to decide how high they will eventually go. That way, we can set up sewage lines and manholes accordingly. Right now, there is no ceiling and that's causing these bumps along the way," Kandel.
Missing monitoring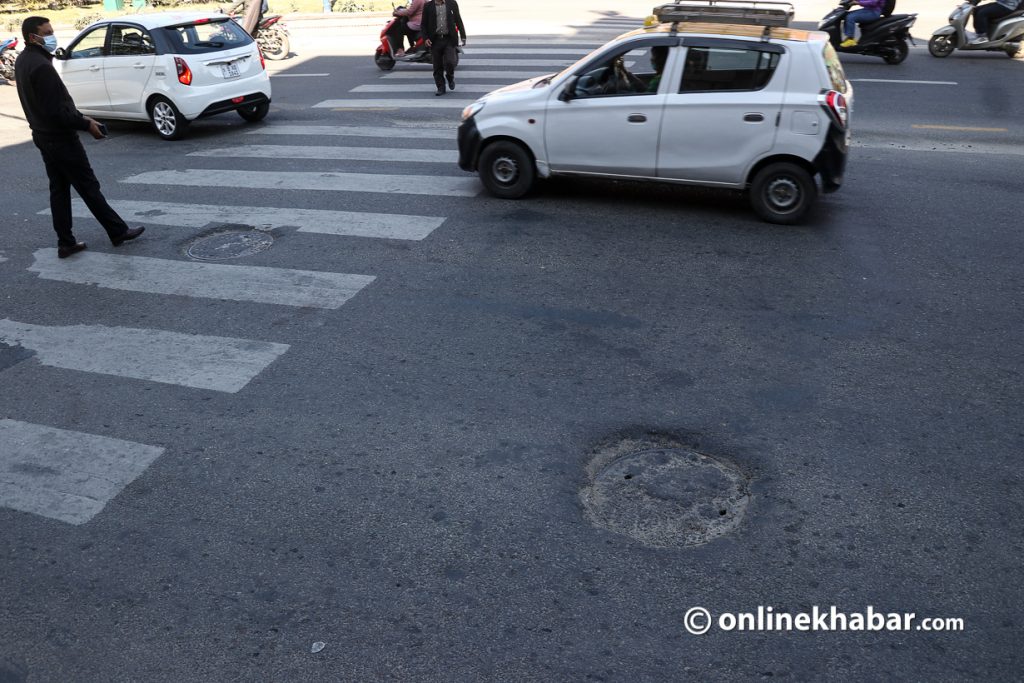 While coordination and poor engineering has been a problem for years, there is another issue that is not helping: monitoring. Kathmandu's roads are not that great and that is mostly due to a lack of monitoring.
Nepal from the Department of Roads says the department cannot monitor roads on a regular basis because it does not have enough human resources. The staff in the department are mostly occupied with paperwork and that is not helping them deal with monitoring these roads effectively.
"There are other bodies to monitor these. We also go, but we just don't have the time to go out every week. It's hard for us," says Nepal.
Kathmandu Valley Development Authority, which also paves roads and built the Dhobi Khola corridor, also says it does not get to monitor roads it has built. The corridor's project chief Dinesh Kumar Pote says he is aware of the bumps along the road but adds it was a technical fault that led to that.
"We saw what was wrong and have been making amends and levelling the roads. We know how much these tasks cost the nation and have asked engineers working on other projects to make sure these mistakes do not happen again," says Pote.