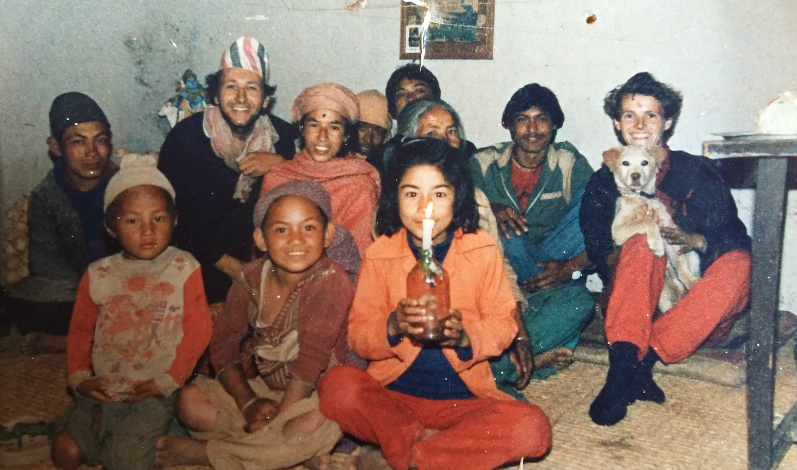 Which country are you from?—perhaps it is the most repeated question for any foreigner, anywhere. That's why I was not interested to answer her in the beginning. But, I could not just ignore a humble native who approached "a group of lost travellers" as she called us. Each of us answered naming our motherlands.
"Nepal…I have been to Nepal… long ago."
Again, not interesting—I know Nepal has been an enticing destination for westerners for last few centuries now. But, it didn't take me more than 10 minutes to realise that she was not among the boring strangers whom I have been meeting here in the Netherlands in past three weeks.
An interesting character
It was Sunday, March 18, 2018. Between 3 to 4 pm. Our group was returning to Hilversum from Rotterdam. As we had got off the first train and were looking for the second at Utrecht Centraal, this woman had approached us. She was also waiting for the same train.
As we got on the train, I was forced to stand as she wanted to continue her talk with me– I couldn't see two empty seats on the coach.
"You know I still remember some songs from Nepal." The impression of this lady turned worse in me—what a pretentious person she is! Confident that she would fail to name any, I challenged her to sing a Nepali song.
"Suntalaa paani, suntalaa paani…
Nakhau bhane dubaiko jyaan jaani…
Narou mayalu!" (Link to the song)
Granted—I will not cry now! ("Narou mayalu"="Please don't cry, darling")
This is how Margreet Markerink made me believe that she was an interesting character. She said she visited Nepal in 1984—six years before I was born–for the first and last time. Today, after 34 years, she remembers the lyrics of a Nepali song. Wow!
Impressed with her memory, I wanted to talk more, but her station was already near. Therefore, I asked her if we can meet next weekend, for around an hour, for just informal chitchats. She agreed.
We exchanged our contacts before she got off the train.
The exciting curiosity
We had agreed to meet at the same station on Friday, March 23. At 6:15 pm. My plan was to take the 5:26 pm train from the hotel and get to Utrecht Centraal before 6 so that I would have sufficient time to find the exact place she wanted to meet.
But, just five minutes before the train schedule, I came to know that my transportation card did not have sufficient balance for the fare. I quickly decided to take a bus to a nearby place where I could recharge my card and take the train from there. I reached the place at exactly 6:15.
As I was texting to tell her about my arrival, a man grasped my left hand abruptly.
"Are you from Nepal?"
I soon knew that it was her husband. (By the way, Wibo Senders happened to meet another Nepali few minutes ago and mistook him for me! That was quite a funny story.)
As we had decided in the morning, Margreet and Wibo had reserved a table at a nearby Indian restaurant for their meeting with me. Margreet had said it was a quiet restaurant, but I learned that a Friday evening in the ancient-cum-modern city centre of the Netherlands could never be quiet.
"I remember other Nepali words too—Tapainko naam ke ho ?," as the wife was speaking, the husband added, "Mero naam Wibo ho. Mero ghar Netherlands ho. Ma Jesus dharma maanchhu."
Then, turn by turn and together, the couple sang two other songs—Asaare mahinamaa… and Bhanjyang kaatera najaau….
Now, I was curious to know how they remembered Nepali words so well.
The good old days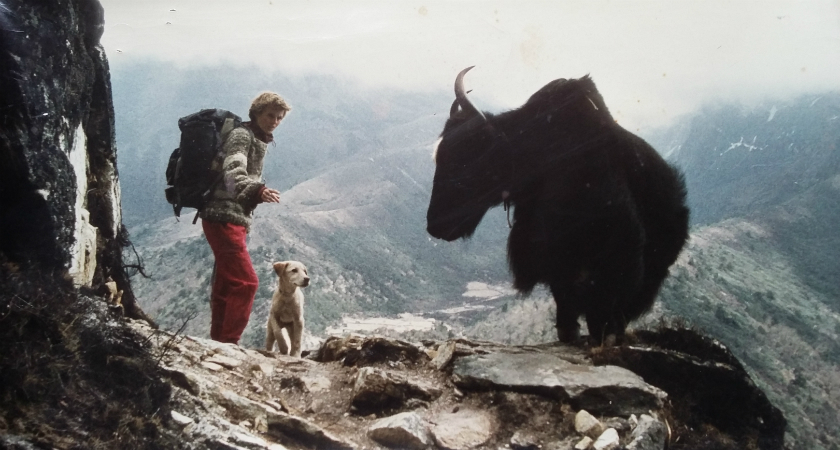 Twenty-year-old Margreet and 22-year-old Wibo met each other in 1980. Wibo had already started working as a nurse while he was 16 whereas Margreet was studying music. Wibo had a keen interest in travelling to new places and he had already visited Africa. Margreet, on the other hand, had similar interests but had not travelled outside of Europe.
As Wibo proposed her to become his travel partner, she agreed. But, neither of them had enough money. "Whereas I had been saving some money from my work every year, Margreet also managed some; and we left Holland for one year in October 1984," Wibo says as his wife adds, "We decided to walk around the Himalayas and reached Ladakh of India."
"We chose a farther location so that we need not come to our country early as it would cost so much to go back," Wibo looks too clever in his decisions.
Perhaps they realised that Nepal would be better than India for mountainous trekking, so they shifted to Nepal and stayed there for the next seven months. They spent around four months again in India before returning to Europe.
According to Wibo, they could have stayed in Nepal little longer. "During that time, Nepal would give tourist visas for only three months and you had to reenter the country to get an extension," he explains, "We came to India twice in between  for one or two days just to reenter Nepal and get a new visa."
'Powerful emotions recollected in tranquility'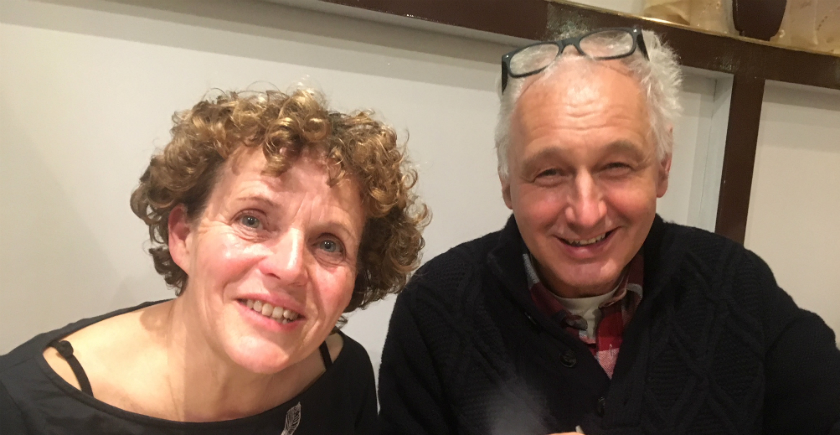 They still know names of major places they visited in the country. Not only the names, they tell you which direction it is from Kathmandu and what distance you have to pass.
"The most memorable for me is Gosainkunda," the wife explains, "We were trekking to the lake with two youth from Kathmandu. As the day ended while we were quite close to Gosainkunda, we sheltered into an empty house. Later some locals came to inform our guides that this house was haunted by ghosts!"
The husband adds, "Our guides soon began praying. They also asked us to pray to our gods in our language. We did not have any option than to obey them."
Further. Wibo has an interesting story of bravery in Jharkot of Mustang where they saved a life of an American lady who had her leg broken during trekking. Some other places they visited were Everest Base Camp, Namche, Helambu, Kathmandu Valley, Pokhara, Muktinath and Upper Mustang region including Thorangla Pass and Humla.
During the entire journey, the couple was accompanied by a dog, Tukche, that they received from Tibetan refugees. "Once, he also saved our lives in the Everest region when we were lost as the dog came to us sniffing," recollects Margreet, "He was the third traveller with us." She says the death of dog after nine months was the saddest moment in their journey.
Obviously, songs were of particular interest to Margreet as she was a music student. The two were not married when they were visiting Nepal. They came back to the Netherlands in September 1985 and continued the relationship. They married in 1990 after their first son was born. The couple gave birth to the second son after one year.
The influence of Nepali music was so intense on her that she even composed a 'Suntalaa paani' in Dutch to teach her sons about its meaning"
"Dit lied komt uit een ver land 
Dit lied komt uit een ver land
Waar de mandarijnen groeien
En de bergen hoger dan waar ook zijn."
Translation:
"This song is from a very faraway country
Where the oranges are growing
And where the mountains are higher than any other place."
Wibo has another special reason to remember Nepal. "That year was the time when we two were the most intimate ever in our life. After returning, we were busy in our own lives and after marriage too, we had many things to do, so we got little time to spend together," he says, "I doubt if we could marry if we had not visited Nepal then."
The dream deferred
Despite their wish and some attempts, the couple could not make to visit Nepal again. At first, Margreet's health turned challenging. In concluding months of her Nepal-India visit, she heavily lost her weight and it took her almost five years to recover.
"Then our children were born and we could not go. As the children grew up, we heard there was the communist war. Then, the royal massacre—a member of the family itself killed everyone including King Birendra whose speeches I used to read in the only English newspaper in 1980s… I heard the conflict ended after the Maoists were given seats in Parliament, but now we have many obligations here," clarifies the husband.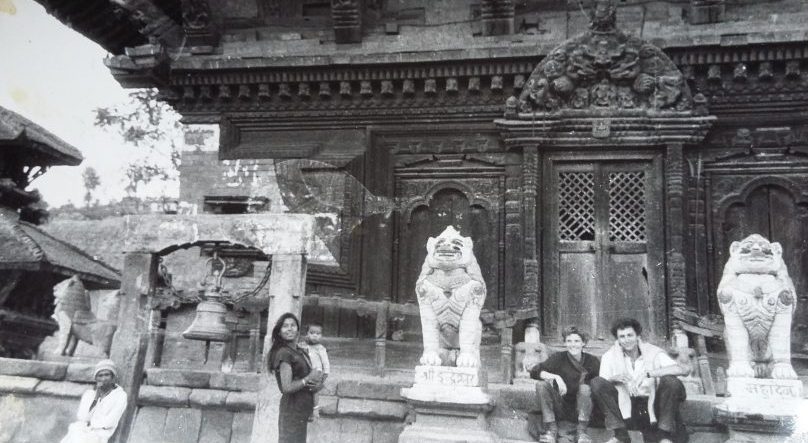 "But, Nepal has remained very much like home to me," the wife explains, "While staying there, we never felt like tourists. The Nepali society had become a way of life to us."
The couple is also aware of increasing pollution in Kathmandu Valley and the devastation caused by 2015 earthquake.
Wibo assumes that Nepal is leading the reconstruction process effectively these days, by which he hopes foreign tourists will be attracted to Nepal again as they were earlier. Even more, Margreet herself begins contemplating about her next trip to the Himalayas in next few years—because the children have grown up now. Wibo has also taken retirement a few years ago and Margreet has freelancing jobs.
"I am currently working with a Tibetan musician here and we are exploring maybe we can do some programmes in Nepal too," she says, "We might have failed to execute old dreams, but we have more exciting new dreams—about Nepal."
"I know in my heart of hearts that I cannot forget Nepal," says Wibo.